What Sink Types are There?
by Lee Clymer
Posted on November 14, 2018 03:52:13 PM
Tweet
---
Kitchen and bathroom remodeling is not a task to take lightly, but shouldn't be overwhelming. Granite countertops, marble countertops, and other stone materials from the natural stone industry provide many stone colors so your work is in the choosing. Another choice you will have to make for your remodel is between all the varieties of sinks available.
You wouldn't think replacing the sink would require debate, but this is the case, especially with couples. The debate ranges from under mount versus over mount, or the number of bowls, but the choices available require educating yourself.
Under-mounted sinks are what they seem to be from the name. The sink is mounted underneath the kitchen countertop and hides the typical lip around the sink, allowing the edges of the stone to flow. It gives a slick polished look providing understated attractiveness of a countertop such as a granite countertop, or a quartzite countertop. Countertop materials from the natural stone industry will match almost any sink.
For a look that would fit into any old farmhouse kitchen, the air of yesteryear is available in the "apron" (or farmhouse) sink. It has a functional look and feel but adds to the styling with class. It is called the apron sink because of its drop-down styling that resembles your grandma's kitchen smock or farmhouse sink because it is a sink reminiscent of those found in farmhouses.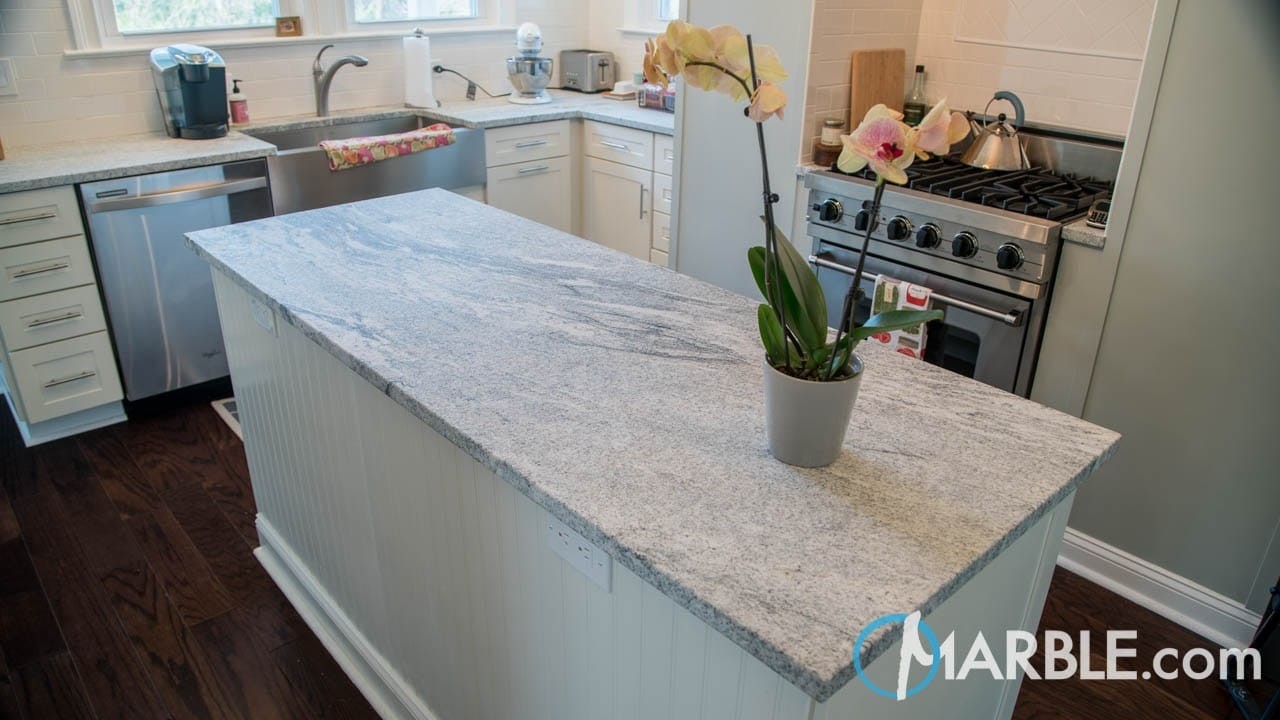 Viscount White granite countertops look beautiful with this stainless steel farmhouse sink
The most used sink is the drop-in or surface mount that slips right into your kitchen countertop and rests there via the overhanging lip. Ta here is nothing new about them except new materials and numerous colors to match your countertop, such as porcelain, cast iron, along with the old dependable stainless steel.
Your next choice to make is the number of "bowls" in your sink. Most sinks in the kitchen area double bowl. One side is often used to wash and the other is used to rinse or dry dishes and cooking items. Additionally, people thaw and drain foods on one side and use the other to wash as they cook. If you want to wash and drain while thawing there are even three bowl sinks available.
If you are redesigning your bathroom you may want to consider Onyx vanity tops or a gorgeous travertine vanity top with porcelain bowls. Travertine is a beautiful limestone gift from the earth in colors from silver to light colored orange to provide an elegant airy ambiance. While Onyx is a unique stone that is so transparent, it can be backlit to create a beautiful piece. It is a common belief that onyx is always black, or at least dark, but this is a misnomer. Onyx comes in natural stone colors that include fun colors like purples and blues.
Kitchen sinks come in an assortment of materials, with stainless steel the primary substance. They also come in various mounts and bowl numbers. Then if you thought those were the only choices, stainless steel comes in different gauges or thicknesses.
Stainless steel gauges vary from 15 to 24. A heavier gauge is good, but the gauge seems to have little to do with durability, but is quieter, and resists denting. Its shiny reflective material would pair with those same color types I mentioned earlier, Silver Pearl granite and Viscont White granite. Silver Pearl granite has silvery patches on a darker background and Viscont White granite is a lighter grey color with darker streaks.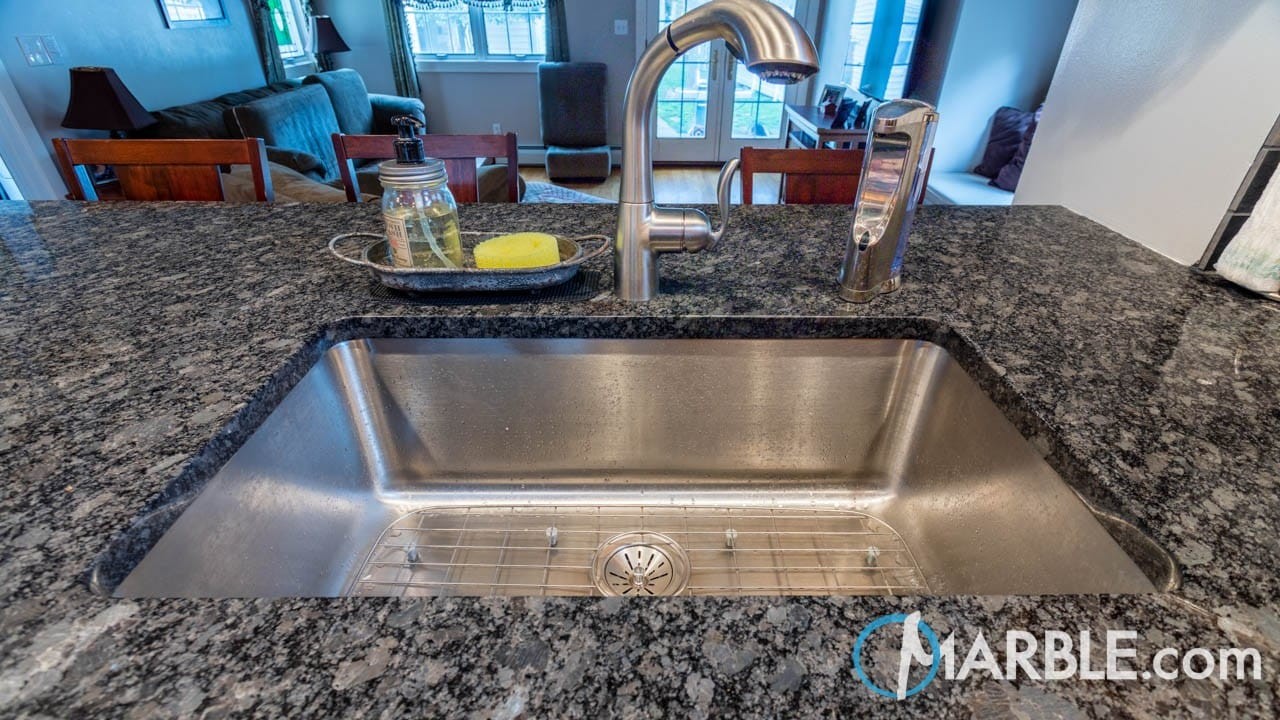 Undermount sinks are popular in kitchen design now. Seen here with a Silver Pearl granite countertop
Cast iron is an age-old sink material now covered in thick porcelain bonded to the iron providing a lustrous finish and protects the iron from rust. It is sturdy and will last for decades. It comes in many colors and can be combined with just about any natural stone color available. They come in almost all varieties so you can get an under-mount that will show off those granite edges. Cast iron porcelain shows fewer water spots too!
Speaking of porcelain, fireclay is a similar material made from ceramic clay that is baked for up to forty hours to dry the clay and then placed in a kiln after it is formed. The long baking time provides a very hard, durable, lustrous finish that goes with natural countertops extremely well.