What are Some Ideas for Displaying Pot and Pans?
by Dona Basu
Posted on March 17, 2018 07:00:00 AM
Tweet
---
Whether you are a home cook or a secret gourmet chef in the making, we all can appreciate the value of high-quality cookware. However, few people realize that openly displaying beautiful cookware will add both beauty and practicality to your kitchen layout. The metallic silver or copper shine of your pots and pans can make a lovely addition to enhance the aesthetics of your kitchen.
A Pot Rack Over the Island
Having a pot rack over your island is a wonderful way to display your pots and pans. It allows you to free up precious cupboard space and you have easy access to all your cooking tools. This will look particularly good with many products found at, like our wide selection of granite and quartzite materials.
Black Pearl granite would be an amazing way to show off all that wonderful cookware hanging from a rack. This granite is a lovely gray and black stone that contains silver mineral deposits. It will offset the metallic silver of your cookware beautifully.
Open Shelving
Another way to display your pots and pans is to have open shelving. This not only keeps them out of the way, but you still can truly appreciate the beauty of the cookware. The open shelves would look lovely framed by a Bianco Antico granite backsplash. This granite has a pretty gray background that contains pink and taupe flecks. It will really look lovely with all your high-quality pots and pans.
Hooks Over the Stove
You can have your cookware hanging over your stove on small hooks. This is a great design choice that also allows you to have them handy in the area of the kitchen where you will need them the most. Fantasy Brown quartzite is a great material that is very sturdy and can give your kitchen an air of luxury. This is a cream colored stone with lovely swirls of gray waves. This stone will go well with those silvery and copper pots and pans while adding beauty and movement to your kitchen.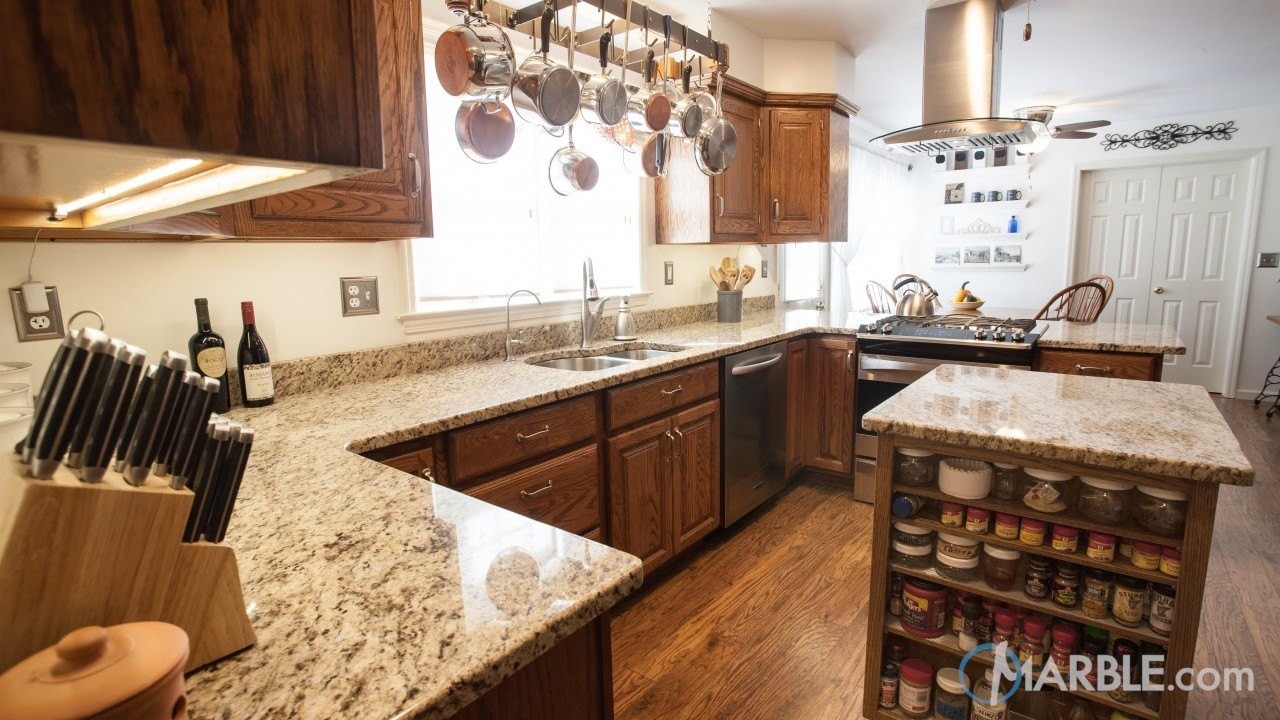 Giallo Ornamental granite countertops shine with this hanging pots and pan display
Open Area Under the Island
Do not think that displaying your cookware is only limited to racks and shelves. You can get creative by having your pots and pans stored in an open area under your island. Your cookware will be shown at all angles if you have an island open on all sides. A gorgeous countertop material would be your timeless Calacatta Marble. This beautiful Italian marble is white with gray veining. Artists have used it for centuries to create stunning masterpieces. The gray of this stone will make your island and your cookware look like a display case from an amazingly high-end decorating magazine.
Having a Pot and Pan Display Wall
The world-renowned authority on French cuisine, Julia Childs, loved her pot and pan display wall that was originally created by her husband. This ingenious design not only displays the beauty of your cookware, but it is also a great way to make sure you stay organized. Simply pick out some wall space in your kitchen. Paint the area with some chalkboard paint. Put up pegs and hang all your pots and pans on the various pegs, making sure to arrange them in a manner that allows for the different sizes and shapes to flow. Then carefully outline each pot with chalk and then go over it again with permanent marker or paint. You now have a fun wall for your cookware and will also know exactly where everything should be placed.