Use contrasting colors to create stunning Kitchen Designs
by Ann Kent
Posted on November 14, 2018 03:55:36 PM
Tweet
---
`Kitchen design has seen a dominance of the all-white kitchen, but it can often appear dull and lifeless to those looking for a bit more design within their kitchen. You can transform a flat looking kitchen by adding elements of contrast within the design. The contrast itself can be between light and dark, cool and warm, contrasting complementary colors, contrasting monochromatic color schemes, and even contrasting colors with patterns.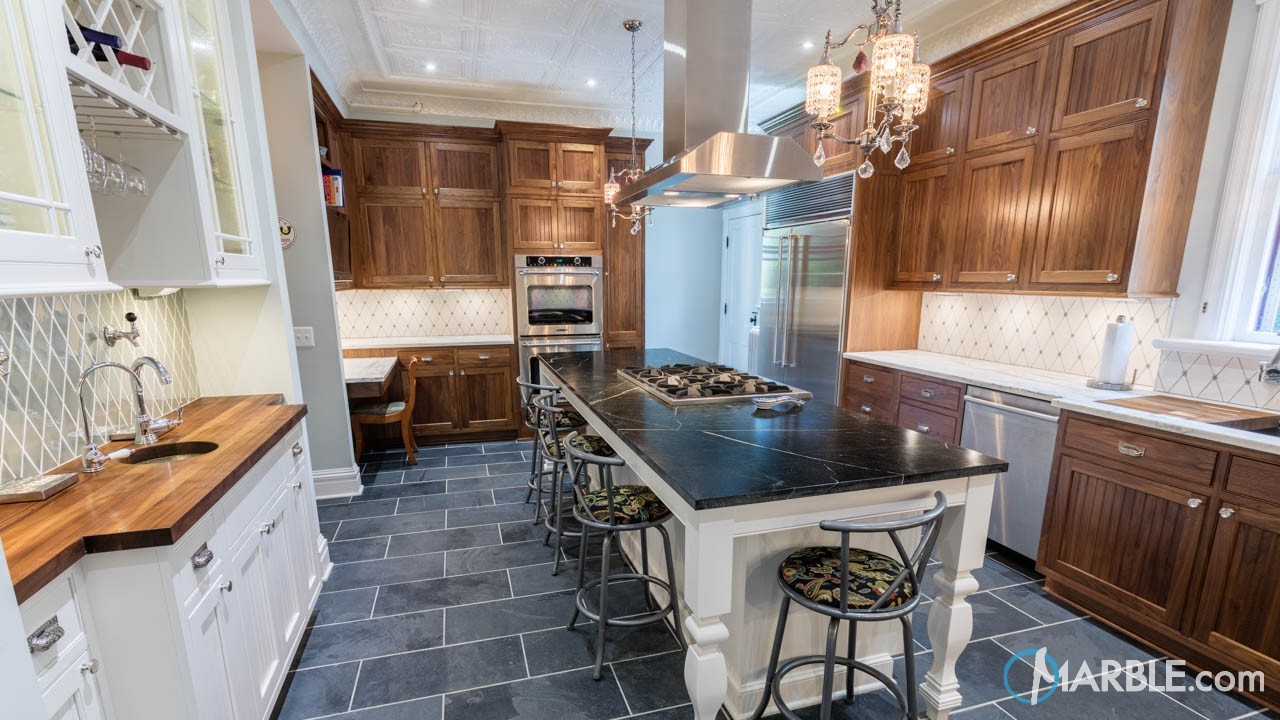 This kitchen features a Barroca Soapstone Island, a Mountain White Danby Marble Countertop, and a butcherblock countertop
Marble, granite, and quartzite are among the most popular natural stone options for homeowners, but they each have different maintenance requirements. Marble has a visually striking and rich veiny appearance, but it is more porous and fragile than granite and quartzite, requiring sealing up to 4 times a year. It is prone to etching and chipping so it is not recommended for high traffic kitchens. Some homeowners love the look of marble so much that they will use it as an accent piece in a lower-traffic area of a kitchen.
Granite and quartzite are much stronger, heat resistant, stain resistant, and chip resistant stones. Granite appeals to many homeowners because of the wide variety of stone color options. You can find granite in dark colors, green colors, and bright white colors. Quartzite, on the other hand, is only available in white to gray colors. You must seal quartzite and granite, but it is only necessary 1-2 times a year.
Countertop fabricators will need to have a full range of slab options on hand to provide the best experience for consumers. Virtual design tools are so important for mapping out a design and giving someone an idea of what they want from a kitchen, but visually viewing a full slab is an experience that is so fundamental to the design of a kitchen. Even if a homeowner is positive that they want marble over quartzite or quartzite over granite, we recommend showing them the available stones on the market so that they can see the striking visual differences between each type of stone. Even further, each natural stone slab is different, so it is important to have many slabs of each type of stone.
Once you determine which type of countertop best appeals to you, you can get started with designing your kitchen. One easy way to add a pop of contrast within your kitchen is with your kitchen countertops. Many homeowners will use dark countertops for the perimeter of a kitchen and a bright white marble or light-colored granite or quartzite as a contrasting center island. The island will become a striking focal point within your kitchen. Similarly, many people opt for different cabinetry colors. Painting a center island a bright blue or warm gray as compared to white perimeter cabinetry creates a wonderful level of depth within a space. That pop of color can be carried out throughout the kitchen developing a unified visual design.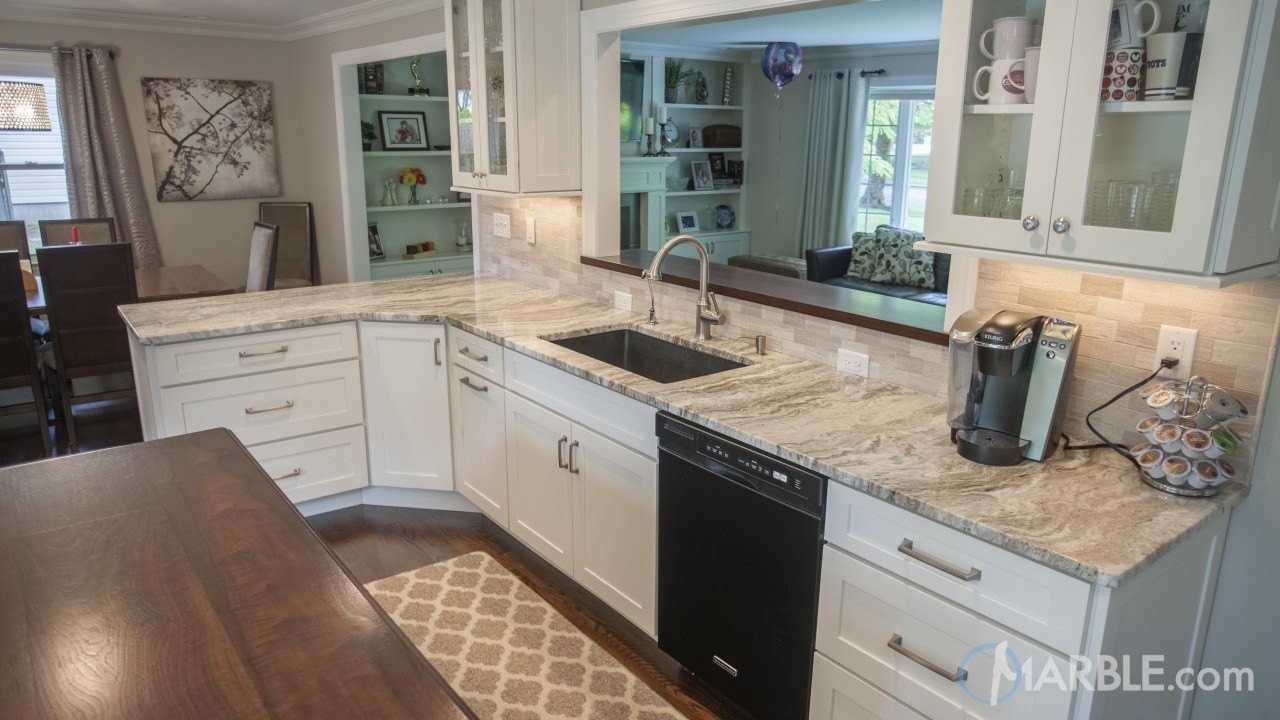 The contrast between the Fantasy Brown Quartzite and the dark brown wood kitchen Island is perfect in this kitchen
There are many ways to create a contrasting design space within a kitchen. The important thing is to make sure that you do not introduce too many competing design elements. While you can combine warm and cool colors, you don't also want to introduce bold colors or too many patterns. For example, coastal stripes, introduced with a window valance or bar stools, can help create a nice contrast, but should never be paired with a competing French country floral design. Colors should not be introduced arbitrarily, but instead, should all be part of a greater design thought.
For those looking for a slight contrast, but seeking an overall neutral look, monochromatic color contrast design is a good alternative. Incorporating a ranging color palate of a neutral gray, for example, can create a bit of depth in an otherwise flat setting without being too bold or over the top.
Contrast can be added to a kitchen in the form of kitchen towels, soap container, bright vases, and other accessories. The important thing to always keep in mind is that all design should have a purpose. Arbitrary introductions of color and contrast can result in a cluttered looking kitchen.