Trending Now: Black Hardware in the Kitchen
Tweet
---
Every few years, trends change in home décor for finishes, hardware, and other design elements. At different points in the not too distant past, brass, chrome, and nickel hardware were trendy. Recently, there has been an all black hardware trend in kitchens and bathrooms. Fortunately, it is relatively easy and inexpensive to replace the hardware on kitchen cabinets with matte black hardware to incorporate this trend into your kitchen.
The current trend for black hardware shows a clear preference for black matte, not shiny gloss finishes. Matte offers a dull and flat look that absorbs light, rather than reflecting it. This means your black hardware won't show stains or smudges as easily as high gloss black hardware and fixtures, which makes maintenance easier.
The smooth texture and continuous even color offer a sophisticated, elegant, and refined upgrade for kitchens of all design styles. The amount of black used in a space can create a range of design effects. Black has an impact when used sparingly, as in the current hardware trend. Making the switch to all black hardware can be as simple as replacing the hinges, cabinet door handles, and drawer pulls. If you want a bit more black in a white kitchen, adding black faucets, light fixtures, other accents create cohesiveness in the room.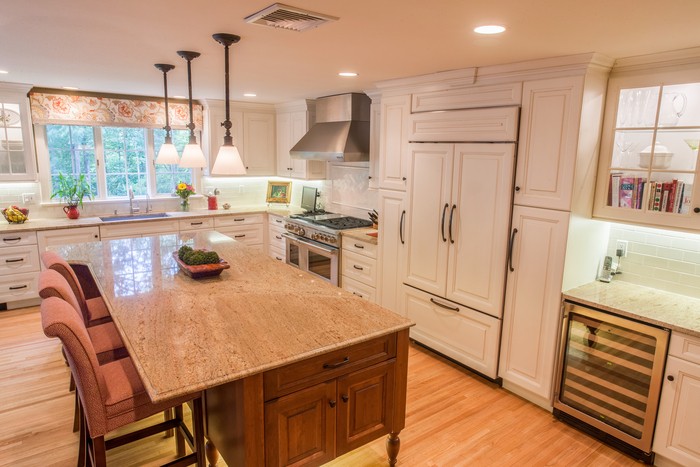 Although black is often associated with contemporary or modern design styles, black hardware works well in traditional kitchens. Traditional kitchens with cream colored cabinets and black hardware or off-white cabinetry and walls are not as stark as black and white cabinet and hardware combinations. Matte black offers a crisp neutral finish that works well with lighter colors of wood. It creates a nice contrast in the space when all black hardware is used with natural wood or white cabinets.
Add Black to the Kitchen
Black is showing up in more places in the kitchen than just hardware. If you want to add some black to a primarily white or off-white kitchen, black sinks or retro black and white tiles create a unique design effect. If you prefer darker cabinets, bold black matte kitchen cabinets always make a style statement.
Black faucets can be found in many styles, so it isn't too difficult to find a faucet to compliment your décor. While matte black faucets often tend to favor contemporary and modern designs, there are some traditional faucet designs available in black.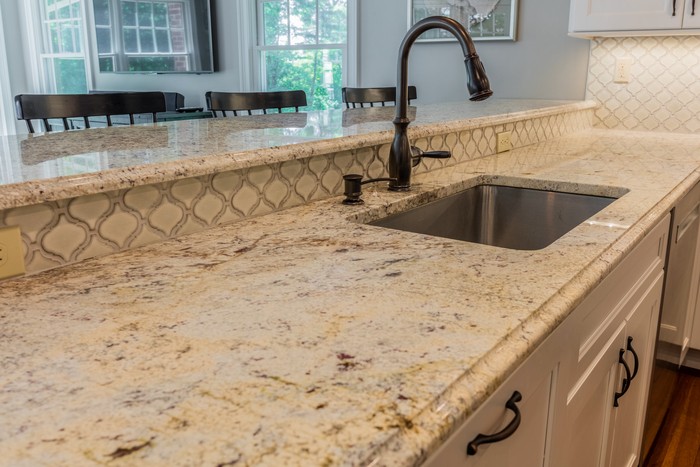 Choosing a Stone Color for Countertops
The natural stone industry offers a range of stone colors for kitchen and bathroom countertops. Depending on the amount of black you want to add to your kitchen, you can find granite colors in everything from a small amount of black in a lighter stone to primarily black granite countertops. White, off-white, or wood cabinets in light shades can be paired with black countertops and all black hardware to create a beautiful contrast.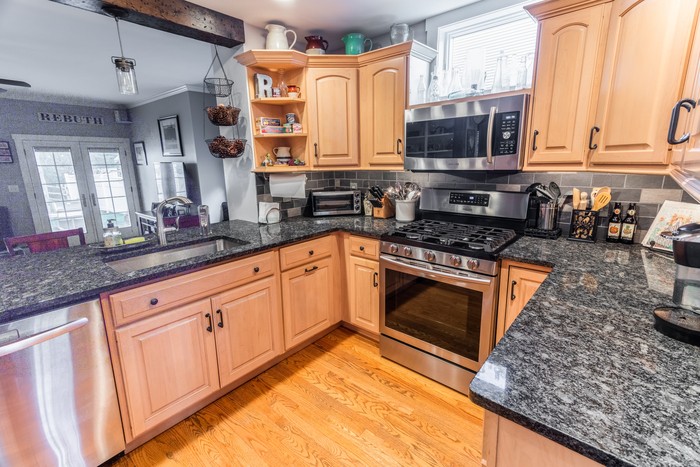 Marble countertops with a black veiny pattern or light vein add architectural interest when you pair the white marble with all black hardware. Add black faucets, light fixtures, or other accents to create a luxurious design for your kitchen. Quartzite countertops are another option. This stone echoes the look of marble with veining and grey highlights, but quartzite is extremely durable and easier to maintain than marble.
Black is a bold color choice, so you don't want to use too much of it. When considering black in natural stone, the size of the kitchen partially dictates your color choice. Lighter and brighter colors work well in smaller spaces. Larger kitchens allow for more stone color options. You should plan to visit the slab yard to view slabs of marble, quartzite, or granite for your countertops. The professionals at marble.com can provide expert advice and guidance to help you make the kitchen of your dreams a reality.
Did you know that Virtual room planning is gaining more popularity now? If you are thinking about a home remodel but unsure of where to start, virtual rooms will allow you to change the way a room looks while adding different elements to the room, such as different stone options or cabinet colors. You have to ability to inspire the home designer in you while planning the style of your kitchen or bathroom. You can choose from many different options and it's a fun way to makes decisions and share with those who are involved in your project.