Tips for Creating a Scandinavian-inspired Home
Tweet
---
The Scandinavian interior design is known for its uncluttered style, functionality, and clean lines. The beauty and simplicity of Scandinavian interior design offer understated elegance. The lack of clutter is perfect for people who feel inspired by the minimalist movement.
Incorporating Scandinavian Design in Your Home
Scandinavian homes feature colors that mimic the tones of the natural landscape in Sweden, Denmark, Norway, and other Scandinavian countries, such as white, black, gray, soft blues, and lighter browns. Toning down the color scheme is calming and relaxing. Start with a blank canvas of white walls or possibly a gray feature wall.
Wall to wall carpeting is rare in Scandinavian homes. Light wood flooring with area rugs is commonly used in the Scandinavian interior design. You can add warmth through layering with furniture, area rugs, and accessories. Consider sparse furniture with simple, clean lines, and light upholstery, nothing heavy or dark. Wood tables or shelves are generally made of pine or spruce. Think Ikea for home furnishing inspiration.
Continue layering the design of the room with textured cushions and throws in sheepskin, knitted, and linen designs. Black and white wall art, candle holders, pendant lights, and bedding in black and white geometric designs add interest to the room. Scandinavian design allows for plenty of natural light, so you will want to use minimal window treatments, rather than heavy curtains. Interior lighting can include a mixture of pendant lighting, floor lamps, and table lamps to illuminate the space.
Add a bit of color to make the style your own. Color can be added through the use of cushions, throw rugs, and carefully chosen decorative objects. Accent colors frequently used in Scandinavian inspired rooms include light pinks, muted greens, icy blues, or maybe a bit of yellow. Avoid using too much color, just a few accents is plenty.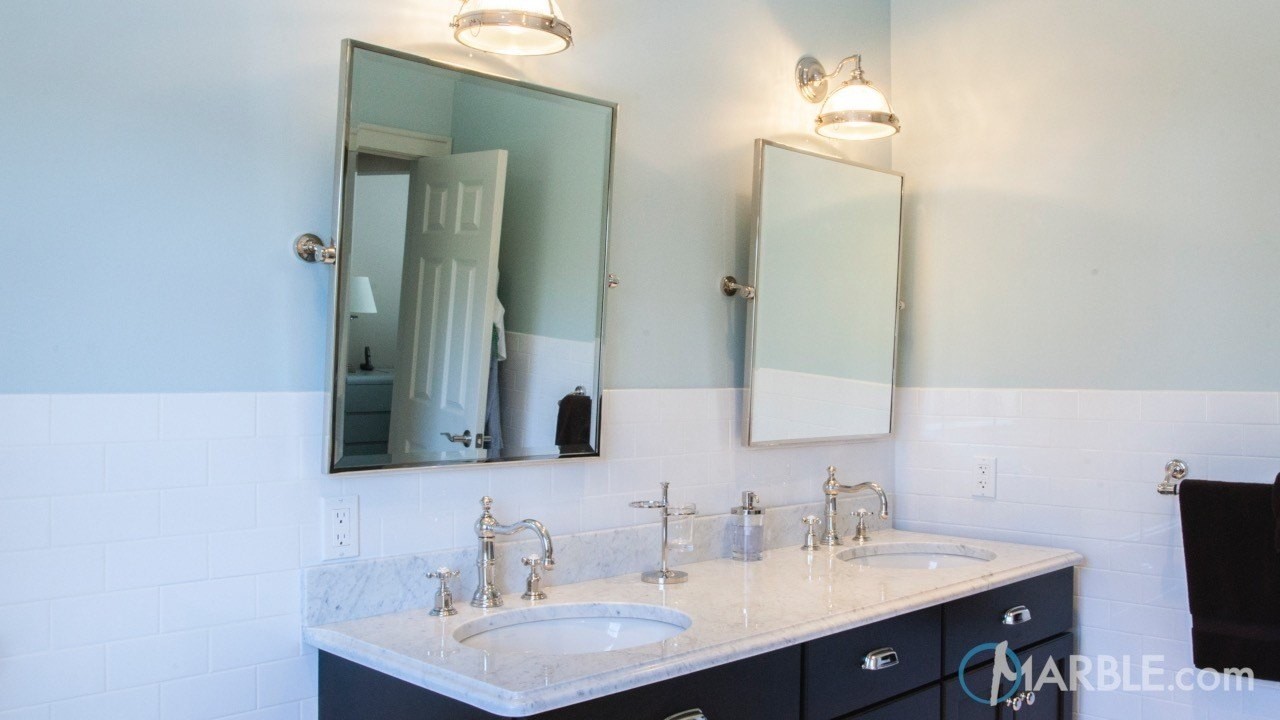 Statuario Marble gives a calming a relaxing vibe. Characteristics of Scandinavian design.
Focus on Natural Materials
This design style focuses on a connection with the outdoors. Bring nature in with wood and natural stone. Limit it to just a bit of wood, such as exposed beams, a wooden stool, or shelving. Continue the natural elements by placing a vase with a green plant on a coffee table or shelf. Green plants offer the advantage of bringing a touch of color to any room.
Choose a stronger and more durable white stone for kitchen counters and bathroom vanity tops, such as a white or grayish granite, quartz, or quartzite. Granite is among the most popular types of natural stone for countertops for its beauty and durability. You should still treat these stronger types of stone with care to avoid any damage to the counter or vanity top. Maintenance is crucial to keeping your kitchen countertops and other counters in great shape.
We all have our own unique style and this article was meant to offer some tips and ideas. Whatever your style may be, you can add just a touch of Scandinavian style to your home. Sometimes all we need is just a light touch of something great to make our own style and something even greater!