Tips for Creating a Monochrome Bathroom
Tweet
---
Monochrome color schemes are quite popular at the moment, but this trend never really goes out of style. If you want to create a timeless style choice for your bathroom, monochrome is a solid investment, especially when you consider the more expensive items, such as tile, flooring, and natural stone vanity tops. You won't invest a lot of money, only to have it go out of style next year!
Black, white, and grey are the colors primarily used in monochrome home interiors. There are several ways you can incorporate this style into your bathroom redesign. All black bathrooms are dramatic with an Absolute black granite vanity top, black tile, flooring, and fixtures. Be careful with all white, as it can look sterile and institutional. This can be avoided by adding a pop of color, such as colorful towels, a green plant, or a container of flowers. A mixture of black and white is most commonly used in monochrome bathrooms. This color scheme works well with a variety of design styles, such as modern, minimalist, industrial, and art deco.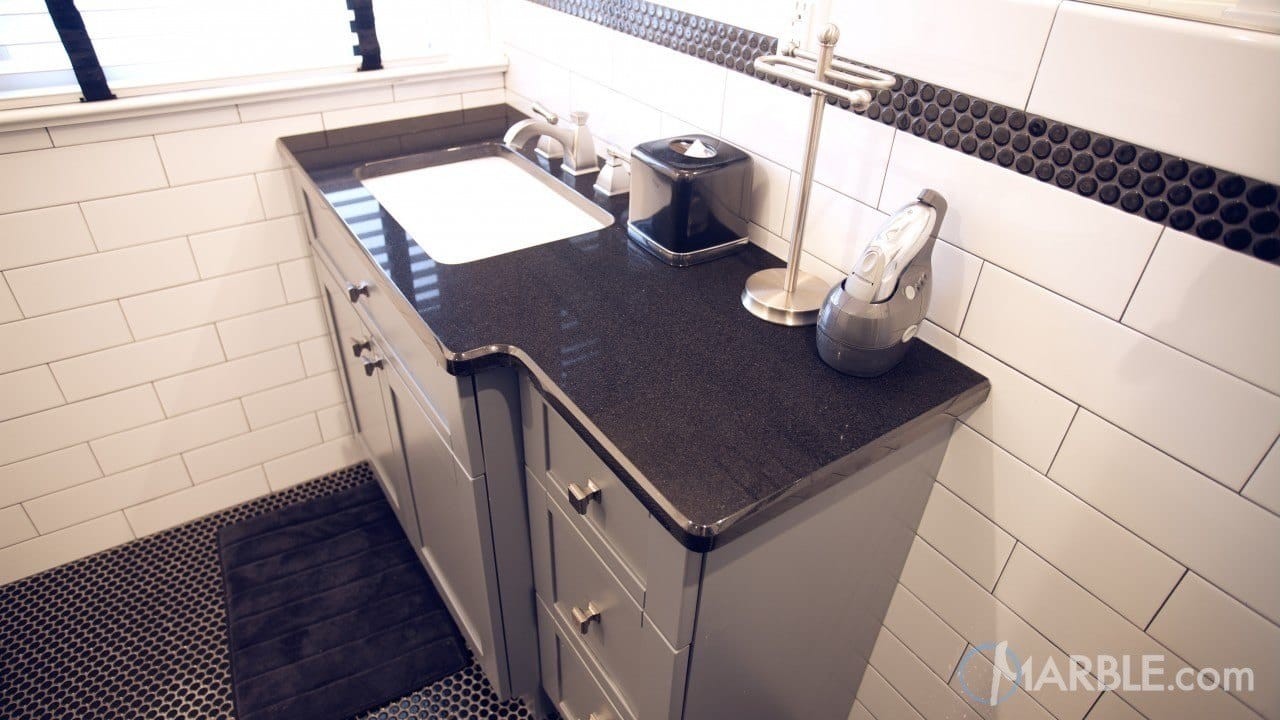 Create a Tranquil Space in the Bathroom
There are several small changes that you can make to create a monochrome bathroom. Changing towels, shower curtains, and accessories in the bathroom is easy and inexpensive. However, larger items, such as tile or a vanity top are more expensive and not replaced nearly as frequently. Black and white stone colors, such as Vena Pure White Quartz and Black Galaxy Granite will work well, even if you decide to bring in other colors later.
Many options are available in black or white natural stone for bathroom vanities. You may want to consider a granite vanity top, quartz vanity top, or quartzite vanity top to create an exquisite monochrome color scheme for your bathroom design. These stones are also known to be quite durable.
Incorporate graphics elements in your new bathroom with color blocking, stripes, chevrons, and other geometric patterns in towels, shower curtains, window treatments, and bathroom accessories. Don't use too many graphics patterns in one room or it will look too busy. For best results, limit graphic patterns to one or two items in your bathroom design.
Used together, black and white provide a striking contrast that creates a dramatic impact in the room. There are several ways to accomplish this goal. You could use a black vanity top with a white sink basin or paint a black feature wall with a white vanity top.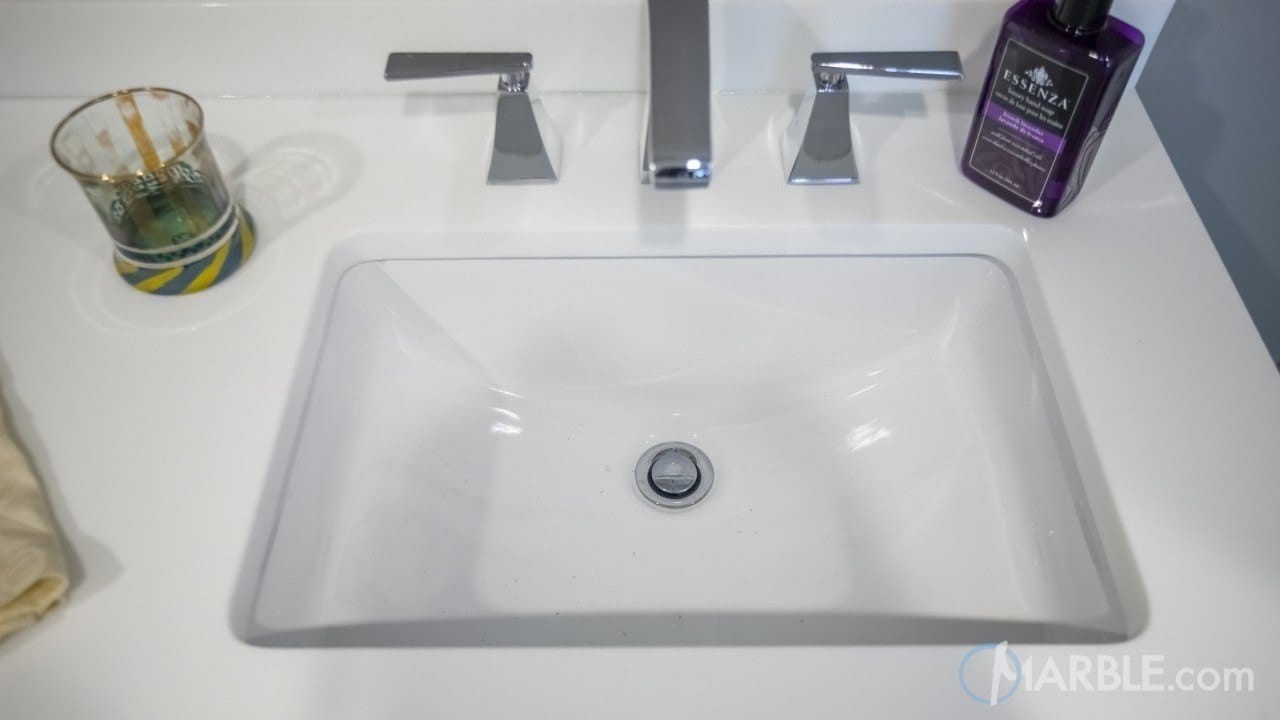 A pure white vanity top with dark grey or black walls would be a striking contrast in your bathroom
Create geometric patterns in black and white with tiling on the floor or bathroom walls. This can be accomplished with most budgets. You can use designer tiles with black and white patterns, but these can be expensive. If you're on a more limited budget, you can create diagonal patterns by alternating black and white tiles or use either white or black tile with a stripe of each opposite color in the shower. Choose one or the other, as using this idea both in the shower and on the floor can be overpowering.
Black bathroom fixtures, such as shower heads and faucets create a great contrast with a white sink or shower tiles. Black lighting fixtures bring more light in the space, especially for bathrooms with no windows. Try adding ceiling lights or black sconces mounted on the wall with white frosted globes. There are many options available in black home lighting.
If you feel like all monochrome is too much, you can add a pop of color to break it up. There are many different ways to do this, including green plants, a container of flowers, or colorful towels. You can always change the accent color whenever you want to keep it fresh.
Planning Your New Bathroom
Stone colors can vary, due to the inconsistencies of nature, which result in unique colors and patterns among slabs. Visit the slab yard to see slabs in person when purchasing Absolute black granite, Vena Pure White Quartz, Black Galaxy Granite, and other natural stone products.
Monochrome is a fantastic look that many people enjoy. It is artsy, minimal, and fun! We hope that if you're planning your next bathroom remodel, and are not sure of the style that fits yours, you will consider this article and that it inspires you to create the bathroom of your dreams!