The Benefits of Marble and Granite Floors
Tweet
---
Formed in nature when volcanic magma solidifies, granite - the queen of flooring - is exceptionally hard and amazingly beautiful at the same time. Virtually non-porous, stain and scratch resistant when treated and maintained properly, granite is particularly suited for flooring, especially in a high traffic area such as the kitchen, which sees lots of activity and humidity. Marble flooring has many of the same advantages, it's extremely durable and water resistant as well and offers the same dramatic appearance. Cleaning both types of floors is unusually easy.
As natural building materials, granite and marble are often associated with elegance and luxury, and in the form of stone tiles are the amazing floor covering. The naturally forming patterns and colors ensure a unique look and with all the available varieties, finding one to complement the room's other design features will be easy and fun.
Key Characteristics:
Finishes. To blend with and complement interior design styles and furnishings, granite and marble flooring tile come in several man-made finishes. Polished marble and granite offer a high gloss finish where the granite crystals can be clearly seen, a matte finish (also referred to as honed) are also available for both marble and granite while tumbled finishes offer both granite and marble a textured feel and rustic appearance.
Coefficient of Friction (Slipperiness).
The coefficient of friction indicates how slip-resistant the tile is. The higher the coefficient, the less slippery the tile will be, which is an important consideration, especially in the kitchen. This number is typically no less than 0.6.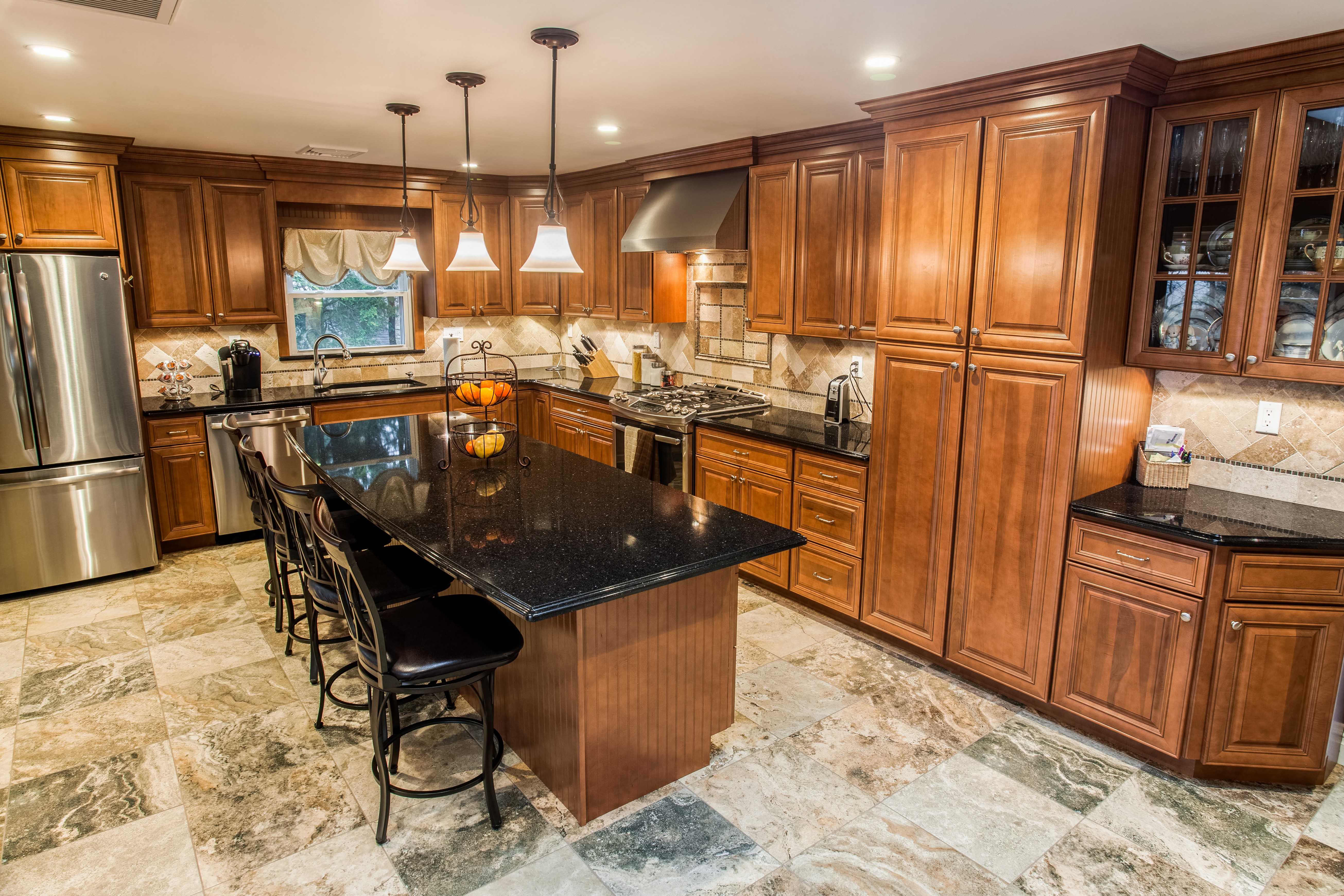 These marble tile floors add a nice contrast to the dark countertops
Grade. The grading can refer to the size, shape, and thickness of the tile, as well as the condition of its surface. Granite and marble are both hard materials, however, there can be a big difference between a premium and a commercial grade stone. The commercial grade may not have the durability you're counting on.
Sealing. Both granite and marble are naturally porous, making them prone to being penetrated by dirt and bacteria. Sealing them with a penetrating sealer (as opposed to a topical one) is highly advised, and will provide the best and most effective barrier.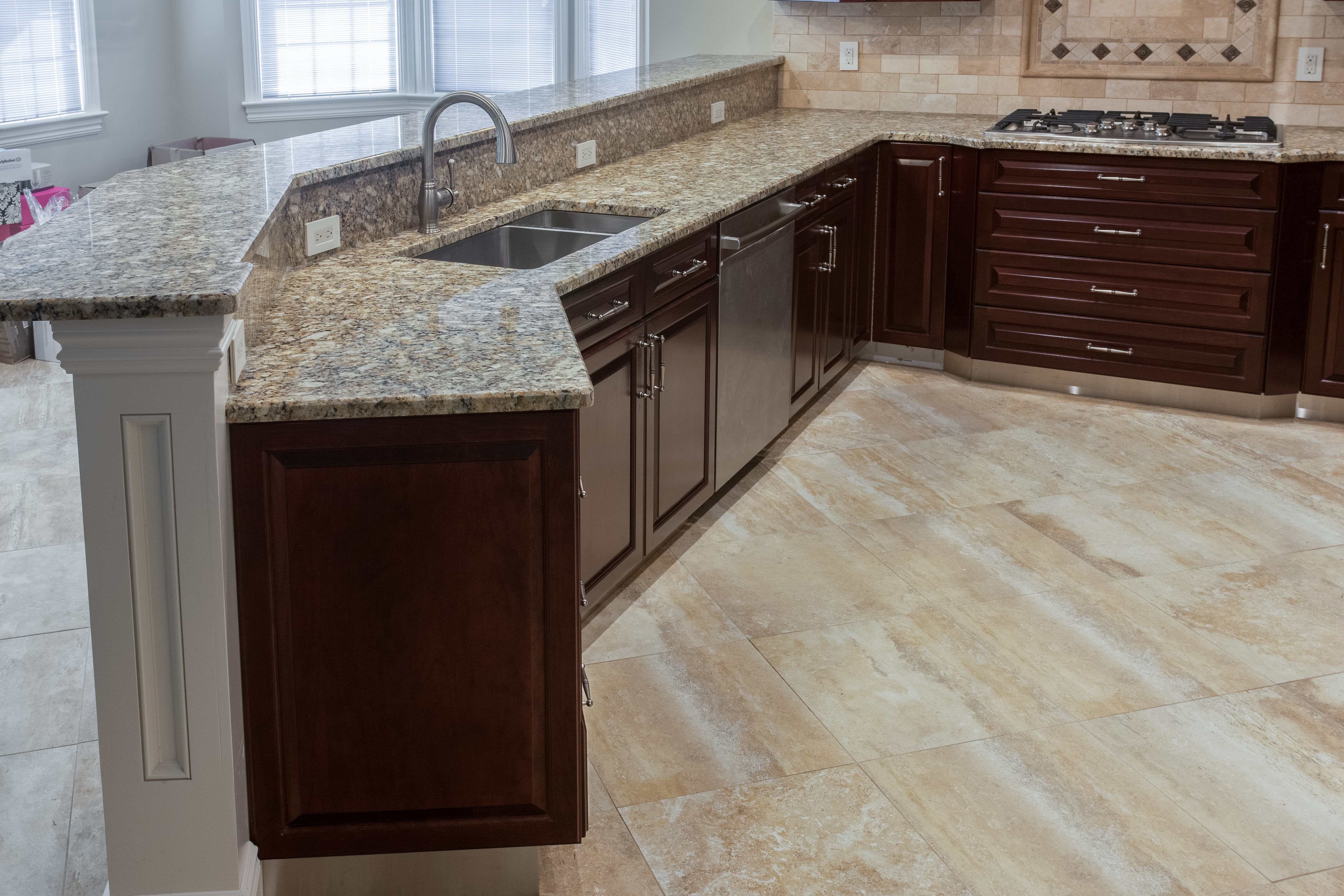 The beige granite tile floor pairs well with the brown flecked countertops in this kitchen
Value. Granite and marble flooring is highly valued by prospective homebuyers. When cared for properly, these floors can last for generations, doing away with replacement costs.
Design. Marble, especially, is an ideal material for an inlay pattern which can make for a striking floor. Both marble and granite tiles can be purchased in a variety of sizes, 20' x 12' or 18" x 31" for example and they can typically be cut into any size by the installer, making design options limitless.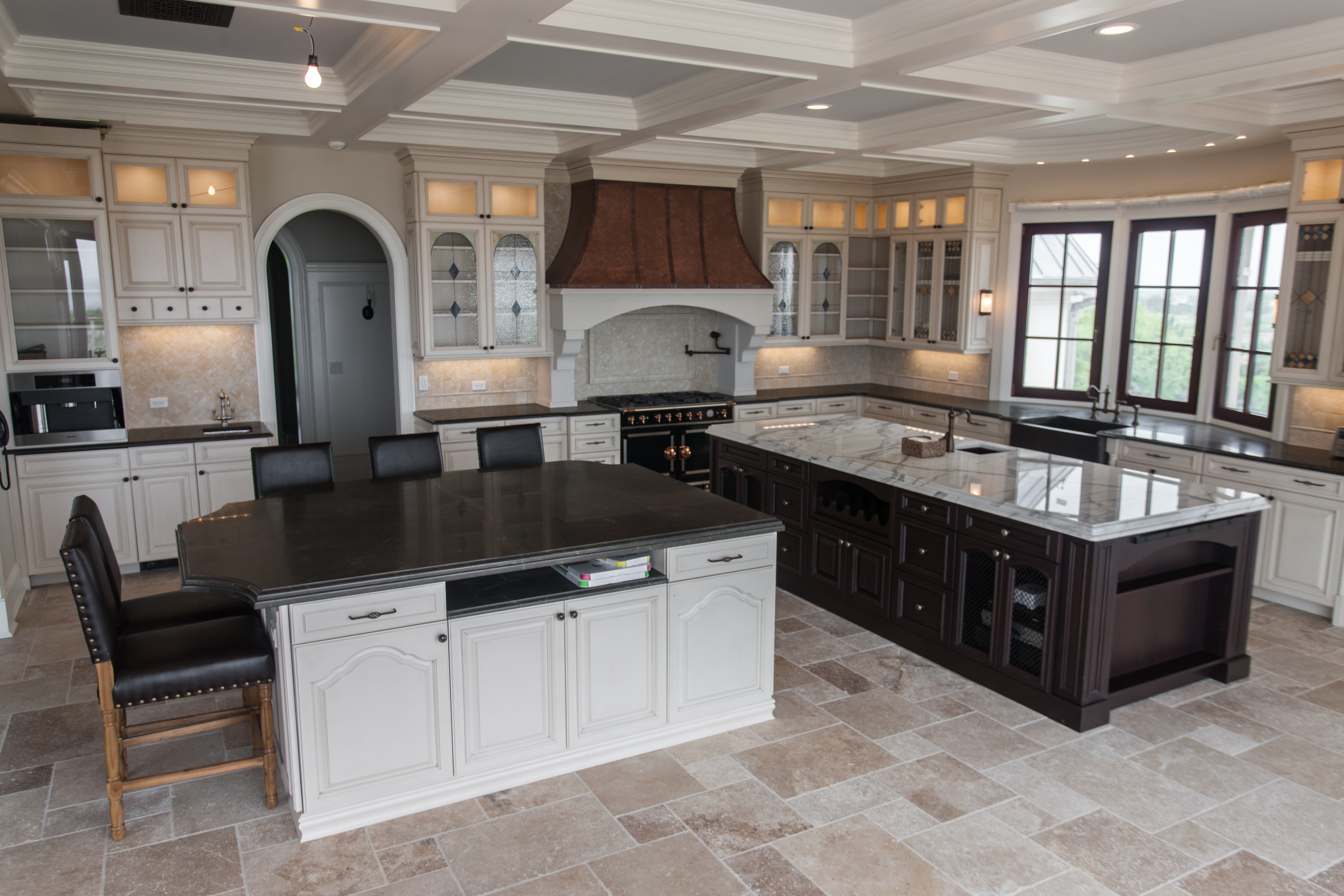 Damage. Although not likely, it's not impossible to damage either granite or marble floors from heavy dropped objects or heavy sharp items being dragged across them. It is more likely that marble would be damaged being that it is softer than granite. Regular wear and tear of foot traffic and pets won't affect properly installed and maintained granite and marble floors. However, it's a good precaution to purchase several extra boxes to use as replacements in the future, especially given the unique design and pattern of each lot.
In conclusion, when considering natural stone flooring materials such as granite and marble it's important to understand the attributes of the material and how they will perform. Granite and marble floors can be an ideal choice, not only for the characteristics listed above but because they complement the characteristics of your family.