Marble or Granite. What's Best for You?
Tweet
---
Granite or marble? Marble or granite? Seems like a simple enough decision, right? But anyone who has remodeled or designed a kitchen knows the angst that can go into deciding which of these two amazing natural stones to choose for the countertops, the island, the backsplash, the flooring, and any number of applications both in and out of the kitchen.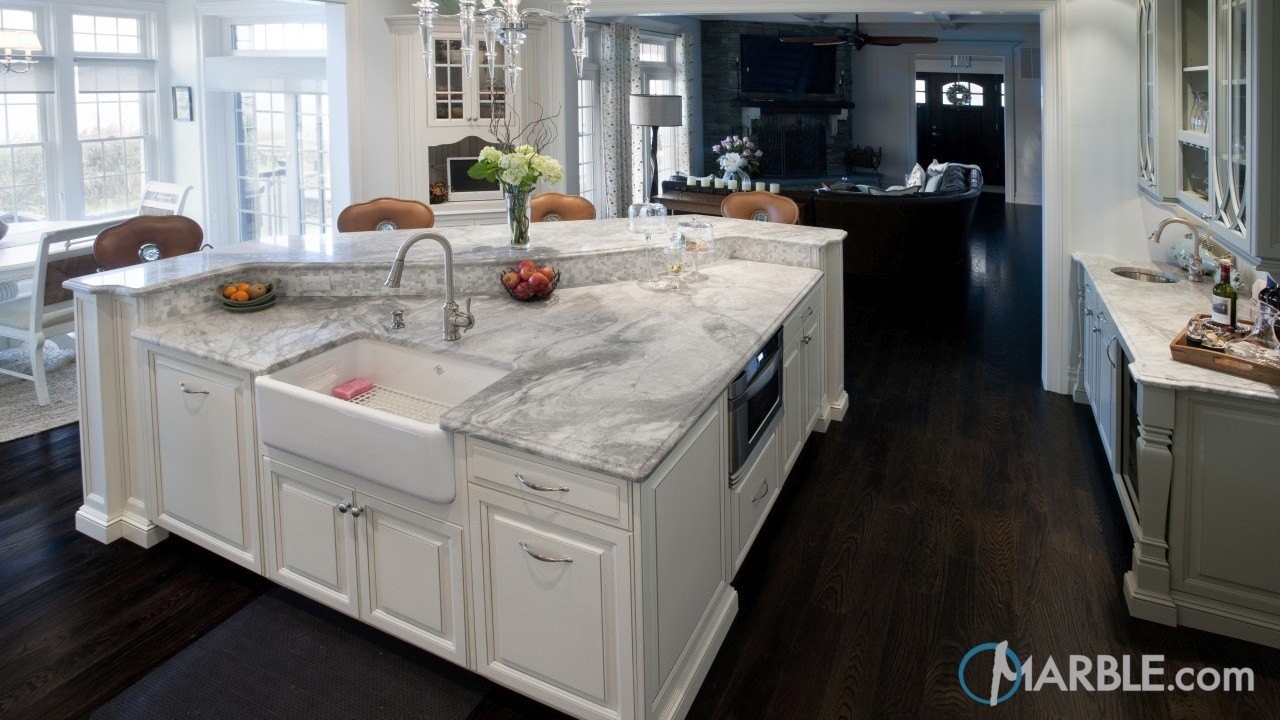 White Fantasy Marble Kitchen Countertops
The choice between marble and granite generally lands somewhere between aesthetics and practicality, between the visual effect you want and how much, and what type of use the stone will see. Both are natural stones quarried from the earth, yet they possess very different characteristics in regards to porosity, durability, and softness.
This article will lay out the information you need to know about these natural stones and how they have been shown to perform in a variety of applications.
Maintenance:
Granite is easy to maintain, but spills should be cleaned up right away, and the surface should be resealed annually. We recommend sealing up to 2 times per year.
Marble requires a little more maintenance, and spills should be cleaned up right away. It is more porous than granite and the surface resealed annually. We recommend up to 4 times per year.
Color:
There are two basic styles of granite slabs, variegated and consistent. Consistent granite slabs feature the same pattern throughout, while the favored variegated granite slabs feature veining typically of a different color than the background.
Marble is generally a solid gray/white or light cream color with dark veining through it, formed by the presence of mineral impurities.
Countertops:
Granite, like the Bianco Antico granite shown below, is recommended more often than marble for kitchen counters and island applications. The definition of luxury, marbles beauty can endure for generations and it's versatile enough to be used throughout the house. However, given its susceptibility to scratching and staining it's better used in more formal areas with less traffic.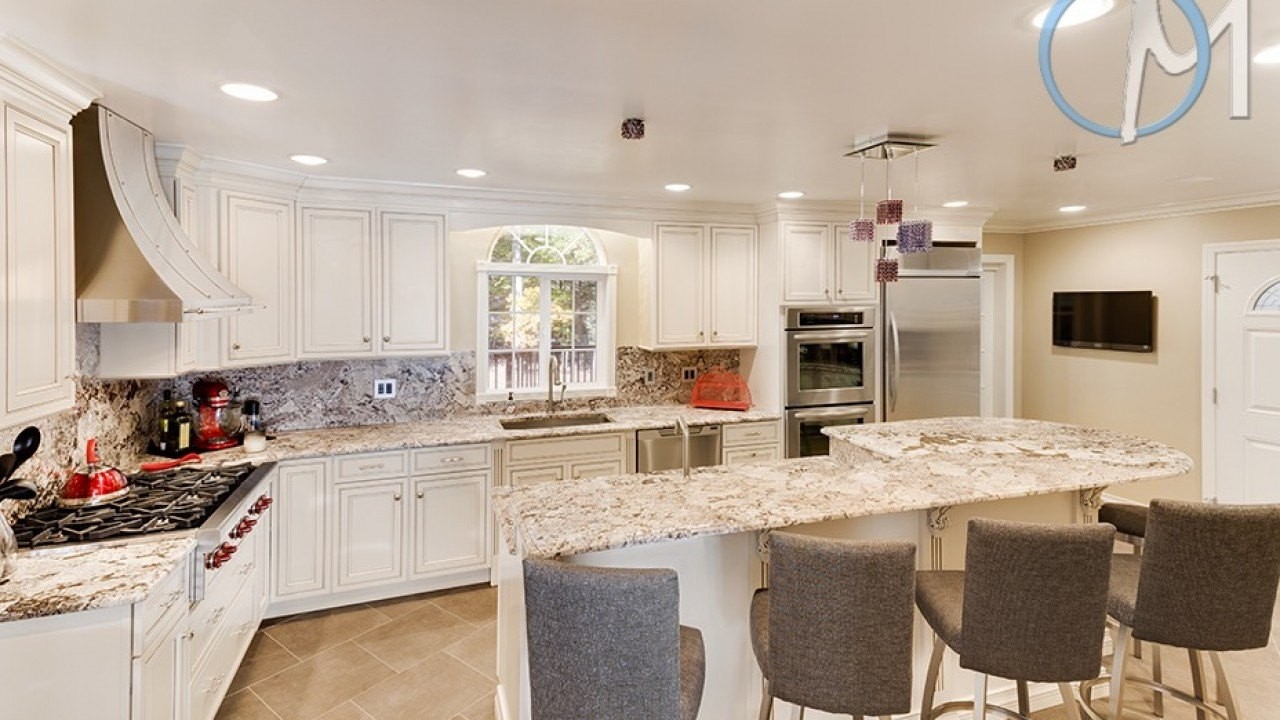 Bianco Antico Granite Kitchen Countertops
Bathroom Vanities:
This is where marble really stands out, especially in master baths as a vanity top or on the shower walls. This beautiful Crema Marfil marble bathroom vanity top displayed below is so sleek.
Granite also works well in the bathroom and there are many more color options.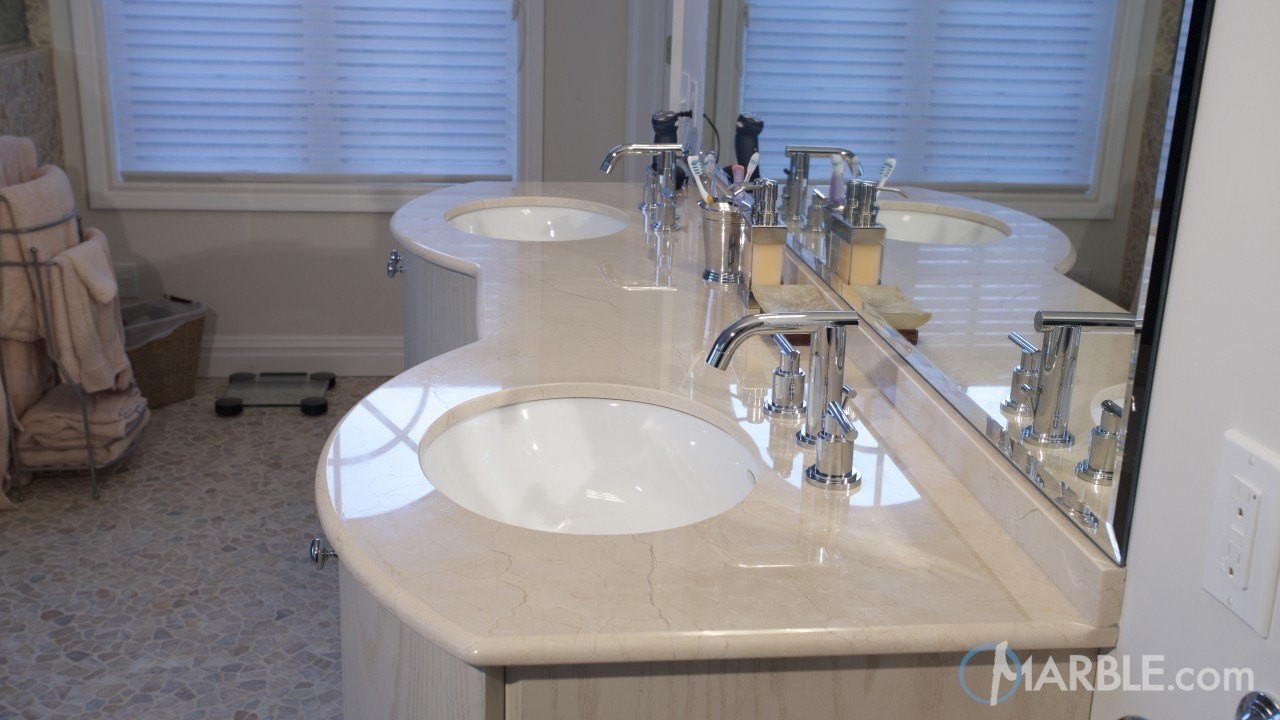 Crema Marfil Marble Bathroom Vanity Top
Floors:
Granite seems a natural selection over marble given its durability and is the most recommended material between the two.
Marble works well as flooring anywhere you please. But, like mentioned above, you want to be careful of dark stains.
Both materials can be slippery when they get wet and should have a finish suitable for foot traffic
Fireplace surrounds:
Granite and marble are equally suited and equally beautiful in this application. Giallo Napole granite is a popular granite that many people choose for it's neutral colors like this fireplace surround below.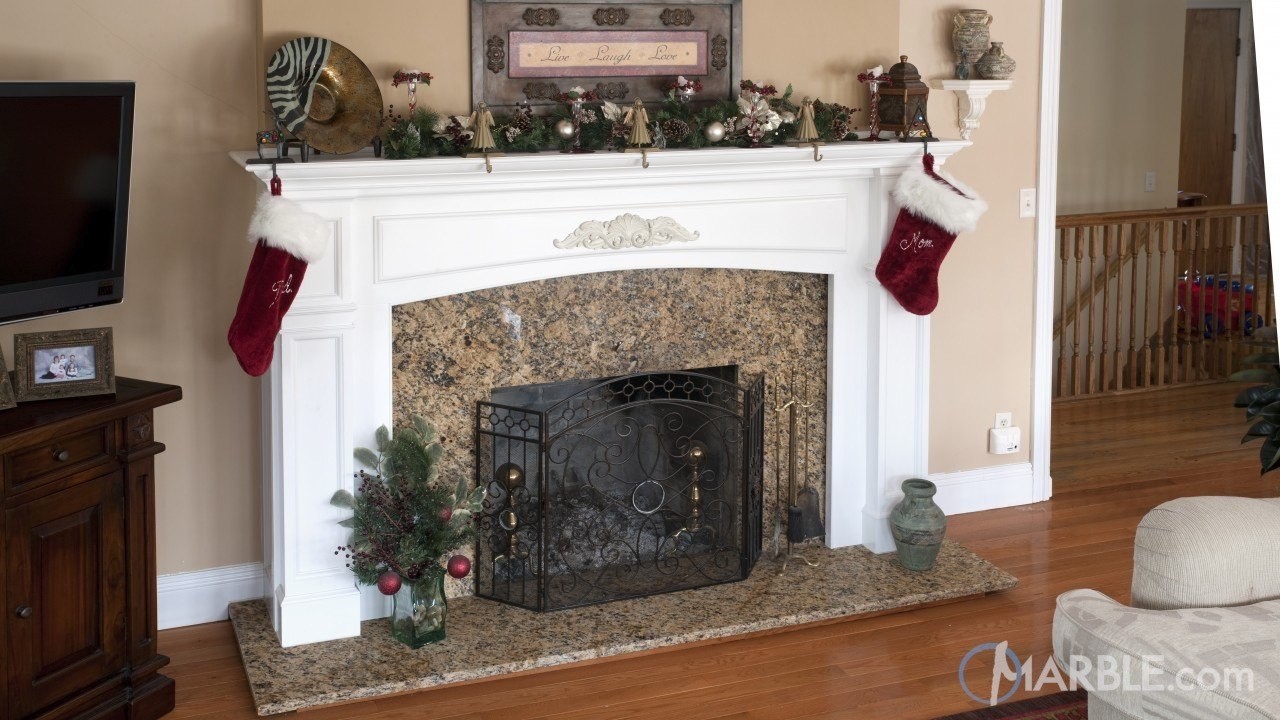 Giallo Napole Granite Fireplace Surround
Exterior uses:
Both marble and granite are commonly chosen as an exterior building or facing material, garden decorations such as fountains, and paving stones. Granite, however, is more commonly used for outdoor countertops.
Design Styles:
Granite can accommodate a wide array of design styles but is probably best suited for rustic, country, and traditional styles given its inherent richness and warmth.
Marble, on the other hand, is the epitome of elegant and formal, sleek and modern, with clean lines and a luxurious appearance.
Ultimately, the choice between marble and granite will be a reflection of the homeowner's taste and style, so there really is no wrong decision if you understand the benefits and challenges associated with specific applications. The real upside is knowing that whichever one you choose, granite or marble, the result is going to be fantastic.