Marble in the Kitchen?
Tweet
---
Its incomparable beauty makes marble a classic and luxurious material for kitchen countertops, bringing sophistication and warmth to any kitchen. It's no surprise that white marble is still among the top choices for many homeowners, it's been attracting fans for centuries. Comprised of crystallized limestone, it is a metamorphic rock, which means that it's a stone that has changed from one type to another.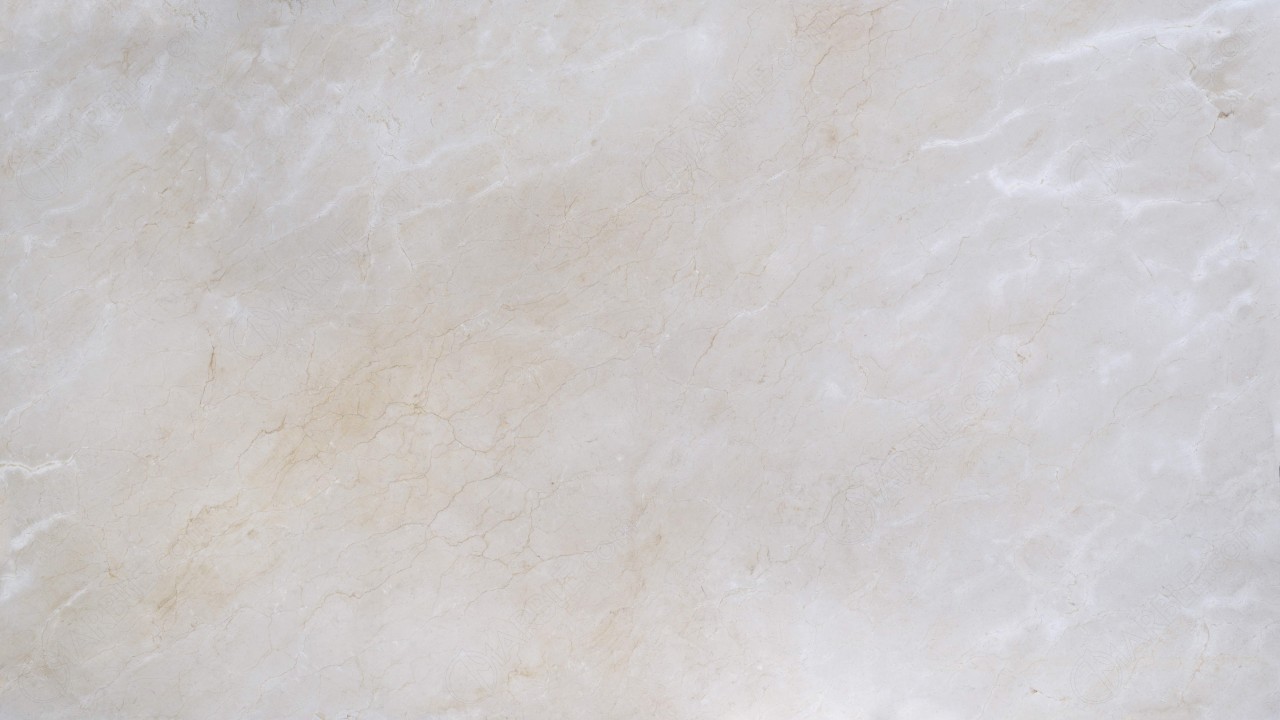 Crema Marfil Marble
Marble, however, isn't a perfect product. High-quality marbles, including the world-renowned products from Carrara, Italy, are very dense but the material that makes up marble is highly reactive to acids and any acidic kitchen liquid such as vinegar or lemon juice will cause etching on the surface of the marble. This leaves a discolored mark where it has begun to eat away at the surface, even after sealing
If you choose carefully and understand how to care for marble countertops and what to expect, they can be a beautiful, functional, and lifetime choice for any countertop design.
Domestic Marbles
White Italian marbles like White Carrara marble, a white marble with subtle veining, and Statuario marble are typically excellent quality, however, many experts point out the marbles of equal quality closer to home, such as Mountain White Danby marble.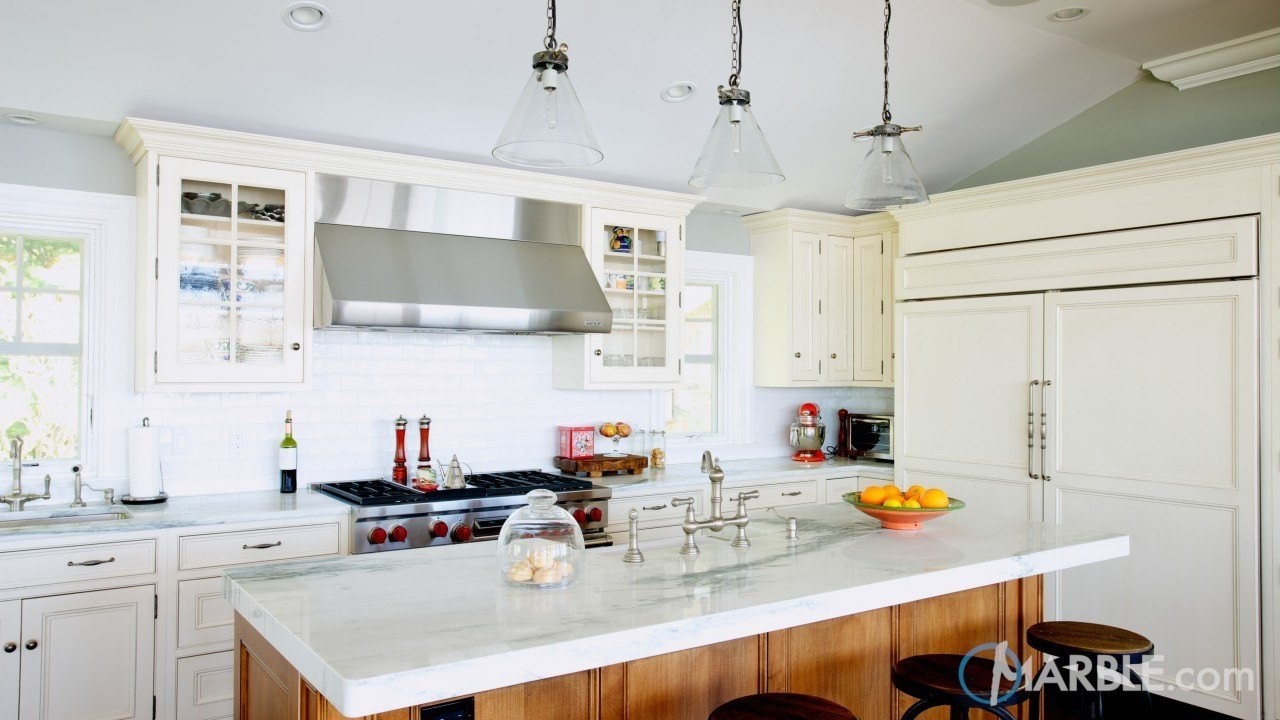 Mountain White Danby marble kitchen countertops
Selecting Slabs
Every slab of natural stone is unique, so it's recommended that you choose the pieces of marble that you want to be used for your countertops. It's also important to think about how the different pieces will come together. Fewer seams are generally preferred, but if you know ahead of time where the seams will be, it can be an opportunity to book-match the marble, giving adjacent pieces a mirrored look.
Finish
Today there are more ways than ever to finish natural stone surfaces, including different polishing and brushing techniques, even an orange-peel-like textured finish is possible, which is referred to as a brushed, leather, or river-wash finish. The most popular finish is still polished - which looks shiny, or honed, which has a matte appearance. For homeowners overly concerned about etching, a honed finish can help hide damage.
Care and Maintenance
Not usually recommended for high traffic kitchens, marble can scratch and can stain. A little preventive care can go a long way towards keeping marble countertops looking like new. Using trivets underneath hot pans and serving dishes, coasters under drinking glasses, slicing food on a cutting board, and cleaning spills as soon as they happen are all ways to prevent stains and etching. It's true, it needs a little more maintenance than other stones and if you are the cleanliest and most careful of homeowners, then this might work for you. It adds a certain beauty to the room that you cannot get with other stones.
Marble countertops should be cleaned daily with warm water and a soft cloth. Mild cleaners are appropriate, however, there are also cleaning products made specifically for marble. Marble countertops should also be periodically resealed.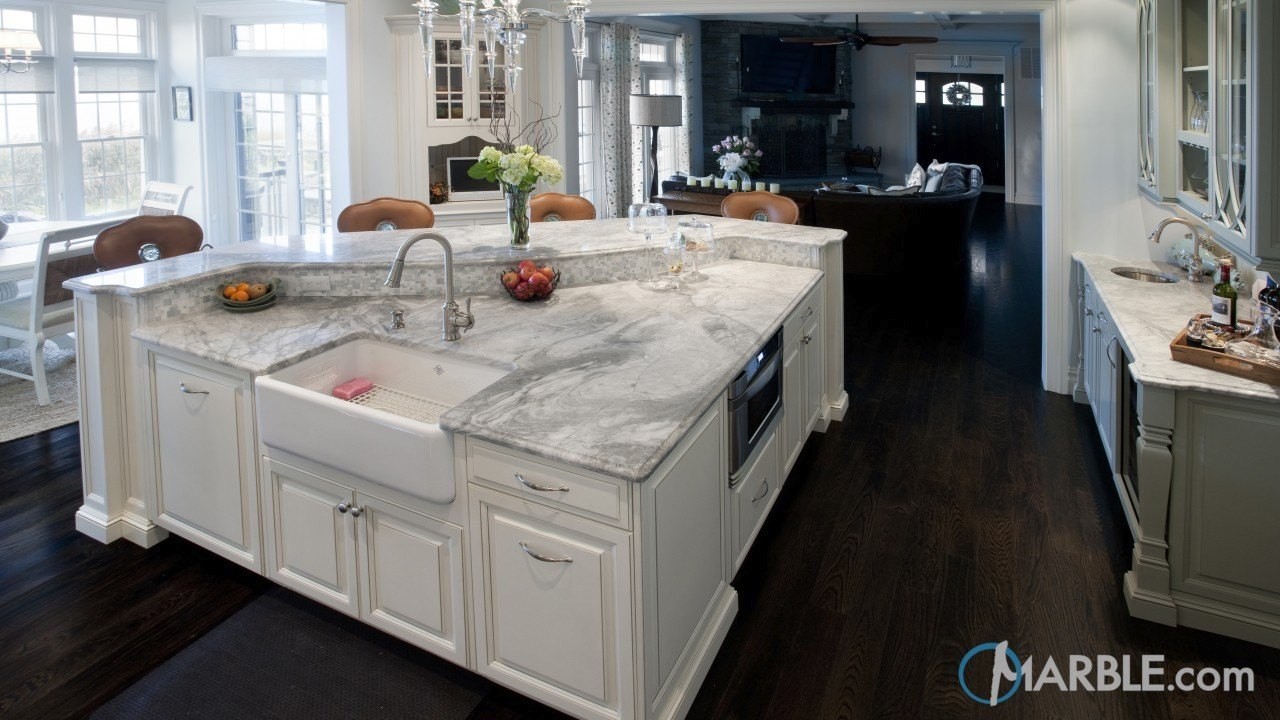 White Fantasy marble kitchen countertops
Details
In addition to its natural beauty, there's also another reason marble has so popular - it's relatively easy to work with. When you add in modern computer controlled milling machines there's almost no limit to the designs that can be created. For example, there are innumerable edge profiles to select, including an eased edge, a bullnose edge, or even an engraved edge. You can view all our edges by using our Countertop Edges tool.
The Bottom Line
Marble is an elegant and luxurious surface that will last a lifetime. While it's not the strongest or most durable choice, its smooth, cool surface is an outstanding choice for creating a baking center or a pullout slab. And for those homeowners for which nothing else will do, marble can perform admirably as a kitchen countertop with the proper care and maintenance.