Make Your Bathroom Feel Like a Spa
by Dean Gemmell
Posted on September 10, 2017 07:00:00 AM
Tweet
---
The worst part about a trip to the spa? Returning home.
But what if your own master bathroom felt like a spa getaway whenever you were in it? With some careful thought and natural stone, you can get that soothing, calming atmosphere without needing to leave your own house.
The foundation is materials.
Let's start with the essentials — a great spa bathroom is built from the ground up. Or from the stone up. When you think of spas, your mind surely goes to the quality of the materials within it. Do you remember the stunning marble that seemed to envelop the entire space? If you did, start with a marble vanity top and a marble bathtub surround. Few materials do as much to immediately impact the Zen-like qualities of your favorite spa as marble does.
Perhaps the most classic choice is Statuario Marble, a sensuous, elegant marble with deep, striking grey veins running through every slab. One part ancient Rome, another part Canyon Ranch — it's hard to imagine a more ideal selection when the spa atmosphere is what you crave in your master bathroom.
Remember, however, that it's critical to work with a supplier who has a vast inventory — marble slabs are a natural material and there will be endless variety. You want to make sure there is a selection that is large enough so you can find the one that is just right for your bathroom.
Choose stone colors wisely.
For many people, the bright sheen of a natural stone like Statuario Marble is instantly identified with calm, exactly what you want when creating your own personal spa. Then again, that look is not for everyone. Some people will seek a more contemporary approach to their spa space and will want stone colors that provide some additional visual interest while still maintaining the calming effects.
Stone colors are intensely personal, but the good news is that there is a wide spectrum available. If white doesn't seem quite right, you may want to choose a natural stone that has colors of nature — think Rainforest Green marble — or flecks that resemble gold — like Colonial Gold granite — it can be a terrific direction to take your design.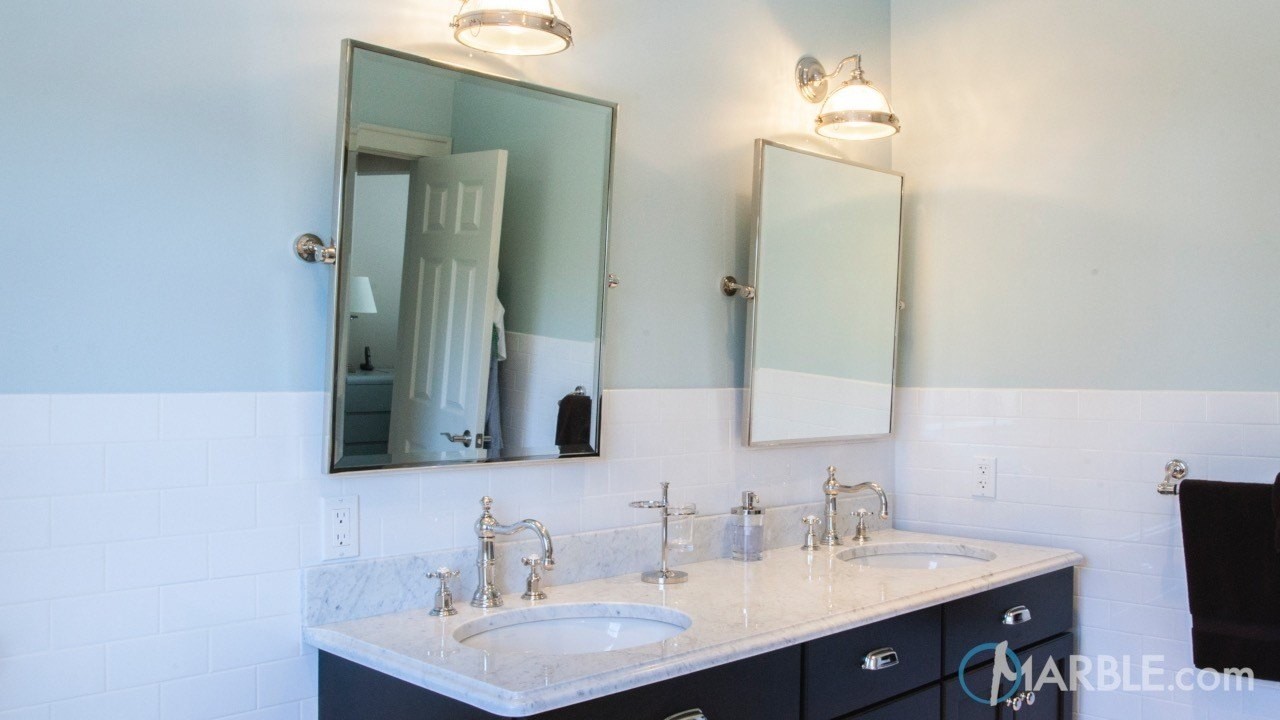 Statuario Marble Vanity Top
Keep it Fresh and Clean.
So let's say you've put all the pieces together for the spa you've always wanted in your master bathroom — the marble vanity top is stunning, the marble bathtub surround feels like a trip to a five-star hotel whenever you step into it, and the color scheme you chose has worked out perfectly. What else can you do?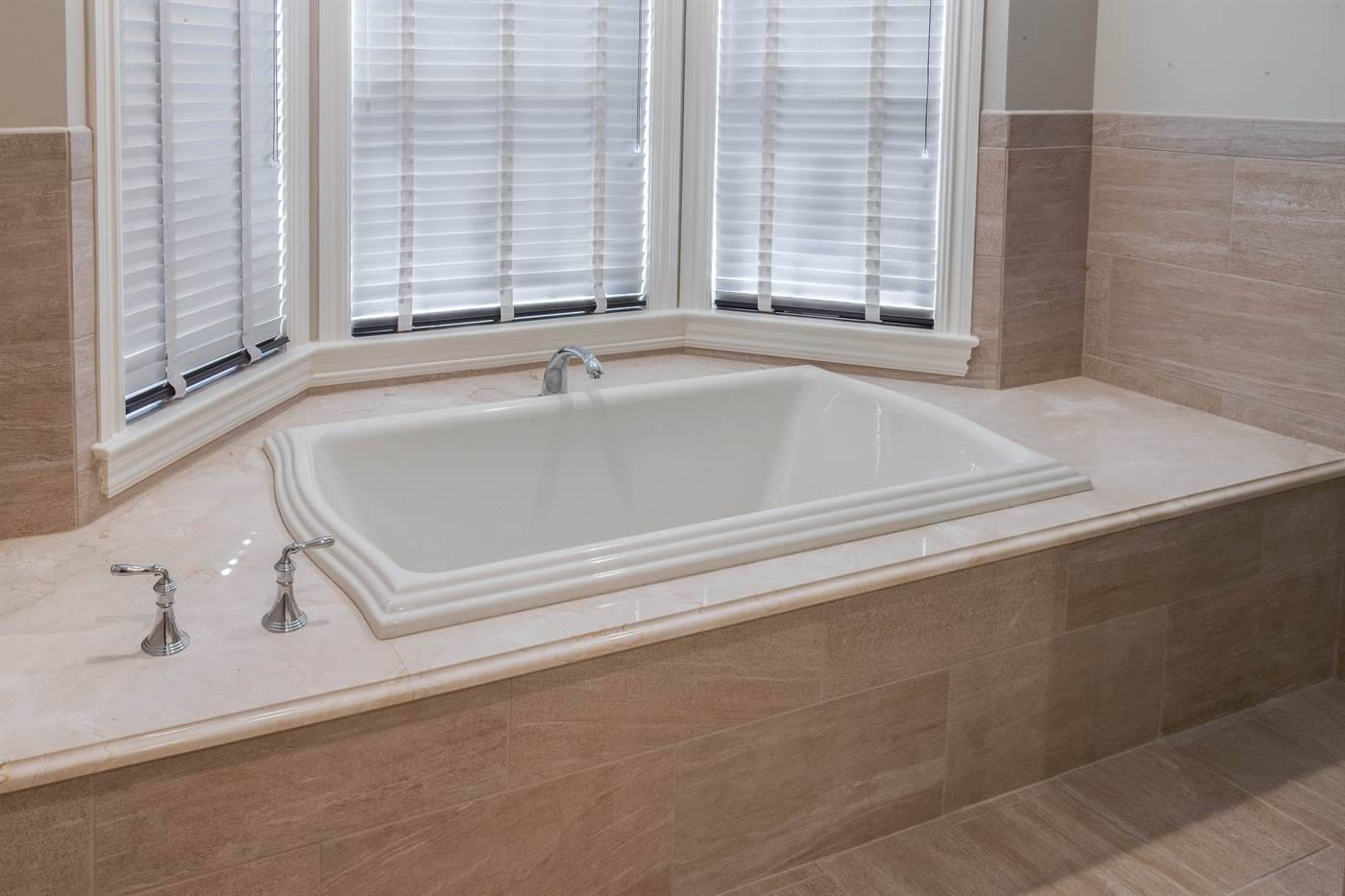 Crema Marfil Bathtub Surround
Well, you can start by making sure your spa getaway room is never cluttered. Especially if you have a marble vanity top, it's time to hide the toothpaste and toothbrushes, banish the hair products, and tuck the makeup away. Clean and tidy is the way to go. The key is designing great storage to go with your thoughtful stone choices, so everything you need in your master bathroom is available but isn't the first thing you notice when you step into the room.
What else do spas do to help you escape the stress of everyday living? There's that music, of course, soothing and relaxing. Even if you like to vibe out to a 90s grunge band, you'll want to make sure you have a way to get sounds you love into your master bathroom.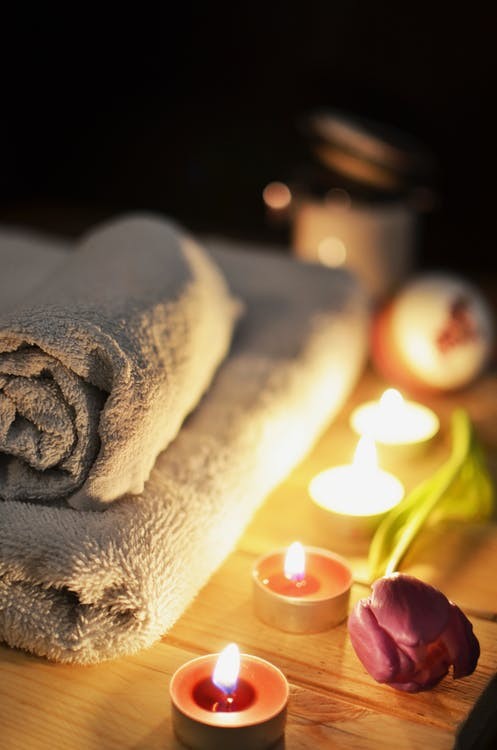 Scent is also a powerful tool. When you walk in and detect notes of eucalyptus or lavender, your mind instantly goes to places that don't include things like progress reports, sports schedules or visits from the in-laws. Use scents wisely and keep them fresh.
Finally, don't forget to fill your master bathroom with things of beauty that spark the senses — small flowers and plants, the flickering light of a great candle. It all adds up and enhances the experience.
Truth is, it's not difficult to turn your master bath into a spa getaway you'll savor. Start with good design choices and natural stone — then simply maintain it all well. So go ahead and start planning how you're going to get away from it all — at home.