Kitchen Design Trends that Buyers Just Love!
Tweet
---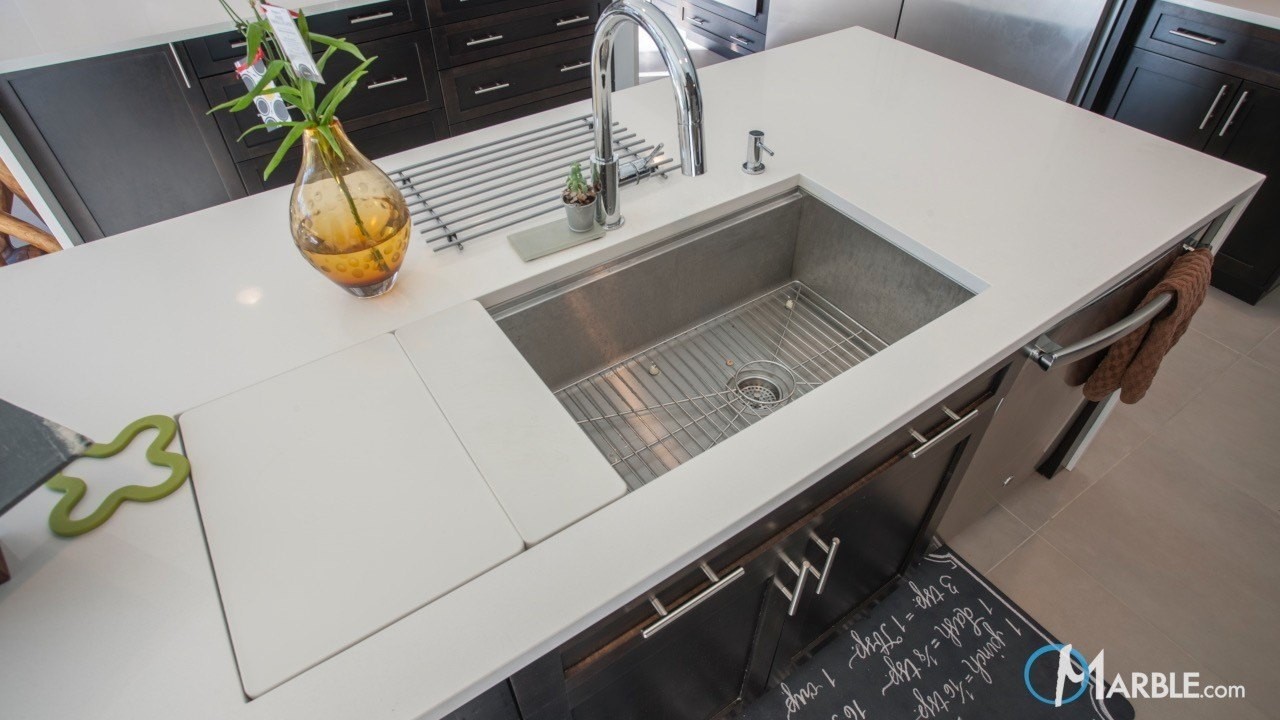 Exposed beams and reclaimed wood add rustic charm to kitchen design. Exposed beams have been used primarily in rustic design styles, but are now found in many modern kitchens. There are numerous other opportunities to incorporate reclaimed wood in the kitchen, and you can use as much or as little as you like. Reclaimed wood can be used for flooring, a kitchen island, feature wall, or kitchen shelving.
LED lighting has become increasingly popular for its design and environmental benefits. LED lights provide an energy saving light source that can last for up to 20 years. This type of lighting is flexible and suitable for general room lighting, accent lights, and task lighting. In the kitchen, LED lighting is used for recessed ceiling lights, pendants, chandeliers, track lighting, under cabinet lighting, and to highlight architectural or design features.
Concealed appliances are another new trend in kitchen design. There are several methods for concealing appliances, such as custom door panels that are designed to match to your kitchen cabinets. Other unique options include roll top cabinets for tucking small appliances out of sight and off the kitchen countertops, and refrigerator or dishwasher drawers. These drawers blend with the rest of your kitchen drawers and nobody would know that a refrigerator or dishwasher is inside. Some designers are placing large appliances, such as a refrigerator, behind a wall. This can be a great place for a small reclaimed wood feature wall!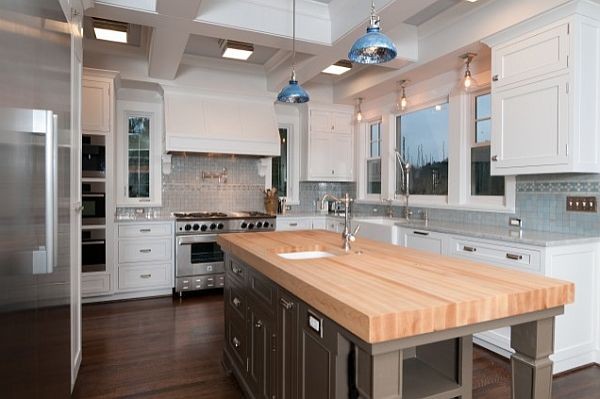 Speaking of blending in, today's kitchens are being designed to seamlessly integrate with the architecture and interior design of the home. Rather than a functional place for preparing meals, modern kitchens are attractive spaces with unique architectural and design features, such as reclaimed wood and exposed beams, natural stone countertops, and exquisite flooring.
Trends in Kitchen Countertops
Quartz countertops are made of a durable engineered material that is ideal for high traffic locations, such as children's bathrooms, businesses, and kitchens. Quartz is naturally resistant to heat or scratches, making this material ideal for kitchen countertops when there are concerns about damage. The resin may be affected by direct heat from pots and pans so a hot pad underneath would suffice. Quartz countertops are also easier to maintain than other natural stone countertops since no polishing or sealing is needed.
Because quartz countertops are manmade, the color and pattern tend to be more uniform than granite and other types of natural stone. This often appeals to people who prefer symmetry over the inconsistent veiny patterns of marble or granite.
Quartz countertops can be used to create virtually any look in the kitchen. The colors and patterns vary, depending on how finely or coarsely the material is crushed. Quartz is available in a wide variety of stone colors, such as white, black, earthy colors, pastels, and brighter colors like reds and purples. Some have patterns and colors that are nearly identical to granite or marble. Venastone has a vast array of stone colors to choose from. Many of their stones also feature beautiful veins like marble.
Keep your kitchen countertops looking great with a marble countertop cleaner. The product is available in a single container or in packs of three, six, or twelve. The AGM Countertop cleaner from Mr. Stone is a multi-purpose cleaner that is designed to remove grease, oil, and other debris. It has an added ingredient that seals the natural stone as it cleans. All you need to do is spray and wipe dry.