Ideas for Windowless Kitchen Sinks
Tweet
---
A window over the sink is generally expected to be part of every kitchen design, and a view of nature while you're cleaning up can be a nice touch, however, it's far from being the only option. What if there is no beautiful view waiting on the other side, or perhaps you'd prefer to get more use out of this space? A kitchen sink with a wall behind it featuring granite countertops presents the homeowner with a creative opportunity.
When the view hasn't been decided for you, you can determine for yourself what you'll be looking at when you're standing at the kitchen sink. If you've been staring at an empty space, wondering what to do to make it more functional or attractive, perhaps the options below will inspire you:
Storage Space
More storage is never a bad thing, and a solid wall above the kitchen sink can offer excellent storage space. You can opt for cabinets with glass-fronts to showcase beautiful dishware or shelving that will put your mixing bowls within easy reach. Also, illuminating the cabinet spaces or shelves can also add a little flair.
TIP: Keep in mind that open shelves will need to be cleaned and dusted more often, so consider limiting the number and types of items you put there.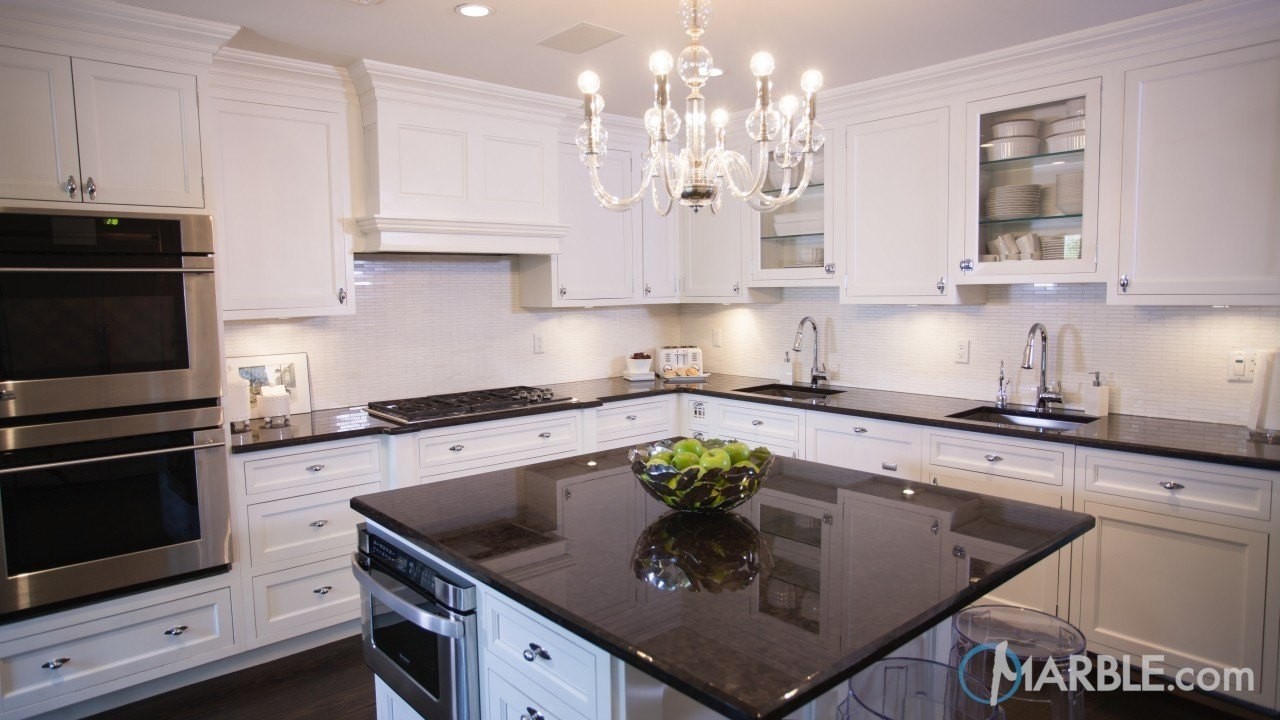 A tiled backsplash and glass-front cabinets are a great replacement for the windowless kitchen sink with Black Antique granite countertops
A Thing of Beauty
Each day will likely find you standing in front of the kitchen sink for some amount of time, so choose something as lovely as your quartz or quartzite countertops to gaze upon while you're there. Use a favorite work of art, a photograph of family or friends, or masterpieces from the kids to decorate and add a focal point to space. Hang framed pictures on the wall or set them on a shelf. A few photographs, antique kitchen gadgets or even fresh flowers will add texture and color. This space can also serve as a place to display beautiful but seldom used sterling silver.
TIP: Décor placed behind the kitchen sink should be waterproof and easy to clean, and it shouldn't be so large that it interferes with washing or cleaning large items.
Plant a Living Wall
Tillandsia is known as air plants, low-maintenance houseplants that don't require soil. Put together a few of these plants in one or several containers above your kitchen sink to get your nature fix, and these plants don't like being exposed to direct sunlight, convenient right? Simply mist or soak them weekly and bring the outside to a lifeless area.
Mirror, mirror
The next best thing to actually adding a real window behind the kitchen sink is hanging a mirror that looks just like one! Any mirror is great because they bounce the light around the space, making your kitchen appear bigger and brighter. The mirrors don't need a windowpane look to get the same effect, so your creative skills can shine through.
A different view
A view can be appealing, but who says it has to be of the outside? With no window to keep you there, consider relocating your kitchen sink to your island. This layout will allow you to face the room instead of turning your back on family and friends, and you can help with other chores like your children's homework while preparing food and washing up.