How Wood Can Add Character to Your Kitchen
Tweet
---
Do you want to add character to your kitchen? Consider incorporating some wood elements into the room. Wood brings warmth to a space and there are many ways to use wood in your kitchen remodeling project. Your personal preferences and kitchen design style can help determine the best places to use wood to add character and warmth to your kitchen.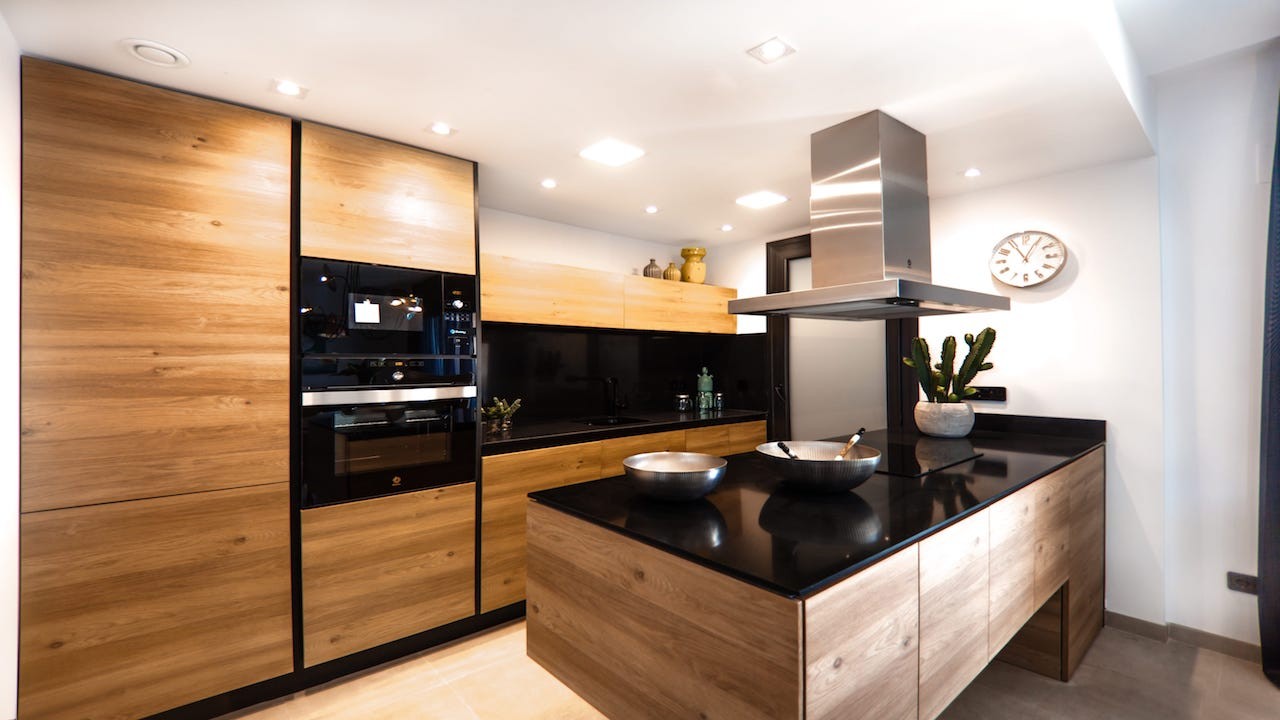 Places to Add Wood in Your Kitchen Design
Natural wood flooring creates warmth and character in any style of interior design. There are numerous options for the type and color of wood floors, from very light pine to a dark walnut or mahogany color. In modern homes, where the kitchen is open to the surrounding rooms, continuing the wood flooring into the kitchen creates a cohesive design style for your home.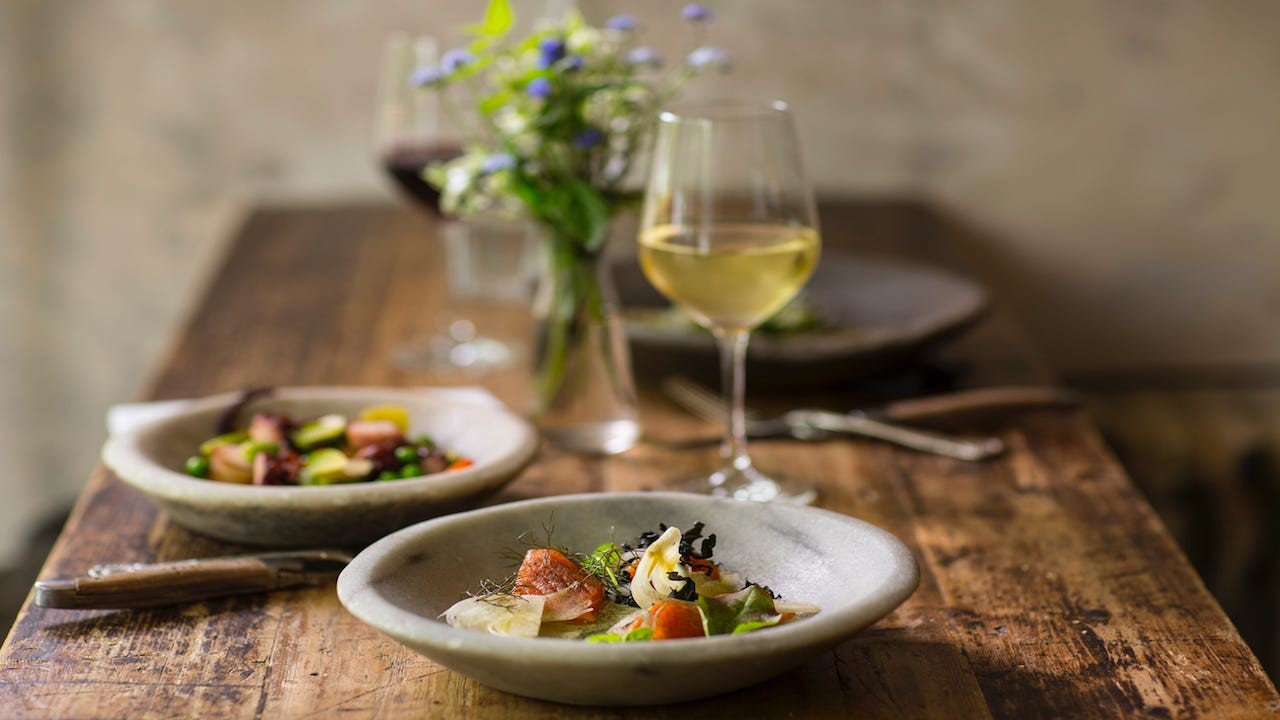 Another great place to add wood is in the eating areas of the kitchen. Consider a natural wood dining table and chairs or place some wooden stools around the kitchen island. A wooden pot rack can be installed above the kitchen island to create space to hold pots and enhance the look of the room.
The kitchen cabinets are another great place to use wood in the kitchen. Kitchen cabinets serve a larger design purpose, beyond providing a place to store your dishes and other kitchen items. Although current trends for cabinetry are more streamlined and simple, wood cabinets can be found in more decorative and ornate designs to suit any style preference.
Adding a butcher block work area to the kitchen allows you to use wood for both functional and decorative purposes. A butcher block area creates a space for cutting and preparing foods without causing damage to your countertop. The wood also adds warmth and unique character to the room.
Exposed wood beams tend to create a rustic feeling when used in the kitchen. Besides, wood beams create a warm and cozy feeling in the space. Although the look is often used in rustic design styles, the color and type of wood can influence the style. Reclaimed wood is a great choice for a rustic look. Wood beams can be adapted for any design style, including a farmhouse, modern, minimalist, and Scandinavian designs.
Using Natural Stone with Wood in the Kitchen
Natural stone kitchen countertops work well with natural wood elements in the kitchen. The natural stone industry offers a large selection of types of stone and stone colors, making it easy to find the right countertop for any kitchen design style and color scheme. Granite is among the most popular types of stone for kitchen countertops and this stone is available in many color options.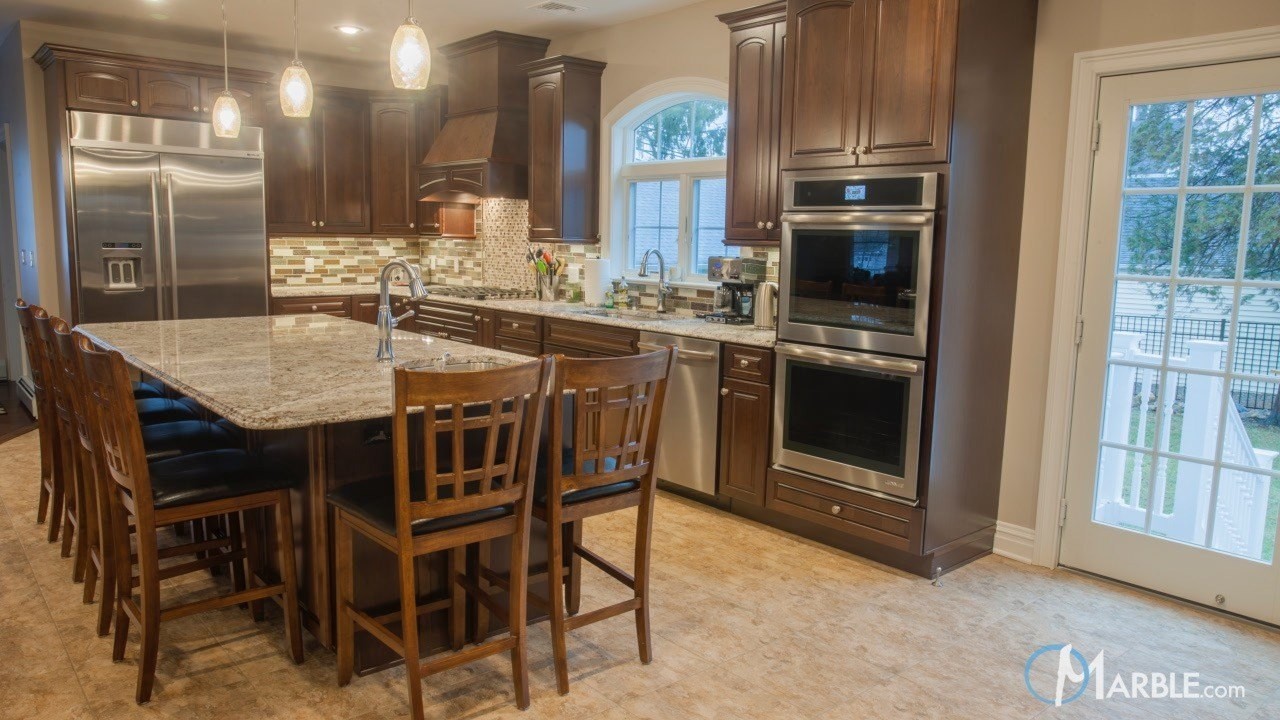 Bianco Antico Granite countertops
Here are just a few Granite colors that work well with wood elements in a kitchen:
Bianco Antico Granite – This beautiful and elegant granite comes from Brazil. Bianco Antico granite features deposits of gray quartz with hints of black mica and burgundy garnet.

UbaTuba Granite – If you want to bring more color into the kitchen, Ubatuba granite is an elegant choice. This dark green granite contains consistent speckles of gold, green, and brown throughout the stone.
Peregrine C Granite – This granite color is neutral enough to fit with any color scheme. Peregrine C granite has a light gold base color with gorgeous black swirls running through the beige background.

Black Pearl Granite – Do you love dark kitchen countertops? If so, Black Pearl granite may be the right option for your kitchen. This stone has consistent deep, rich colors that create an elegant focal point in any style kitchen, from classic to modern.
The numerous options for using wood to add character and warmth to the kitchen allows you to create a kitchen design style that is uniquely your own. You can customize the color and type of wood to use to suit your own preferences and the design style of your home.