How to Plan a Bathroom Layout
by Ann Kent
Posted on November 13, 2017 10:30:00 AM
Tweet
---
Your bathroom layout should be perfectly designed for your space whether you have a large, expansive bathroom or a small and compact one. The layout of a bathroom design dictates the functionality of the space and proper attention should always be placed on the placement of your bathtub and bathroom vanity. If you are working with new construction, it is far easier to dictate the layout without incurring extra expenses from moving pipes around, but if you are remodeling a bathroom that is not laid out properly, it can be worth the expense of moving pipes.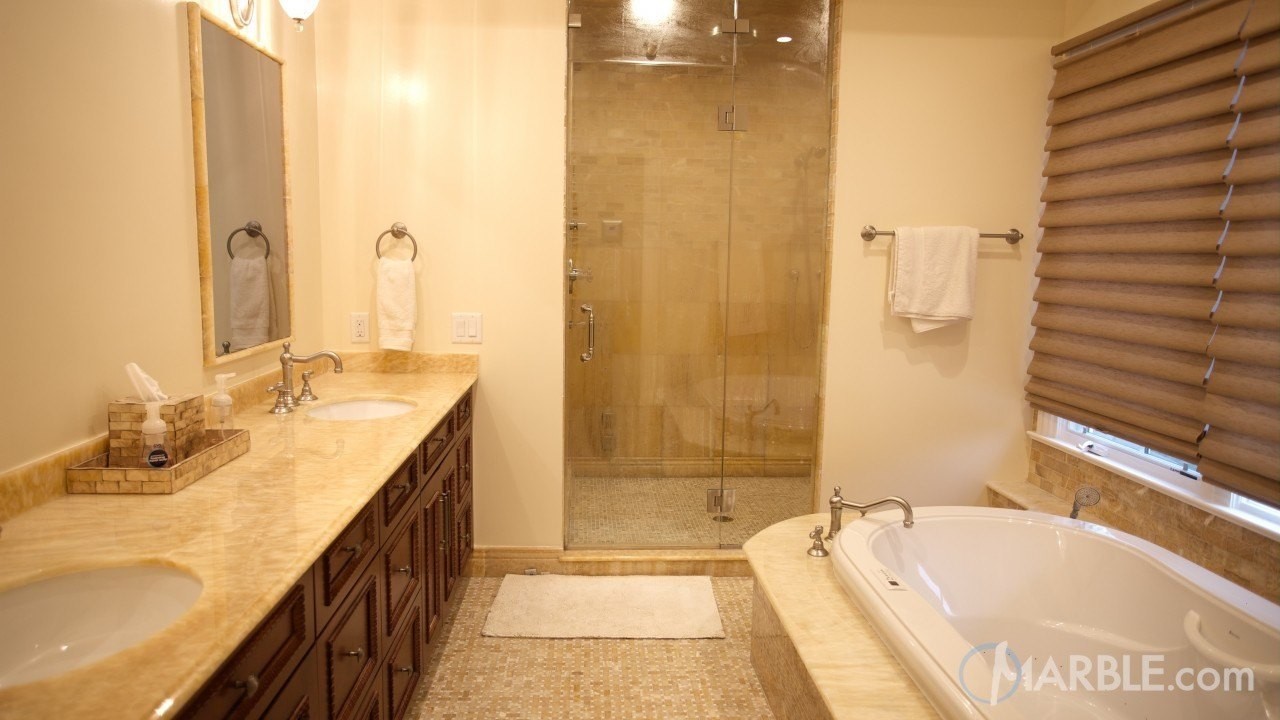 Honey onyx is a great stone for the bathroom
For those who have space for a big claw foot or soaking tub, the best space for a tub is under a large window. If space allows for a big window in a bathroom, it can provide dramatic lighting that will bring out the beautiful look of natural stone installed in a bathtub surround. Whether you install a granite, quartzite, or marble vanity top, the look of natural stone cannot be matched by other materials in the market. Each slab is unique and looks unlike every other, allowing each piece of natural stone to act as its piece of art. Each homeowner should consider the maintenance of each stone before committing to a type of stone.
While marble is always a breathtaking addition to a bathroom or kitchen design, it is a porous stone that requires sealing up to 4 times a year. This is not always the right stone for a high traffic bathroom, but the look of rich and veiny Calacatta Oro Marble vanity top is hard to match, so it is worth it for homeowners looking to create a certain look in their bathroom and accepting a level of maintenance. Travertine is another rich looking stone that looks breathtaking as a vanity top, but it is a porous stone that requires extra maintenance as well. Silver travertine is a popular choice for bathroom vanities because it is a neutral, yet rich looking color that allows for many different accent colors in artwork, walls, and towels. Travertine is also an excellent material for a shower surround.
For those looking for a lower maintenance stone for a bathroom surround, they might consider quartzite or granite. These stones are incredibly beautiful but are not as porous so they will not stain like marble or travertine. Granite and quartzite only need to be sealed 1-2 times a year for ideal maintenance. The space of your bathroom will also dictate whether you can install a single or double basin sink