How to Bring Mystery into Your Kitchen with Black
by Dona Basu
Posted on March 11, 2018 07:00:00 AM
Tweet
---
Black is the ultimate form of sophistication in the style world. Yet, many people are afraid to add dark colors to their kitchen. They think that bold black colors will weigh the space down and make it look too heavy. In reality, black can be a smart decor choice that really can add elegance to your kitchen. The beautiful mystery of black is a look that will never go out of style.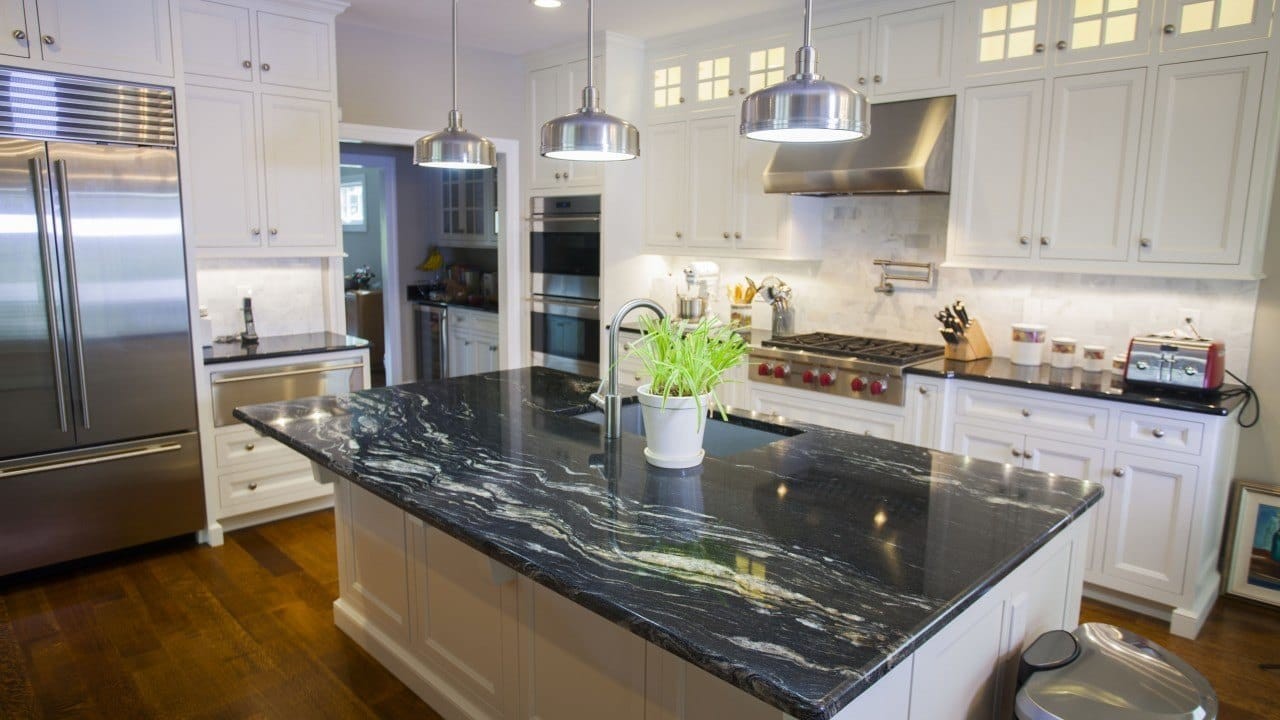 Cosmic Black granite kitchen island
marble.com has a wide selection of black stones that would suit many decorating styles. Marble and granite are some of the top selling materials in the natural stone industry. Marble doesn't have as many color choices as granite but it does have this unique beauty that many people desire in their homes. We are most familiar with white marble but black marble, which we'll cover in this article, is really exotic looking.
Granite countertops are incredibly popular because they are extremely durable and great for the kitchen. They add both beauty and functionality to your kitchen. Also, marble.com has a wide selection of black granite that has very unique looks.
Here are a few granite stones you should consider if you want a dark and mysterious space:
Black Mist granite is lovely black granite and Absolute Black granite are two granites that have light speckles sprinkled throughout the slab, which adds a subtle touch of shimmer.

Orion granite and Copacabana granite are packed with amazing movement. Black no longer just means dark midnight. Black granite can incorporate beautiful shades of gray, blue, and brown. The color can be solid serenity or a complex galaxy of shimmering beauty. This is why visiting a slab yard is a must!
The timeless beauty of marble has been celebrated for centuries. When most people think of marble, they think of the classic white stone with veins of grey. Here are two black marble stone's to look at:
Portoro Genuine Extra marble is a beautiful black stone with white marbling or veins running throughout the surface of the slab. Wherever you install this elegant marble, you will surely create a visually stunning space.

Black Marquina marble has a beautiful color that gives an unexpected twist on people's expectations of this amazingly elegant material. The veins are more subtle than Genuine Extra marble but will still create exotic looking countertops.
Harlequin Beauty
There are many different methods of incorporating black in your kitchen. You can never go wrong with the classic look of white cabinets with black stone. The black countertops will set off the lighter colors and makes the kitchen look fresh and elegant. The veins in the marble will definitely get picked up by the light countertops and will create gorgeous look.
One can also use black for a pop of color. A black granite island can easily become the beautiful centerpiece of any kitchen. You can have your perimeter counter tops be a lighter color and then the black granite island will stand out like a black pearl. Your eyes will gravitate toward the black that will naturally look warm and inviting. Black can also offset and draw attention to the lovely white details in your decor scheme, such as a beautiful white farmhouse sink.
Black granite and marble also tend to be sturdier and stronger then the lighter alternatives and are an excellent long term investment for any home.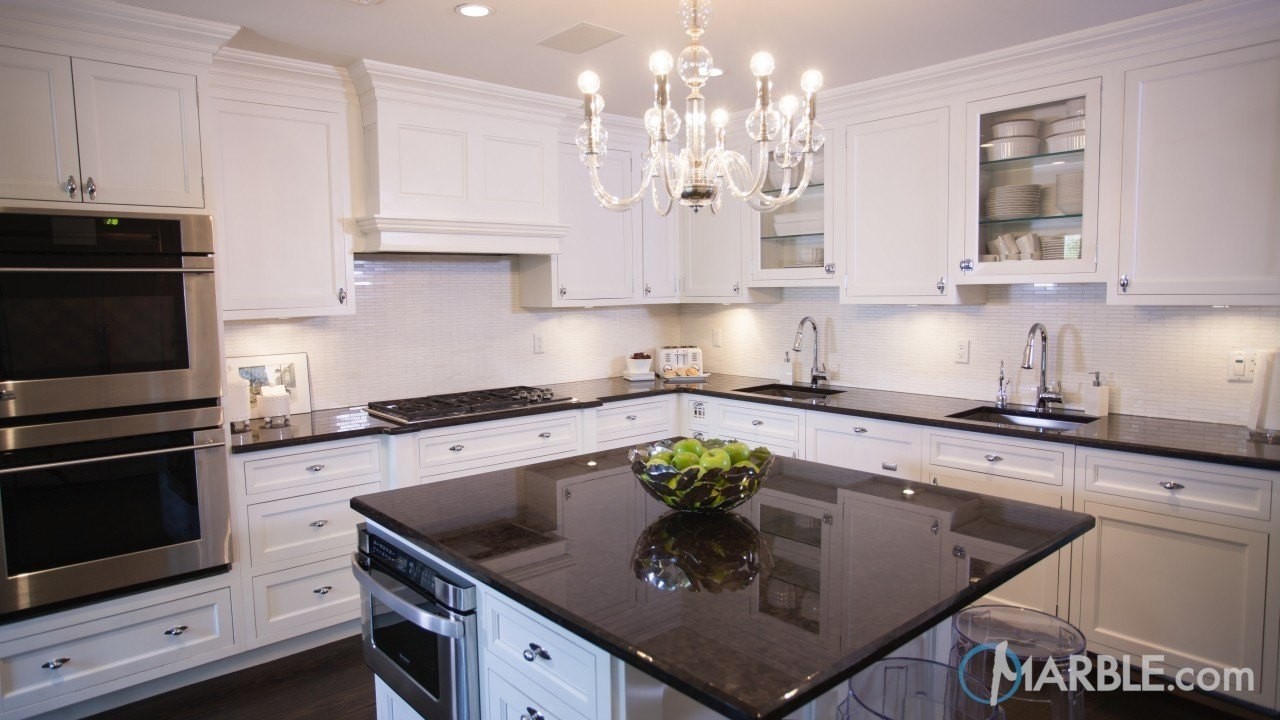 As you can see here, Brown Antique granite is a dark brown stone that looks black
Remember to use the best countertop products from Mr.Stone like their AGM Daily Countertop Cleaner to preserve the amazing colors of these types of natural stones.
In conclusion, black stone countertops can add quite a bit of mystery and sophistication to any kitchen. Black is both elegant and it highlights of the beauty of cabinets and other decor items superbly. With the selection available at marble.com, one can pick out the perfect shade of black granite or marble to explore the beautiful depth of color these dark natural stones add to any interior.