Exotic Stones to Brighten up Your Home
by Ann Kent
Posted on October 17, 2017 07:00:00 AM
Tweet
---
Virtual room planning tools are gaining in popularity in the natural stone industry. They allow you to visually change different parts of a room so that you can view how each element would look in a home. Before you make any commitments or material purchases, virtual design planners like these are an excellent way to view certain stones in different applications, especially the exotic stones that you have had on your mind for a while.
There is no question that there will always be a great demand for Statuario marble, Colonial gold granite, Snow White granite, and dark Uba Tuba granite, but the natural stone industry has seen an increase in the demand for exotic stones like gemstone, onyx, limestone, and travertine.
Most homeowners and kitchen designers love the look of marble but understand that the beauty comes with a price. Marble needs to be sealed up to 4 times a year and will etch over time. It can always be repaired and restored, but is not always the best stone for every household, despite its beautifully rich and veiny nature.
Granite continues to dominate the natural stone industry because of its durability and resilience, but granite too needs to be sealed up to 2 times a year. Granite is heat resistant and far less porous than marble, making it an excellent choice for kitchen countertops, bathroom vanities, outdoor grill areas, and even laundry rooms. Granite will always be a striking addition to a kitchen as no two slabs of granite are alike. Granite, like all natural stone countertops, is considered to be a work of art in and of itself and can create a dramatic focal point within a kitchen.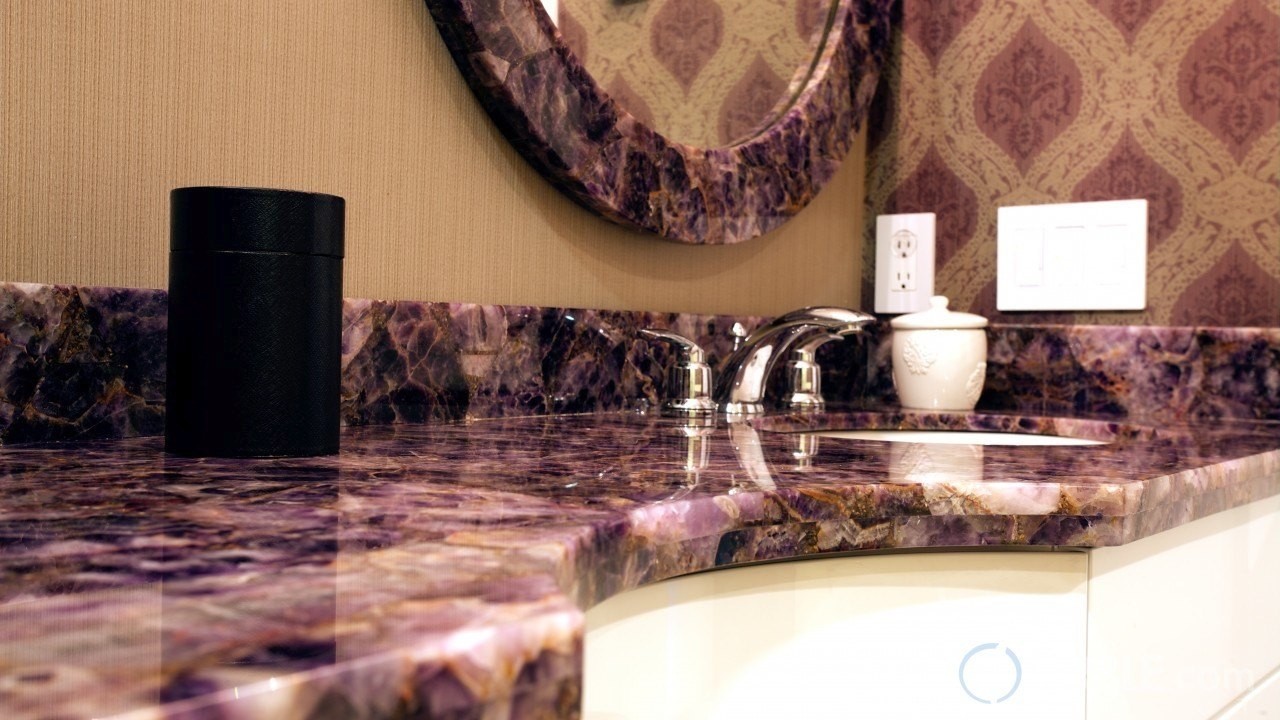 While you can never go wrong with granite, some homeowners are drawn to more exotic, showstopper type of stones like onyx. Onyx countertops create a breathtaking impression in a kitchen because of the characteristic veining within each piece of onyx. Onyx is often found in caves and is a calcareous stone that is formed when limestone dissolves and redeposits as a new stone. The colors are typically light in color. While onyx countertops will undoubtedly impress, they are extremely fragile and require a lot of extra care. Onyx is one of the softest stones and fabricators usually add a fiberglass backing compound into the stone to increase its durability. Since the stone is so fragile, the installation cost tends to rise. It can be incorporated into a kitchen in a home bar area or another low-traffic area. It can scratch from pots and pans and will damage from exposure to acidic materials. Onyx is more commonly used in bathrooms as vanities while only requiring soap and water cleaning in between sealing.
Onyx is popular in a master bathroom in the place of a marble or granite vanity. An onyx bathroom vanity will require constant maintenance, so should only be installed in a home with people who tend to be a bit neater than others.
Gemstone, unlike onyx, is an exotic stone that is way more durable while still being extremely dramatic in its design. Gemstone countertops will become a true focal point in any room. Gemstone vanity tops and countertops are made from semi-precious stones that are positioned close together and embedded into a resin base stone. The durable resin protects the stone from everyday use. The resin can absorb heat, staining, and fading from the sun. Customers gravitate toward gemstone countertops or gemstone vanities because they create a look that is truly unique every time. You can select from amethyst, rose quartz, tiger eye, jade, blue agate, and lapis, and more.
Since gemstone countertops are so much more durable, they work much better in areas of the kitchen or bath that receive a lot of use. Always purchase gemstone countertops from a quality vendor like marble.com or Slabmarket.com to ensure that it is made with the best quality materials.
Travertine is another less common stone that has seen an increase in popularity. It is a form of limestone known for elegant streaking and consistent color. It is a delicate stone that should only be installed in low traffic areas like bathroom surrounds, floors, showers, and even kitchen backsplashes. A travertine bathtub surround creates a luxurious oasis from which to soak your stresses away. It is an elegant stone for a master bathroom. Similarly, a travertine vanity top becomes a dramatic addition to any bathroom. Travertine floors are some of the most durable stone floors on the market.
Limestone, like onyx and travertine, is also a soft and porous stone that is best suited for low traffic areas. Limestone is a light stone that is characterized by its having ancient aquatic fossils embedded within the stone.
No matter what exotic stone you select for your kitchen countertops or bathroom vanities devote a lot of time for selecting your slabs. No two slabs will be alike. We recommend that you visit a slab yard. For more information on how to prepare for your visit to the slab yard, please see my earlier article.