Does Marble only Come in White Colors?
Tweet
---
Marble's beautiful transformation began as far as early Jurassic Times and Marble.com offers this stunning natural stone in many veiny white colors. White is the color we most identify with marble but this natural stone comes in more colors than its shades of white. And even its tones in white vary as well as the colors of its veiny patterns.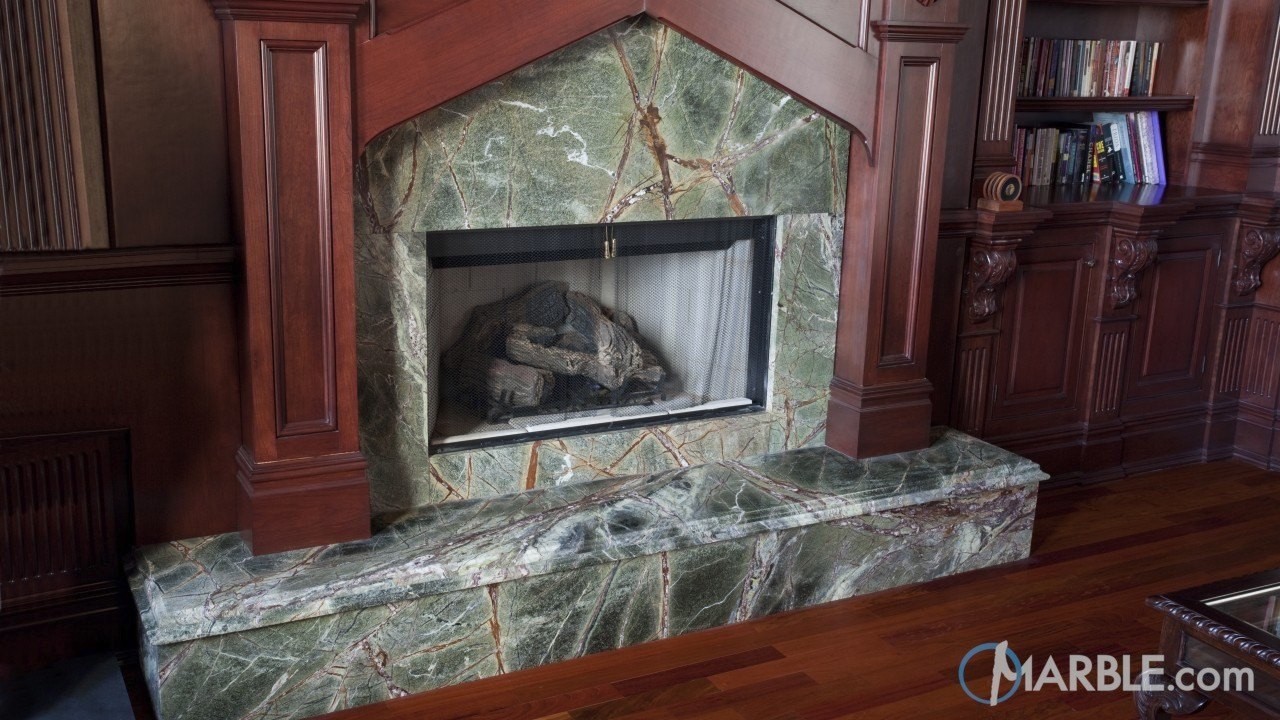 Rainforest Green Marble Fireplace Surround
There are as many types of marble as there are regions where they are sourced.
Like all metamorphic rock, marble is created from extreme pressure and heat. This combined, with various minerals like mica, quartz, iron oxides and more create the imperfections we've come to love. These delicate layers of colorful minerals form their wonderful veiny patterns and are region specific in composition and color. Marble is not only the beautiful alabaster translucence of statues, or the elegance and grandeur of towering entrance ways within soaring architecture. Its usage addresses many industries.
Yet the colors of marble are surprisingly many.
Marble colors vary from the snowy brilliant bluish hues of Blue Damasco marble to the grays of Arabescato Marble and the yellows of Calacatta Gold marble. Believe it or not, marble even can be black. The ebony depths of Cippolino Ondulato marble run like swirling rivers that define the beauty of this popular natural stone. This slab as a kitchen countertop adds drama in the extreme and all these veiny wonders are meant to compliment any fine kitchen cabinetry and appliances.
Gracing Rosewood cabinetry with the stunning depths of Portero Genuine Extra marble draws the vision to its veins of pinky beige hues and can convey the same warmth as its cousin Cippolino Ondulato marble. Both are as inviting as a glass of port wine.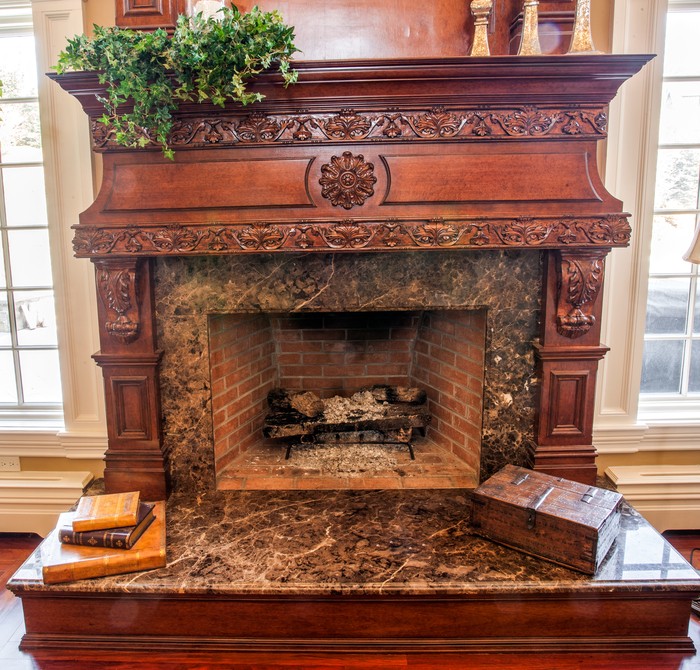 Emperador Golden Marble Fireplace Surround
Bookmatched stones also add visual appeal as two of the same slabs are joined together to form a beautiful wall covering. Natural stone colors of Rainforest Green marble, Portoro Genuine Extra marble, Cippolino Ondulato marble, and Emperador Golden marble, work perfectly for every small area of the kitchen like the butler's pantry. Their stone colors work well in creating drama.
Even Spanish Gold marble occurs in hues of soft caramels and honey beige. When matching designer hues of golden woods and brass hardware the sumptuous colors of this marble create a look that is fit for a king!
But marble's capacity for keeping cool temperatures will always guarantee its place in a serious baker's area in the kitchen. And while marble may not come in the variety of colors and patterns of its cousin granite, the delicate veiny striations occur in robust hues that rival all-natural stones.
The combination of marble colors paired to woods and hardware are infinite. Even though white variations may be a less than a purposeful choice for busy kitchens, the variety of deeper marble colors conveniently hide the occasional splash of red wine or sauces.
So when you walk grand entrances graced in veiny patterned beauty or gaze upon the alabaster wonder of an artist, remember that there are different types of marble. And even white marble colors are many.