Creating and Organizing Your Kitchen Work Zones
Tweet
---
Traditionally, kitchen designs and layouts have always been geared towards the "work triangle" with the space laid out to make access to the sink, stove, and refrigerator, efficient and unencumbered.
Today however, kitchen designs are trending towards the creation of "zones." Work zones observe the underlying principles of the work triangle, but they also address the more spacious and open floor plans of today's kitchens. Additionally, organizing your kitchen by work zones allows you to have more space for extra appliances or sinks, along with enough space to comfortably entertain and socialize.
Identify Your Zones
Everything in the kitchen should be grouped according to use: food prep, cooking, cleaning, eating, and even activities such as making coffee. All the needed appliances and products you need for that activity should be stored nearby. Having everything within reach for each activity reduces the steps you have to take to accomplish a task. For example, if your oven mitts are kept in a drawer next to the refrigerator you have to walk over and get them, which is inefficient. Storage within work zones is discussed more below.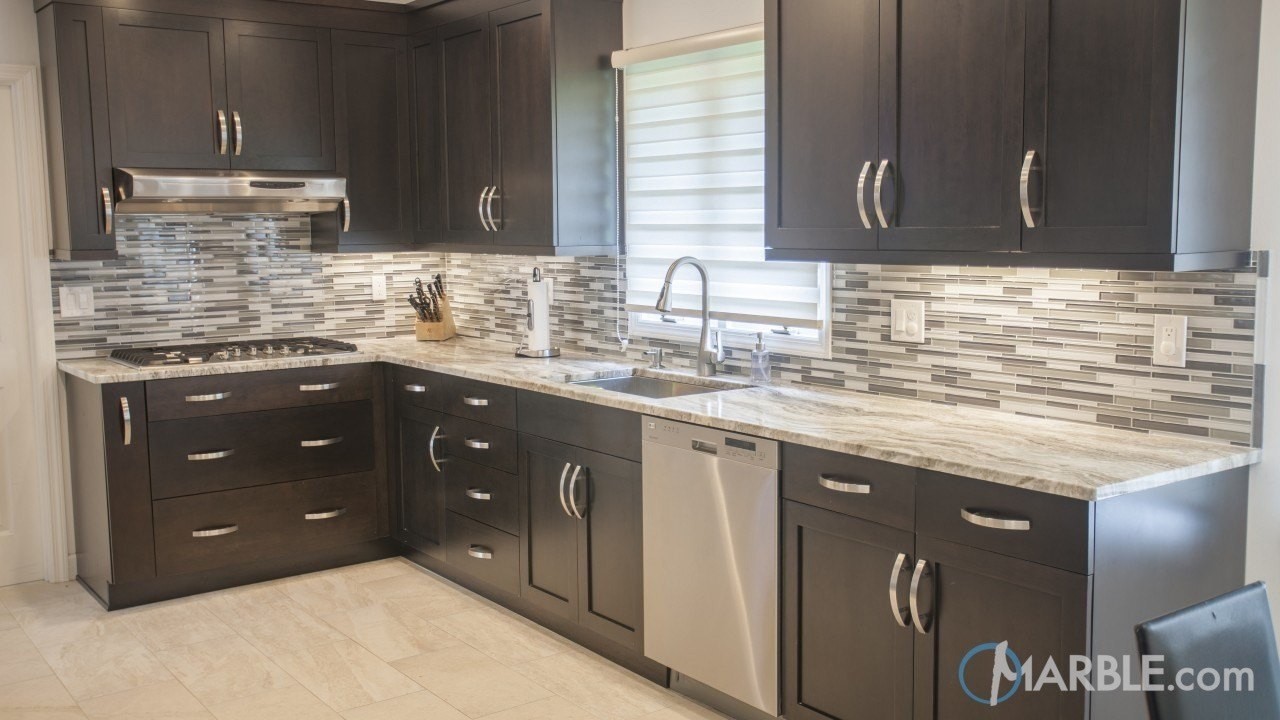 Fantasy Brown Quartzite Kitchen Countertops
The picture above is an illustration of a sleek and modern work zone. The beautiful Fantasy Brown quartzite countertops are free of extra items, and the dishwasher is located adjacent to the sink to facilitate cleanup.
When identifying and designing your zones, also consider the amount of counter space needed for each activity, this will also be helpful when shopping for the granite, marble, or other natural stone kitchen countertops that complement a work zone design. For example, adjacent to the stove you'll need enough space (allow for a countertop surface on both sides of the oven if possible) for cooking utensils, spices, and pots and pans.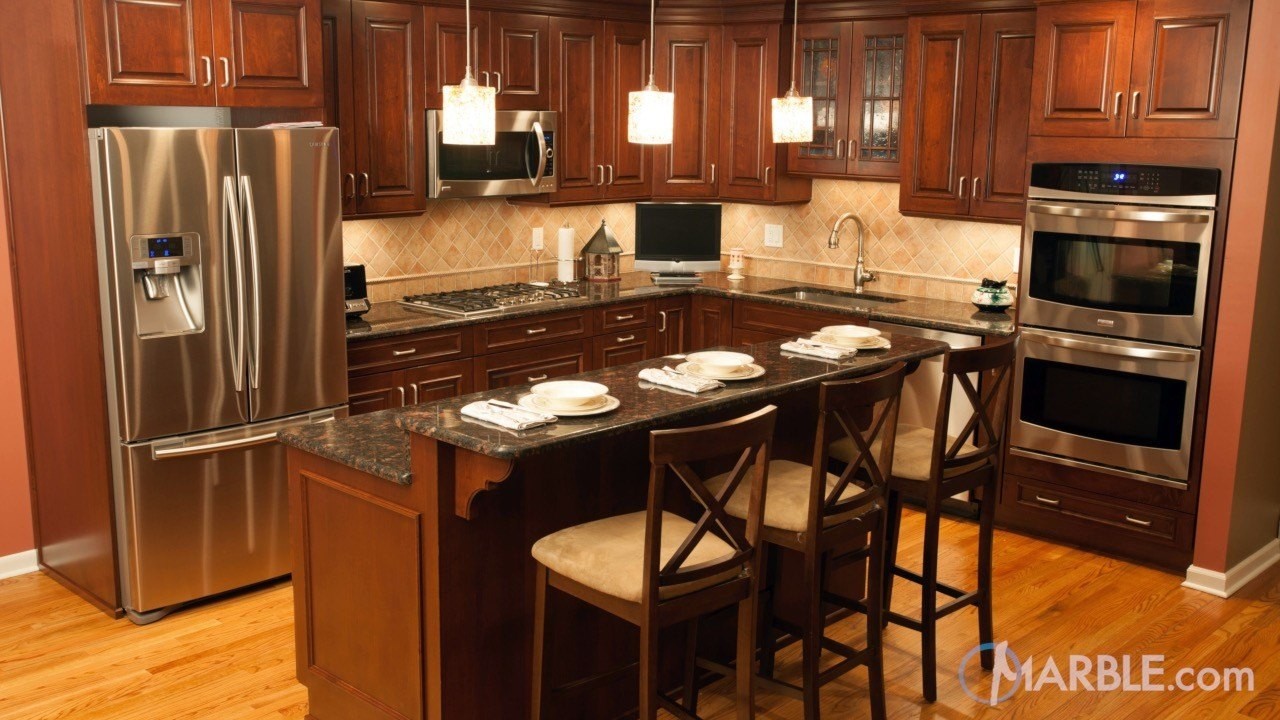 Tan Brown Granite Kitchen Countertops
This kitchen pictured above, with warm and inviting Tan Brown granite kitchen countertops is a good example of the surface space you'll need for food prep, and the Tan Brown Island functions amazingly as an eating/entertainment zone. The double-tiered island design allows for one side to be used for food prep, and the other for dining.
A work zone design allows areas for storing liquor and a wine cooler, along with glassware and other related items. This homeowner extended the use of Tan Brown granite to this surface as well, making it feel connected. See picture below.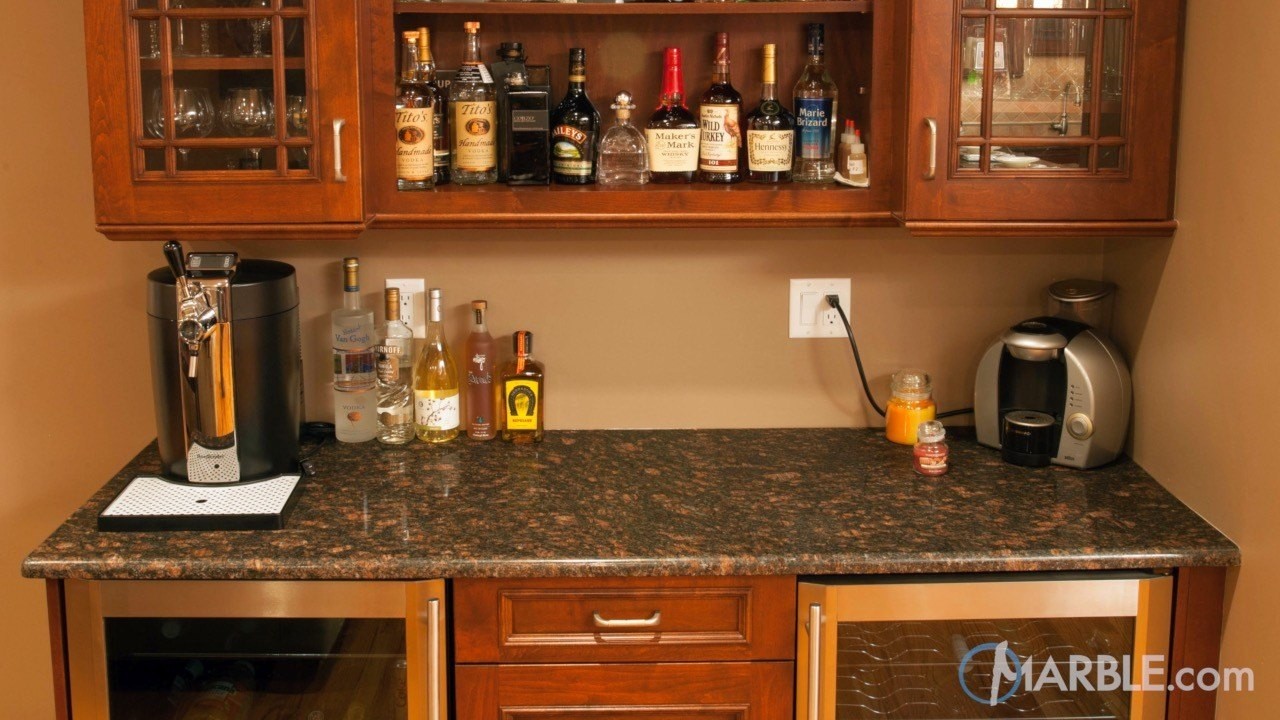 Tan Brown Granite Kitchen Countertop
Storage Basics
If your kitchen is the heart of the home, then storage is the heart of the kitchen. Not properly planning for the storage needs of each zone will reduce its functionality. Interior designers refer to three distinct zones of storage - the refrigerator zone, the range/oven center, and the sink zone.
The refrigerator zone, where initial food prep happens and where raw foods are stored. For efficiency, the refrigerator should be located near where you enter after shopping. Everything positioned in this area should be easily accessible when standing in front of the fridge. The adjacent countertop is considered part of the refrigerator zone. Pantry items should also be stored near the refrigerator.
Where the range/oven zone is ultimately located can vary depending on other design elements, such as a kitchen island with cooking functions. Regardless, the items that need to be in this area include everything you use up to and including actually cooking, including spices, cookware, and serving dishes. Other appliances for cooking, such as the microwave or toaster oven should also be in this zone. Wall-mounted spice racks and hanging pot racks are ideal for this situation.
The sink zone sees the most activity. The sink is obviously the primary element of this area, however, the dishwasher should be situated right next to it, and cleaning supplies right below it. It's also a good idea that the dishes, glassware, and flatware also are in close proximity.
Kitchens are the most active part of the house, so it's important that it functions as efficiently as possible. By creating work zones, you will be ensuring its functionality for years.