Create a Kitchen That Inspires Healthy Eating
by Ann Kent
Posted on November 07, 2017 12:00:00 PM
Tweet
---
While the kitchen is arguably the heart of the home, it is important to try to create meals that are both delicious and nutritious. Anyone who has gone through the process of remodeling a kitchen will know that there is a time where the kitchen is off limits during construction and you are forced to order way too much take out. Once your dream kitchen is finished, you should set yourself up for success in creating a kitchen that encourages healthy cooking and healthy eating.
Your countertops will be the most important decision regarding the design of your kitchen and whether you opt for granite, marble, or quartzite, you will need to set yourself up with a countertop maintenance schedule that is appropriate for your countertop material(s) and will ensure that your countertops will not get damaged by all the healthy cooking that you will be doing! Statuario Marble is quite possibly the most breathtaking natural stone option known for its rich and veiny white coloring, but marble countertops are best suited for a lower traffic kitchen. Granite and Quartzite can be great alternatives that still provide a rich and striking look. If the white look of Statuario marble is not for you, Astoria granite and Fantasy Brown quartzite are nice neutral and light options for kitchen countertops that can hide dirt a bit better than white marble. They are still light enough to inspire healthy cooking.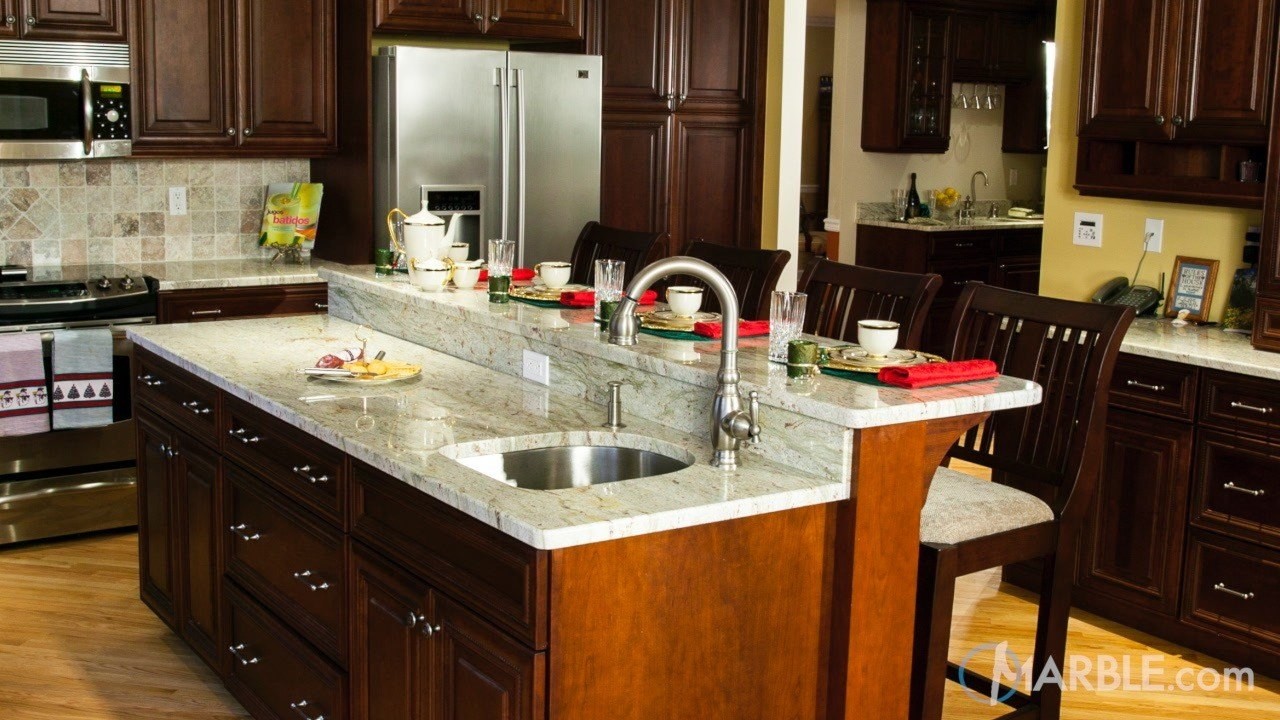 This kitchen with a double-tiered kitchen Island with the light colored
Ambrosia White granite is stunning
White or light-colored countertops and white cabinetry are great options for creating a kitchen that inspires healthy eating. A nice row of potted herbs can provide a natural look against a big slab of white quartzite and also provide the perfect inspiration for healthy food. Fresh herbs smell terrific and are far preferable to the dried out and often stale taste of dried herbs. Fresh flowers from the local farmer's market can inspire even the most reluctant cook to prepare healthy and flavorful meals. The walls should typically be light in colors, favoring neutral light grays and whites within the fresh feel of a healthy kitchen. If you want a pop of color within your kitchen apart from your fresh flowers, you can introduce a bright blue or yellow vase or some botanical prints. Fresh fruit and vegetables in bowls can also add an element of freshness that also serves as a practical and easily accessible option for healthy snacking.
If you have room for an expansive kitchen island, adding a row of stools on the far side of the island will set your kitchen up to be a functional and safe way to prepare healthy foods. It is always a calming inspiration to see a row of healthy kids across the island as you prepare your meals. A few people close to you to gather in the kitchen, mingle and eat together is motivating and comforting.
As always, all kitchens should be devoid of clutter. Piles of bills that need to be addressed combined with dishes piled in the sink will make your kitchen unappealing and uninspiring. Music is another way to add healthy inspiration to your kitchen. Invest in some type of music system for your kitchen to make a place that everyone will want to go to and relax.
When you decide to remodel your kitchen, why not make it a source of healthy inspiration and a way to properly nourish your family for years to come. After all, you wouldn't want hot oil from a fryer splashing all over your pristine white natural stone countertops!