Consider Wash Stations and Butler's Pantries
by Ann Kent
Posted on October 19, 2017 07:00:00 AM
Tweet
---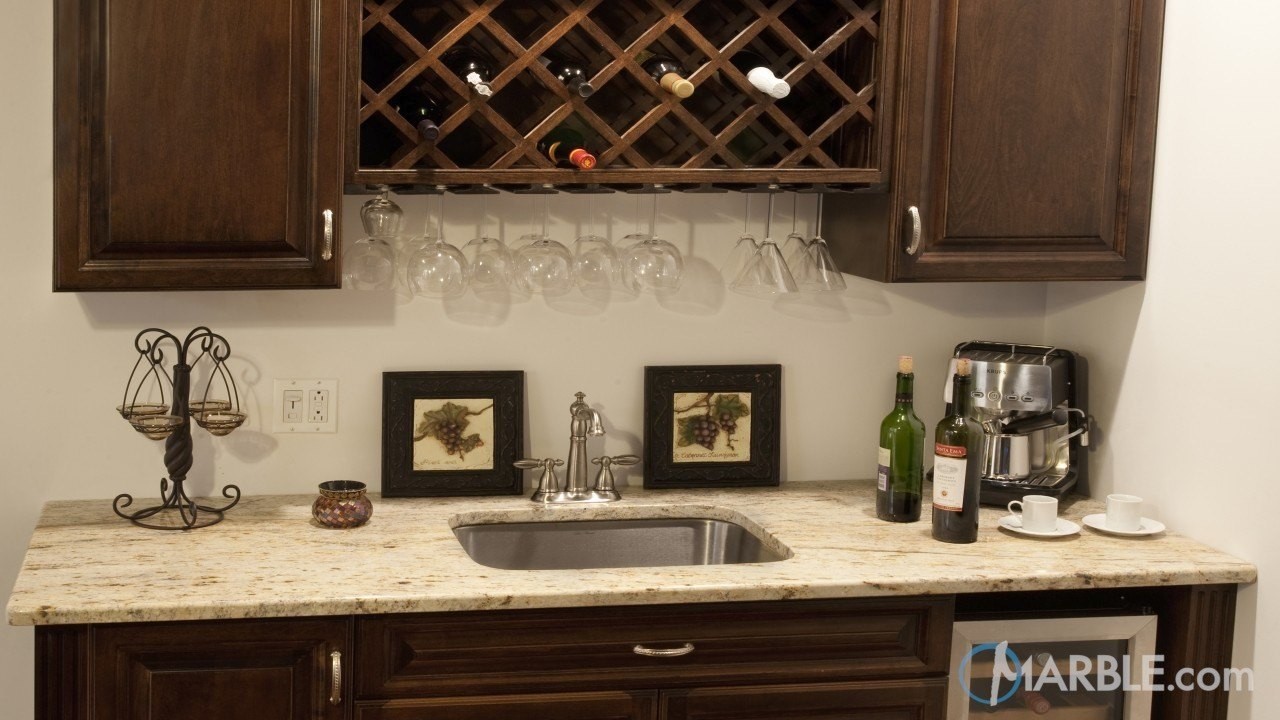 Colonial Gold Granite Countertops
Butler's pantries and wash stations are becoming popular in new home design. The extra surface area and storage space that a butler's pantry adds to a kitchen help in both entertaining and overall functionality. A butler's pantry will typically receive far less traffic than the main area of the kitchen, so you can experiment with different stone options and stone colors.
It is always ideal to include a small sink to serve as a wash area or a place to make drinks. Many butler's pantries include ice machines and small wine fridges, so it is always easier to have a small sink from which to get water for cocktails. The pantry often serves as a bar area where you can display beverages for your guests. The overhead cabinets can include glassware or alcohol.
Many homeowners would love the brilliant, rich, and veiny look of Statuario marble in their kitchen, but stray away from this natural stone choice because of the maintenance required. Marble is not always suitable for high traffic kitchens because it is so porous and is prone to etching. Acids will stain, or etch, a piece of marble and it must be sealed up to 4 times a year. A lower traffic butler's pantry allows a homeowner to install this marble without needing to commit to outfitting the entire kitchen in white veiny marble.
Similarly, the butler's kitchen can add a fun visual punch to a kitchen with the incorporation of gemstone counters. These countertops are made up of tiny semi-precious stones and achieve a theatrical look within a kitchen. Amethyst or red agate gemstone can add a striking look to a kitchen that might be overwhelming if it were installed in the entire kitchen. Since butler's pantries are off the kitchen and not a huge focal point, it is ok to play with color and divert from the overall design of the kitchen.
While gemstone might appeal to the more playful homeowner, granite continues to dominate the natural stone industry because of its durability and its wide range of stone color options on the market. While a lower traffic butler's pantry may be outfitted in Statuario marble, a high traffic kitchen is best suited for granite. There are so many color options for granite whether you choose to install a contrasting countertop in a butler's pantry or the same one that is in the entire kitchen. It would be okay to mix up the stone colors.
Onyx is another interesting visual option for a butler's pantry. Because of its rarity, onyx counters can be more expensive, so some homeowners will not be able to consider it for the entirety of their kitchen. Since the countertop area of a butler's pantry is rather small in comparison to the rest of the kitchen, it allows a homeowner to incorporate a more exotic stone within their kitchen design.
Another interesting stone option for a butler's pantry would be limestone counters, a unique and rich natural stone. Limestone is even more porous than marble, so it is only suited for countertops with low traffic area. The color options for limestone counters are white to gray with some more yellow color choices.