Choosing Between a Kitchen Island and a Kitchen Table
Tweet
---
One of the decisions that must be made when planning a kitchen layout is whether to have a kitchen island or a kitchen table. There has been a growing trend among homeowners to use an island in place of a table. However, kitchen tables offer their own benefits and there is a nostalgia for the family gathering around the table for meals.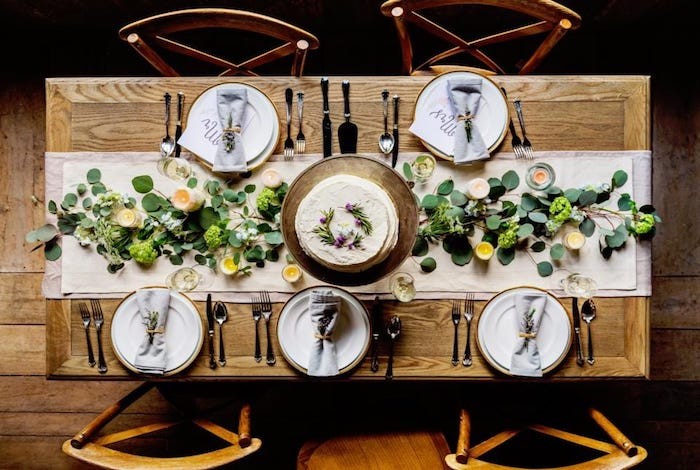 Benefits of a Kitchen Island
A big advantage of a kitchen island is the multi-purpose nature of an island. You can prep meals on the kitchen island countertop and use it as a counter space for serving food buffet style at causal gatherings. A kitchen Island allows people to gather and interact more casually. This makes it a great "hangout" spot, as well as a functional place for making and serving food.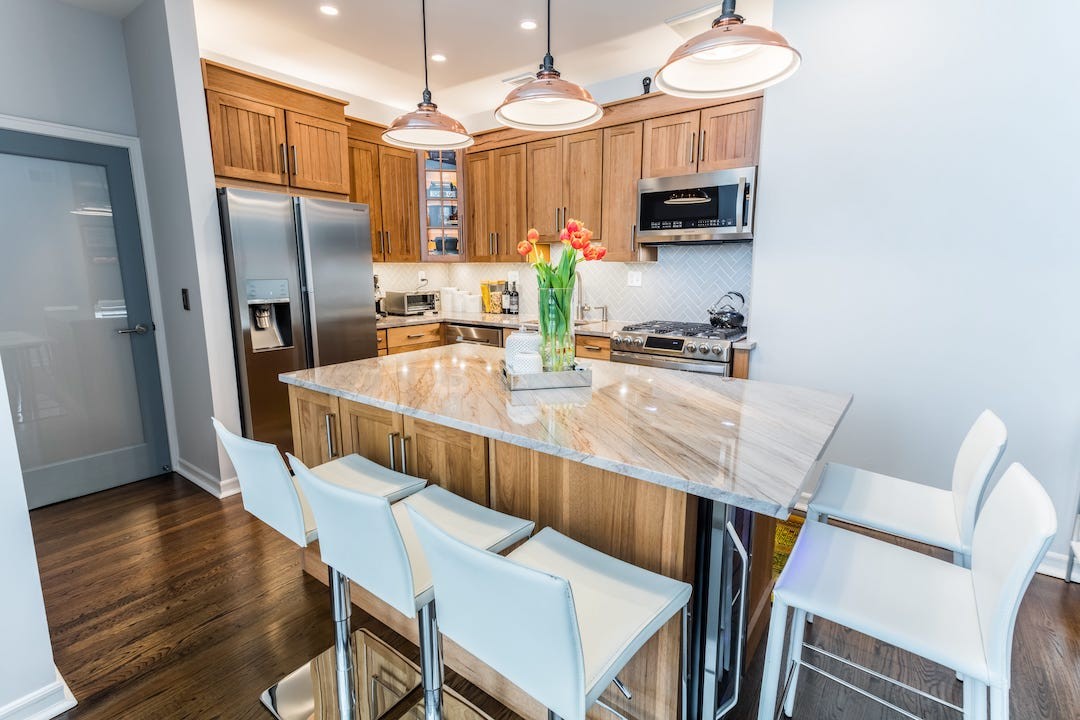 One big complaint among homeowners is insufficient storage space in the kitchen. Choosing a kitchen island allows you to incorporate additional storage space in your kitchen remodeling plan. There are many options for storage in kitchen islands and you can choose the combination of cabinets and drawers that best suits your unique storage needs.
A kitchen island countertop can serve as an aesthetic function in your kitchen design. An island with a gorgeous natural stone countertop serves as a focal point in the room. The natural stone industry offers many options for kitchen countertops and islands, such as quartz, quartzite, and granite countertops. A wide variety of quartz, quartzite, and granite colors are available to complement any color palette.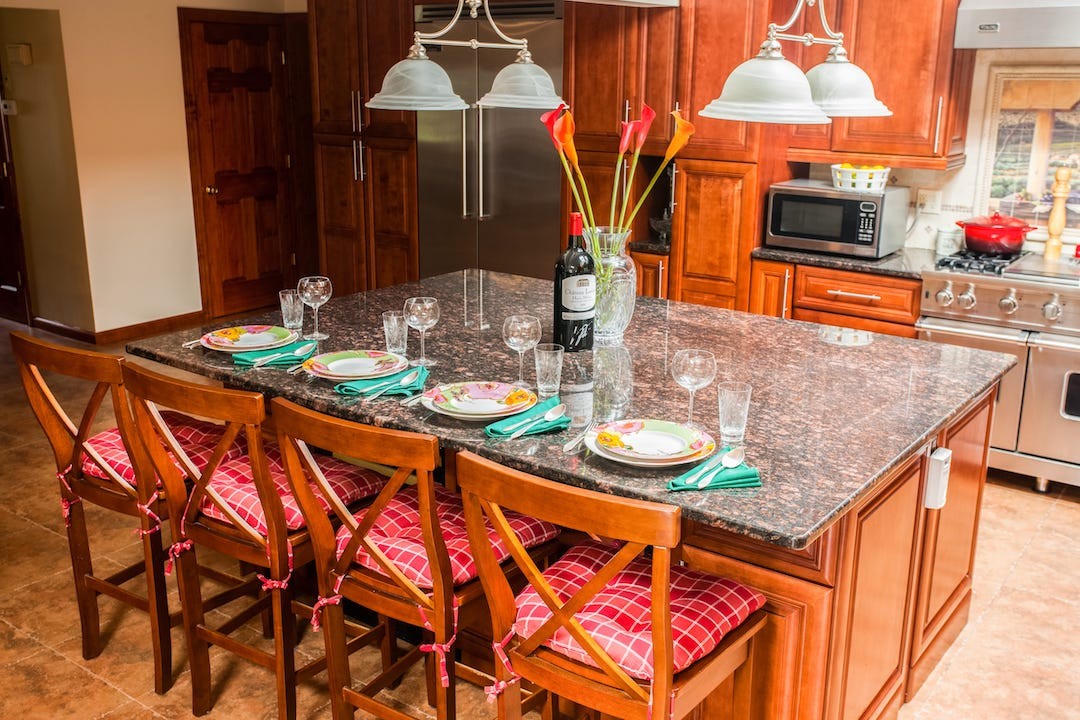 The natural stone industry offers many types of stone, so you can find the right countertop for every home. When choosing a natural stone for an island or kitchen countertop, consider how it will be used. Will you be mainly baking and serving food or do you need a durable stone for a high traffic area? A gorgeous Calacatta Gold marble is great for baking and low traffic areas. If you need a more durable stone, quartzite countertops or granite countertops may be a better choice. Take a look at Bianco Antico granite, Fantasy Brown quartzite, and hundreds of other natural stone color options to find the right stone for your kitchen island.
You can customize your island to the size that works best in your room and select the features that best fit your lifestyle. Many homeowners use stools around the island to use the island in place of a kitchen table. If you want a large island to prepare food, you can also add a sink or a cooktop at one end of the island and seating at the other end. This keeps guests away from the prep area.

Reasons to Choose a Kitchen Table
The kitchen table is currently seeing a resurgence in popularity. A kitchen table provides a more formal place to get together with friends and eat together as a family. The importance of family dinners is well documented and many families are choosing a table over a kitchen island to enjoy nightly dinners with family and provide space for entertaining.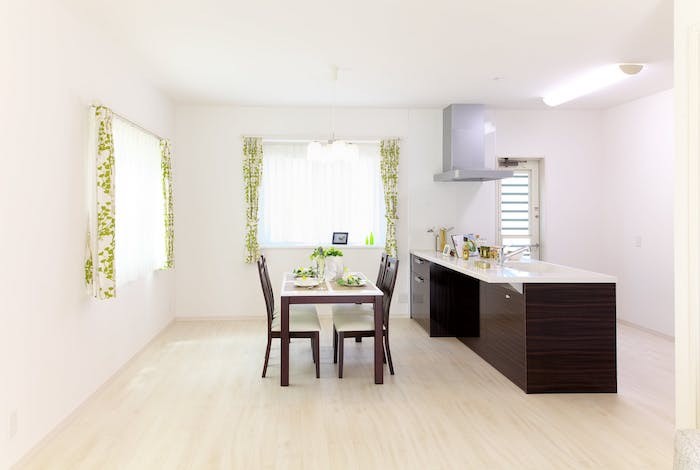 In addition to eating, families use the kitchen table for many other purposes. For example, you can gather around the kitchen table with family or a group of friends to enjoy the game night. A kitchen table is a perfect place for working on art projects, crafts, helping your kids with their homework, or working on their school projects. Busy parents often have kids working at the table on homework while the parents are cooking dinner, so they are close by when the kids need help.
The kitchen table can play an important role in your interior design plan. A strategically placed table can be used to help divide the living space from the kitchen to the dining area. The design style of the furniture, the color of the kitchen table and chairs, and adornments such as table covers and centerpieces can be used to add to the overall décor of the room.
There are advantages to both a kitchen table and a kitchen island. Ultimately, the decision should be made based on your own personal preferences and your lifestyle. Would you rather have a kitchen island with a gorgeous natural stone top, such as Calacatta Gold marble, Bianco Antico granite, or Fantasy Brown quartzite? Do you imagine the family gathering for dinner or hosting a game night at the kitchen table with your best friends? In the end, the right choice is the one that best fits your lifestyle.