Choose the Right Countertops for your Open Floor Concept Kitchen
by Ann Kent
Posted on August 18, 2017 12:00:00 PM
Tweet
---
Open floor plans are increasingly popular among homeowners as a way to increase light, unite the living space and dining space, and allow the kitchen to be the main room for entertaining and cooking. Traditional American homes relied on segmenting rooms so that each room had a specific purpose. While this worked for many years and continues to be a feature of many homes in America, the nature of entertaining and family life has evolved. It is no longer desired to have a small isolated kitchen because people prefer to be able to visit and communicate with their families and friends while they cook. Your kitchen needs to be designed to impress, and the investment of new kitchen countertops is always a good one.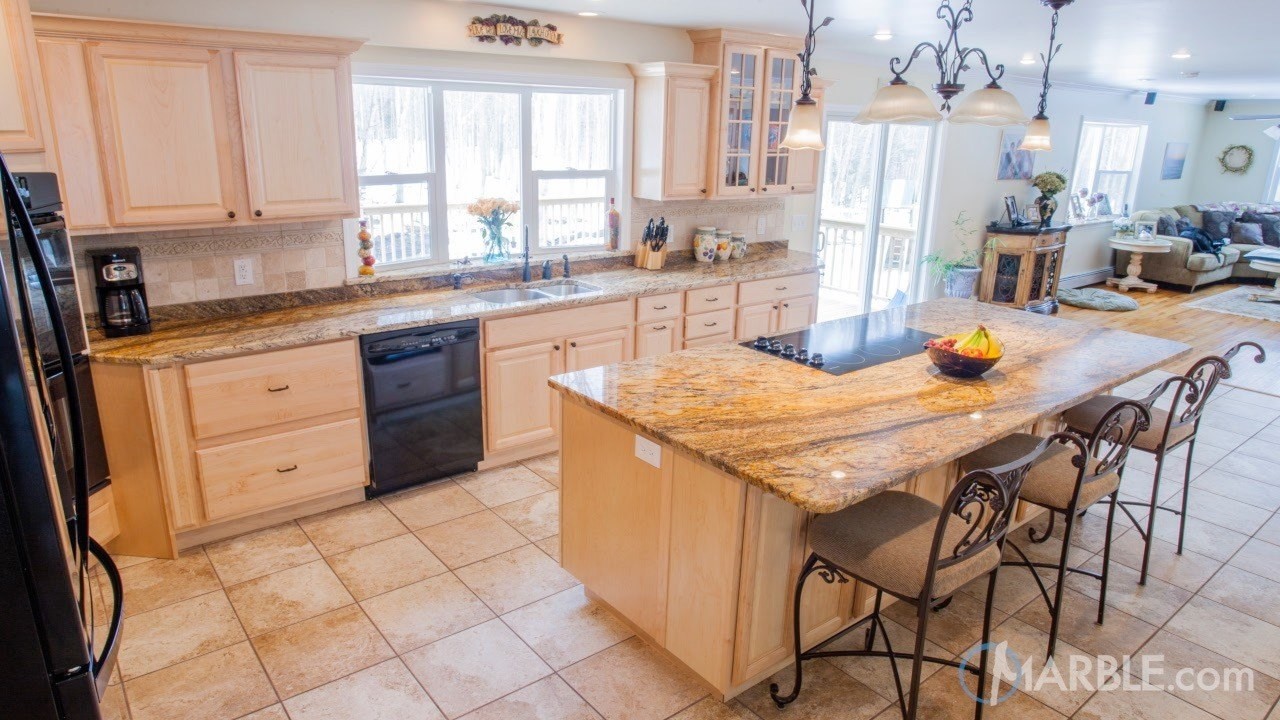 An open floor concept that combines the kitchen and living areas. The kitchen countertops are topped with Atlantis granite
The countertops inherently set the tone or style of an open-concept kitchen and living room and the decorating scheme from the kitchen will flow into the living space. Marble continues to be a popular and elegant stone for kitchens and the neutral white color will match any decorating style. Marble works equally well in a modern space as it does a formal or countryside living space. The open floor plan often incorporates a center island or dine-in peninsula, and, with that, your countertops will get more use, and, potentially abuse. Marble might not be the best choice for a busy household because it requires so much more maintenance than other stones like quartzite, granite, and quartz. It is important to seal marble at least 4 times a year and it will stain and etch if exposed to any acids. Marble will always be visually appealing and can sometimes be restored if it is damaged, but it might be better served as an accent stone in a separate baking area.
Quartzite countertops similarly set a really nice style for a room and can mimic the look of marble with much more durability. It comes in a range of color choices, but Classic White quartzite always looks incredible in a kitchen. A neutral white or even grey countertop allows for an open, bright space, but also allows you to incorporate other colors throughout the kitchen and the living space. White and grey countertops and cabinets continue to be huge sellers in the marketplace because of their neutrality and versatility.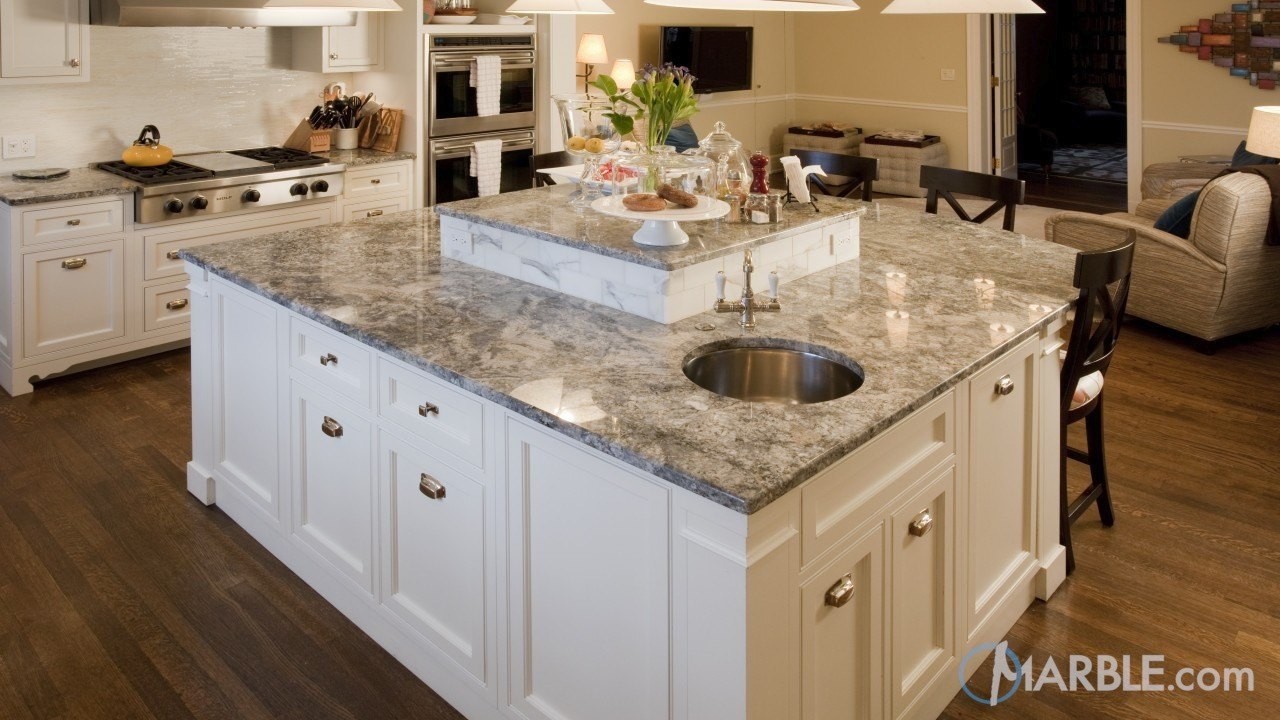 Azul Aran granite kitchen countertops are the focal point in this open floor concept
Giallo Napoleone granite is a popular light colored stones that look amazing in kitchens with open floor plans. Like the Colonial Gold granite, these off-white stones are neutral enough to work with any color schemes and cabinetry. Darker countertops like soapstone frequently are used and Butterfly Green Granite is a popular choice also. Soapstone's dark gray colors possess similar neutrality that white marble has, and it works extremely well in large spaces. Tan Brown granite is commonly used as well when people want a darker stone in their kitchens.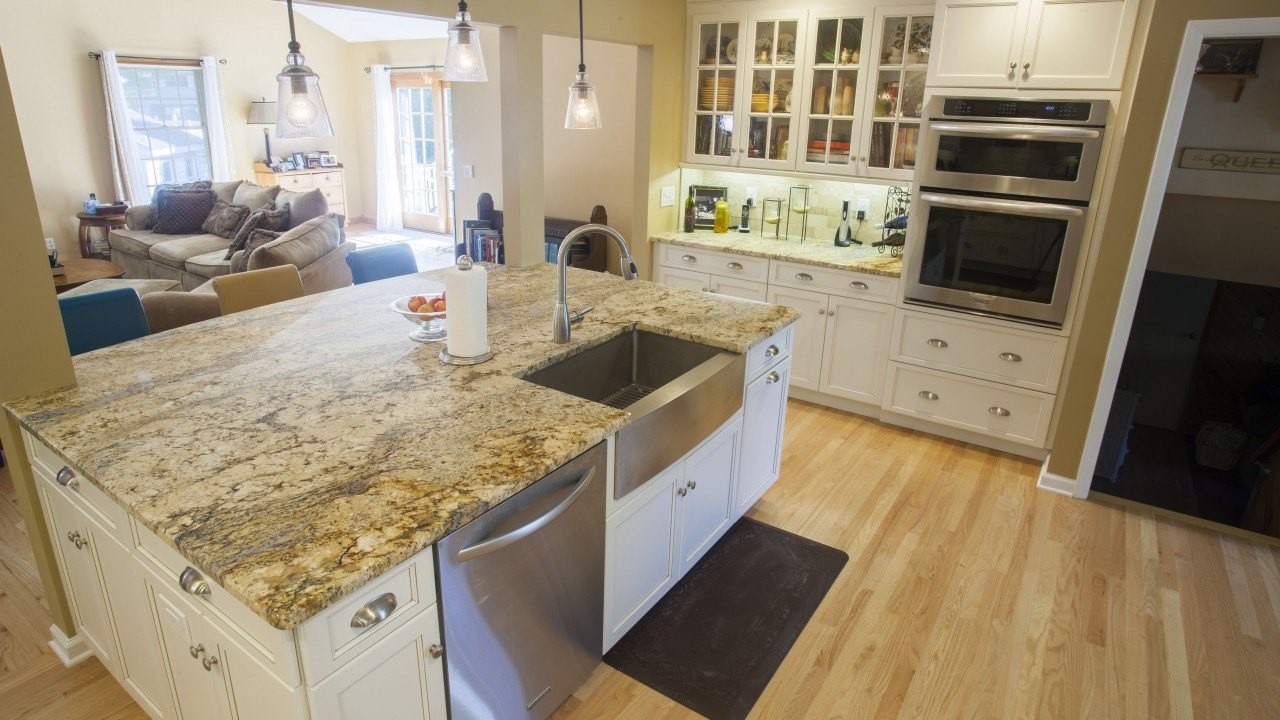 This open floor concept is even brighter with the Yellow River granite kitchen countertops
The evolution of the smaller compartmentalized kitchens into the open concept type style demands that your countertops impress. A stone kitchen countertop like quartzite, or granite will withstand many years of entertaining, as it becomes the focal point of your open concept kitchen. The durability of these stones will allow the stone to stay as you change your living room furniture and style according to your current style or the next homeowners.