All About Gemstone Countertops
Tweet
---
The natural stone industry offers a wide array of unique and exquisite options for residential and commercial design applications. If you want something truly unique and special, consider gemstone for your kitchen countertops, bathroom vanity top, or just a small accent table. The gemstone is among the most distinctive and recognizable types of natural stone.
Using Gemstone in Interior Design
Gemstone countertops bring color and sparkle to any room. Gemstone kitchen countertops brighten dark spaces or add a focal point to a white kitchen. The bright stone colors and distinctive patterns of gemstone fit well with the traditional and contemporary design. In the kitchen, a gemstone countertop or small workspace works with many kitchen cabinet colors, including white, black, and light or dark wood.
Semi-precious gemstones have been used for thousands of years in cultures around the world. Many gemstones are believed to have healing or protective properties and semi-precious stones are often used in jewelry and lately in home design. Various semi-precious stones are used to make gemstone slabs for kitchen countertops or a bathroom vanity top that will bring positive energy and exotic luxury to your home.
Gemstone countertops, workstations, or bar tops look even more dazzling when backlit with LED lights. The translucent surface of a gemstone is perfect for backlighting. Light panels can be installed under the cabinets to direct light to the surfaces you want to highlight and transform the countertop into a piece of art. The panels are small enough that they are easily hidden by the trim on the cabinets.
In addition to the beauty and brilliance, gemstone countertops are durable and resistant to heat and stains. The stone is comprised of natural gemstone pieces and combined with resin to create a highly durable, attractive, stain resistant, and easy to maintain slab. Cleaning the surface is not difficult and sealing is not required.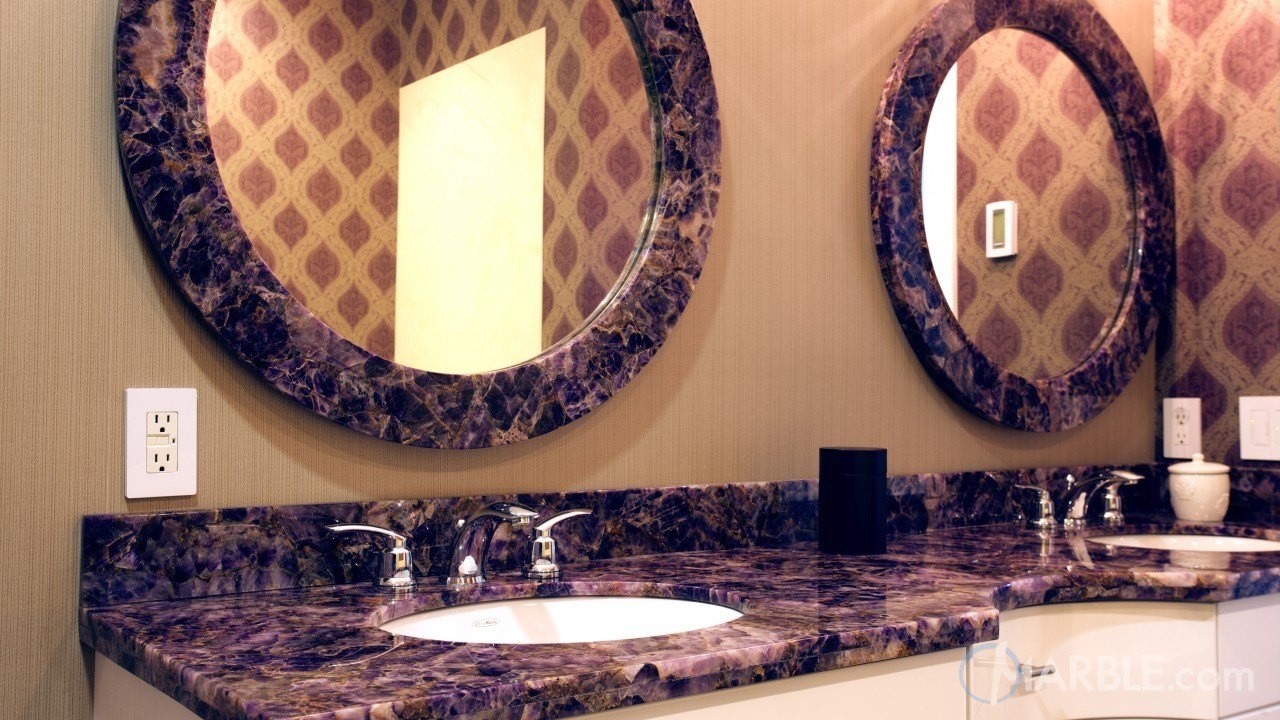 Amethyst Gemstone Vanity Top
A Few Gemstone Colors
The natural stone industry offers gemstone slabs with a striking appearance and wide variety of bold stone colors, such as green, orange, blue, pink, red, purple, gold, and brown. Some of the most popular gemstone slabs for countertops, backsplashes, bar tops, and vanity tops include blue agate, amethyst, and tiger eye gold.
Blue Agate – Blue Agate is a beautiful blue and green stone that contains clusters of circular and oval shapes that create a lavish focal point in the space it is installed. Blue agate can be backlit for even more vibrancy.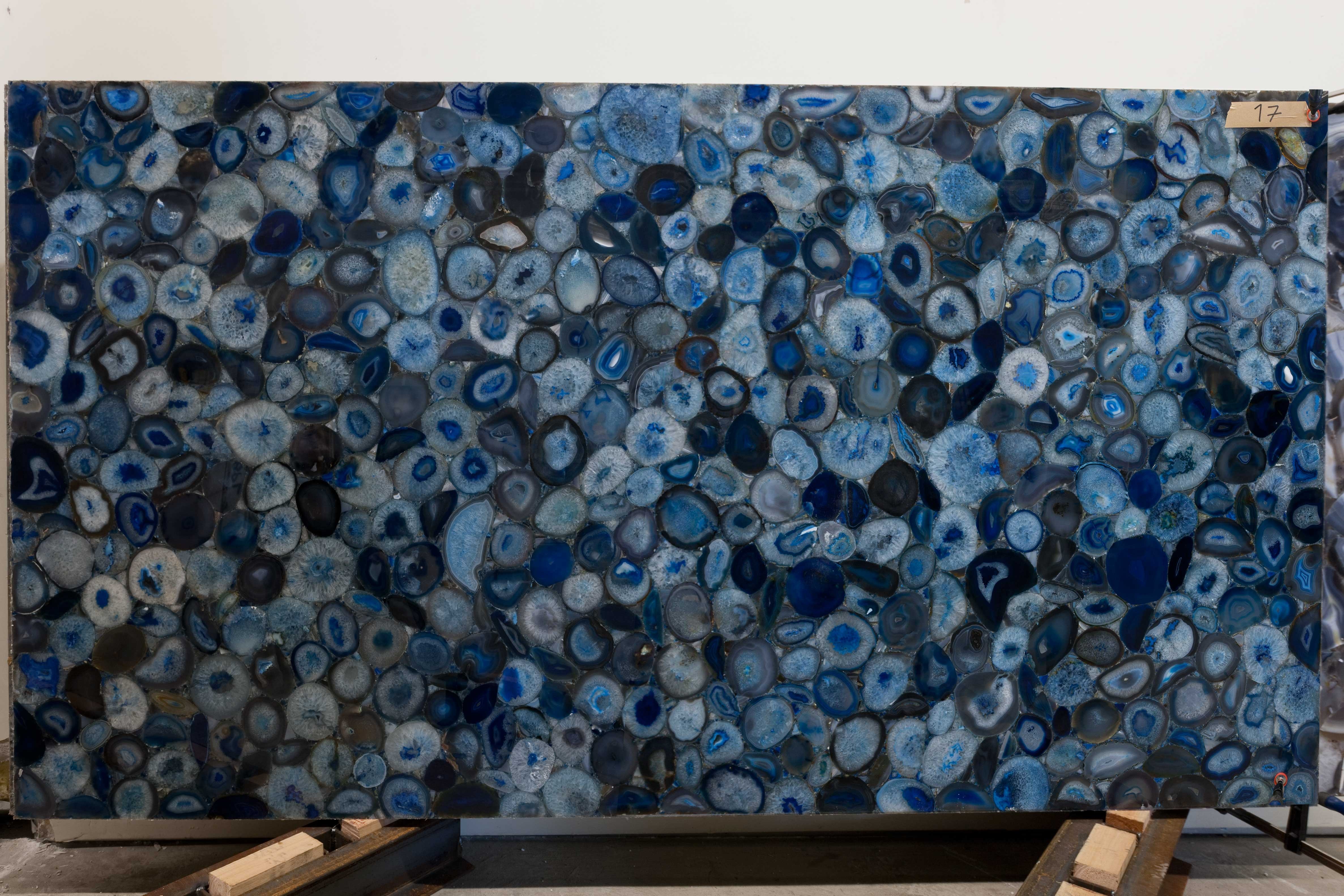 Blue Agate Gemstone Slab
Amethyst – Amethyst is a magnificent stone in a beautiful purple and violet color. This gemstone is among the most visually stunning and elegant with its intricate natural patterns. The rich brilliance of the purple color makes amethyst a beautiful choice to add to your design and this gemstone is believed to offer protection from poisoning and psychic entities.
Tiger Eye Old– The distinctive golden tone and reflective qualities add opulent luxury to a modern kitchen countertop or bathroom vanity top. Tiger Eye gold is a higher grade stone with unique tiled patterns that mesh with any home design style.
If you want something high end, luxurious, exotic, and truly unique for your kitchen countertops, work area, or a bathroom vanity top, gemstone is an excellent choice. The variety of colors and types of gemstone allow you to find something that will enhance your home décor and a unique, luxurious look to your next upgrade.