A Few Kitchen Design Tips
by Ann Kent
Posted on November 14, 2018 03:57:23 PM
Tweet
---
Kitchen designs vary considerably from decade to decade, but today's current kitchen designs emphasize clean lines and bright spaces devoid of clutter. Laminate countertops may have been the trend in the fifties, but granite and marble continue to dominate kitchen design for the natural stone industry. There has been an increase in seeing Classic White quartzite on the market, as well as engineered quartz as an alternative to natural stone.
While white cabinetry and kitchen countertops help to make a smaller kitchen appear larger, darker colors can be incorporated in larger kitchens to bring the space inward. Many kitchen designers mix stone countertops using a bright white marble, granite or quartz in conjunction with darker natural stone countertops in another area. The island will pop and become a visual focal point while the darker perimeter countertops create an interesting contrast. Similarly, many designers use two colors within the cabinetry. For example, the center island may be painted white while the perimeter ones are dark or a common trend today is the use of gray for the center island, leaving the perimeter cabinets a clean and classic white color. Since the natural stone industry is not dominated by one stone color, it is important to consider a wide range of colors. If you are a fabricator, you will want your slab yard to contain many color options as well as a wide range of types of marble, granite, and quartzite.
A homeowner spends so much time in a kitchen that you do not want your kitchen to lack personality. A stark modern minimalist white kitchen does work for some homeowners, but most want a bit of texture and variation within their kitchen that demonstrates their style. This may be a vase, some bright flowers or fun dishcloths, but any element of design that reveals personality will create a kitchen that feels like home. Kitchens of the past relied on knick-knacks to reveal personality and charm, but today's kitchens avoid that. A little bit of character is ok, but too much of it results in a cluttered kitchen that will not be a design success.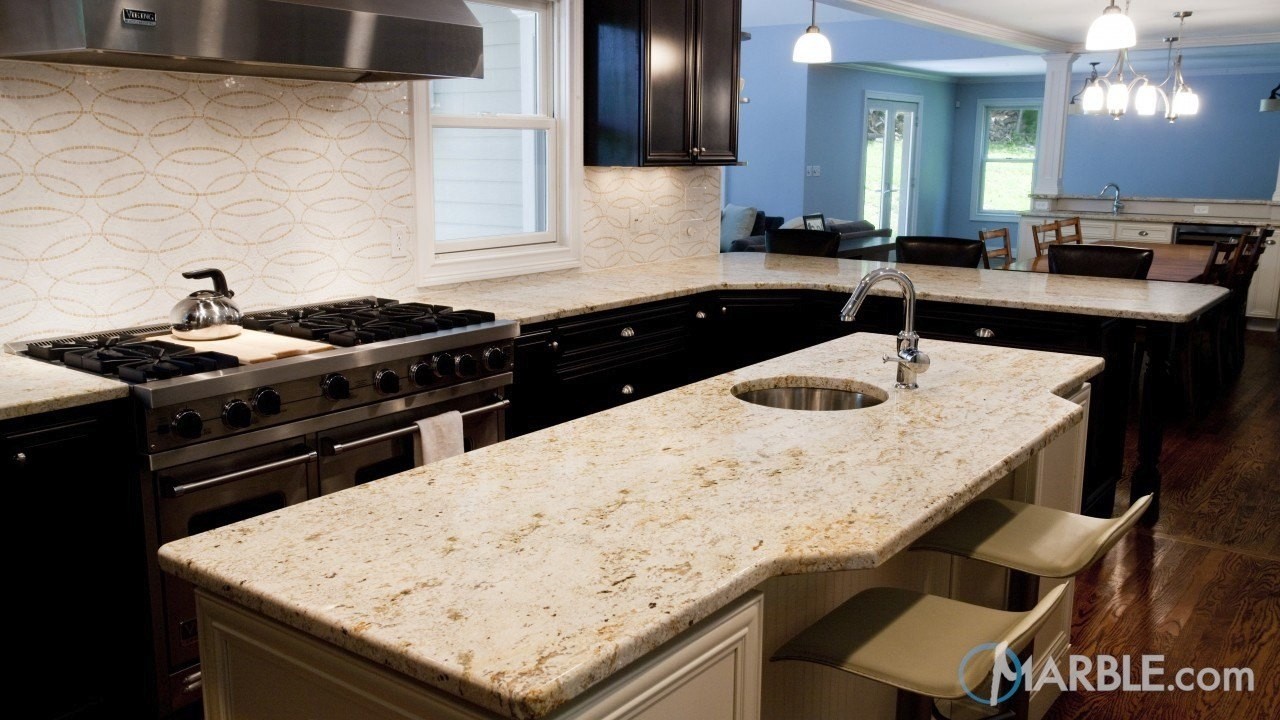 When selecting kitchen countertops, in terms of design, you can never go wrong with the classic and elegant look of white marble. It exudes luxury but does not work for every homeowner. Marble requires more maintenance than any other natural stone countertop and is prone to chipping and etching. A homeowner must seal marble up to 4 times a year, which is a big difference to the maintenance required of granite or quartzite which requires sealing only 1-2 times per year. Classic white quartzite or a white colored granite can be used instead of marble for high traffic areas of the kitchen.
Granite appeals to many homeowners more than any other stone because of its resilience, but more so because of the abundance of stone color options available. Both dark and light -colored granites sell a lot in the natural stone industry along with some mid-range neural colors like Colonial Gold granite. As I mentioned above, designers often mix and match different colored granites to achieve brilliant contrast.