Kitchen renovation in a Condo? What you Should Know
by Ann Kent
Posted on November 03, 2017 07:00:00 AM
Tweet
---
There is no question that a kitchen renovation is often the first major home renovation that a homeowner wants to undertake as an outdated kitchen can often set the entire tone for a home. If you live in a condo, you are often limited by the size and shape of your unit, and it is important to consider each aspect of your kitchen redesign.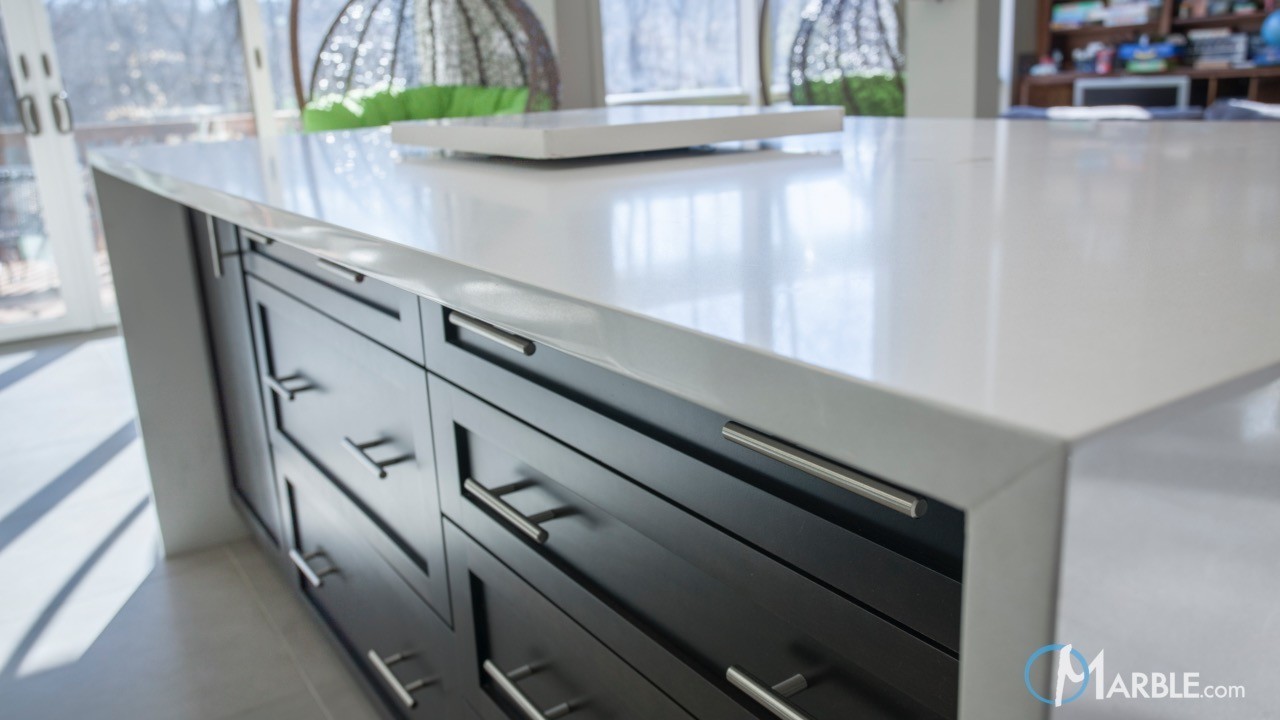 Quartz countertops are an excellent choice for smaller kitchens
Condos are typically run by boards that often dictate the type of construction that can occur within the unit. Typically, the framework for a kitchen is laid out in the initial building of the condo, and it is not common to see homeowners completely change the layout of the unit. The water lines will run from unit to unit, and for this reason, you should consider the footprint of your kitchen to be essentially the same while allowing for many kinds of layout options. If you aren't sure how long you are going to stay in your condo, you may want to try a slight kitchen makeover. Simply replacing your outdated kitchen countertops with a more modern granite, marble or quartzite and pairing them with a fresh backsplash will make a big impression. Similarly, you can consider painting or re-facing your kitchen countertops rather than completely replacing them.
Once you determine the layout, the next step will be to select your kitchen countertops. Granite countertops continue to dominate the natural stone industry, but there is always a high demand for marble and quartzite.
Since condo kitchens do tend to be a bit smaller than those found in houses, white continues to be a dominant trend. White cabinetry and white kitchen countertops can help make a smaller space seem bigger. If you do not like the pure white look of a white marble, granite, or quartzite, colonial gold granite continues to be a popular light and neutral granite option within the natural stone industry.
You will not always see the ROI of a substantial kitchen upgrade in a condo, so many homeowners attempt to keep the budget on the lower side. For instance, people who live in condos may not need absolute top-of-the-line appliances. However, since space is smaller, most homeowners will install rich and luxurious marble, granite, or quartzite over a cheaper manufactured alternative. Natural stone countertops are incredibly easy to clean and maintain. You can use a simple mix of soap and water, or at marble.com, we always recommend using a Natural Stone Cleaner. It is a cleaner that is safe and mild enough for everyday use but also contains a small amount of sealant. Every time you use the product, you are sealing your kitchen countertops and extending their longevity.
If you are a kitchen countertop fabricator that serves a large condo population, it is important to have a wide variety of slabs in your slab yard. While white and neutral stones do tend to dominate smaller kitchens, there are those who still prefer darker options.
The nature of home design today borrows from online sources, design magazines and the invaluable online virtual room design tools like Visualizer + and Housetipster's virtual design room and whether you live in a condo or a house, these design planners serve as invaluable tools to help in your small or large kitchen remodel.