How to Choose the Right Bathtub
by Chanel Adams
Posted on December 12, 2017 07:00:00 AM
Tweet
---
While a shower is the fastest way to get clean, a bath can be a relaxing alternative. Bathtubs are more than just another place for you to wash up. They can create a relaxing oasis in any bathroom. Bathroom manufacturers understand the unique appeal of bathtubs and have created a wide variety of styles, features, and material types that suit anyone.
Before you decide on a bathtub, you should figure out your bathing style. Do you want a whirlpool massage or a relaxing soak? Is safety a concern for you or your family? Take this time to determine your lifestyle and goals before choosing the right bathtub that fits your needs. When choosing the right one, you should consider the different types of tubs, the available materials for your tub, and any additional features.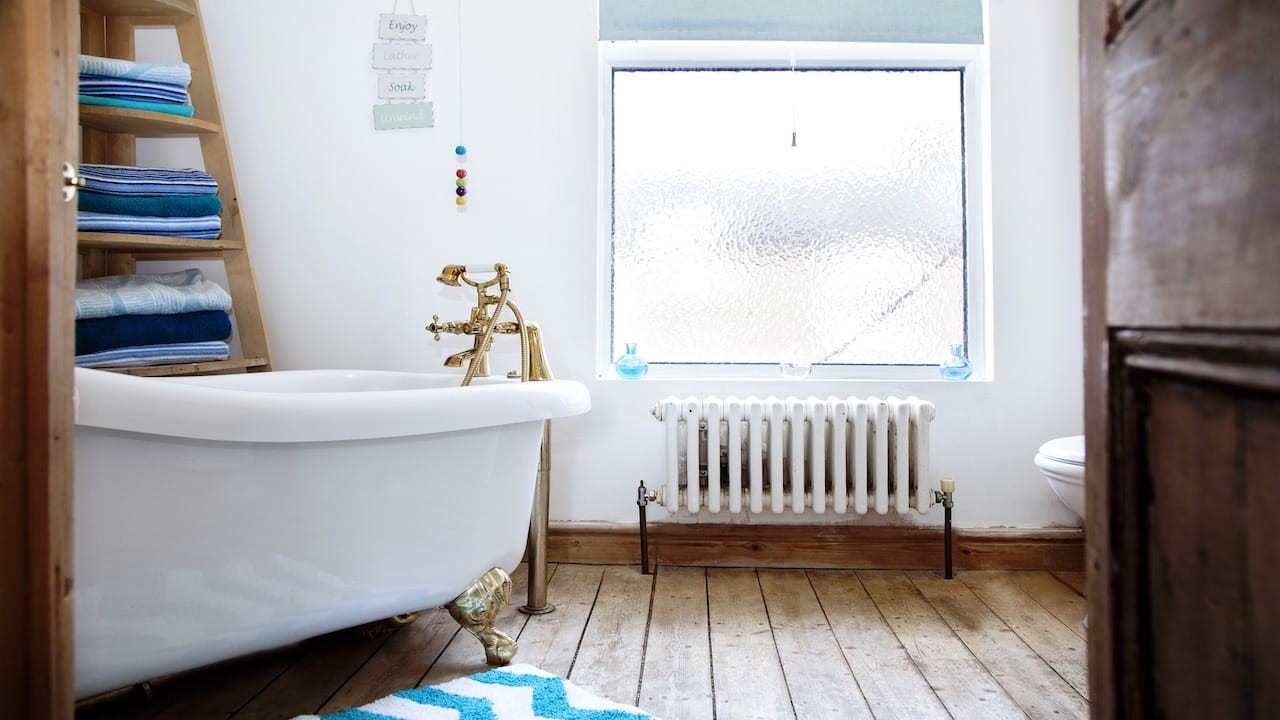 A claw-foot bathtub adds antique charm to your bathroom
Types of Bathtubs
There are many types of bathtubs that fit different personalities. You may want either a freestanding or a claw-foot bathtub to become the focal point of your bathroom. Meanwhile, alcove, drop-in, and corner tubs are placed against the wall and blend in with the rest of your bathroom. They come in a variety of styles and colors for your bathtub surround.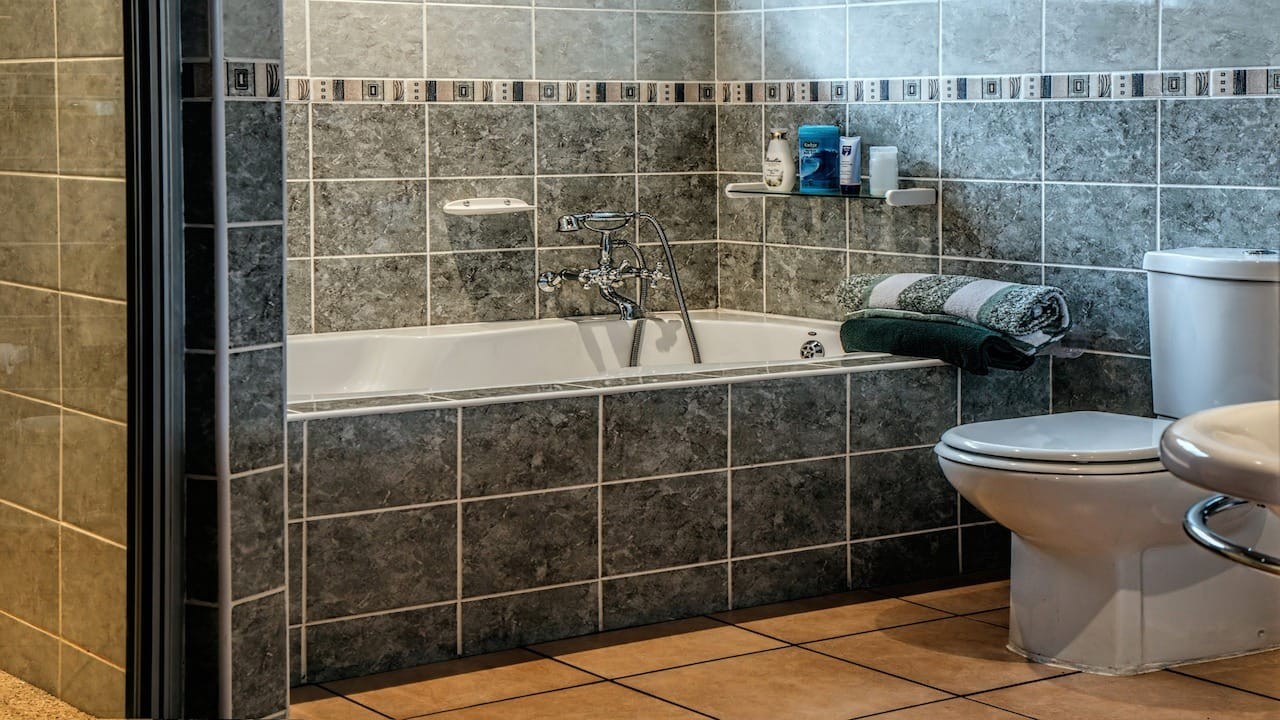 An alcove bathtub can have a surround made of granite or another natural stone
Standard Bathtubs come in two different sizes – 60 inches by 30 inches wide or 60 inches by 32 inches wide. However, a standard rectangle bathtub may measure 55 inches by 24 inches at the top and narrow to 45 inches to 22 inches at the bottom. These are usually the general dimensions for fiberglass and cast iron bathtubs. When shopping for a standard bathtub, be sure to choose one that has a drain in the same direction of your tub and shower placement.
Claw-Foot Bathtubs are known for their antique charm. They evoke the look of the Elizabethan and Victorian eras. They are usually scaled down to size and are made out of cast iron. These deep tubs feature feet and have a high back that cradles the back and neck, so you can relax after a long day. This style is made possible because of the porcelain enamel applied to its exterior and interior surfaces.
Freestanding Tubs are not supported by cabinetry, bathtub surrounds, or are built into an alcove. These tubs may have feet or may be encased into a stone, tile, or marble cradle. It can add a little bit of luxury to any bathroom.
Soaking Tubs are the second-most common type of tubs, behind standard tubs. But, they don't have a Granite Tub Surround or Travertine Tub Surround since they can stand alone. These tubs have the depth and space necessary for a long and relaxing soak. Soaking tubs can come in various styles such as alcove, claw-foot freestanding, or drop-in.
Whirlpool Tubs come with all the upgrades to create a relaxing spa-like experience. These popular bathtubs can turn your typical bathroom into your private spa oasis. They come with a variety of features such as hydro-jet, multiple jet, or single jets. They also offer a wide range of colors, shapes, and sizes. If you want a whirlpool tub, choose one that has a quiet motor, is UL listed, and has a removable apron panel for easy maintenance. Keep in mind these tubs can get complicated with common issues like the water capacity, replacing the pump, upkeep, and maintenance.
Drop-In Tubs are just the tub shell. They're typically fitted inside a frame enclosure that is pre-built. As the name suggests, you just drop this tub into a fitted space.
Walk-In Tubs create a safer experience for seniors or those with special needs or mobility issues. They include additional safety features such as grab bars, a shower bench, and slip-resistant tiled floors. Some walk-in tubs even have jets for that spa-like experience. This tub available in different heights and styles with the ability to have a surround such as an onyx tub surround or granite tub surround.
Alcove Tubs are another common style that maximizes the space of your bathroom. The ends are usually fitted between an exterior wall and a built-in cabinet. Some usually come with a wall-mounted shower. Alcove tubs look great with bathtub surrounds such as a granite tub surround or onyx tub surround in a striking color such as white pistachio onyx.
Corner Tubs are somewhat between alcove and drop-in designs. Their large, square shape and spacious styling makes dual bathing possible. They also look great when paired with an elegant and chic bathtub surround.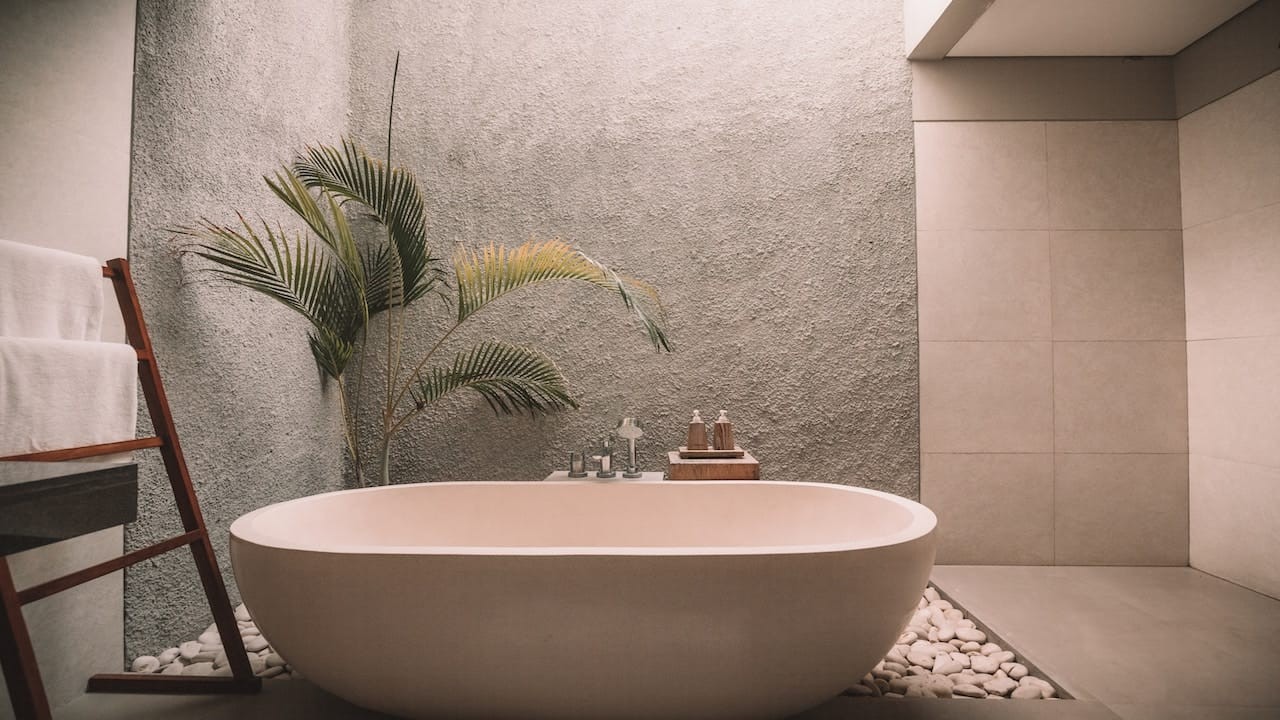 A soaking, free-standing tub adds luxury to any bathroom
Materials For Your Tub
Bathtub types come in a wide variety of materials, depending on the style you choose for your tub and the bath surround. (As if there wasn't enough to choose!) You should consider each of the following materials for your ideal tub.
Acrylic and Fiberglass: Acrylic bathtubs come in a wide variety of styles and colors. Acrylic also retains heat well when installed with insulation. Unfortunately, that's not the case with fiberglass. However, acrylic is resistant to fading and staining. Fiberglass is a lightweight material that's easy to mold but is also prone to scratching and wears out easily. Fiberglass with an acrylic finish lasts longer.
Cast-Iron: This classic material looks elegant in any bathroom. Plus, it will last as long as your house stands. Since it's a heavy material, it's not best for use in soaking tubs. Some of the advantages of cast-iron are that it's durable, keeps your water warm for long periods of time, and it comes in a lot of pleasant colors.
Steel: This lightweight material looks similar to cast-iron. However, it's prone to chips and is less soundproof than cast-iron. On the flip side, enameled steel is resistant to scratching and staining, and comes in a wide variety of colors. The end result is a smooth and glossy surface that's easy to clean.
Porcelain: Porcelain bathtubs are usually made with cast-iron or enameled steel. Like steel, they offer a beautiful glossy finish that's resistant to scratches.
Granite or Marble: Stone tubs come in a wide array of colors and natural patterns that will give a unique look to any bathroom. Solid marble and granite tubs look like a work of art on their own. These tubs can work with a general hot tub surround, Travertine tub surround, Granite tub surround, or Onyx tub surround.
If you are thinking of your next bathroom remodel and are confused with all the bathtub choices available, we hope that this article has helped you a little in your decision making process. While perusing through our vast collection of stones and finding the right color stone to surround your bathtub or hot tub, we are confident that you will create the bathroom of your dreams!
Click here to view one of our favorite tubs fitted with a granite surround!