Best Countertops for Busy Kitchens
by Marissa Sese
Posted on December 23, 2017 07:00:00 AM
Tweet
---
So, now you have a family and you spend a lot of time in the kitchen preparing meals, putting together snacks, talking to your kids about their day, helping them with homework, and gathering to eat. And, when you have your quiet days, you might even be able to kick back and relax with a bottle of wine and/or a few friends. There is a lot going on in your kitchen so, wouldn't you want to make sure you have the best countertop material that will be able to stand up to all that traffic?
We will be discussing those stones available in the natural stone industry that work best as kitchen countertops in a heavy-duty household. Even if you don't have kids, you want countertops that will be able to last a long time, look their best over the years, and be able to stand up against those heavy and hot pots and pans. Here are three options:
Granite
One of the top and popular choices here is granite and luckily there is a large variety of granite countertop colors available that will fit your style while giving you the efficiency that you desire. Granite is highly durable, needs to be sealed at least twice per year, resists scratching and is heat resistant. Some granite stones do have a tendency to etch when exposed to acidic liquids but the key in making sure that does not happen is wiping up spills as quickly as possible. You also must be on top of the bi-annual sealing. Also, granite is heat resistant and scratch resistant but that doesn't mean you should just place any ol' hot pot or pan on its surface. Place a hot pad underneath the pots and pans and make sure you cut on a cutting board. You wouldn't want to dull your knives now, would you?
If you are afraid of etches or stains, choose a darker colored granite stone like the dark Black Pearl granite. It has small, tight speckles of white and grey over a black background. The dark stone ensures that etching is not easily seen. It's a great stone if you are looking for a more cozy feel to your kitchen.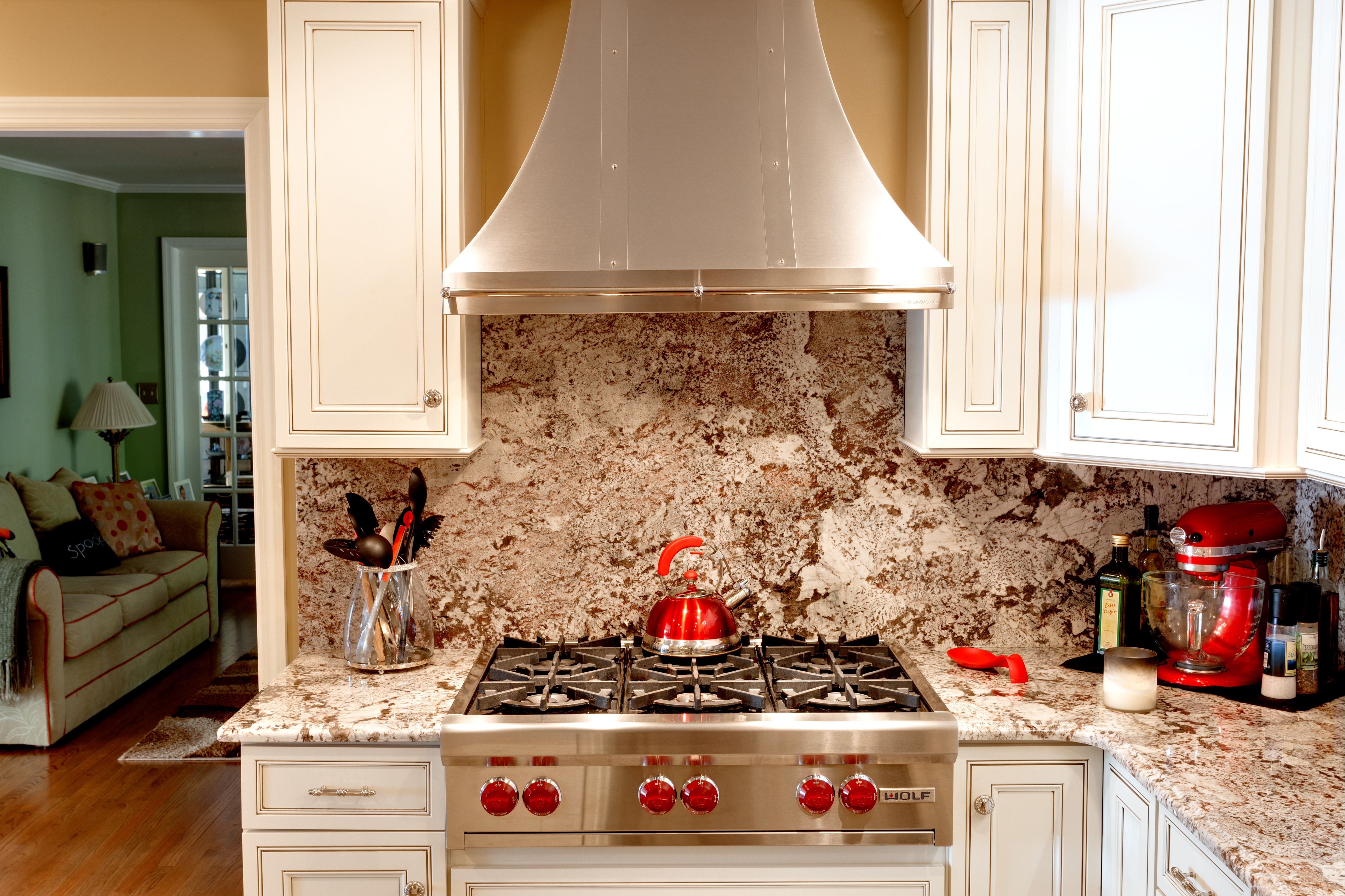 Bianco Antico Granite Kitchen Countertops
If you aren't too keen on the look of dark countertops, then go for a lighter granite color like Bianco Antico granite. With its off-white background with speckled spots of black, grey, and burgundy, your kitchen countertops will look like a fine piece of art. And because of its darker speckles, small crumbs won't be seen as much. So, if you have young kids in the house, a stone like this would be perfect!
Quartzite
Naturally strong and heat-resistant, this stone is one of the popular kitchen countertop materials available. It is close to the durability of granite and many of the stone colors available in quartzite have the beautiful, flowing veins that are sought after in marble. Its features and durability is what makes this stone a popular choice for kitchens. One of the popular quartzite stone colors is Classic White quartzite, a perfect example of that marble look. The dark veins create a luxurious look in your kitchen.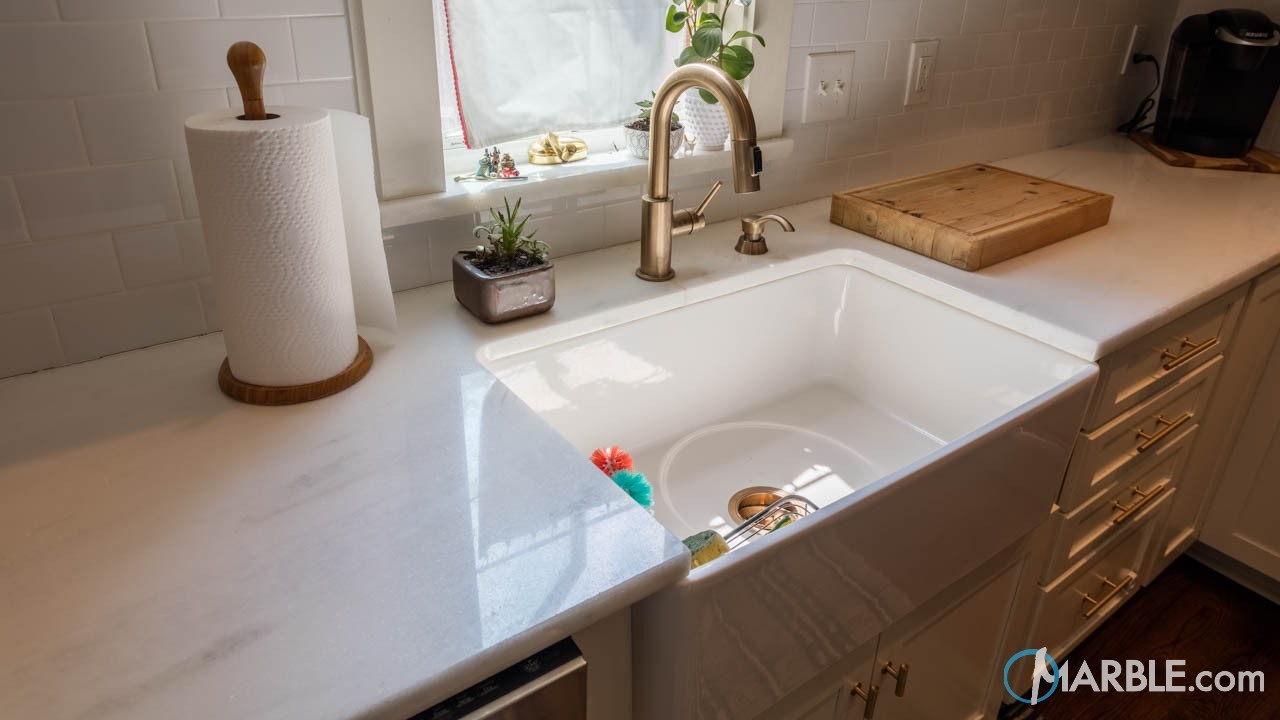 Classic White Quartzite Kitchen Countertops
Quartz (Engineered Stone)
Speaking about that "marble look", quartz is another popular stone that is really becoming a regular choice when it comes to upgrading kitchen countertops. This is an engineered stone making it highly durable, virtually maintenance free and more consistent when it comes to the stones patterns. This countertop material does come in many stone colors but not as many as granite. A lot of quartz also mimics the look of marble.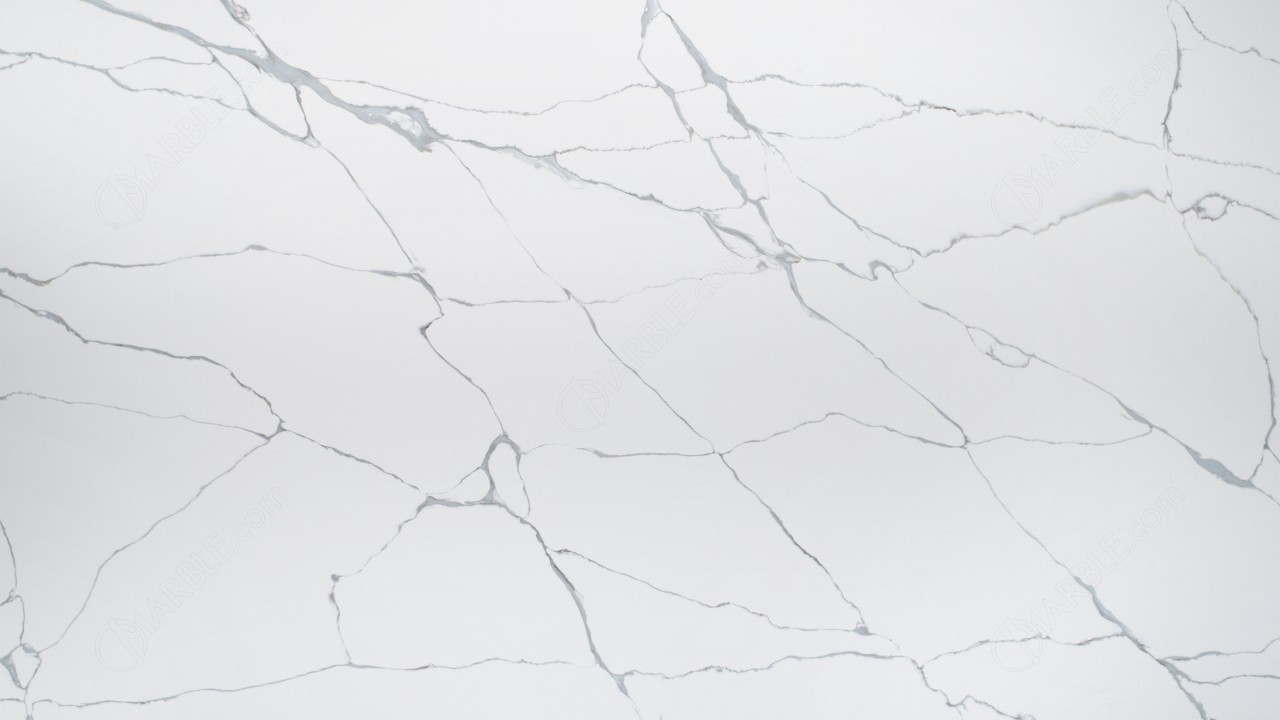 Vena Statuario Bianco quartz
The natural stone industry has a large number of stones available for all your needs especially those high-traffic kitchens. If you're a natural stone fabricator, we assume that you have a Slab yard. It would be a good idea to stock up your slab yard with only the best selection of slabs so you can have a variety of stones and stone colors that will fit any type of lifestyle and design.
The kitchen is an area of the home that we tend to spend a lot of time in, whether we have a large family or not. We want our kitchen to stand the test of time and hopefully live through many magical moments in our life. These three options will not only look amazing installed in your kitchen, but you will also have durable countertops that will remain unaffected by the everyday nuances of a busy kitchen.