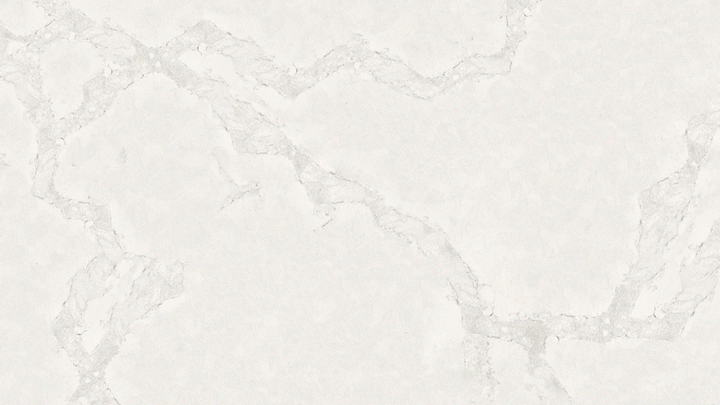 Written by
Ross Kernez
on September 13, 2019
Edited By
Marble
Last Updated On February 28, 2023
Reviewed By
Samantha Peterson
Table of Contents
Quartz countertops have risen in popularity due to the attractive appearance and easy maintenance the surfaces offer. Caesarstone is one of the world's largest producers of quartz countertops and is one of the top options you will find on the market. The countertops are available in many different styles, some of which resemble natural stone. With all the options available, you are sure to find a countertop that you like. This guide will inform you of the dimensions of Caesarstone quartz slabs.
What Are the Sizes Offered by Caesarstone?
Caesarstone's products are offered in two different sizes: Original and Jumbo. Original is a standard size quartz slab, while jumbo is larger than normal and is suitable for larger countertops. The table below provides details on the size options of Caesarstone slabs.
Caesarstone Sizes

| | Original Slabs | Jumbo Slabs |
| --- | --- | --- |
| Dimensions | 56 ½ inches tall by 120 inches wide | 64 ½ inches tall by 131 ½ inches wide |
| Thickness | 1.3, 2 or 3 centimeters thick | 2 or 3 centimeters thick |
Original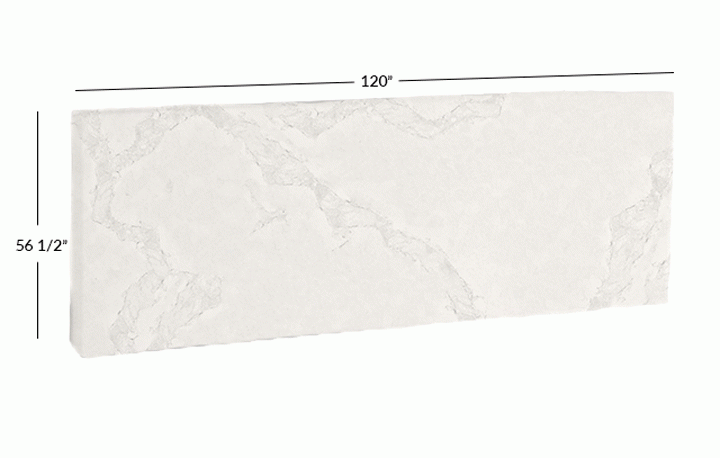 Jumbo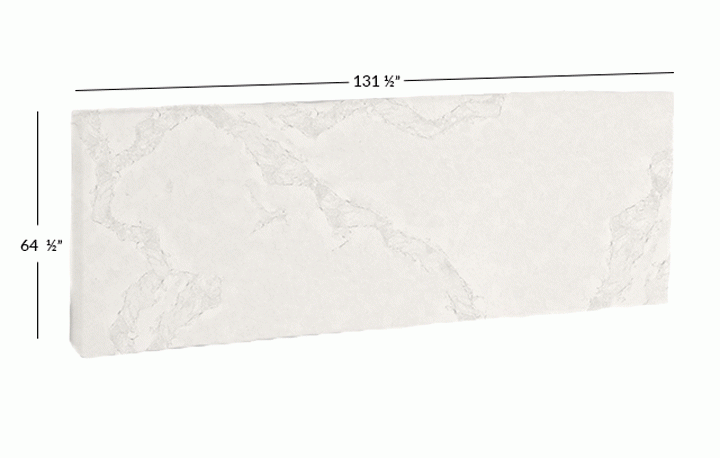 Why Choose Quartz Countertops?
Quartz countertops are popular with homeowners because of the wide range of appearance options they offer, as well as the fact that the surfaces are easy to clean and non-porous (meaning you will not have to seal them). Quartz is a viable alternative to natural stone countertops and can even be manufactured to replicate the look of natural stone.
[get_quote]
Whether you just need an original slab or your remodel requires a jumbo slab, Caesarstone will have an option that can work for you. Reviewing this guide will help you plan out what size to buy when looking at Caesarstone quartz countertops.
Why you can trust Marble.com
When it comes time to get the job done, our fabrication and installation teams have the equipment and expertise it takes to get your project cut and delivered the right way, every time. We at Marble.com are known for our incredibly quick turnaround, as we understand having countertops and other mainstays installed quickly and properly is important to our customers. We value your time, and our goal is to create the best work possible and have you enjoying it as possible.
[Total:
54
Average:
5.0
/5]
You must be logged in before you can vote.
Get your countertop estimate today!