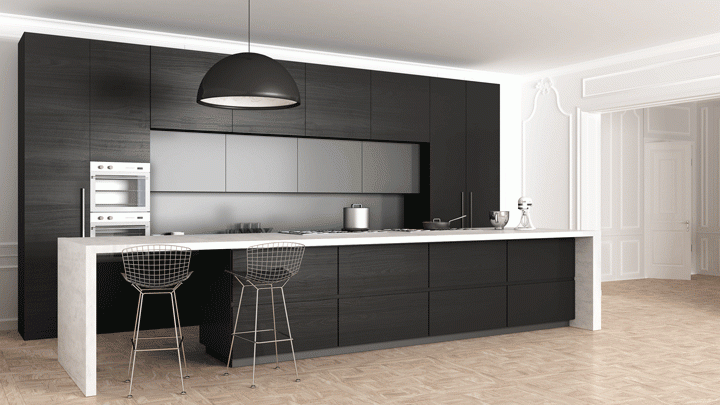 Written by
Kyle Murray
on November 27, 2019
Reviewed By
Samantha Peterson
Table of Contents
Although you may wish you had an unlimited budget for your home remodeling project, it is highly likely that you do not. Because of this, it is always in your best interest to keep cost in mind when evaluating countertop options. While some countertop materials will fit into your budget, others will not.
Overall, it is hard to truly say whether quartz countertops are "expensive" or not. It will mostly depend on how much you are looking to pay for your new countertop. You will also need to keep in mind that there are many factors that influence the prices of quartz countertops. This guide will break down what those factors are, how you can keep costs down and how the cost of quartz countertops compares to other popular options on the market.
[get_quote]
What Are Quartz Countertops?
Quartz refers to an engineered stone that is made from roughly 90 percent ground quartz and about 10 percent polyresin. The specific percentages will slightly differ based on different brands, such as Caesarstone, Silestone and Cambria, although they will always be in the same area. These surfaces are an ideal choice to complete any home improvement project, as they can be used for kitchen countertops, bathroom vanity tops, backsplashes and more.
Although it is not a natural stone, do not be fooled into thinking quartz countertops and other surfaces are of lower quality. In fact, because the surfaces are engineered, they can be found in a wide variety of colors and styles. Some of these styles even replicate the look of natural stone options like granite countertops and marble countertops. Unlike natural stone options, quartz countertops are non-porous, which means they do not require you to re-apply a sealer every so often as you will need to do with natural stone. The non-porous qualities of these engineered stone countertops also help the surfaces be stain resistant and low maintenance.
While comparable to natural stone countertops, quartz countertops are superior in quality to options such as laminate and wood countertops. Laminate countertops can have some stylish designs but are very prone to damage. This is a similar case with wood countertops; while the surfaces can look nice, you will always have to worry about potential damages.
What Factors Influence the Cost of Quartz Countertops?
As referenced above, there are many factors that can have an impact on the cost of quartz countertops. Some of these factors include what type of quartz you choose, how much of the material you require for your project, and how many cutouts and angles the fabricator needs to make. For example, if you choose a color of quartz that is not common, you can expect to pay more for it. A solid-colored slab will often cost less than one that has veining or speckles.
What is the Average Cost of Quartz Countertops?
On average, quartz countertops tend to cost somewhere between $50 to $120 per square foot. Of course, the exact costs will depend on the factors explained above.
How Does the Cost of Quartz Countertops Compare to Other Options?
Compared to other high-quality options on the market, quartz countertops fall somewhere in the middle when it comes to price. While high-end options may be priced beyond your budget, more common types of the material are priced in a similar range to many other materials.
The table below compares the average cost of quartz countertops to the average costs of several other countertop options.
Quartz vs. Other Options: Average Prices

| | |
| --- | --- |
| Granite | Between $32 to $75 per square foot |
| Marble | Between $40 to $100 per square foot |
| Quartz | Between $50 to $120 per square foot |
| Slate | Between $50 to $200 per square foot |
| Soapstone | Between $55 to $100 per square foot |
| Quartzite | Between $60 to $120 per square foot |
| Limestone | Between $70 to $200 per square foot |
| Onyx | Between $75 to $250 per square foot |
| Gemstone | Start around $100 per square foot |
How Can You Keep the Cost of Quartz Countertops Down?
There are a few ways that you can minimize the cost of your new quartz countertop. To start, you can select a type of quartz that is relatively common. While this may sound like a negative thing, it is anything but. There are plenty of stylish quartz options that are priced in the lower ranges. Second, you can minimize the amount of material and cutouts you require by planning only for what you need. For example, if you want to keep the cost of the material down, you should focus on your countertop rather than any additional elements like backsplashes and kitchen island tops.
[get_quote]
Frequently Asked Questions
Below are answers to some frequently asked questions related to quartz countertops.
Can You Install a Quartz Countertop Anywhere in Your Home?
If you exercise the proper amount of caution, there are many places in the home where you can install a quartz countertop (or other surfaces). One of the only downfalls the material has is that it is susceptible to damage from excessive heat. While this may seem like it should indicate to not install quartz countertops in your kitchen, that is not the case. You can definitely have quartz countertops in your kitchen as long as you do not expose them to excessive heat, such as hot pots and pans placed on the surface. If you place hot items like these on the surface (or hot hair tools in the bathroom), the resin will melt and result in a permanent burn mark. Quartz countertops are a particularly good choice for lower traffic areas of the home. Again, while you can install them in the kitchen, you will have to make sure you are careful.
One place you should never install a quartz countertop is in an outdoor living area. The constant sunlight the area receives can cause the color of your countertop to fade.
Can You Install a Quartz Countertop Yourself?
Installing a quartz countertop is not a DIY project, regardless of how experienced the homeowner is. The material is very heavy and needs to be installed in a specific way. This is why you will need to hire professionals to install your new countertop. Doing so will significantly lessen the risk of any damages occurring and will also prevent you from potentially injuring yourself during the process.
How Do You Care for a Quartz Countertop?
Since quartz countertops do not require sealing, your primary concern will be keeping up on cleaning. As long as you do that, and keep the surface away from excessive heat, your quartz countertop can stay in terrific shape for many years to come.
Saving Money on Quartz Countertops: What to Remember
When looking to save money on quartz countertops, there are some things you will need to remember. These key points are listed and explained below.
[get_quote]
Do Not Sacrifice Quality to Save Cost
While you may be on a tight budget, it is never a good idea to sacrifice quality to save a little bit of money. For example, do not choose a laminate countertop over a quartz countertop simply because laminate is a cheap material. If you do, you may save some money in the short term, but you can just as easily have to spend additional money to fix any damages or replace the countertop in the future. You are much better off spending on quartz countertops, even if it requires stretching your budget a little.
Do Not Attempt to Self-Install
Always leave the installation of quartz countertops to a professional. Installing them yourself may lead to mistakes and injury.
Whether it is finishing off your new kitchen or incorporating a stylish and durable new countertop in your bathroom, installing quartz countertops is a great way to improve your space. This guide will help you figure out how you can keep the costs of quartz countertops down, as well as provide you with other important information related to the surfaces.
Why you can trust Marble.com
When it comes time to get the job done, our fabrication and installation teams have the equipment and expertise it takes to get your project cut and delivered the right way, every time. We at Marble.com are known for our incredibly quick turnaround, as we understand having countertops and other mainstays installed quickly and properly is important to our customers. We value your time, and our goal is to create the best work possible and have you enjoying it as possible.
[Total:
66
Average:
5.0
/5]
You must be logged in before you can vote.
Get your countertop estimate today!