You Don't Have to Know Algebra to Understand the Kitchen Work Triangle
Tweet
---
The kitchen work triangle, a concept developed 70 years ago in the 1940s, remains an important part of kitchen design. The goal of the kitchen triangle is to create the ideal amount of distance between primary work areas simplifies cooking and clear non-chef traffic. When the concept was first crafted, kitchens were typically compact and kitchen countertops were laminate, not granite. Additionally, the appliances were larger than today's models, and space was for cooking and cooking only. Yet the guidelines included below have stood the test of time.
When renovating your kitchen, consider how efficiently you're able to move around. What features don't you like? What keeps causing problems while you're cooking? Taking the time to identify the problems you'd like to fix will help you determine the best kitchen triangle format.
Today's larger kitchens may need two work triangles depending on how the space is used, while other layouts, such as one-wall kitchens, just won't accommodate the specified layout dimensions. Regardless, consider the guidelines as you plan and develop the layout of your kitchen upgrade or remodel.
The kitchen triangle connects 3 primary work areas in the kitchen – the stove/oven, the refrigerator, and the sink. Generally, the distance between each of these three, the sides of the triangle, should be no less than 4 feet and no more than 9 feet, and the three sides added together should fall between 13 feet and 26 feet. When the total is less than 13 feet distance, the kitchen will likely feel blocked and cramped, and if it's more than 26, cooking becomes inefficient and a hassle.
Other work triangle guidelines include
The triangle should not encroach into a peninsula or island by more than 12 inches.

Major traffic patterns should not cross the triangle.

Adding a second sink to an island countertop can create a second triangle or a fourth-wall peninsula can create a second workstation and a second triangle.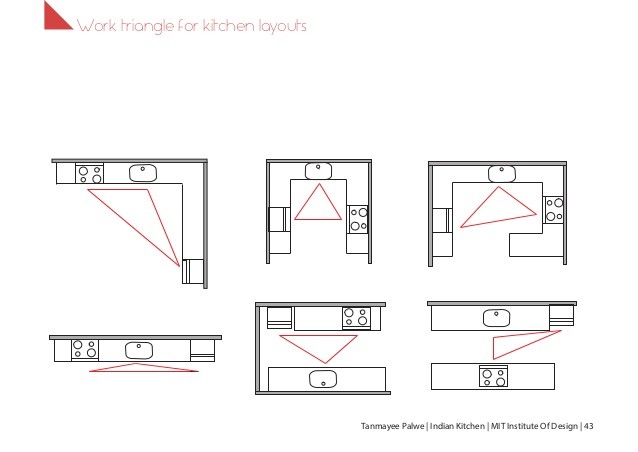 These guidelines are just that, guidelines, they are not hard and fast rules and they work as well with granite countertops, quartzite countertops, or any other kitchen countertop material. However, incorporating them into a new kitchen design or layout ensures an efficient kitchen design.
More efficient kitchen layout tips.
Aisle width
To allow for adequate traffic flow, a 42-inch wide work aisle is recommended for one cook. If there are typically two cooks in the kitchen, a 48-inch wide aisle is preferable.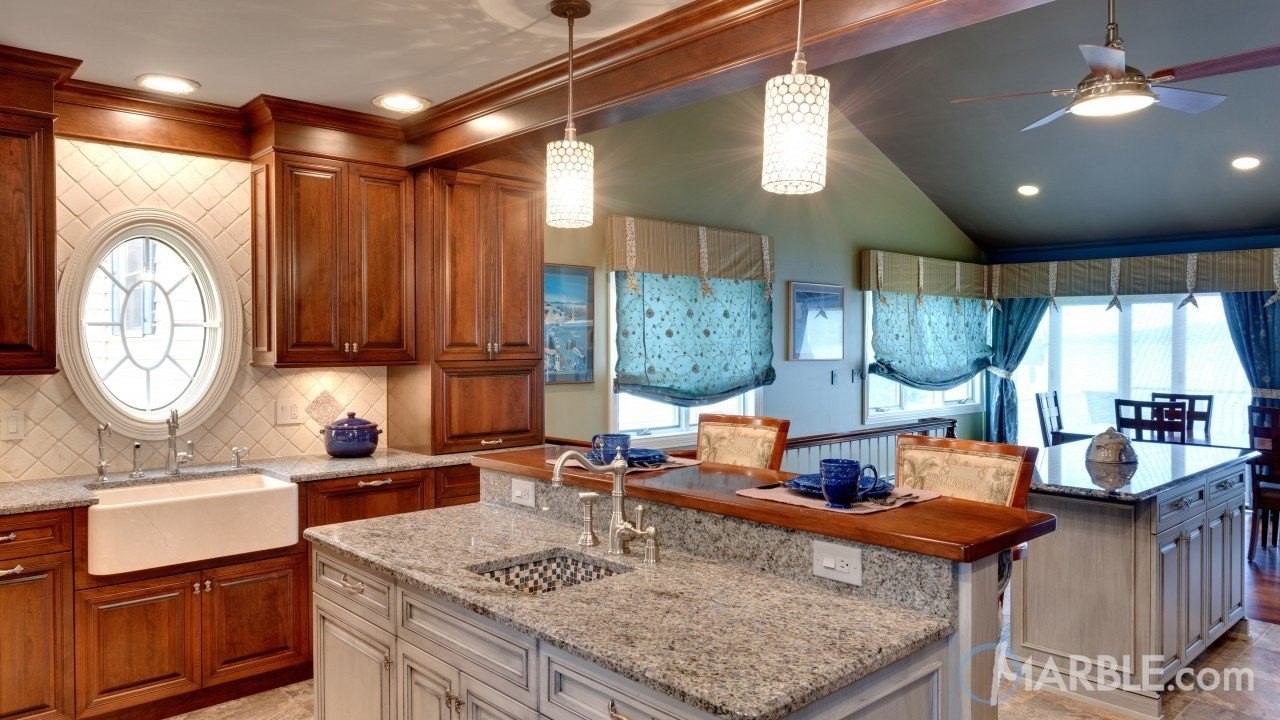 Blue Eyes Granite Kitchen Countertops
Counters next to the cooktop
Plan to install 12 inches of counter, at least, on one side of the cooktop or oven, and 15 inches on the other side to serve as a safe place for hot dishes to land.
Counter next to the sink
A 36-inch section of continuous countertop is recommended next to the sink.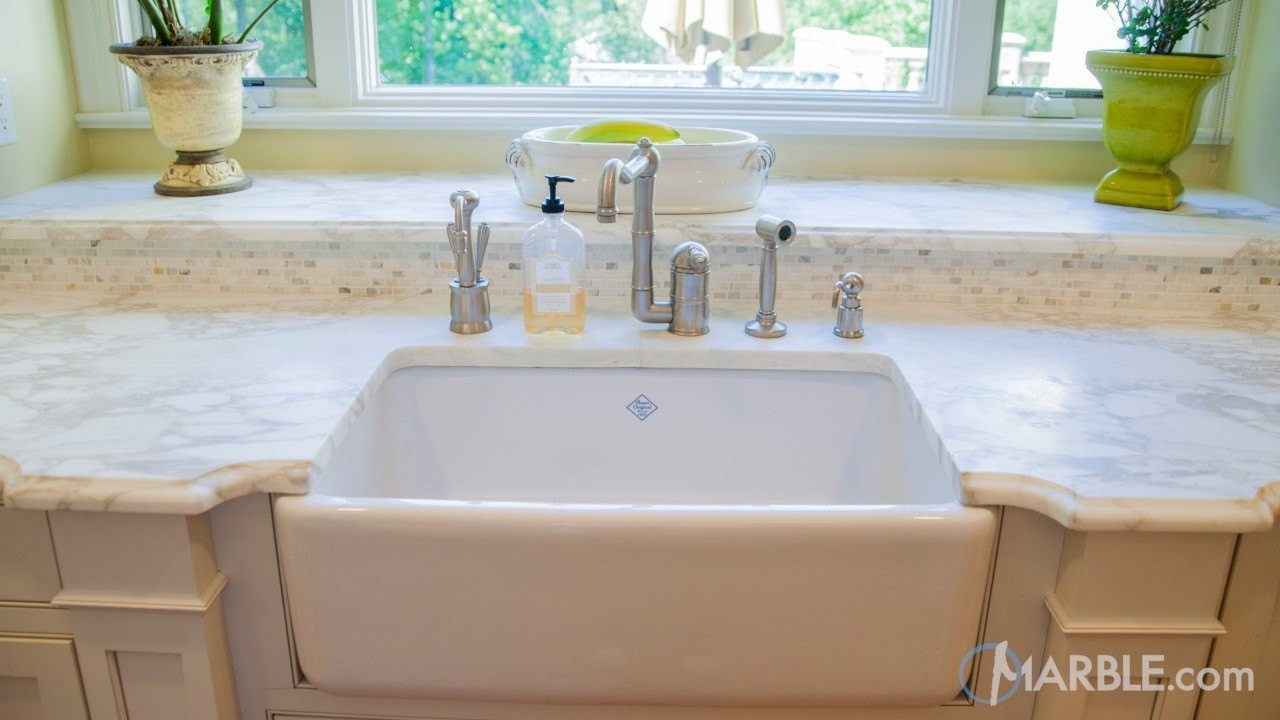 Calacatta Oro Marble Kitchen Countertop
Charging station
A place for mobile phones, tablets and other electronic devices is practically a necessity in today's kitchens.
Storage cabinets
When designing the layout of cabinets and storage areas consider the items you use frequently to ensure they get an upfront space. Also consider activities you want to accommodate, such as where to set the groceries down after shopping?
Prep space
To efficiently prepare meals you need access to knives, cutting boards, utensils, small appliances, water, and garbage can.
Cleanup
Clean up involves more than just the sink. Where will garbage can be? Recycling bins? Brooms and mop?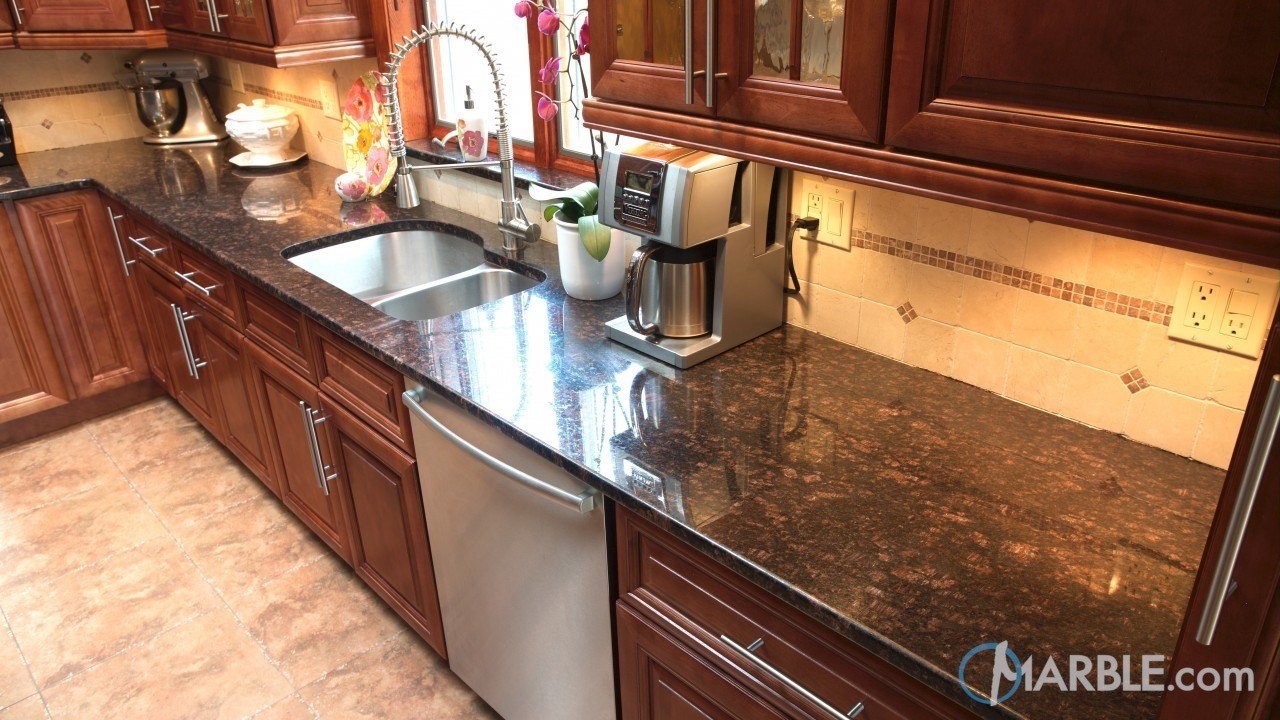 Tan Brown Granite Kitchen Countertops
Dining
Whether or not you want to incorporate an eating space in the kitchen depends solely on family needs. Islands serve as excellent dining spaces and can do double duty as prep or entertainment space.
To summarize, creating a kitchen work triangle that meets the needs of you and your family is a relatively straightforward proposition, demanding little work and a big payoff.