Why you should choose Natural Stone for your Tub Surround
by Ann Kent
Posted on December 10, 2017 07:00:00 AM
Tweet
---
A soaking tub is a luxury that many homeowners refuse to live without, but what they might not realize is that a natural stone bathtub surround is far superior to tile both in terms of practicality and beauty. Over time, grout will look dingy and is prone to developing mildew, as is the caulk around the tub and wall. Natural stone is a available in many colors and styles and is far more durable and long-lasting than tile whether you choose to install a super resilient granite tub surround or a more delicate onyx tub surround, marble surround, or travertine tub surround. The natural stone industry sees a huge demand for natural stone bathtub surrounds as it helps to unify the overall look in a bathroom while drawing together the look of the natural stone vanity.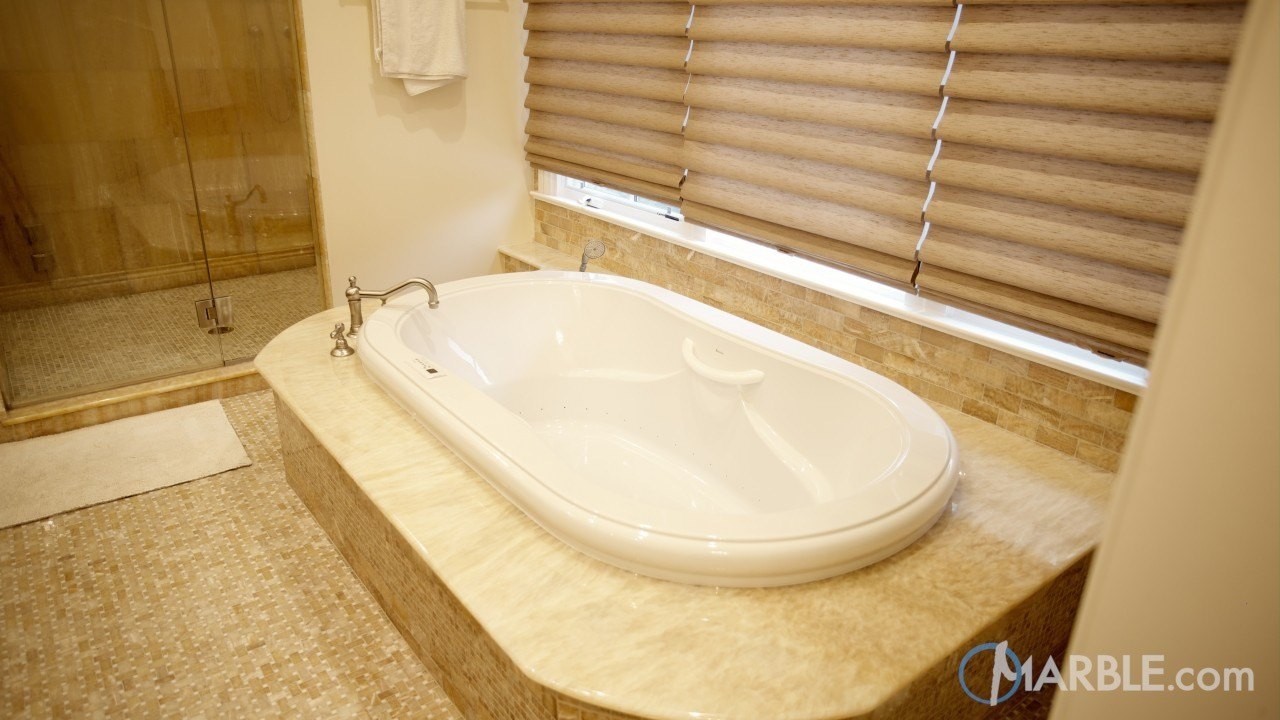 A Honey Onyx Bathtub Surround
We always encourage homeowners to spend a lot of time at the slab yard viewing each type of stone that they are considering even if they think that they made their decision using a virtual room planner tool. Each slab is unique and unlike any other slab of the same natural stone so it is important to view the entire slab to see the true beauty. It is always good to look at samples of similar stones and ones that have contrasting colors to see what might appeal to you most. For this reason, countertop fabricators cannot simply have a small selection of slabs at their yards to best meet the needs of their customers. If you are a stone fabricator, we suggest developing a relationship with Slabmarket.com, to ensure that you have a diverse selection of stone at your slab yard. Slab Market will ship containers of multiple slabs directly to your yard as needed to ensure that your inventory stays built up and varied.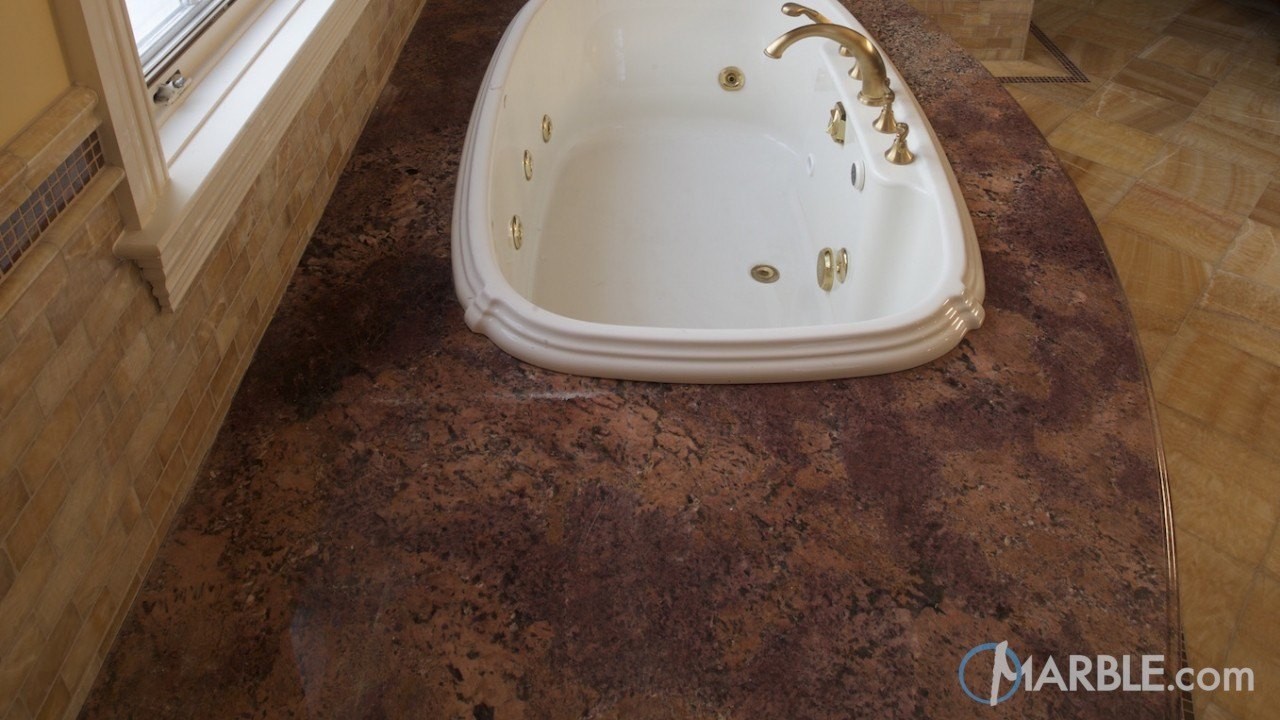 Bordaux Granite Bathtub Surround
When determining what type of stone you should use, it is best to first consider what maintenance each stone requires. Marble, onyx, and travertine bathtub surrounds are far more delicate and porous than a granite bathtub surround, but, with the added maintenance, they deliver exquisite beauty and glamour that are sure to result in a relaxing bath experience. The more delicate bathtub surrounds will require sealing up to 4 times a year, whereas the granite stones will only require 1-2 applications of sealant a year. All natural stones will perform far better than a tiled bathtub surround and will result in a relaxing oasis for any homeowner as they provide a beautiful and natural look. With tile, the sharp lines of grout create a more structured and fabricated look than a clean line of natural stone.
Grout can get dirty and dingy looking over time. While you do need to caulk stone seams periodically, they will not develop mildew at the same rate as grout. Grout, even when sealed, is extremely porous and prone to staining. If you install a tiled bathtub surround, you will need to adhere to a strict grout-sealing schedule to prevent water from penetrating and causing stains and or mold. It is possible that grout will break down, and water will leak, potentially causing water damage inside your walls. Natural stone, on the other hand, provides an almost leak-proof, solid base that resists water penetrating.
Installing a natural stone bathtub surround will add to the resale of your home and result in a relaxing soaking experience for years to come.