Why White on White is All Right!
by Marissa Sese
Posted on July 16, 2018 09:12:58 AM
Tweet
---
Many homeowners love the look of an all-white kitchen. It's a look that will never go out of style. There are many reasons people choose an all-white kitchen. One of the biggest reasons is that it creates a fresh and bright look. Some may think this color scheme is so plain and dull but it's something to consider if you are remodeling your kitchen. Here's why.
It compliments every design style
From contemporary, to modern, to country living, white is the perfect color choice to fit any design style. A backdrop of white will highlight all the important elements in the room, like those beautiful quartz countertops or the amazing tiled backsplash you just installed. Your stainless steel appliances and silver fixtures will shine in an all-white kitchen, and the pendant lights hanging over your kitchen island seem to come to life with the white background.
White creates a sleek and minimalist look to the room, which is known in contemporary design. The earthy elements like exposed beams or a brick wall of a modern kitchen will go great with an all-white background. The many colors and patterns of an eclectic kitchen will be enhanced in an all-white kitchen. You just cannot go wrong with an all-white background in the kitchen.
It opens up the space
If you have a smaller kitchen, white tends to open things up a bit. It gives the illusion of a larger space. White is known for visually expanding smaller spaces.
White cabinets with white countertops like Classic white quartzite countertops (shown below) will create a fresh look to your kitchen. Everything in white might create an institutional look but the veins in classic white quartzite will break up the monotony of all white. The veins in Classic White quartzite are dark gray and can pick up some of the color in your stainless steel appliances to create a cohesive look.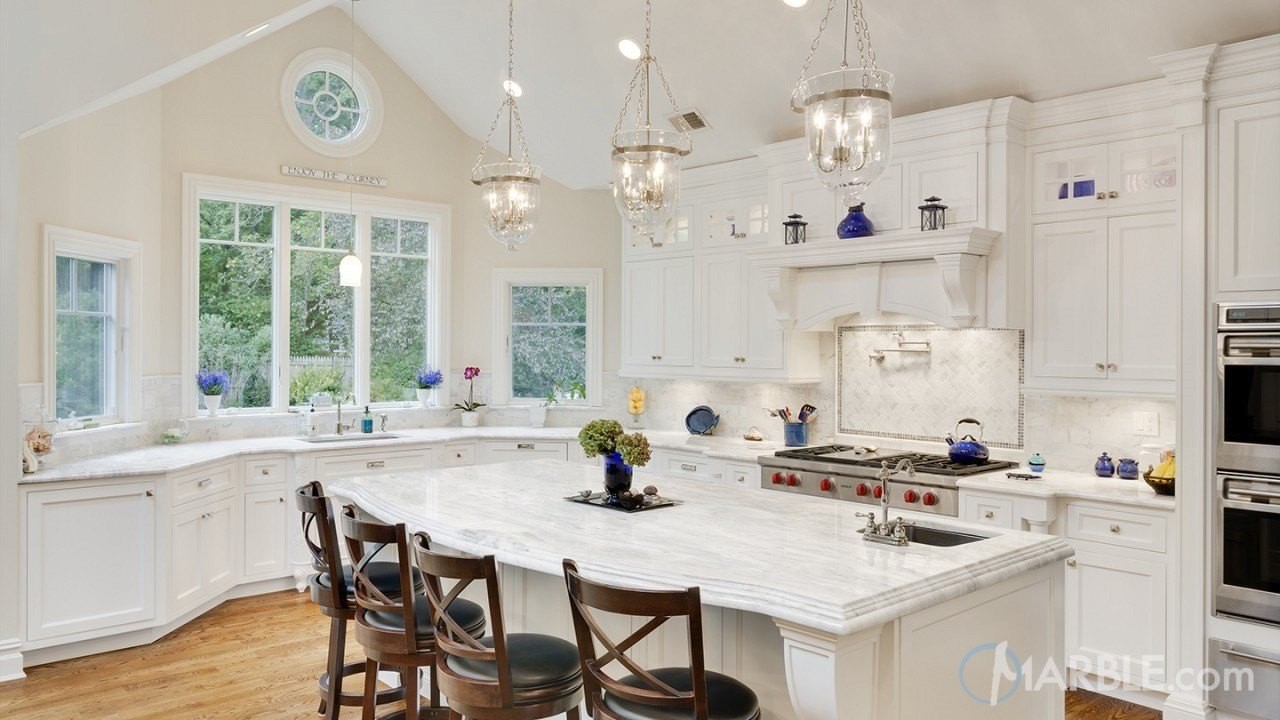 Another natural stone that will fit an all-white kitchen is Mountain White Danby marble (shown below). This stone has a white background with dramatic gray veins that really stand out. This natural stone offers a pleasing look to the kitchen and is not overwhelming. It certainly will enhance the look of your kitchen without taking away from the all-white theme. White countertops will expand the space in the kitchen while offering a visually appealing look.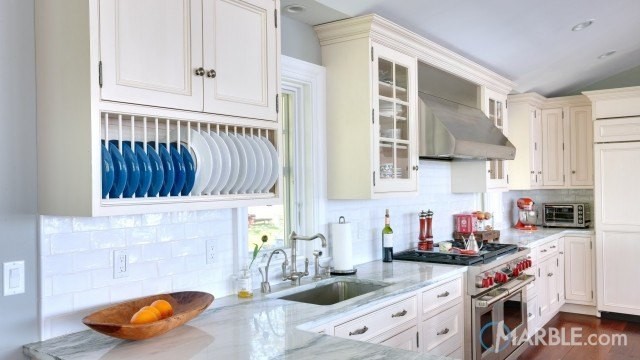 Easily change the look of your kitchen
You don't have to stick with one design style or color theme when you have an all-white kitchen. If you want to change up the look without doing extensive work, then it is very easy. Add pops of color with décor and accessories.
The window treatments can be easily swapped out with patterned fabric that instantly changes the look of the room. How about a geometric pattern with colorful details? It will add a pop of color to break up the white color in the room while adding a trendy and unique vibe to your kitchen.
If you have stools by your kitchen island, you can instantly place colorful ones to add a pop of color to your kitchen. How about black stools with deep red seat coverings? That will add a touch of drama to your all-white kitchen. The dark stools will pick up the dark veins of your Mountain White Danby marble countertops and everything will go together.
All fixtures will work
How about changing up the fixtures and cabinet handles? We don't have to stick with silver. Gold or bronze fixtures and cabinet handles will add a nice glamorous touch that will give your kitchen a high-end look. And, when you get tired of it, easily change the look again with new fixtures in another color metal. Copper would be a nice change.
Contrary to what many people think, an all-white kitchen is very versatile. There are so many ways to choose this background color while still being able to change up the look of your kitchen with ease. A simple swap of certain elements in the room will create a new look for your kitchen if you are one to get bored easily. All white is the way to go if you're looking for a fresh and clean look.