What to do with that Spare Wall in the Kitchen
by Ann Kent
Posted on December 06, 2017 07:00:00 AM
Tweet
---
If you are lucky enough to have a large kitchen, you might find yourself pondering what to do with that spare wall in your kitchen that is so far from the sink and oven where the real action takes place in your kitchen. In reality, there are actually so many great ways to use that space to make your kitchen even more efficient and visually pleasing.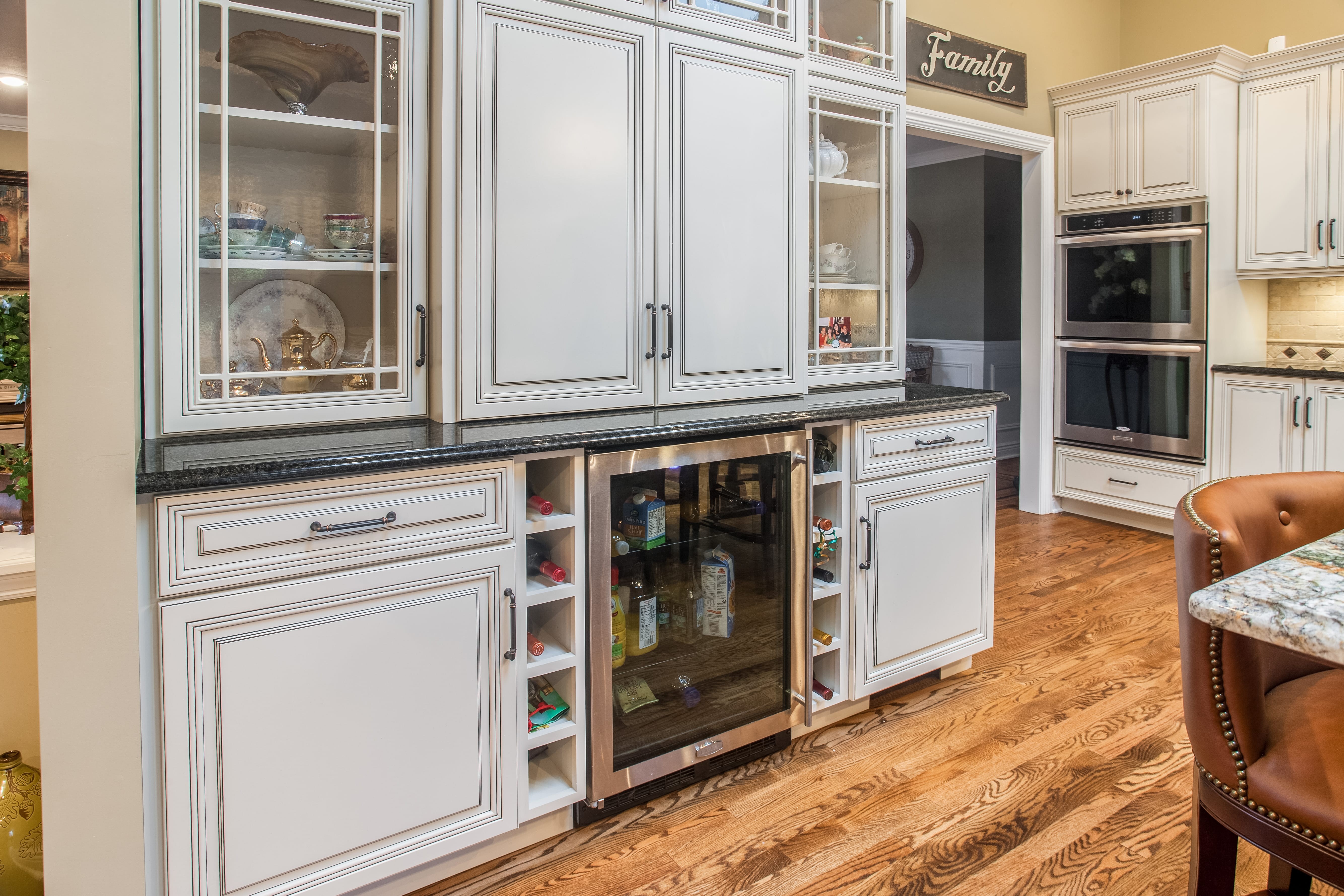 The first step when planning out this space should be looking online and in kitchen magazines to see what other people do with similar spaces. You will see the incorporation of butler's pantries, bar areas, coffee areas, a separate work station and more. As a homeowner, you should evaluate what you want from a kitchen and the way in which you entertain in your kitchen. There are many online visual planners like our Visualizer+2D and 360° design tool that allows you to design your kitchen on your home computer in 2d space. Similarly, House Tipster's Room Design Planning tools have a number of rooms where you can map out different options for this wall before committing to a design plan.
A Butler's Pantry
One of the most popular ways to use this space is to install a butler's pantry and home bar area. If you do a lot of entertaining, this is a great way to better dictate the flow of your kitchen away from the stove and toward another space in the kitchen. You can opt for a dry bar area or install a full sink, ice maker, and wine and beverage refrigerator to make it a really successful space. Setting up the butler's pantry as the primary spot to serve your guests beverages leaves the center island open for appetizers and socializing. You can install the same countertop material for the surface of your butler's pantry or you can switch it up and try for something different.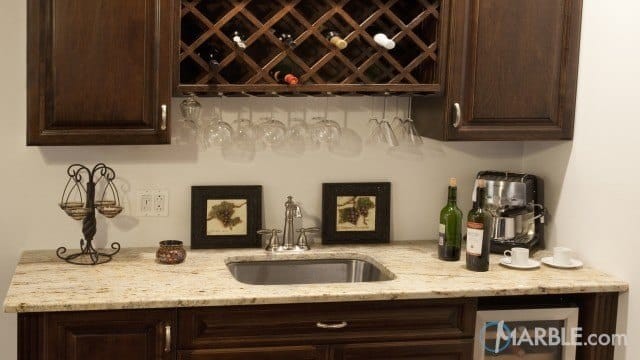 When determining what type of countertop you want in your kitchen and your butler's pantry, use online tools like Housetipster's virtual rooms and our own Visualizer+ 2D and 360° tools to see how each type of stone and color looks within your layout. Marble is always a show stopping choice for kitchen countertops, but it is porous and will etch when exposed to acids. For this reason, it is not always recommended for high traffic areas. Marble requires sealing up to 4 times a year. Many people tend to only think of marble and granite as the popular choices for kitchen countertops, but for homeowners who long for the veiny and rich look of marble, they might opt for quartzite because it is far more resilient and durable than marble while mimicking the look of marble. Quartzite is only available in light colors, so if you are looking for a darker stone, granite might be a better option as it can be sourced in a range of colors. Granite and quartzite are the strongest natural stones and only require 1-2 applications of sealant a year. You can clean all natural stones including, but not limited to marble, quartzite and granite with a simple mix of soap and water or as we at marble.com always recommends using Mr. Stone's AGM Daily Cleaner because it is a non-toxic cleaner that contains a small amount of sealant in its formulation. Each time you clean, you are protecting your countertops.
If you want to use a material that requires no maintenance at all for your butler's pantry, quartz is a great option. It is an engineered stone that comes in a wide-range of colors. You do not have to seal quartz since it is made up of quartz crystals and resin, which makes it non-porous. Quartz is not as heat resistant as granite or quartzite, so you should never put hot items directly on it. Quartz countertops are a great choice for busy homes with kids and lots of entertaining.
As I mentioned above, you may wish to outfit your entire kitchen with one type of countertop material or you might use your butler's pantry as an accent wall and install a contrasting color or material. Light and dark colored stones can work well together as installed on perimeter kitchen countertops or a separate space like a butler's pantry.
A Baking Station
Marble is not recommended for high traffic areas of a kitchen, but is one of the best materials that you can use for a designated baking area. If you are a baker who loves the look of marble, you are in luck. Marble is a wonderful surface for baking because it is naturally cool and will not heat up pastry or bread dough as you knead it. Since it is relatively unheard of to use acid when baking, you don't need to worry about acids etching the marble baking station.
A Coffee Area
If you are a real coffee aficionado, the idea of a separate space in your kitchen entirely devoted to coffee might be a dream come true. You can use your coffee area to set up an espresso machine, coffee machine, and even a cappuccino machine if that is your preference. Like the butler's pantry, the coffee area will become extremely useful when entertaining a large number of people.
Adding an Interesting Hutch
If you do not wish to extend the countertop space within your kitchen on the back wall, another way to approach this space is by using a unique piece of furniture or a hutch to create a visually pleasing and useful area. You can store away anything that you see fit in the space, and the hutch will make the area look far more interesting than a blank, bare wall.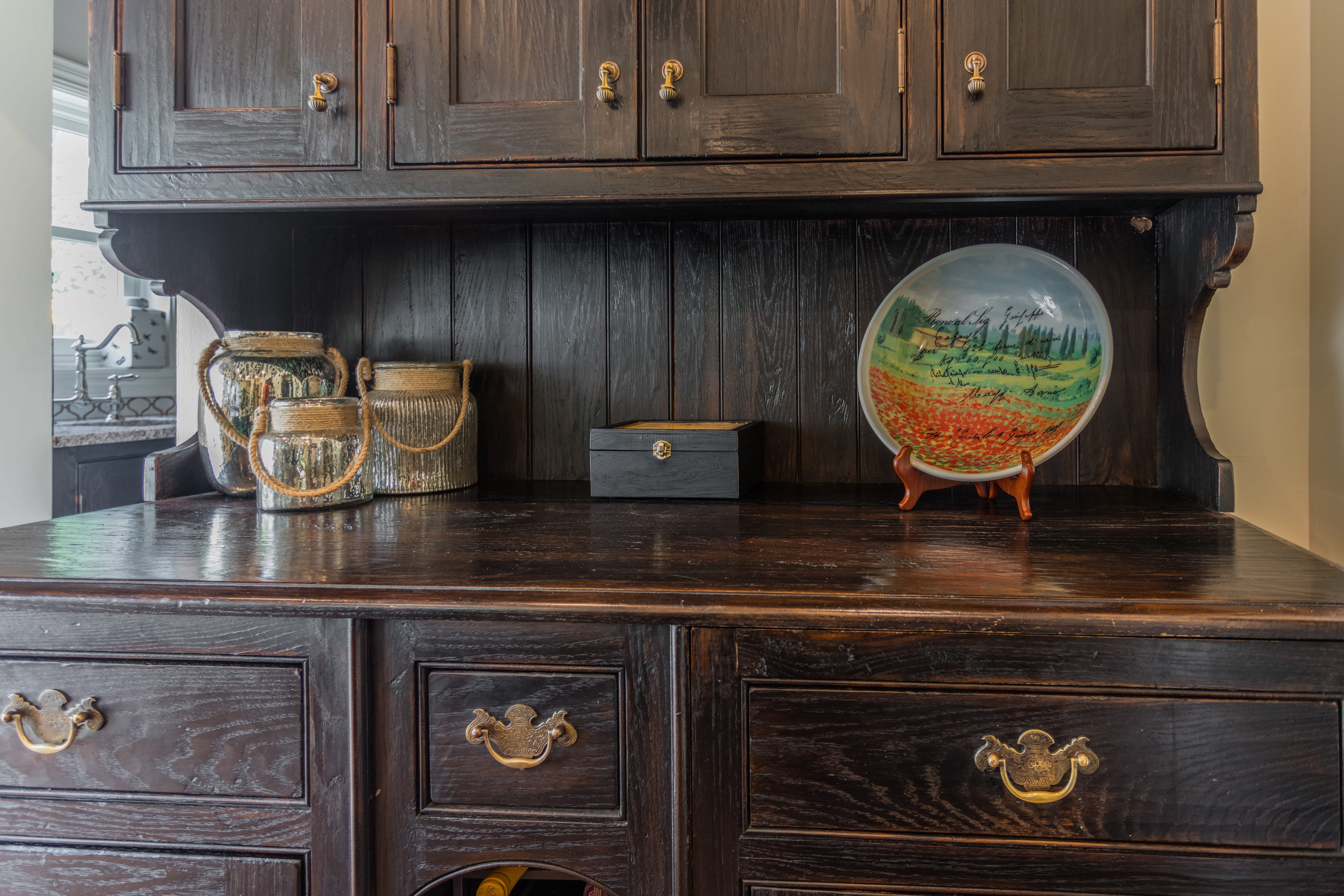 Whatever you choose to fill up this empty space should fit your needs and style. If you want to display little trinkets and keep them safe, a hutch may be a good idea. If you can't go a day without coffee and will get good use out of a coffee bar, create it in this space. If you love to bake and love the look of marble, then a baking station is a good choice to fill this space. If you dislike that empty space just lingering around your kitchen, then we hope this article has helped you make a choice on whether or not to keep it bare or put something there!
Take a look at a bar area in the kitchen that we just LOVE!