What is Hygge Style and how do I get it In My Kitchen?
Tweet
---
Scandinavian design is known for simplicity, minimalism, clean lines, and colors that create a brightness and feeling of tranquility in the space. The simplicity and natural beauty has caused Scandinavian interior designs to take hold in countries around the world. The newest Scandinavian design trend can enhance the feel of the kitchen: hygge style.
Hygge style is based on the Nordic concept of extreme coziness. The style exploded in popularity after the publication of the Danish book, The Little Book of Hygge by Louis Thomsen Brits. The design style spread from Scandinavian countries to the UK, and now the style is quickly gaining attention in America. The style is naturally suited to the living room or bedroom since that is where we get cozy but this style can be incorporated into your kitchen design as well. Infusing comfort in that space creates a warm feeling that will enhance your life, as well as your kitchen design.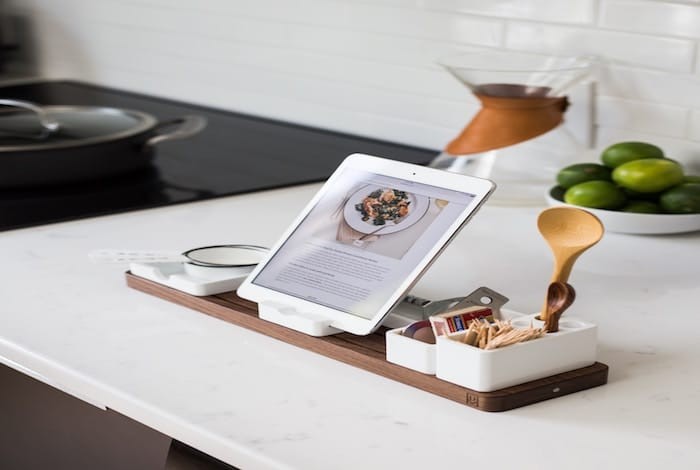 Hygge in the Kitchen
When bringing hygge style into your kitchen, consider that the style is about the feeling of the space. Everything from the color scheme and big items to the small touches work together to create this serene style in your home. Like all Scandinavian design, simplicity is the goal, starting with color choice. You don't have to use all white. Choose shades of white and gray to create a layered effect. You can use shades of white, cream, and gray in paint, cabinets, and countertops.
The warmth of wood is an essential component of hygge design for creating a natural feeling in the space. Wood flooring is most commonly used with this design style, but wood can be incorporated in many different ways. Hygge kitchens often feature exposed beams, wood cabinets, a small butcher block area, a large wood cutting board, cooking utensils, and other kitchen accessories.
When choosing kitchen countertops, consider neutral countertop options that have a nice calm effect. There are many different types of marble and granite countertops that would work in a hygge kitchen. Some options include a white veiny marble with gray veins, light-colored granite countertops, or quartzite countertops, such as Super White quartzite or Classic White quartzite.
Don't overlook the smaller touches to complete your hygge style kitchen. Layering is big in Scandinavian design and this can extend into the kitchen. A round kitchen table with a light colored tablecloth is perfect in a hygge kitchen. When selecting kitchenware and accessories, consider a cast iron tea kettle, ceramic mugs, wooden cooking utensils, and other accessories made with natural materials and light colors.
Caring for the natural stone countertops in your hygge kitchen will keep the style fresh for years. Only use cleaning products that are formulated for use on natural stone countertops to protect your stone and prevent damage caused by harsh chemicals. Mr. Stone AGM Daily Countertop Cleaner is formulated with ingredients that are safe for natural stone and easy to use, just spray and wipe.
It is fairly easy to add elements of hygge style to your kitchen. If you are planning a full kitchen remodel, you can select flooring, cabinets, and natural stone countertops that work with this style. The versatility of hygge makes it easy to add elements of the style to your kitchen, even if you don't want to remodel the entire room. Making some changes to the colors and accessories in your kitchen can create the calming, cozy effect that has made this design style so popular.