What are the 3 Main Bathroom Design Styles?
Tweet
---
Although there are countless looks that can be created in a bathroom, there are three main bathroom design styles. The hundreds, or thousands, of possible looks all, fall under one of these design styles: organic, luxe, and minimal. Learning about each of these bathroom design styles can help you determine which style is most appropriate for the architectural and interior design style of your home and your lifestyle.
When planning a bathroom renovation project, many people get stuck in the design process. You can start by determining your bathroom style. If you aren't sure, you should consider your personal preferences, the overall design style of your home, and the atmosphere you hope to create in the space to determine which of the three main bathroom design styles is right for your new bathroom.
Organic Bathroom Design
Organic bathroom design features elements, colors, and textures that are found in nature. Homeowners often use this design style to create a tranquil space with natural materials, muted colors, and a spa-like vibe. A rise in environmental awareness, an increased interest in meditation, and a greater understanding of the negative impacts of stress on health and wellness have resulted in the growing popularity of this bathroom design style.
Common features of bathrooms designed in the organic style include the use of natural materials throughout the space. Organic bathroom design uses a combination of soft and cozy textures with rougher tactile finishes. Elements that are often found in organic bathroom design include neutral colors, wood grains, bamboo, concrete, natural stone, and silver fixtures.
Natural stone is an obvious choice for a vanity top, shower surround, or bathtub surround in an organic bathroom. The natural stone industry offers a wide variety of types of stone and stone colors that are perfect for organic bathroom design. You may want to consider a travertine shower surround, granite bathtub surround, or granite vanity tops in neutral, earth tones.
When selecting decorative objects and accents for an organic bathroom, look to nature for inspiration. Plants in terra cotta pots or a vase with fresh flowers bring nature into space. Use handmade baskets to hold towels, washcloths, and other bathroom essentials. A few accents in wood or a weathered material will complete the look.

Luxe Bathroom Design
This design style is associated with high-end luxury and a sense of grandeur. Bathrooms in a luxe style feature dramatic design elements and plenty of sparkle and polish. The design features used in bathrooms in the luxe design style are typically at the other end of the spectrum from the elements used in organic bathroom design.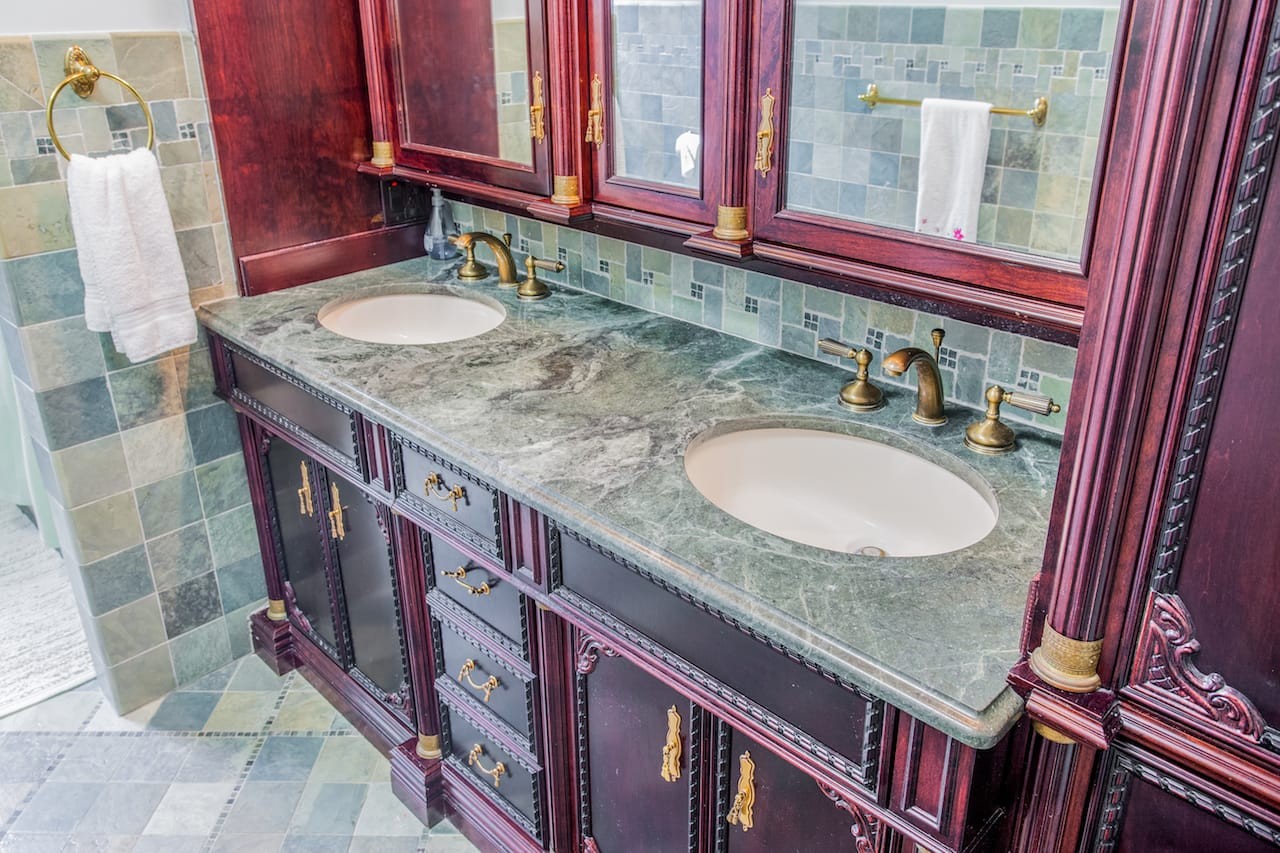 A luxe bathroom creates a sense of elegance, sophistication, and luxury. The look and amenities in this type of bathroom draw inspiration from bathrooms found in a high-end hotel. Cabinetry for vanities and tiles usually have a high-gloss finish. Metallic faucets, such as gold, copper, and bronze are commonly used in luxury bathrooms. This type of bathroom design includes high-end plumbing fixtures, such as double sinks, waterfall showers, and steam showers.
The color palette of a bathroom in the luxe design style may include combinations of black and white or black, white, and gray. The shower surround, bathtub surround, and vanity top might have a high-end natural stone. Some types of stone that would be perfect for this style bathroom include Calacatta Gold marble, Absolute Black granite, or an onyx vanity top.
Attention to detail, luxury, and creating a sophisticated impression are considered in every aspect of this bathroom design, from the big features to the small details. The luxe style of bathroom design extends throughout the space. Unique design features, such as raised vanities, raised bathtubs, heated towel racks, and other amenities are found in luxe bathroom design.

Minimal Bathroom Design
The minimalist trend continues to gain attention for the simplicity of the design and the overall philosophy that less is more. Minimal bathrooms are characterized by a very simple design, but this type of bathroom can also be stylish and interesting. This design style features clean lines, an uncluttered aesthetic, and crisp white tones throughout the space.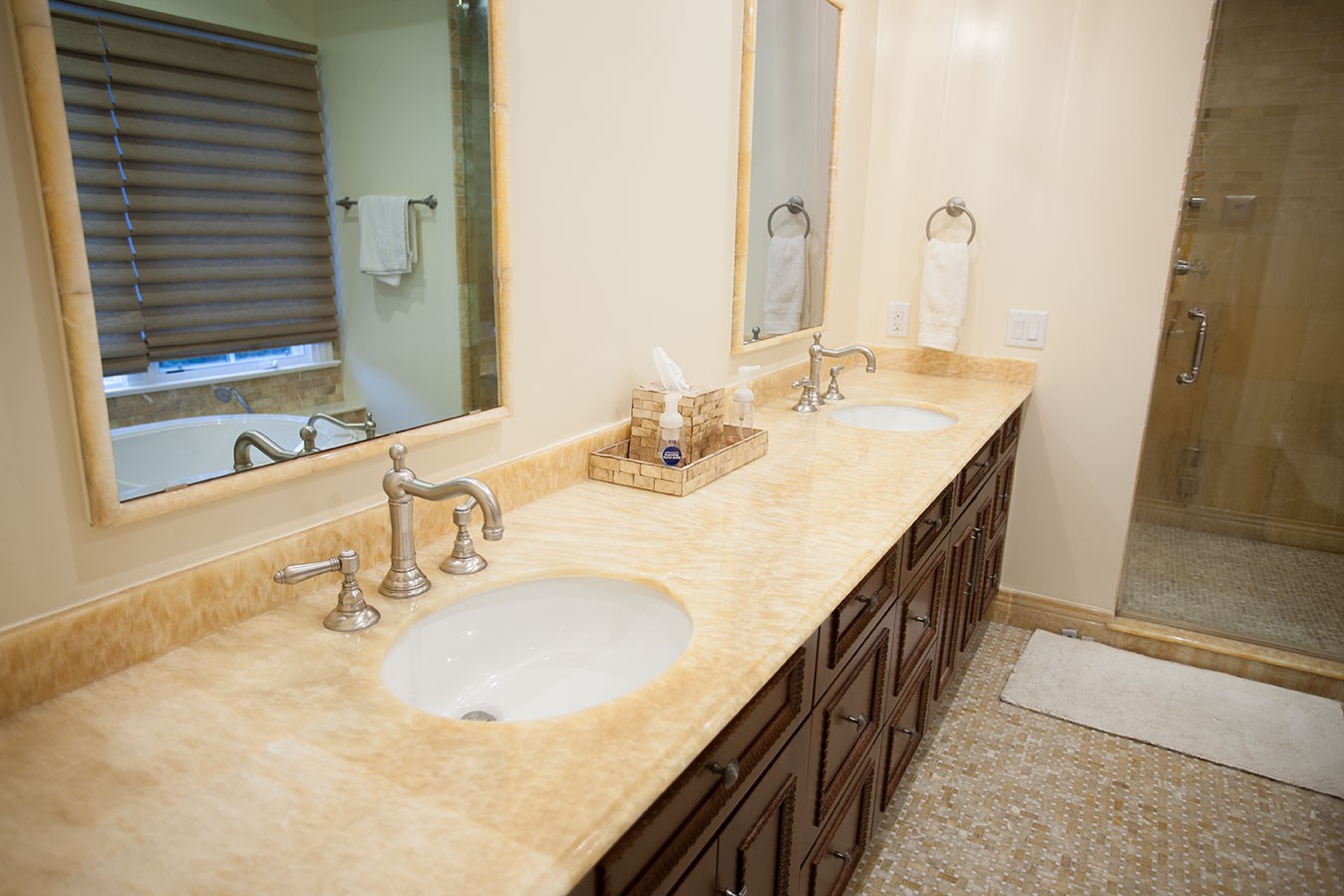 Although the most common color for bathrooms in a minimal design style is white, the bathroom should not be entirely white or it could look institutional and dull. Use gray or black grout with the white tiles, select a veiny marble for the bathtub or shower surround, or granite vanity tops to create a focal point and bring visual interest to space.
As the name would suggest, a bathroom renovated in the minimal bathroom design style is clean looking, simple, and free of clutter. Keep the bathroom vanity top clear of cosmetics and other grooming and beauty products. Very few accessories are used to decorate the space, but you may want to add a plant to bring some color and nature into space or an interesting light fixture to bring a pop of color into the room.
Because most bathroom designs fall into one of the three main bathroom design styles, start planning your bathroom renovation project by getting an idea of the elements of each of the three design styles. This will help you select the main style that best suits the architectural and interior design of your home and personal preferences. Incorporate the major elements of that design style in your bathroom remodeling plan and add your individual touches to make space fit your unique style.