What are Some Options for Shower Surrounds?
Tweet
---
In the natural stone industry, we refer to the wall, enclosure, and/or any slabs of stone around a shower as the surround. The shower surround is the container for your shower, and it is the perfect venue to display your impeccable style and taste.
Shower surrounds come in all shapes and sizes, from a multitude of tiny tiles to the veiny monoliths of single slabs, and from gentle curves to angular edges. Many stones work very well in the shower, and there are many options and features at your disposal.
Lots of our stone slabs, like onyx, for example, work well in the shower. The classic grandeur of a marble shower surround makes the powder room feel like a true den of luxury. Crema Marfil marble is inviting, enticing, and distinctive. For a change from marble, the consistent color and long streaks of a travertine shower surround lend a touch of elegance to the bathroom, and Silver Travertine, in particular, lends soft class to any room.
For those who prefer the look of a more flecked stone to marble veins, a granite shower surround will help you feel comfortable and right at home in your water closet. Whether adorned with shelves or left minimalist and bare, matching vanity tops also go a long way towards classing up the at home spa even more, with a vibe perfect for pampering.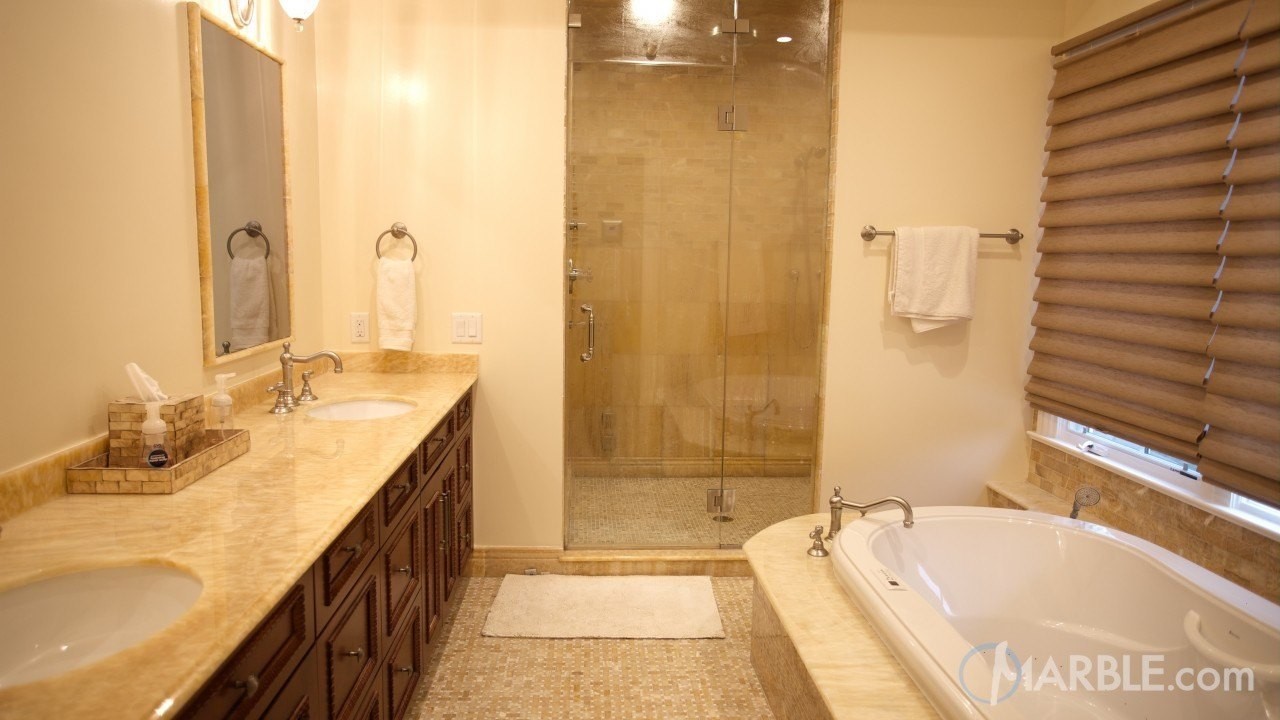 Honey Onyx is installed in this bathroom
Though they're not precisely the same, there are also surrounds for other bathroom fixtures. Tub surrounds and jacuzzi surrounds that are in the same sort of slab style tie together elements from different areas. Unifying design elements lead to a space that feels calm, relaxed, and chic. Natural textures are both trendy and timeless, so turning to the natural stone industry for built-in decor, surrounds, vanity tops and countertops is a great idea.
Another one of the very best things about upgrading your shower surround to one made of natural stone slabs is that, in time, the upgrade can pay for itself. In real estate, the conventional wisdom that most money is spent in the kitchen and the bathroom means that a renovation is more like an investment. Those matching vanity tops and Silver travertine backsplashes help increase your bottom line because the natural stone can boost the value of your home.
Careful planning is always important in real estate or in the natural stone industry, so it's also important to be aware of potential issues beforehand. While installing a marble shower surround or even a full wet room could help your selling price float higher, beware that water damage from a careless installation could leave you drowning in costly repairs.
Therefore, it is imperative that you ensure that your granite shower surround and everything related to its construction--pipes, grout, slabs, containers, you name it--have been properly sealed to help prevent water infiltration. Good maintenance of the shower surround will prevent leaks, eliminate mold, and add value to the entire house, not just the bathroom.