What are a few tips to make your kitchen Work and Look Better?
by Ann Kent
Posted on June 25, 2018 09:22:07 AM
Tweet
---
It is commonly known that the kitchen is often the most heavily used room in a home. A poorly planned kitchen will result in decreased functionality and overall appearance, so it is important to take time to properly plan out your dream kitchen. Even further, it is likely that your guests will spend more time in the kitchen than in any other room in your house, particularly if you have an open concept kitchen, so you should make sure that you design your kitchen with purpose and intent. Every aspect of your kitchen from the stone colors of your kitchen countertops to the layout and accent pieces will have an impact on your kitchen's space.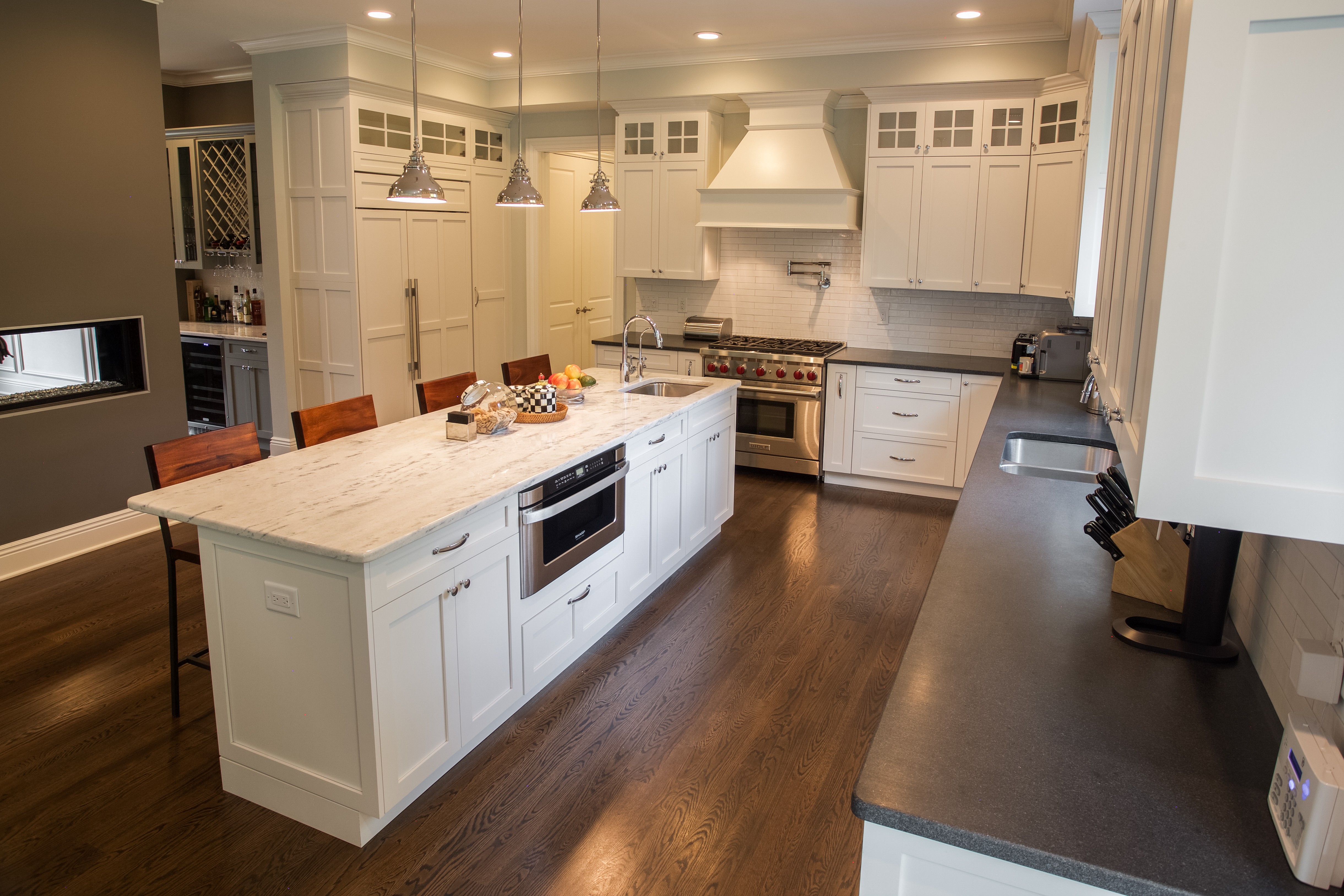 TAKE TIME TO SELECT THE IDEAL STONE FOR YOUR KITCHEN COUNTERTOPS
After viewing many different stone colors and types on your virtual designing tool, it is a good idea to take time to view the stones in person. While a homeowner might initially gravitate toward light stones over dark stones, when the slabs are viewed in their entirety, preferences might change. Both dark and light stone options are popular for kitchen countertops with a preference for granite over the more porous marble countertops in high traffic kitchens. Granite only needs to be sealed 1-2 times a year whereas marble requires sealing up to 4 times a year and is still prone to etching and chipping. For a homeowner who is drawn to the look of white marble like Calacatta Gold marble, but fears the required maintenance of marble, they might consider installing light-colored granite like River White granite, all available here. There are also multiple light-colored quartzite stones, like Classic White quartzite that have a strong demand in the natural stone industry that can mimic the look of marble.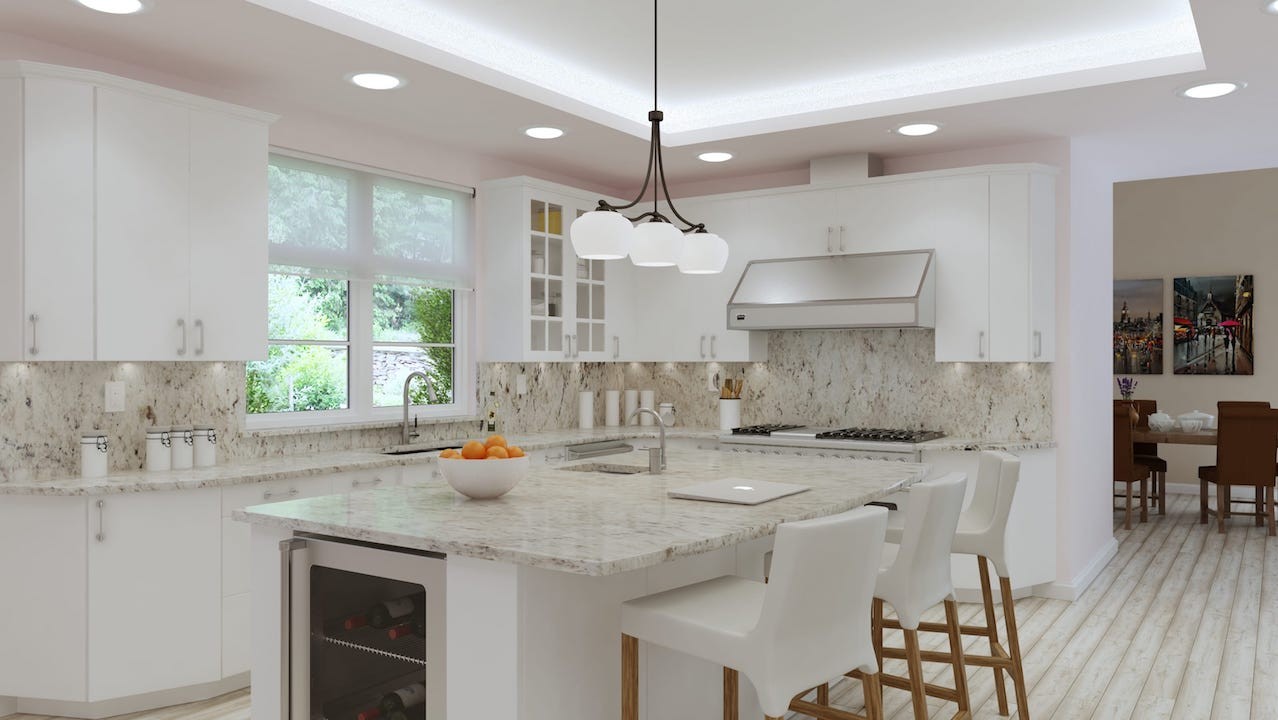 For those homeowners who prefer darker colored granite stones, Uba Tuba granite or Black Pearl granite are popular dark stones in the natural stone industry. The sleek look of a dark stone can be complemented by both light and dark cabinetry. You can try out different cabinetry options using your online tools to make sure that the cabinetry colors best match the color of the natural stone countertops. Professionals at marble.com suggest selecting your stone countertops before picking your cabinetry colors, but it is a good practice to take a piece of your stone slab to the cabinetry shop to view the natural stone against the look and color of the cabinet. Often times, slight nuances and color flecks within the stone will be brought out by the color of the cabinets, backsplash, natural light, and wall colors.
You do not have to limit your kitchen's design to one type of stone countertop. Many homeowners install darker granite kitchen countertops on the perimeter of the kitchen while using a lighter white stone on the kitchen island. While you can install two different types of light and dark granites, you can also mix types of countertops and use a mixture of granite with quartzite or marble. Similarly, many kitchen designs will introduce a bright splash of a veiny white marble in a lower traffic area of the kitchen like a butler's station or a marble baking area.
DETAILS, STATEMENTS, AND EMBELLISHMENTS
Once the layout, kitchen countertops, and cabinetry are selected, you can add details to your kitchen to increase the overall feel of the space. Backsplashes and wall colors are easy ways to add a new look to your space and a level of originality. Similarly, you can add some statement pieces within your kitchen to help bring the space to life. Interesting looking steel or brass stools placed by the kitchen island or an impressive pendant light above the island can add character to space. A crystal chandelier will have a drastically different look within a kitchen than a vintage pendant light or a brass or gold light fixture.
A butler's station can be a nice area to break up the flow of the kitchen and create a more functional space. IF guests have a designated area where they can prepare beverages, they will be less likely to get in the way of a busy chef preparing a meal.
Every aspect of your kitchen design from your natural stone countertop choice, to your flooring and cabinetry options and accent pieces like colorful vases, lighting and artwork will unify your kitchen's style and ideally create a kitchen that pleases you and wows your guests.