Unique Sinks That We Need to Discuss
Tweet
---
Every kitchen requires a sink and faucet, yet when it comes to choosing the right sink for your home, both functionality and style need to be considered, and even then the options can seem limitless. For homeowners who have chosen solid surface counters like engineered stone or granite, many designers recommend installing a stainless steel sink because it can be under-mounted, a feature that complements and the sleek smoothness of a granite countertop. Stainless steel is also widely recommended for busy families with children.
Today's kitchen sinks are available in a wide array of sizes, shapes, and materials, and can also include a number of accessories, such as cutting boards, drying racks, utensil trays, and colanders. Homeowners are generally choosing large, single-basin sinks more often than double sinks because they allow room for oversized pots and pans, and the primary sink is often matched with a smaller prep sink. If you're looking for a statement sink, something unique and stylish, you're sure to find it in today's market.
Farmhouse Sinks
Apron-front farmhouse sinks like the one shown below with Giallo Napole granite countertops are common fixtures in higher-end kitchens. Because they're deeper than their two-bowl counterparts, farmhouse sinks offer greater versatility and are available in a plethora of finishes. Because of their versatility, not to mention their visual appeal, farmhouse sinks are also finding their way into bathrooms and laundry rooms.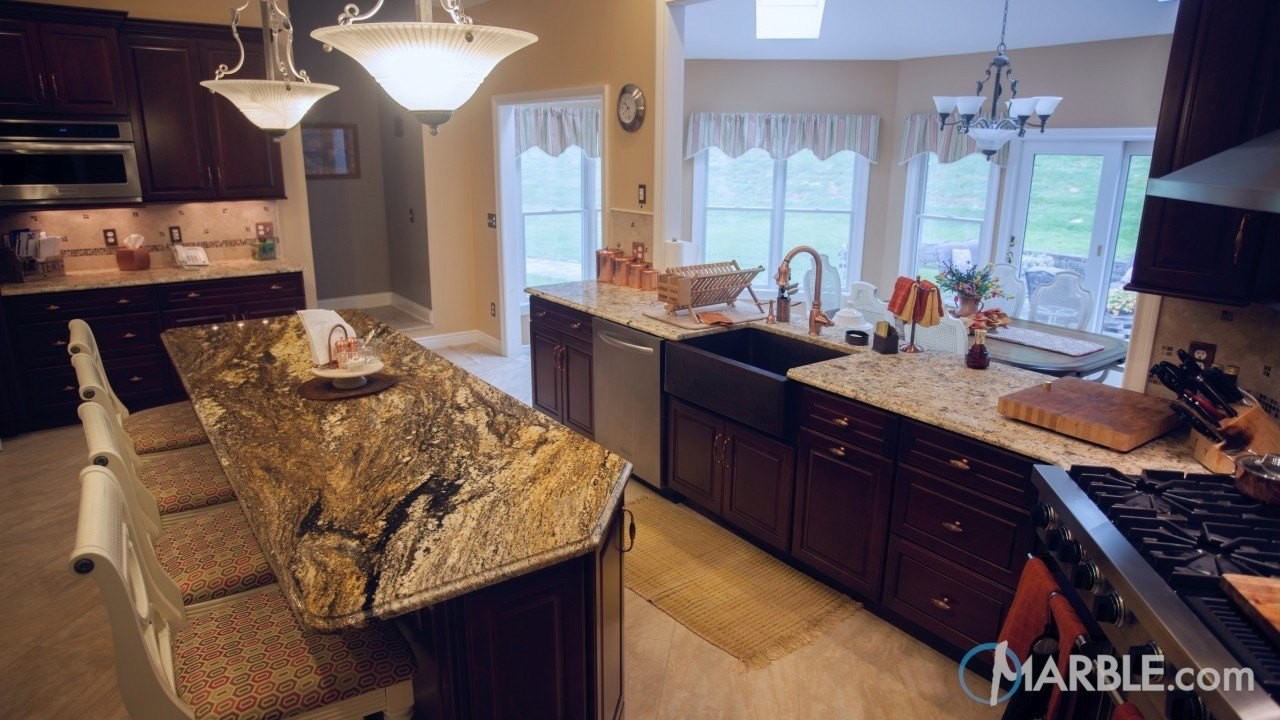 Giallo Napole granite countertops surround the farmhouse sink in this kitchen
Integrated Sinks
A number of countertop manufacturers are offering kitchen countertops that incorporate the kitchen sink. This design creates a sleek, modern look as well as a seamless transition that makes cleanup a breeze. For those looking for a truly high-end kitchen, natural stone countertops can also be manufactured with integrated sinks, like the seamless, custom granite sink shown below.
All the Attachments
Sinks have never had so many options or attachments! For the serious cook or anyone that can appreciate the beautiful functionality of the sink like the one shown above, sinks now come outfitted with all the bells and whistles, including cutting boards and drying racks.
Double Basin Sinks
The double basin sink is among the leading sink styles today. While one side is significantly deeper than a standard sink and able to accommodate larger pots and pans, the other side features a smaller and shallower "prep" style sink. The rounded edges work with the Astoria granites veining to accentuate the room's flow.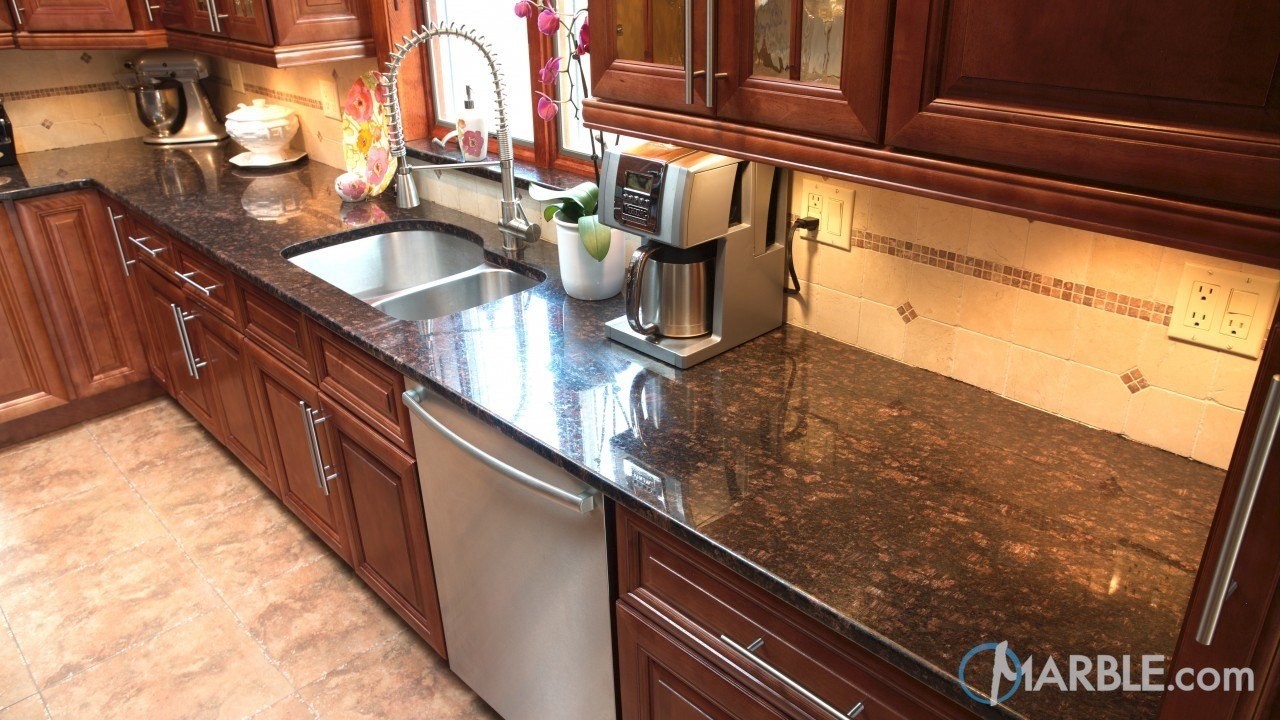 A double basin sink is surrounded by Tan Brown granite kitchen countertops here
Island Sinks
For a totally unique sink, consider a stand-alone island sink. It is small enough for the center of your kitchen prep area and will keep the food prep person out of the way when someone else is washing dishes.
Exotic Hardwood
Design isn't the only element that can set a sink apart; their material can do that just as easily! Although it seems counterintuitive to use wood for this application, advancements in sealing technology is bringing this latest trend to a kitchen near you. Teak wood is a common material, and bamboo sinks are also gaining in popularity.
Wavy and Curvy
Square and rectangular sinks are fast becoming well, square. The new shape in town is wavy, and while the materials are relatively ordinary, typically, copper or stainless steel, what really makes these sinks unique are their shapes. Any kind of curve will stand out in a kitchen, and this kind of sink is guaranteed to get noticed.
Glass
Typically considered for just the vessel sinks found in a bathroom, glass sinks are inching their way towards the kitchen due to a new manufacturing process that makes the sinks more durable. Their amazing appearance makes it worth a try.
If you're thinking of adding a little something extra to your kitchen or bathroom, one of these sinks might make a great addition to the room. Some people like to stay within the norms of the kitchen and home design but changing it up will set your home apart from everyone else's. Dare to be different!