Top Kitchen Lighting Ideas and Tips
Tweet
---
The kitchen is more than just a place to prepare food. It is the place where the family gathers and friends congregate, so you want it to be attractive, comfortable, and functional. While each kitchen is unique, some universal lighting tips can be implemented to produce plenty of ambient lighting, task lighting where it is needed, and accent the features you most want to highlight.
Types of Kitchen Lighting
Light can do more than just provide general room illumination. There are three main types of lighting used in kitchen design: recessed lighting, hanging light fixtures, and under cabinet lighting. Each type is used for specific purposes. Layering all three types creates a balanced lighting strategy that transforms the look of the room.
Hanging light fixtures, such as pendants create ambient lighting in certain areas of the kitchen, such as over an island or countertop. A single pendant or two or three can be situated along the kitchen island. Avoid too many or the effect can be overpowering. Pendants are available in many colors and styles to match the décor of your kitchen.
Recessed lighting is designed to illuminate the whole room, without casting shadows or creating glare. This type of light fixture can be placed wherever task lighting is required, such as walkways and spaces between the island and other cabinets. Dimmers can be used on most types of lighting, so the level of light in the room can be easily adjusted for different purposes.
Under cabinet lighting is installed under kitchen cabinets or shelves. These lights are hidden from view, but project light evenly across the counter. This is a great way to show off your new marble counters, granite countertops, or quartzite countertops. These lights should be mounted toward the front of the underside of the cabinet. Low profile designs aren't noticeable when standing in front of the cabinet.
Another way to create a dramatic lighting effect to highlight a specific area of the kitchen is to use hidden spotlights with recessed under cabinet lighting. This creates mood lighting, accents a backsplash, tile work, or other architectural features.
Cabinet accent lighting uses small LED, halogen, or xenon bulbs. The bulbs are small enough to fit in miniature fixtures but produce sufficient light to bring attention to collectibles inside glass front cabinets. A variety of options are available, including recessed mini lights, strip lights, and puck lights.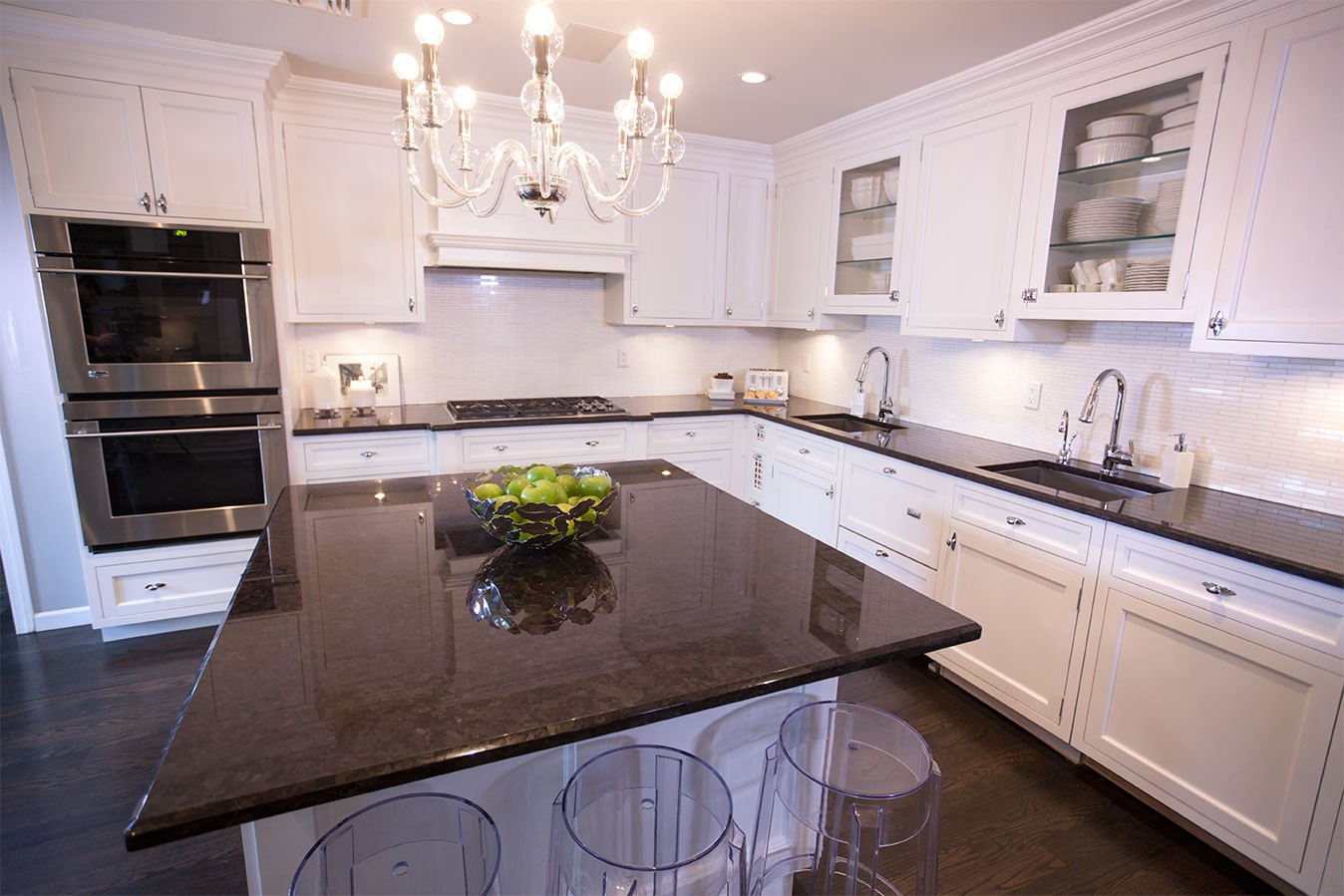 The Uba Tuba Granite countertops here stand out beautifully with the help of the lighting in this chandelier
Creating a Lighting Plan
When creating a lighting plan for your kitchen, be sure to layer the lighting with a mix of ambient, task, and accent lighting. How many light fixtures and where they should be placed depends on several factors, such as the layout and size of the kitchen.
The color of the kitchen is also a factor that should be considered when creating a lighting plan. Kitchens with cabinets and countertops in darker colors, such as Fantasy Brown quartzite will need more light than a lighter colored kitchen with plenty of windows. Lighter stone colors, such as Statuario marble and Astoria granite reflect light.
Install task lighting over the cooking and food preparation surfaces, such as the kitchen island, table, sink, countertops, or cooking surface. Recessed lighting and pendants should be evenly spaced to provide plenty of light in the room and illuminate your natural stone countertops. If you have glass front cabinets with good dishes or collectibles that you want to highlight, install accent lighting inside the cabinets to bring attention to these areas.