Tips for Keeping Your Bathroom Clean and Organized
by Ann Kent
Posted on August 13, 2017 07:00:00 AM
Tweet
---
A cluttered, disorganized bathroom clashes with the clean and elegant lines of a natural stone vanity top like marble or granite. With proper planning and organization, you can keep clutter away from your bathroom and enjoy the optimal functionality and beauty of your vanity tops. Particularly, if you install a beautiful, light countertop like Giallo Napoleone granite, Colonial Gold granite, or fancy marble vanity top, it's crucial to keep products that could damage the countertop, inside drawers and cabinetry. Often times, bathrooms become cluttered because they do not have clear organizational system that keeps things in the right place.
We always recommend cleaning your stone countertops with a quality product like Mr. Stone's AGM Cleaner that actually seals the stone as you clean. Using that product, along with regular sealing will keep your marble or granite vanity looking as great as it looked upon installation. However, damaging products should be stored off of the stone for optimal performance.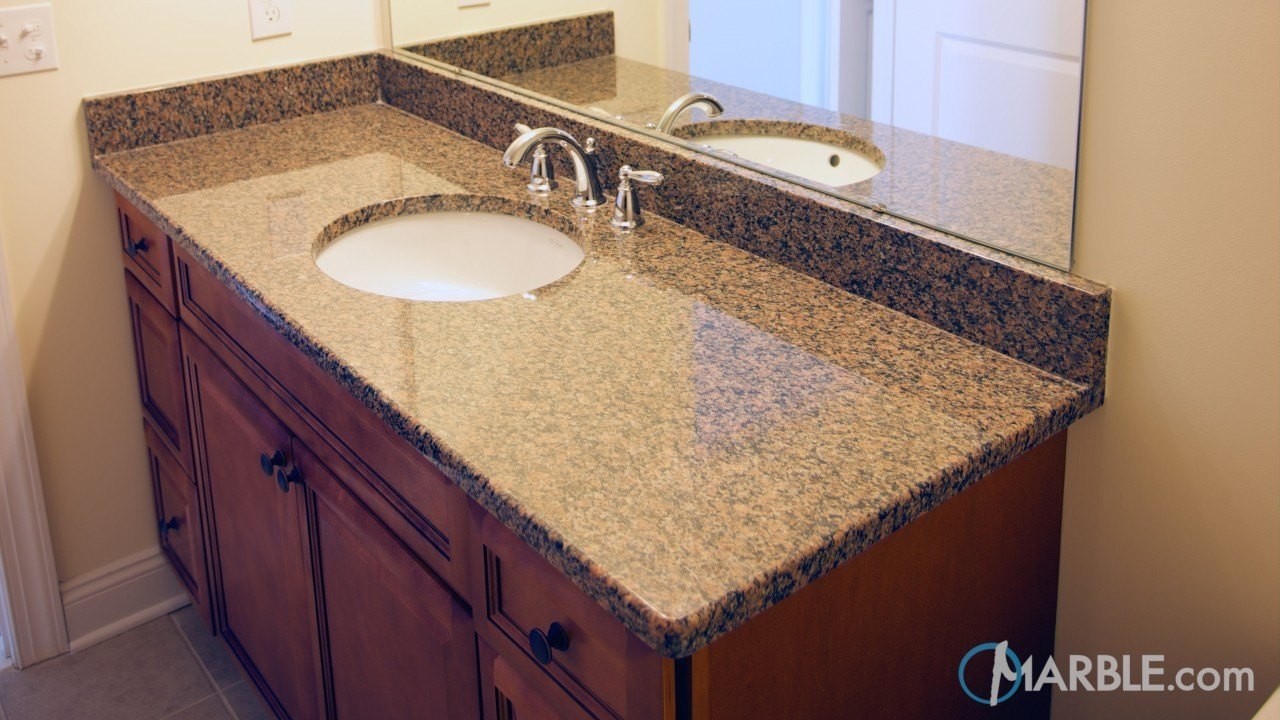 Giallo Florito Granite Vanity Top
A properly thought out and organized bathroom has a specific place for every item and will keep your countertops as the central focal point of your bathroom instead of the clutter on the countertops! Follow these easy 7 tips to ensure that your bathroom stays clean, organized, and beautiful: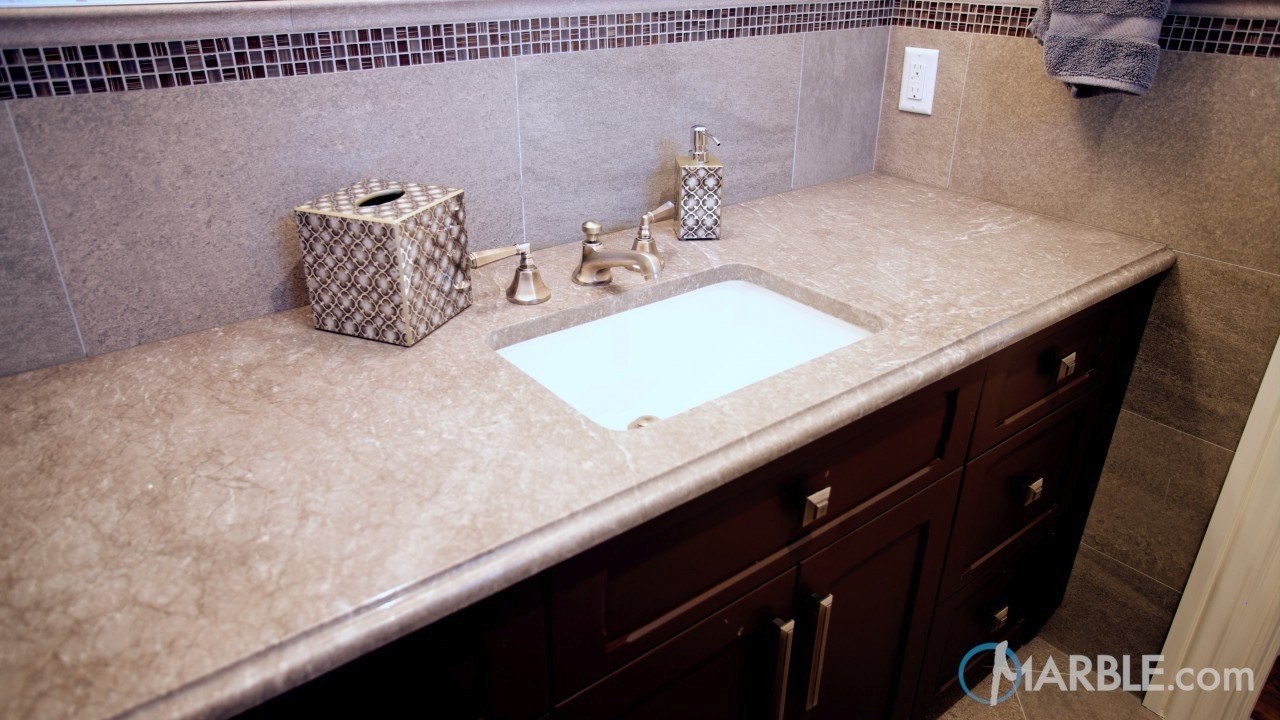 Corsica Grey Granite Vanity top
Tip 1
Set the Stage for Proper Organization from Day 1 – Purchase multiple bins and label them so that there is no confusion regarding where things go. Separate bins can be devoted to cosmetics, oral care, medicine, shaving needs, etc.
Tip 2
Periodically clean out your medicine cabinet and discard any expired medicine. You would be surprised how many cabinets are filled with expired products while taking up so much space.
Tip 3
Consider moving non-essential items to an outdoor linen closet. Many medicines do not store well in a hot and steamy bathroom. Also, if possible, keep makeup in your bedroom far away from your natural stone vanity to avoid possibilities of staining.
Tip 4
Install Drawers to hold hairdryers, hair curlers, hair products, and other hair needs. A hairdryer should never be left on the counter of a beautiful granite vanity top such as Giallo Napole granite. You want to show your vanity tops not hide them.
Tip 5
Install double towel bars and hooks. The more places to hang towels and bathrobes prevents someone from tossing a towel on the ground or on top of your bathroom vanity. Not only is a wet towel lying in a heap on the ground unsightly, but it may also be a breeding ground for mildew and mold. In order to get the most life out of your towels, you need to hang them properly to dry.
Tip 6
Maximize your space by adding storage everywhere possible, including under the marble or granite vanity, over the toilet, and any other practical space.
Tip 7
If you have the space in your bathroom, consider installing a pull-out hamper within your cabinetry under your stone vanity to keep dirty clothes off the ground. Make it clear to your family that wet towels do not belong in the hamper. They should be hung to dry.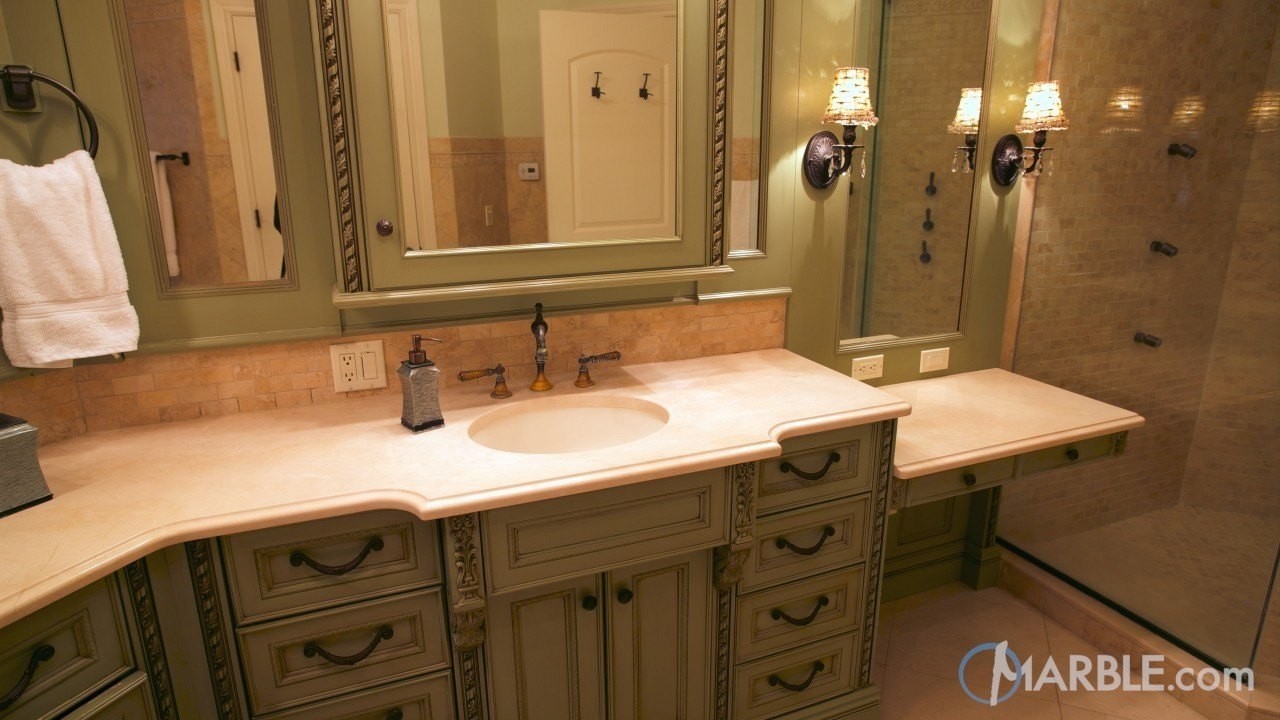 Crema Marfil Marble Vanity Tops
Having clear places to put away your things prevents clutter from accumulating and will allow you to enjoy the full beauty of your bathroom and your gorgeous stone countertops.