Tips for Designing a Modern Bathroom
Tweet
---
Many homeowners today are looking for ways to bring modern luxury into their homes, and one of the most popular renovation trends is updating to a modern bathroom.
A modern bathroom is defined simply by its appearance, including straight lines, marble vanity tops, and uncluttered granite counter spaces. Modern bathroom designs are a sharp departure from the traditionally detailed design theme—it is in fact, the exact opposite.
The terms modern and contemporary design are often confused but there is actually a very distinct difference between them; contemporary design refers to styles and materials that are currently popular, such as granite and marble, and while modern designs may include contemporary elements like popular marble and granite colors, a modern design style is above and beyond a contemporary design.
Modern bathroom design styles really aren't as modern as they seem; the design began taking shape in the early 1920's when students of Modernism developed the viewpoint of "form over function" and began utilizing various industrial materials as design accents. Extremely popular until the 1960's, today modern design has seen a resurgence in the design arena, in part too because of modern technology being brought into the bathroom. Additionally, they offer a departure from the traditional and functional design styles which have been popular for so long.
But what defines a modern bathroom design, besides the feel and look of sleek lines and simple neutral color palates, modern also brings to mind a well-organized room with minimal clutter. Designing a bathroom to be both modern and functional can be a challenge, so we've included a few tips to get you started: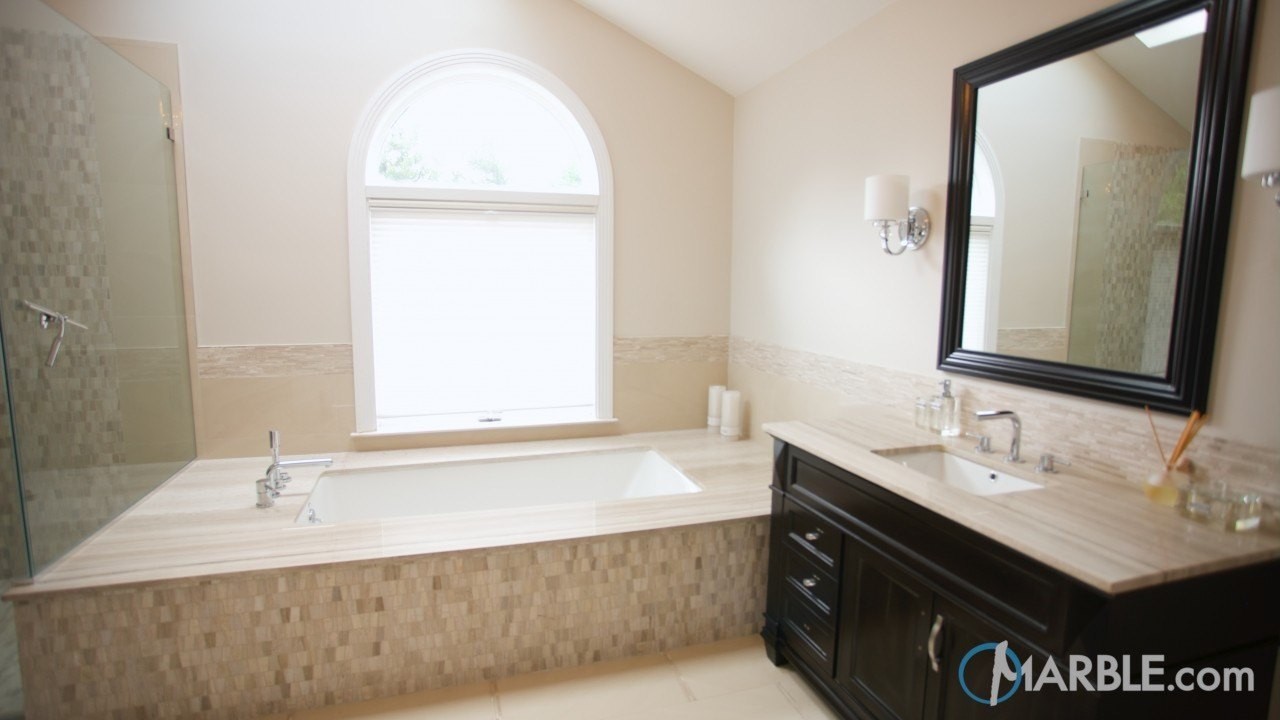 Silver Travertine bathroom vanity and bathtub surround
Clean Lines
Straight, clean lines and edges as shown in the picture above are the first indication of a modern design. Travertine, like the Silver travertine in the picture above, makes for a beautiful vanity top and a bathtub surround as well.
Neutral Color
Modern design colors frequently mirror industrial colors such as concrete grey, stainless steel, bronze, copper, and brass, for example, and these colors can all work together to create an amazing modern bathroom design. In fact, all of them are readily available in bathroom fixtures, faucets, and other features.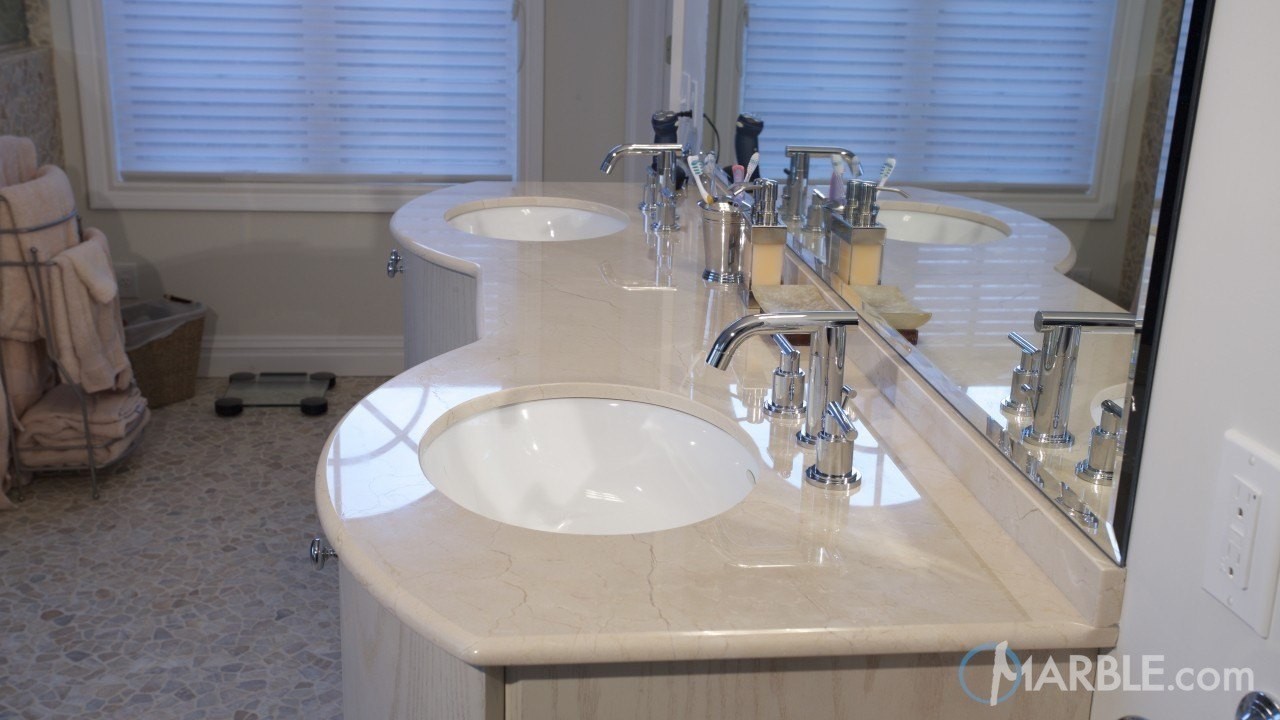 Crema Marfil marble bathroom vanity top
Marble
Marble, one of natural stone industry's oldest materials, is the epitome of modern. Used as either a vanity top or for the floor, the grey veins of marble tie in all of the industrial colors discussed above in addition to being just plain fabulous.
Geometry
Patterns also play a vital role in the modern design, unique shapes, colors, and textures and colors can be a great selection for modern bathrooms.
Bold Accents
Using bold and bright accent colors is another a feature that's often found in modern bathrooms.
While the browns and greys of modern design represent the industrial theme, splashes of red, yellow, green, and blue are always a welcome feature. When using bright colors, however, the contrast should not be too stark, or the color will take over as opposed to acting as an accent.
Extras
For a modern European-style, consider including a towel-warmer (freestanding or wall-mounted), or, if room allows, a bathroom fireplace, a modern ventless fireplace is the most luxurious way to warm a bathroom. Underfloor radiant heat is another technological advance that's worth considering; never step on a cold bathroom floor again!
To summarize, choose materials like granite and marble, for a modern bathroom that are neutral in color and have straight edges, keep clutter and decoration to a minimum, and add accents that not only bring color to the room but are functional as well.