Tips for Creating an Inviting All White Kitchen
by Marissa Sese
Posted on November 14, 2018 03:57:56 PM
Tweet
---
All white is a look that is not new to home design. All white in the home is something that has been prized and celebrated for a long time. It's still a popular design trend but it needs to be done right to avoid that dreaded, unattractive institutional look. You want your space to be inviting, not scary or blinding. Here are some great tips and you can avoid that overblown sterile look.
Add Pops of color
Ok, so you have white cabinets, white walls, white countertops, and maybe a white backsplash, now how do you make it pleasing to the eye and not like you're staring directly into the sun? Add a few pops of color!
A sweet flower vase with a few bright flowers will not only be a nice contrast to a stark white kitchen but will bring in a touch of the outdoors inside. Natural elements are always so beautiful when not used in excess.
You can add a pop of color with brightly colored or deep wood colored stools or chairs that will look great with your classic white quartzite countertops and your white cabinets like the kitchen shown below. Metal fixtures like brass or copper add nice, rich pops of color to a plain white kitchen.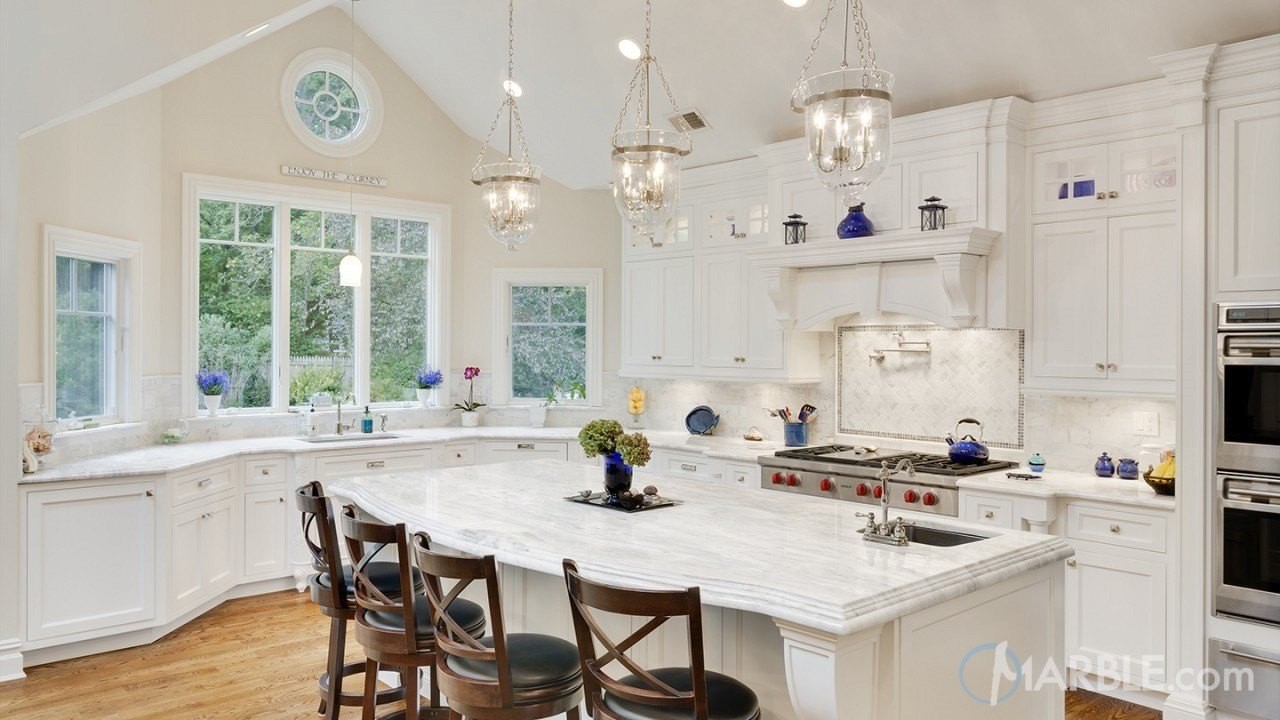 Classic White quartzite on this kitchen island is a beautiful focal point in this all-white kitchen
White Natural Stones with beautiful Veins
If you're looking for new white kitchen countertops, you should choose one of our granite, quartzite, or quartz stones. With many stone colors to choose from, you are sure to find one that will fit in your kitchen. There are a few white granite stones that are speckled with other colors. Some are more consistent in their patterns and some have more of a random design. This can serve as your rooms "pop of color" and can be a gorgeous focal point.
Quartzite has a few white options with beautiful patterns that can be subtle or dramatic. This can also be a great focal point for your all-white kitchen. The flowy veins like the ones in the Fantasy Brown quartzite kitchen countertop below add a nice dramatic effect that does not overwhelm the space. The white background of the Fantasy Brown quartzite stone pairs nicely with the white cabinets. This stone is a beautiful focal point in this kitchen.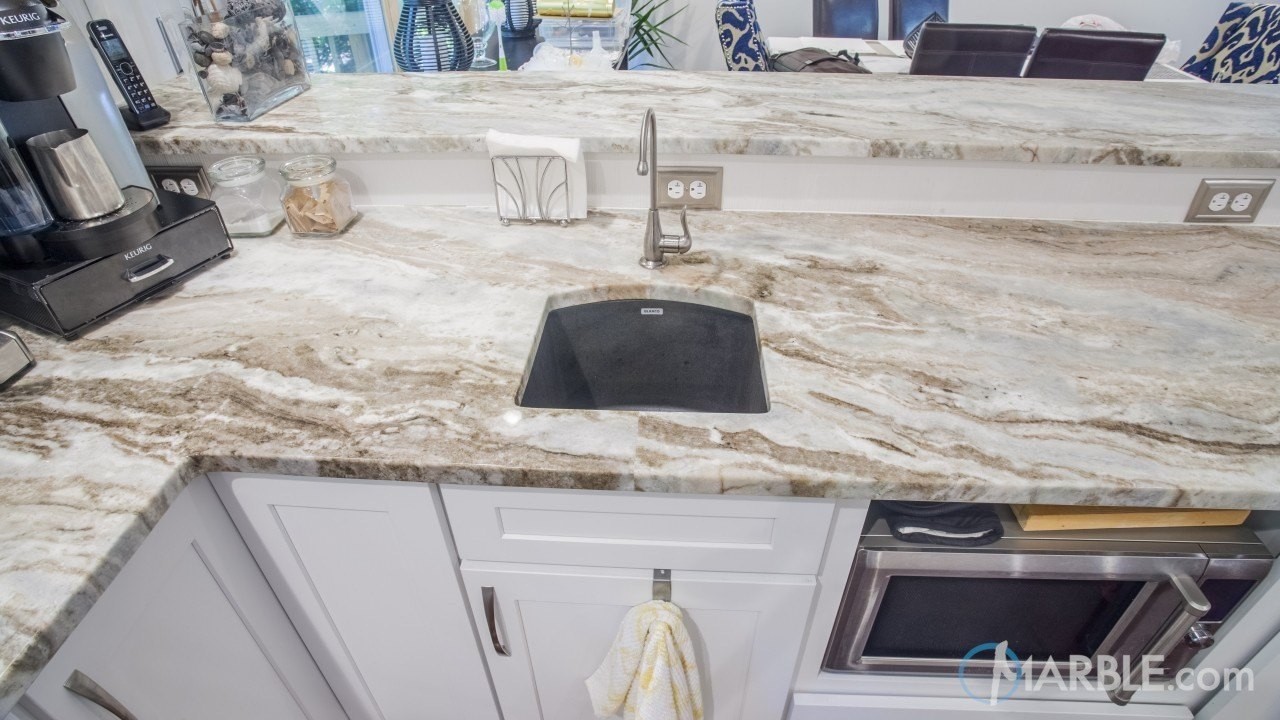 The veins in Fantasy Brown quartzite really stand out against these all white kitchen cabinets

There are some beautiful white quartz colors available that mimic the look of marble. The patterning is more consistent and this stone material works particularly well as kitchen countertops. For a white kitchen, this stone is perfect. It also has veins and flowy lines that people absolutely die for. It's also worth mentioning that we have recently come out with our own line of quartz.
Add texture and depth
A textured backsplash, even if it's white, will add a nice contrast to an all white and flat looking kitchen. Texture like tile in a backsplash will add more depth to your space. A backsplash with a touch of color won't hurt either. Little splashes of color like mentioned above, in a white kitchen, will also add more depth and character. Geometric patterns are popular now, and a geometrically patterned backsplash will add that bit of richness that an all-white kitchen needs.
Add some fabric accents with bold designs to add depth and texture to your kitchen. Remember, the windows in your kitchen should be dressed, so a striking pattern would look nice in your white kitchen while adding a bit of your style and flair. You can do the same with kitchen towels or placemats. You can control how much color or pattern you want in your kitchen by adding more or less of these accents.
White kitchens have this simple elegance that is loved by many people. But, you have to pull off this look right or else your kitchen can feel uncomfortable and nightmarish. With a few of the tips above and maybe just a little bit of love, you can take your white kitchen from looking clinical to posh.