Tips for creating a great home office!
by Marissa Sese
Posted on December 01, 2017 12:00:00 PM
Tweet
---
Having a home office can provide you with a number of benefits. Whether you work from home, or you simply want to have a little retreat where you can take care of the bills and some of your other projects, a nice office can make a big difference. Simply cramming yourself into space with a desk doesn't make an office though. Let's look at some simple ways that you can make your office a spot in the home where you do not mind working and where you can be comfortable.
Give Yourself Space
Working in a cramped area is bad for you. It's bad for your posture, and it can be bad for your mental health. You need to have a location for your home office that provides you with enough space to work comfortably and to stretch out as much as possible. Those who have limited spaces may find it more difficult to accommodate this, but they can do some other things to help. For example, using shelving on the walls rather than bookcases or cabinets on the ground can help you to free up more space.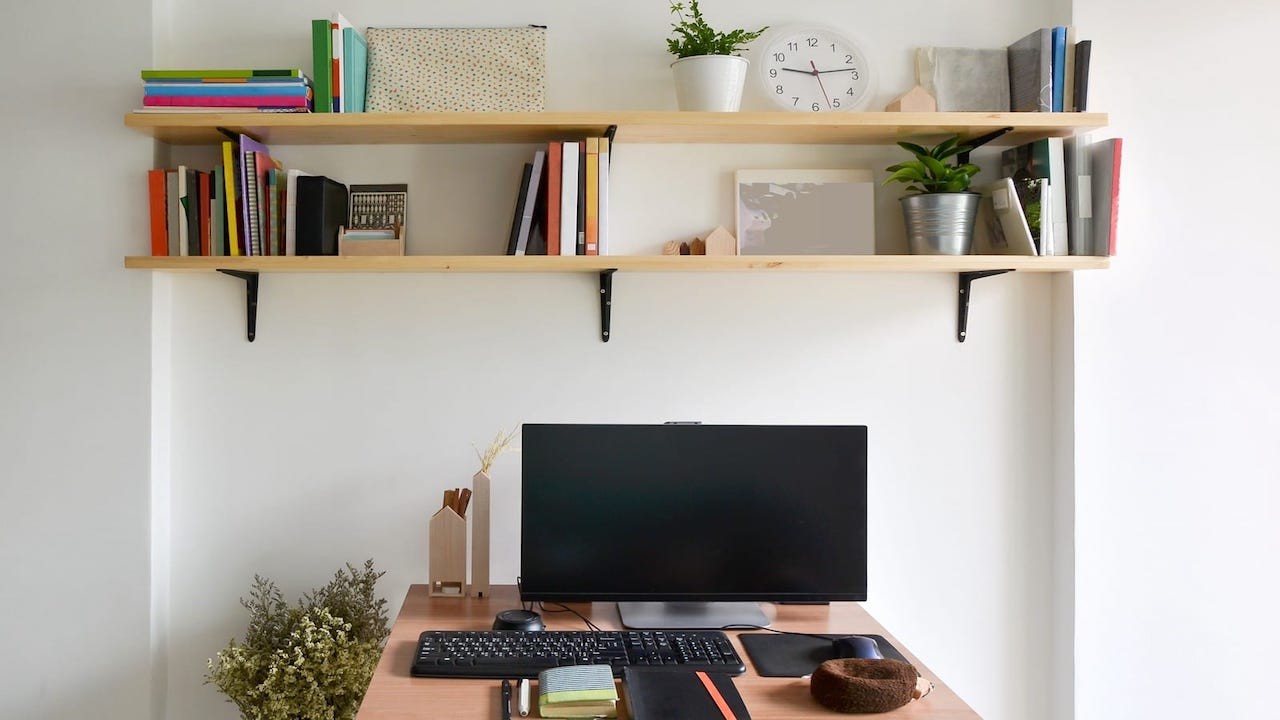 An Office Desk with a stone top?
A light granite like Giallo Napole installed on your desktop would make your space seem more sophisticated and elegant. It is durable and will stand up against your heavy computer over time. While normal desks are made out of wood, they do not last all that long. With sealing at just twice per year, this is a great stone for your home office.
Quartz is another great option for a desktop because it is highly durable and maintenance free.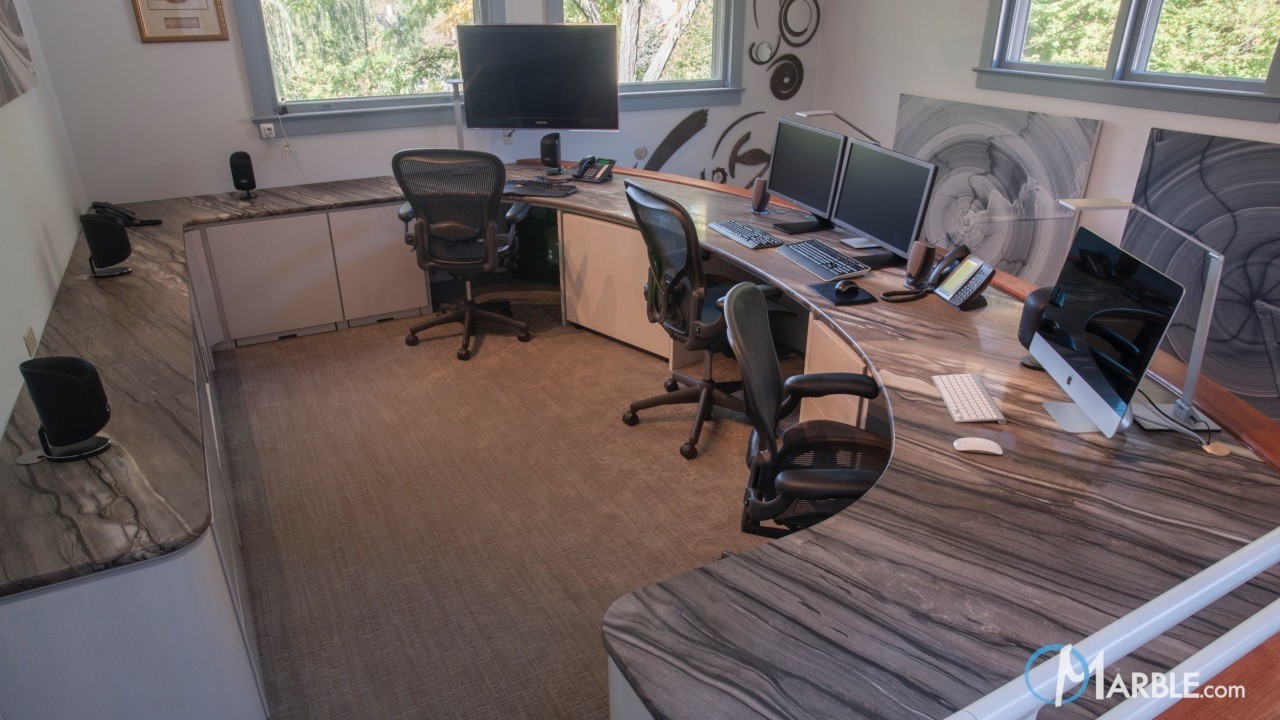 The Sequoia Brown Granite in this office looks sophisticated
Decorate the Space
You know the cliché of working in a boring and drab cubicle. That's the last thing you want to bring into your home. Instead, make your home office a place that is a reflection of you – a place where you enjoy being. You can do this by decorating the rest of the room in a way that speaks to you. Have pleasing artwork on the walls. Have some of your favorite knick-knacks in the room that make you feel happy. Whether you choose some photos of the family, a statue of your favorite comic book hero, or anything else, bring it into the workspace.
In addition, paint the walls in a color that you like. This is a space where you will be in for long periods of time, so the last thing you want to do is have boring white or beige on the wall – unless they happen to be your favorite color. Generally, you will want to choose a bold color that you like. Bold colors can affect your mood and the way you feel. You could even add a mural to the wall, or a wall decal. Anything you can do to make the space friendlier and keep you motivated.
Lighting
You need to add plenty of lighting to your office as well. Not only will it make the place look nicer, but it will also help to reduce eyestrain. Since you are spending a lot of time in the office, probably on a computer, the right lighting can make a huge difference. Even if you feel you have plenty of natural light, there may be times when you are working in the office and there's still not enough light. When it's a cloudy day, or at night, you need to have plenty of lighting that will brighten up the office and reduce eye/brain strain.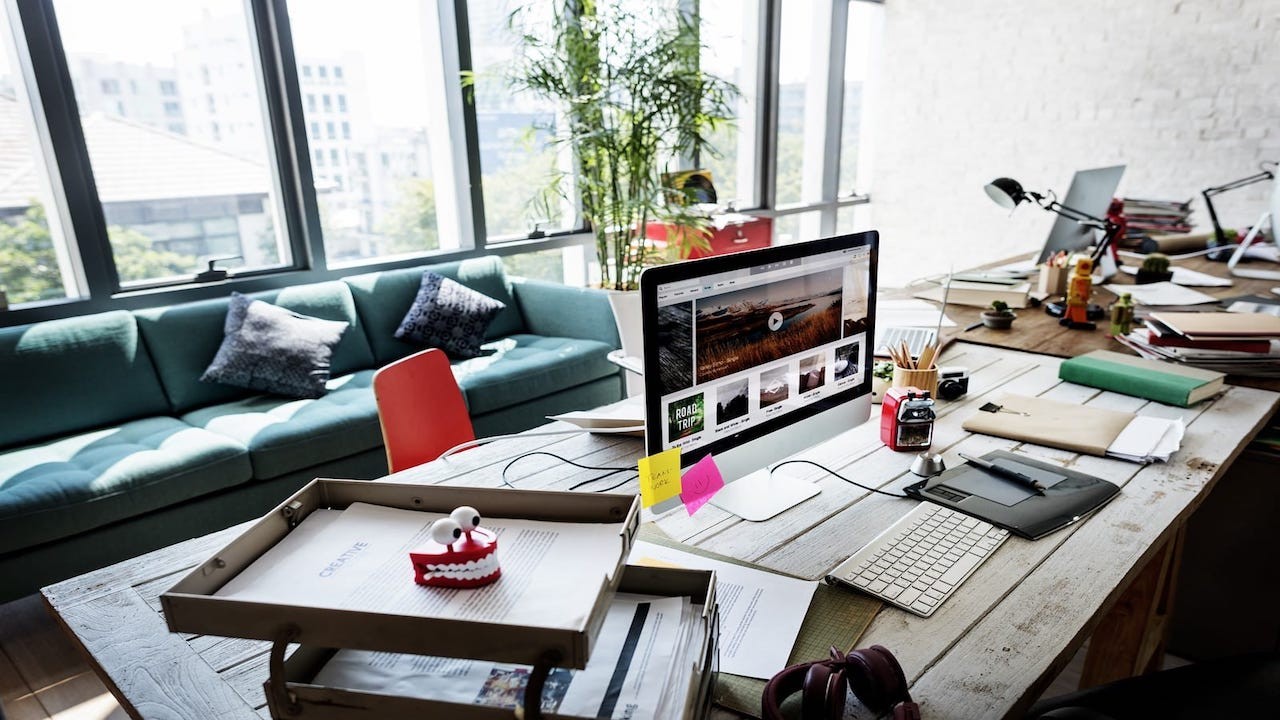 Remember the Importance of Function
Even though you want your space to look great, you should never sacrifice the functionality of the place for aesthetics. The office furniture, shelving, and cabinets that you need to with the workflow of your office. Take the time to find pieces that can bridge the gap between form and function so you can have the best of both worlds.

Keep It Organized
Once you have your space set up the way you want it, it is very important that you remember to keep everything nice and organized. Have enough storage space so that you do not have a lot of clutter in the room.

With these simple tips, you can create a home office that you really love and that is a pleasure to be in while you work. It might take a while to get it just right, but it is worth investing that time.