How to Create a Cool Kitchen
by Kevin Fritz
Posted on November 09, 2017 07:00:00 AM
Tweet
---
It's not only time to upgrade your kitchen, but it's also time to make it cooler. A remodel is the perfect time to scrap time-honored designs and throw caution to the wind. Of course, functionality is still the base for your new space, but after coming to terms with logistics, it's time to break out the proverbial paintbrush and create.
Make your new kitchen countertops the focal point. Mix and match granite and marble. Be creative with some of the granite and marble stone colors on the market. From pink and gold marble to blue and green granite, exciting options abound. Or go all black with a stunning Absolute Black granite countertop. Perhaps pair the Absolute Black granite with Fantasy Brown quartzite for a fab, fun space in which to create your culinary masterpieces.
Try Calacatta, Carrara or Statuario marbles, all with varying shades of white and unique gray and black veining. Veining will be diverse between the types of marbles, as well as from slab to slab of the same marble. White also complements slate and concrete, statement makers in their own right.
Let's face it, the flooring has to go, and the options to create a cool look are countless. There are so many flooring options from wood, laminate, porcelain, natural stone like marble, just to name a few. With all these options to choose from, you can definitely find flooring that will add that extra "cool" factor to your kitchen.
Although beautiful stones, the natural stone industry reminds homeowners that marble and travertine require more cleaning and sealing due to their porosity. If the marble is your choice, however, Carrara marble and Statuario marble are ideal options especially when you are the tidiest and cleanliest of homeowners.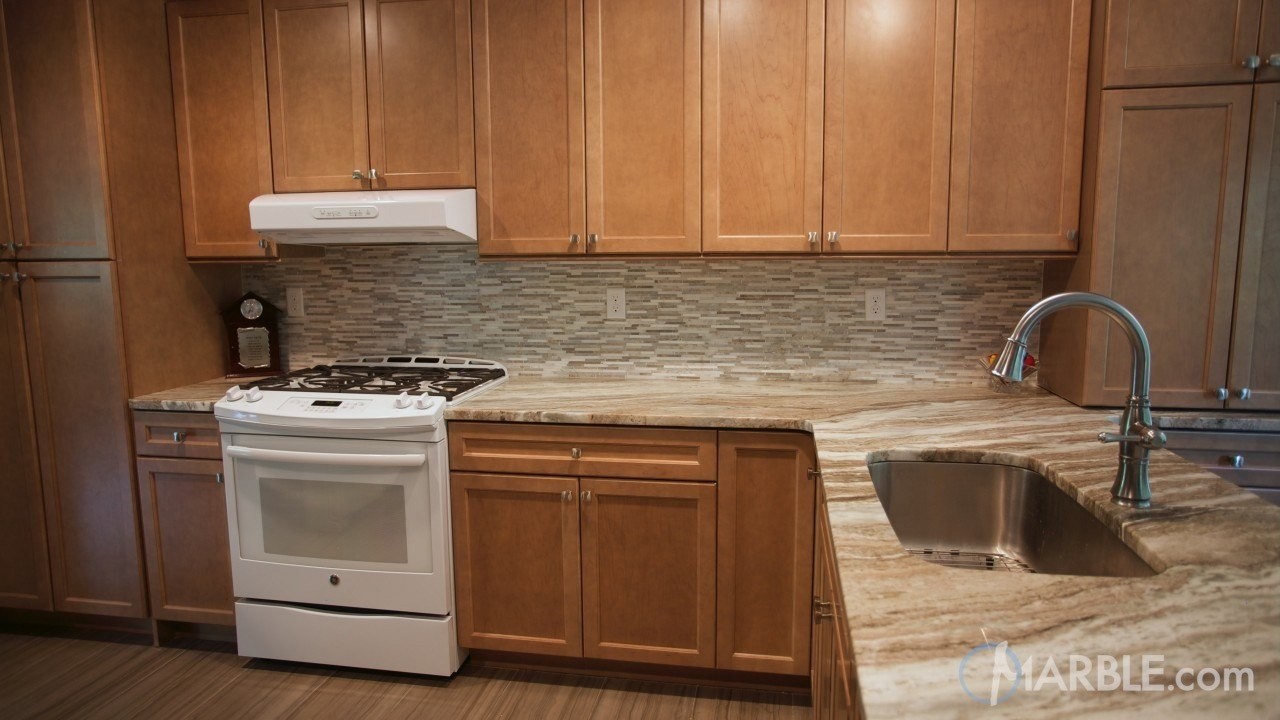 The whimsical veins in the Fantasy Brown Quartzite countertops add a cool edge to this kitchen
Cool kitchens showcase cabinets that rise to the ceiling, maximizing storage space with this eye-appealing design. Worried about hard-to-reach items in high places? Install a library ladder. They are handy, quirky and a conversation starter. Go door-free on a handful or so of your cabinets and show off colorful, whimsical dishes and make handy vital mixing and serving bowls.
Don't take lighting for granted. Beyond the obvious need to see what you are doing, your lighting should express your lifestyle and moods. Pendants are ideal for this cool kitchen overhaul; white pendants almost disappear into space, (really cool), while those with bright colors hanging overhead are both funky and stylish.
Lean your kitchen design toward rustic and retro by bringing the past into the present. Seek out vintage appliances online and accouterments from garage sales. Try a dated spice rack, bringing back the days when cooks displayed such things on the wall. Combine the old with the new by complementing antiques with contemporary design pieces.
In the end, remember that cool has always been in the eye of the beholder. So make it your own cool kitchen. Make it a place of your own, where you and your loved ones can go and just chill.