The Outside Living Space Trend
Tweet
---
The newest trends in outdoor living spaces don't just feature the appearance of the indoors, they mirror the functionality as well. Advances in all-weather furnishings and materials have allowed the outdoors to act as an extension of the home, and homeowners have started to look for ways to extend their outdoor time and the usefulness of outdoor spaces. Outdoor rooms have evolved into fully functioning outdoor kitchens and sophisticated entertainment areas that make it difficult to tell where the indoors stops and the outdoors starts.
While grilling and dining al fresco are long-time trademarks of backyard entertaining, food preparation and the need for kitchen appliances often meant going between the indoor kitchen and the outdoor dining area – until now. Finally, outdoor kitchens are living up to their names, with fully appointed workstations that are outfitted with water and electricity, granite countertops, appliances, and all of the related conveniences.
Countertops
In an outdoor setting like kitchen and grill areas, the wrong materials will become apparent very quickly. When choosing outdoor countertops your first priority should be durability first and foremost and looks second, or you could watch your time and money go up in smoke.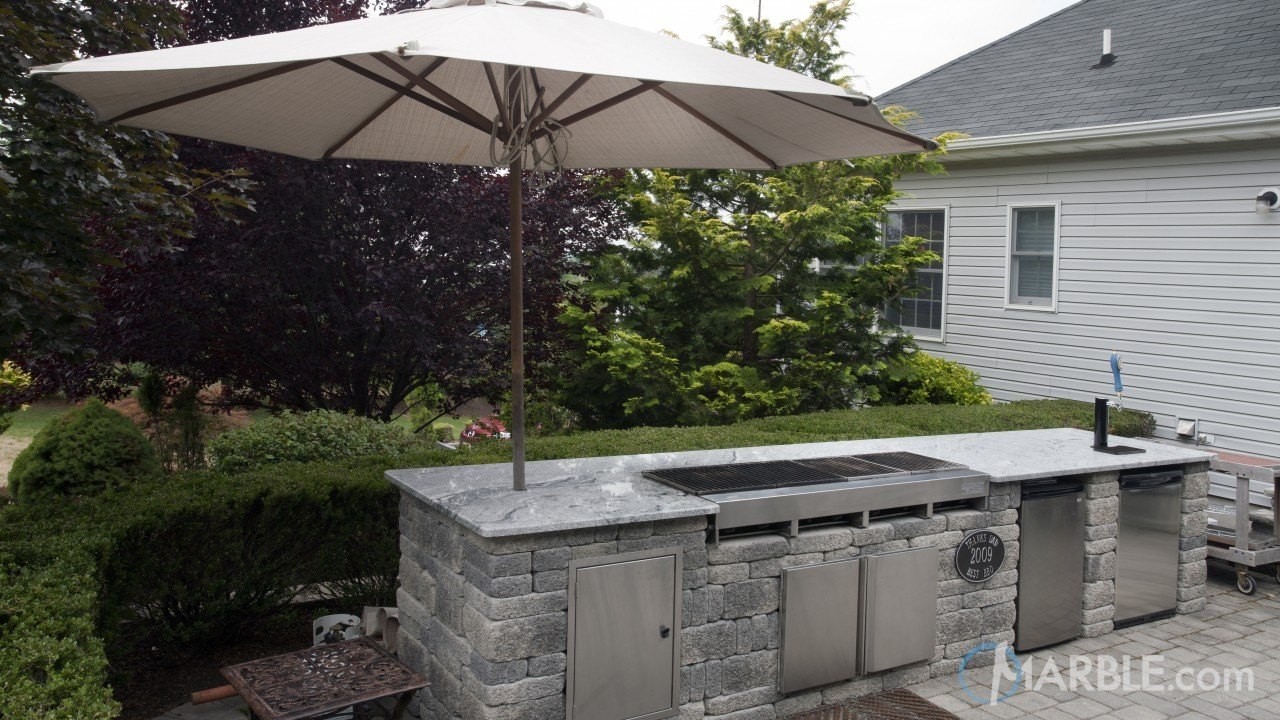 Viscont White Granite Countertops
When planning an outdoor kitchen or grill area, adequate counter space is your top priority. A total of 36 feet of counter that's 24 inches deep is the bare minimum. When selecting a material that suits the style of your house as well as your cooking. Natural stone is one of your best options. Please note that man-made, or "engineered" stone is not recommended for outdoor use as UV rays can cause discoloration. There are plenty of other types of natural stone, and any of them can be used for your outdoor countertop, however, just because they can it doesn't mean they should. For example, porous stones such as limestone, marble, and bluestone may look fantastic when first installed, but they can stain easily.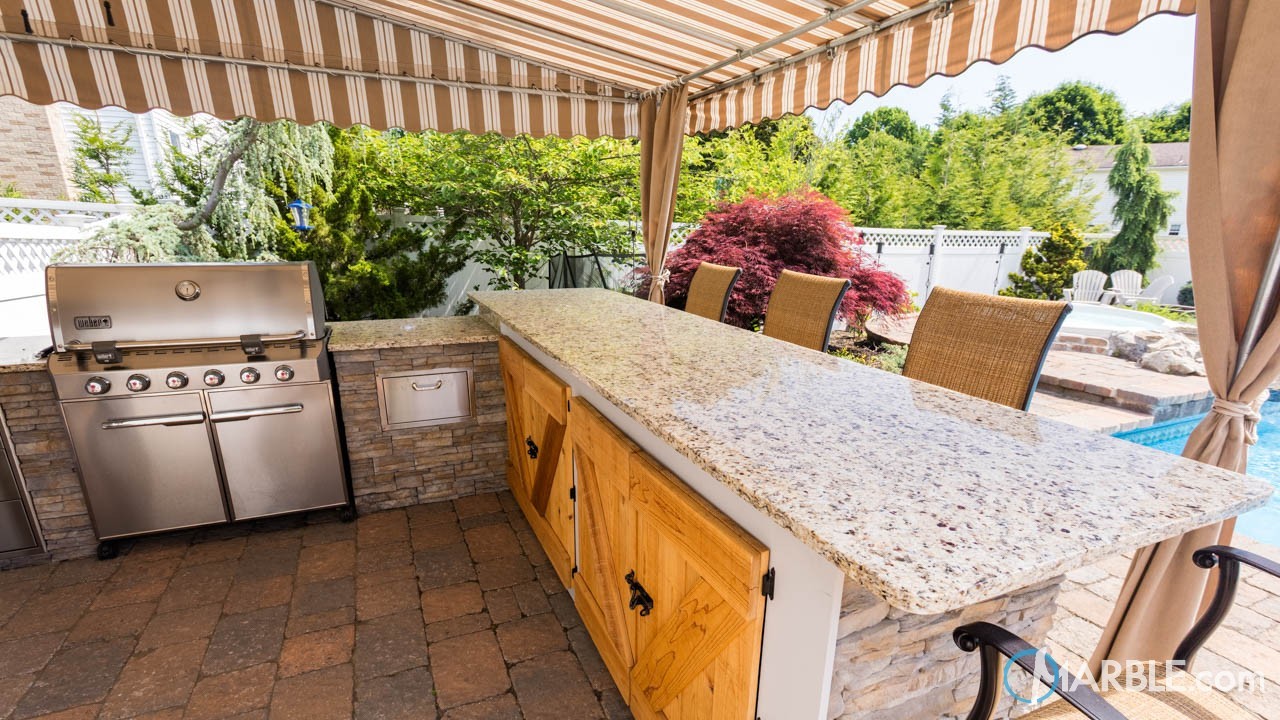 Giallo Napole Granite Countertops
Granite, like the Giallo Napole granite shown above, is a popular and durable option, as are Tan Brown granite, and Bianco Antico granite. It stands up well to the elements, doesn't absorb stains or odors as easily as other stones, and shouldn't fade in the sun. When choosing granite, select a mid-range color, as darker stones tend to absorb heat. Another tip is to select a style without a lot of veining because the fillers and epoxies typically used in heavily veined natural stones can react negatively to UV rays.
Lights
Another "bright" idea for your outdoor space is the addition of versatile lighting. Lighting will extend the functionality and enjoyment of an outdoor living space, and the lighting systems available today can create an ambiance that can be adjusted for any gathering. Experts recommend a mix of deck and landscape lighting features, like path lights, lights that illuminate foliage, riser lights on deck stairs, and recessed lights inserted into the deck boards.
Stay Connected
Enjoying your favorite movie outdoors has always been appealing if not impractical. However, advancements in electronic equipment and the way it's stored make experiencing the big screen in the great outdoors a reality. Manufacturers have acted on these latest outdoor living trends and are offering all manner of entertainment equipment including televisions, speakers, and video components designed specifically for the outdoors, even taking into account the different lighting and acoustics.
Why not utilize your backyard and enjoy nature. Entertaining, cooking, and conversing with your favorite people is as good outdoors as it is indoors all while being able to enjoy the crisp clean air!