The Different Uses of White Marble in a Bathroom
by Joseph Lemke
Posted on January 28, 2018 07:00:00 AM
Tweet
---
The Different Uses of White Marble in a Bathroom
White marble has been a part of décor for more than 2,000 years. The Greeks preferred it over other colors because white signifies purity. They also used marble for facades and flooring because of its ability to withstand large amounts of traffic and exposure to moisture. Monuments from both the past and present serve as a testament to the beauty and durability of white marble.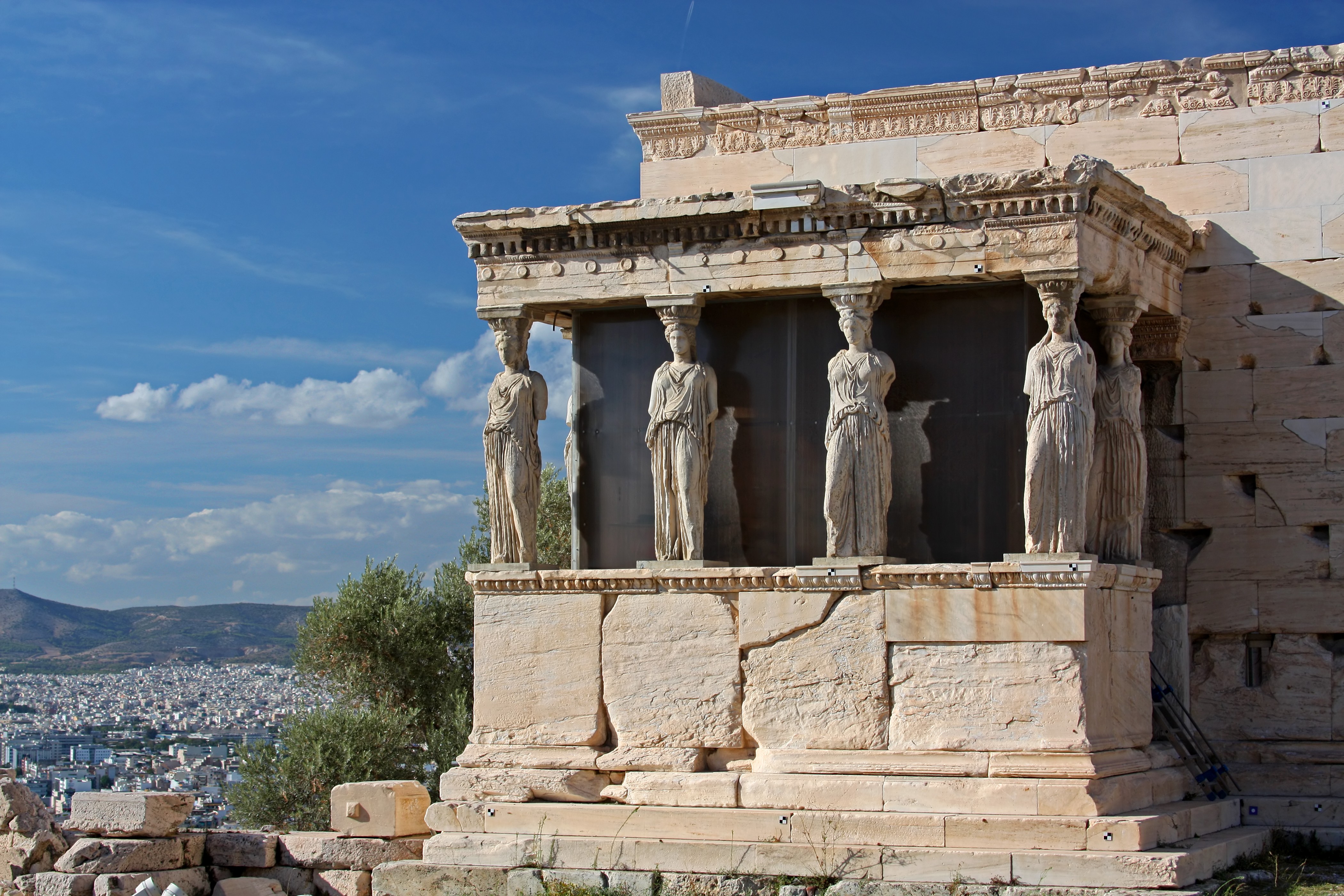 One room in a home or business that could benefit greatly from white marble is the bathroom. The bathroom endures all kinds of traffic throughout the day and, without a doubt, exposure to moisture. White marble is versatile – it can be used for nearly every surface, functional or decorative.
Functionality: Marble Counters, Floors, and Tub Surrounds
The first, and most common, usage of white marble involves the countertops. A bathroom vanity with a properly sealed, marble countertop provides not only an aesthetically brilliant surface but also a top that can hold up to the constant barrage of splashes from the washing of hands and faces.
However, the use of the natural stone doesn't have to stop with marble countertops. Consider an area exposed to tons of moisture: the shower or tub surround. Some popular materials in these applications have included ceramic, porcelain, or a one-piece wrap. While these materials do offer some durability, they also come with a few pitfalls as well.
Ceramic and porcelain are typically installed with eighth-inch grout lines that stain or develop mold and mildew. The one-piece surround resolves that issue, but like ceramic and porcelain, the surface, over time, can dull. There is no easy way to restore the sheen once it's lost on these surfaces.
Marble, on the other hand, comes in slabs or tiles, and the tiles can be installed with much smaller grout lines, reducing the problem with mold and mildew. The best part, however, is that when the marble finish dulls, it can be re-polished to restore it to that beautiful, glossy, and clean finish.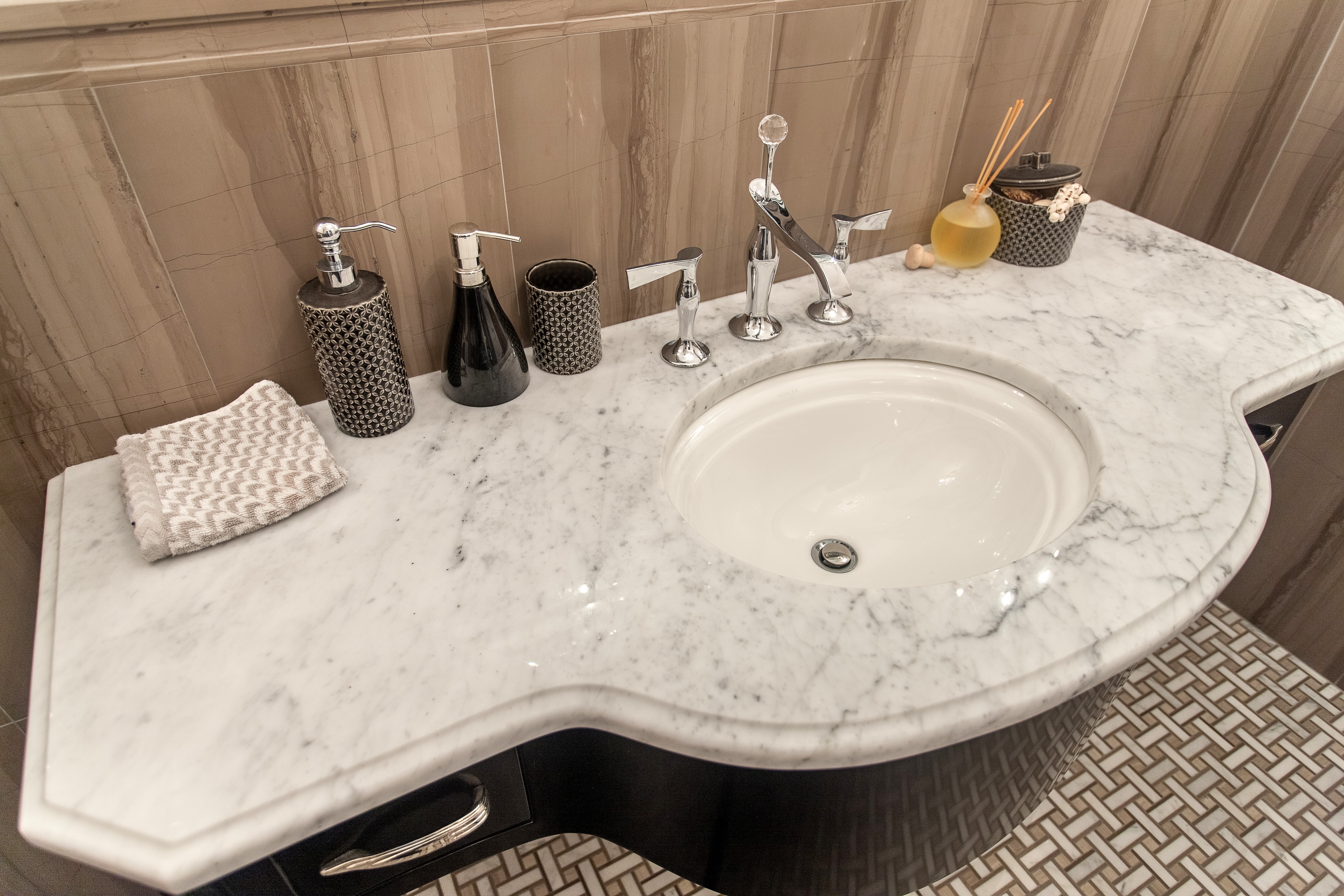 For very much the same reasons, the floors can be a great place to have white marble tiles installed. Whether it be excessive splashing from the vanity, bath, or shower or an overflowing toilet, a marble floor will hold up. It's also impact resistant when installed properly – more so than ceramic tile.
The threshold between the bathroom and any other room is another great application for marble. Rather than using those industrial metal strips or a piece of wood that scratches and fades over time, a durable, marble saddle can add a very nice transition from marble tile to whatever flooring it abuts.
Design Benefits of White Marble
It isn't just the functionality and durability of marble that makes it a great material for bathroom surfaces. From a design standpoint, white marble opens up a whole world of possibilities.
The average bathrooms are relatively small. Since they are typically intended for quick visits and not entertaining guests, bathrooms tend to be one the smallest rooms in a home or business. But that doesn't mean that they can't have the illusion of being larger. Darker surfaces absorb light and generate the appearance of a cave. Just changing to white marble vanities can brighten the room and give the appearance of more space. Couple a marble countertop with white marble tiles, and the illusion becomes even more effective.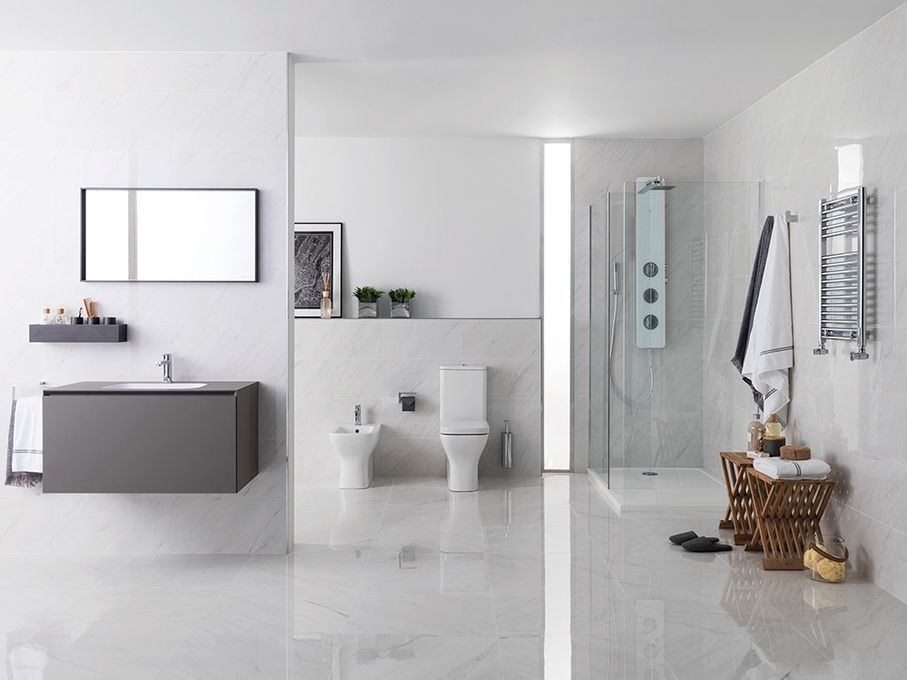 Another design benefit of white marble: color blocking. Having white marble countertops and floor tiles allows for more variation in the color schemes that can be used. One option would be to install a Stauario marble counter with matching tiles on the floor. With this combination, choose a contrasting, darker color. This creates a block effect in which the aesthetic beauty of the marble is highlighted.
Of course, seeing is believing. Use our design tool like House Tipsters virtual rooms or visit our Gallery to get design ideas that will fit any taste or budget. With white marble, the bathroom can not only be a functional and clean room, but also a beautiful room people talk about.