The Biggest Countertop Trend That's Here to Stay
Tweet
---
The colors favored in interior design typically come and go within short amounts of time, but there's a specific countertop trend that's stuck around for more than a decade. White surfaces have dominated the home design industry – and for good reason.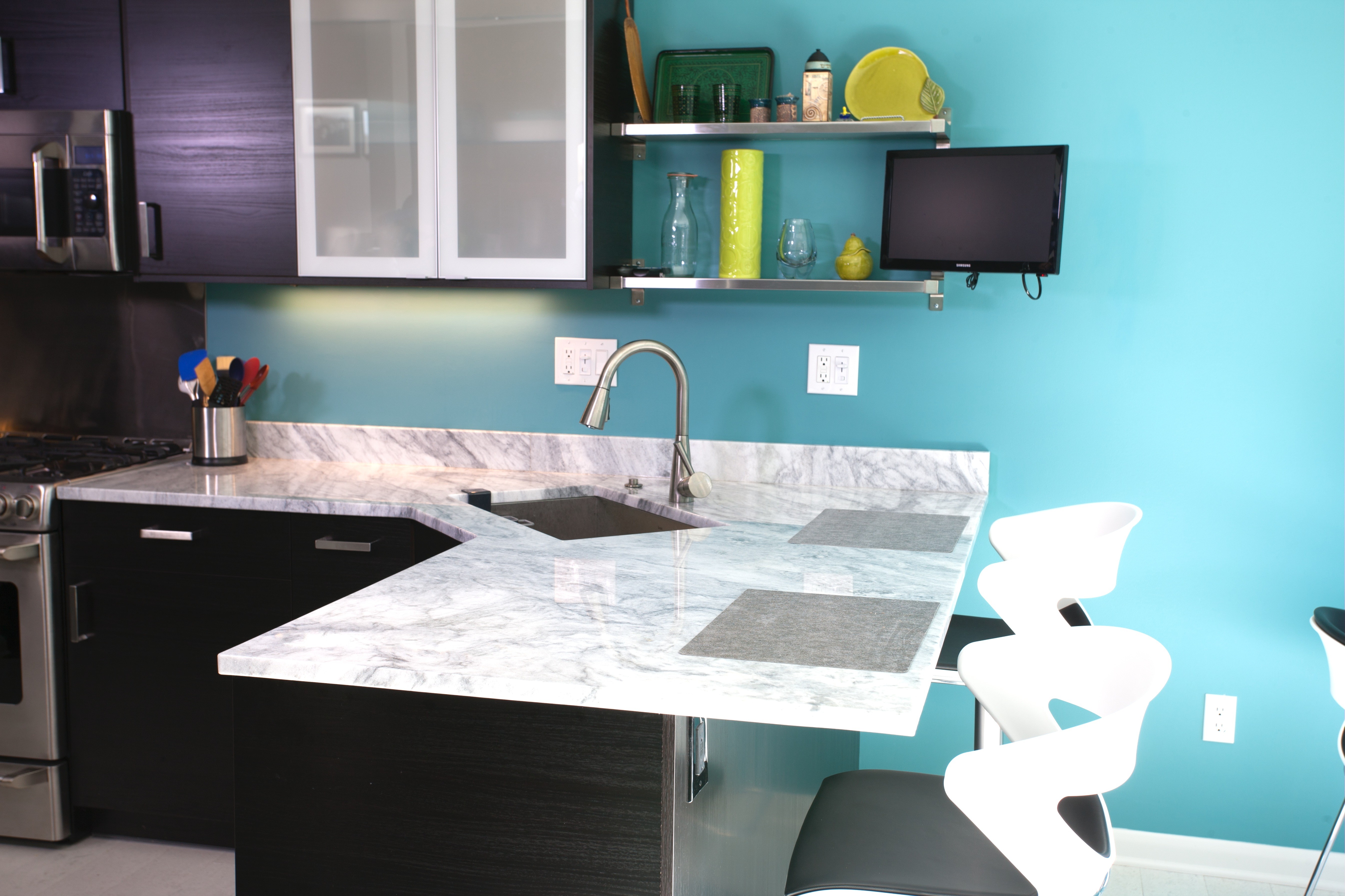 These two colors give designers tons of versatility, allowing creativity to flow through accent pieces. It's easy to add vibrancy in areas like backsplashes, cabinet handles, cooking utensils, and even an accent walls. It'll make the space pop and are easy to swap out for another style when the homeowner wants to change things up. White countertops also help a space to appear larger, which can be good for small and open concept kitchens. When it comes to kitchen décor, white and grey countertops are extremely popular but some may think their selection is limited. Marble counters are the obvious choice, since many are naturally white and grey. However, marble countertops may not be the best choice for high traffic kitchens.
White Granite Countertops
Granite is extremely durable and is our recommended material for kitchens countertops.
Bianco Antico Granite Counters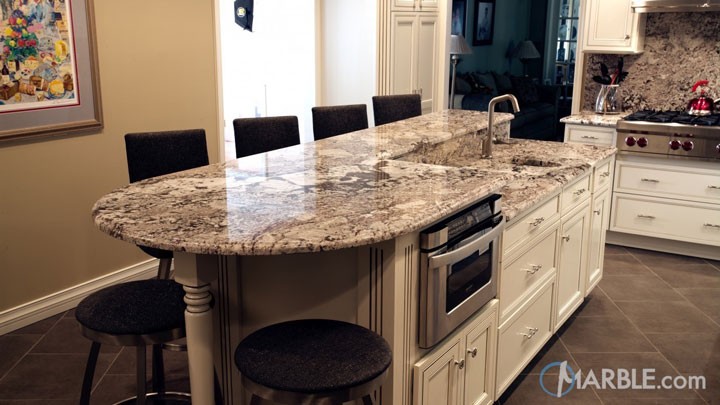 This natural stone from Brazil is also known as Lennon, Arctic Ice, Ecuador White, Aran White, Diamond White, and Ice White. Since granite is a natural stone, every slab is going to differ from the next but Bianco Antico is typically a white stone with lots of greys and black covering a good percentage of the stone. Granite countertops are not going to have the artistic veining of marble, but some slabs of Bianco Antico will have comparable linear movement.
River White Granite Counters

This natural stones from India is also known as River Valley. River White granite is a white granite countertop with waves of grey and brown that move in the linearly across the stone. This white granite counter also contains sparse spots of red burgundy speckles. The brown hues and the red speckles in this natural stone make this countertop material easy to match with any natural wood cabinet.
Viscont White Granite Counters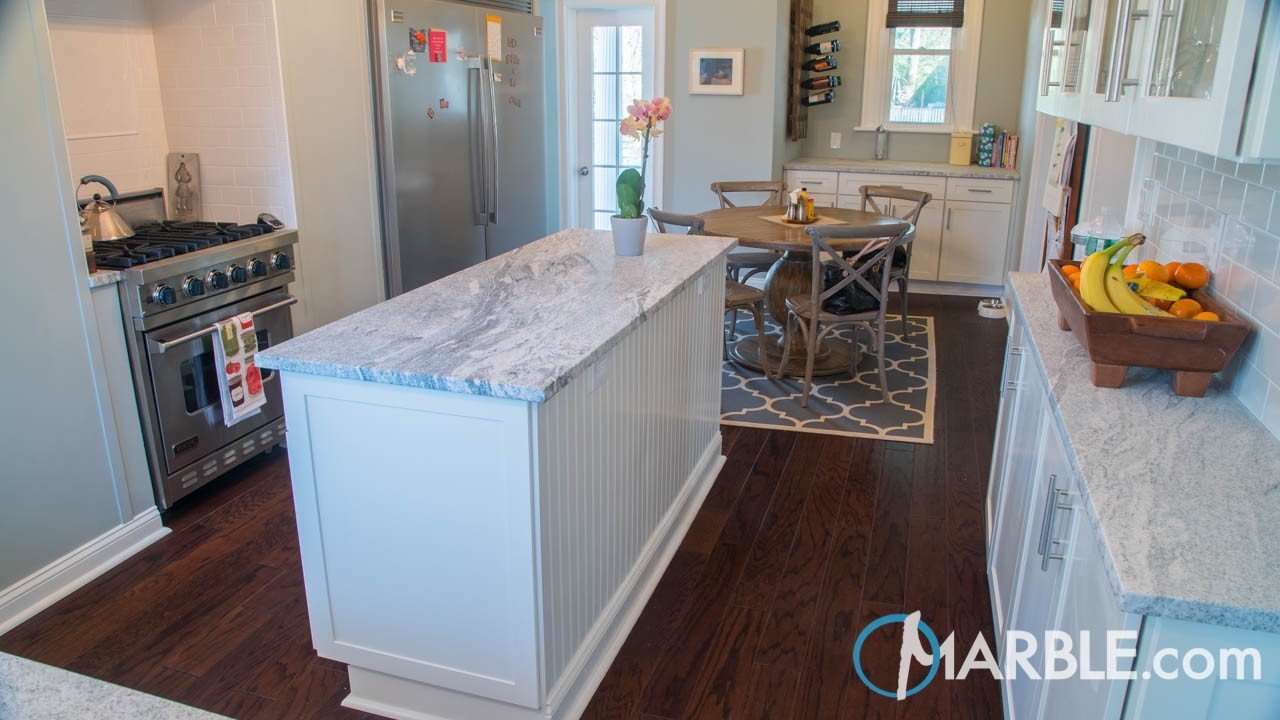 This granite countertop also hails from India and is also known as, Bianco Viscont White, Madanapalle, Madanapalle White, Madanapalli, Madanapalli White, Mandana Pali White, Mandana Palli White, Wiscont White, Visconte White, and Viskont. Batches of this granite countertop can differ in color. Some slabs will be much greyer than others so make sure you view the stone before it's fabricated. The grey veins and speckling in Viscont White granite allows the stone to be versatile and it can be used as a focal point or as complimentary element.
You can make your kitchen more inviting and allow for people to fully enjoy the beauty of your countertop by choosing a good source of lighting. Pick a light fixture that matches the mood of your kitchen and can ideally show off the highlights of your home. It's best to have a light fixture that's not overpowering but is cozy and makes people feel more inclined to socialize and enjoy the kitchen.