Types of Bathroom Vanity Mirrors
Tweet
---
The proper bathroom mirror to complement your bathroom vanity is essential that cannot be overlooked. The bathroom vanity and mirror combo are one of the first things that you typically see when you walk into a bathroom. We put on our outfits, style and groom our hair, we brush our teeth, we take photos, and the like all while looking in the bathroom vanity mirror. When making this decision, you definitely want to get the bathroom vanity and vanity mirror combo just to your liking.
Let's take a look at some of the options.
FRAMED MIRRORS
Framed mirrors are common in bathrooms. They tend to be a basic style of mirror, with a wide array of design options to match your granite vanity tops or your marble shower surround. Perhaps a dark-colored frame goes well with light granite colors such as Alaska white granite or Golden Fantasy granite to pick up the speckles within the stone.
Framed mirrors can also be selected to match the cabinet color of the vanity. Matching the frame to the vanity brings a very nice touch to your bathroom.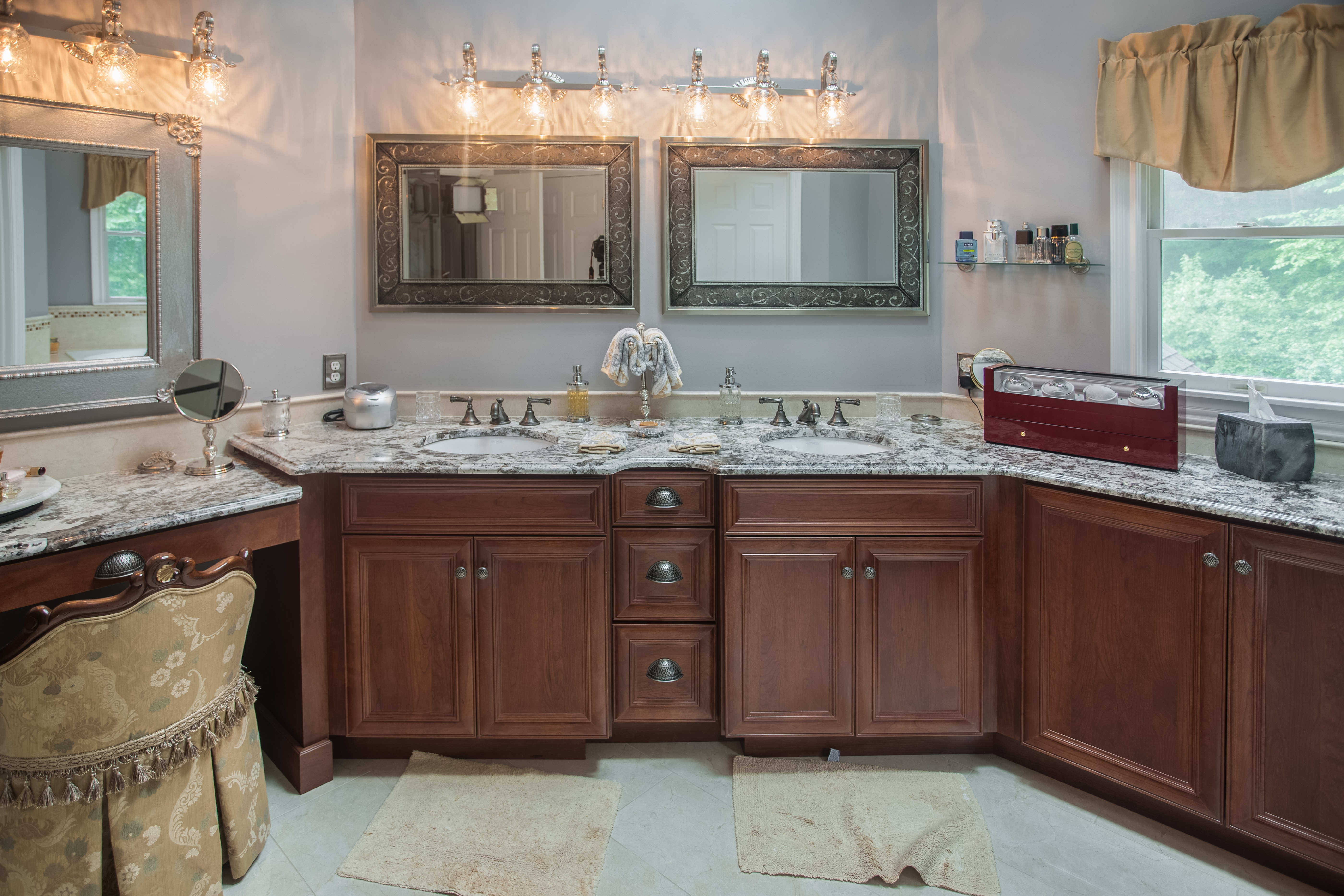 FRAMELESS MIRRORS
Frameless mirrors give off a more modern and contemporary feel to your bathroom. These mirrors are usually for those who enjoy a more minimalist look. They would go really well with a white stone on the vanity top like Calacatta Gold marble to not take away any focus from the beautiful veins running throughout the surface of this stone.
One of the great values of the frameless mirror is that it is not tied to any one style of décor. Once you select a framed mirror to match the cabinets of your vanity, if you do decide you would like to remodel, you now have to consider replacing the mirror if you chose a vanity with clashing colors. With a frameless mirror, it can match any style of vanity and any style of design.
Once you have decided whether a Framed or Frameless Mirror is more suitable for your needs, then you can begin finding your style of mirror.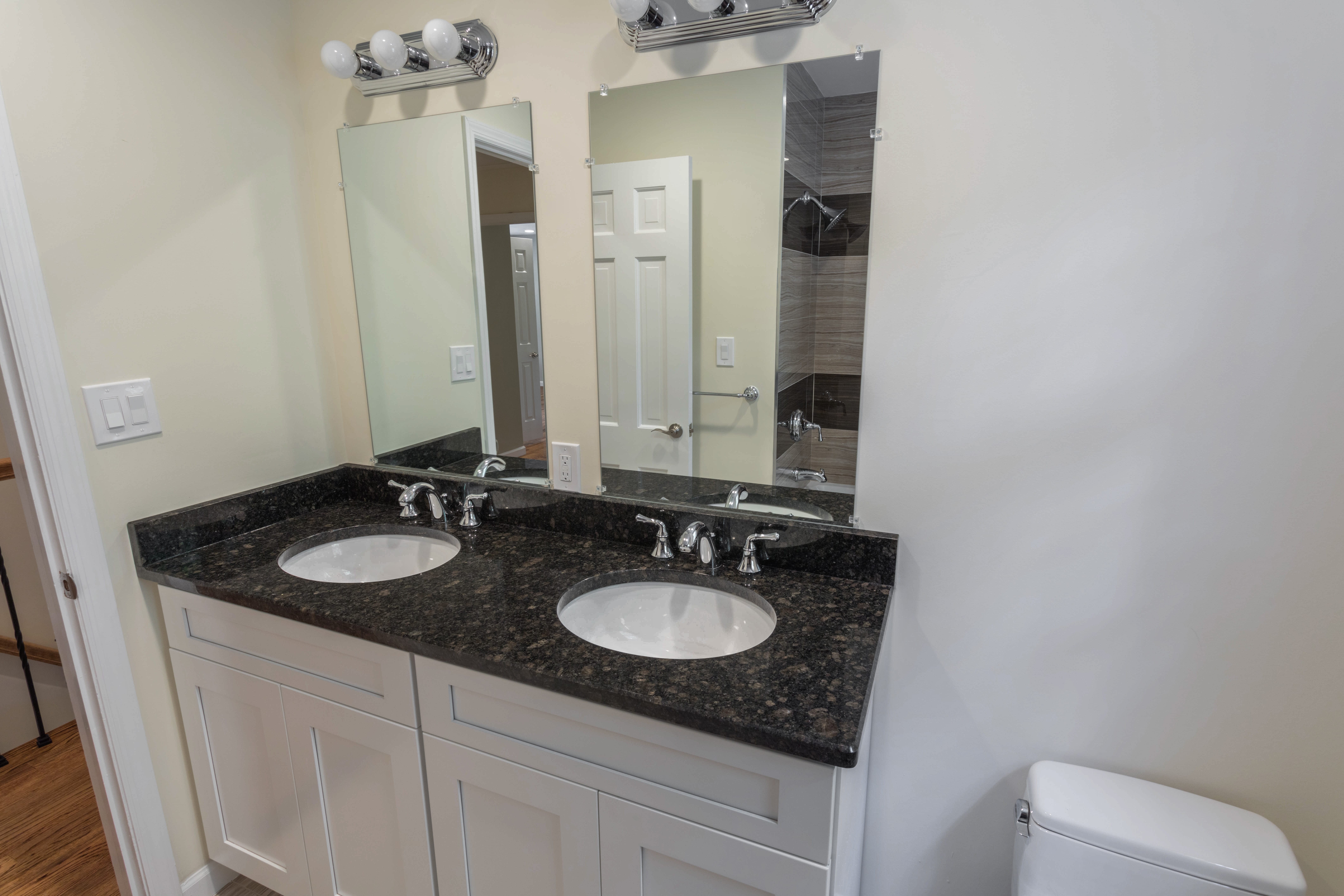 ARCHED MIRRORS
An arched mirror, also known as crowned top mirrors, can definitely be an excellent addition to your bathroom. It boasts of versatility, sophistication, and comes in a variety of sizes and shapes. An arched mirror will beautify any wall that it is added to. Consider pairing a frameless arched mirror with a white marble vanity top and surrounds for the shower and bathtub for a very elegant feel in your bathroom.
MIRRORS WITH SHELVES
Mirrors with shelves, also known as ledge mirrors or shadow box mirrors, are framed mirrors with a built-in ledge to hold various bathroom products such as soaps and other beauty products. Some also use it for decorative purposes and place small plants on the ledges. Consider pairing a light color framed ledge mirror with light granite colors vanity tops like Alaska white granite, or a darker stone like a Golden Fantasy granite vanity top.
MEDICINE CABINET MIRRORS
Medicine cabinet mirrors, also known as storage mirrors, are multi-functional mirrors with a mirror on the door and shelves inside. The shelves are for storage of some medicine or any other bathroom essentials. These mirrors are very useful if your bathroom does not provide a lot of storage elsewhere. This is a very common mirror.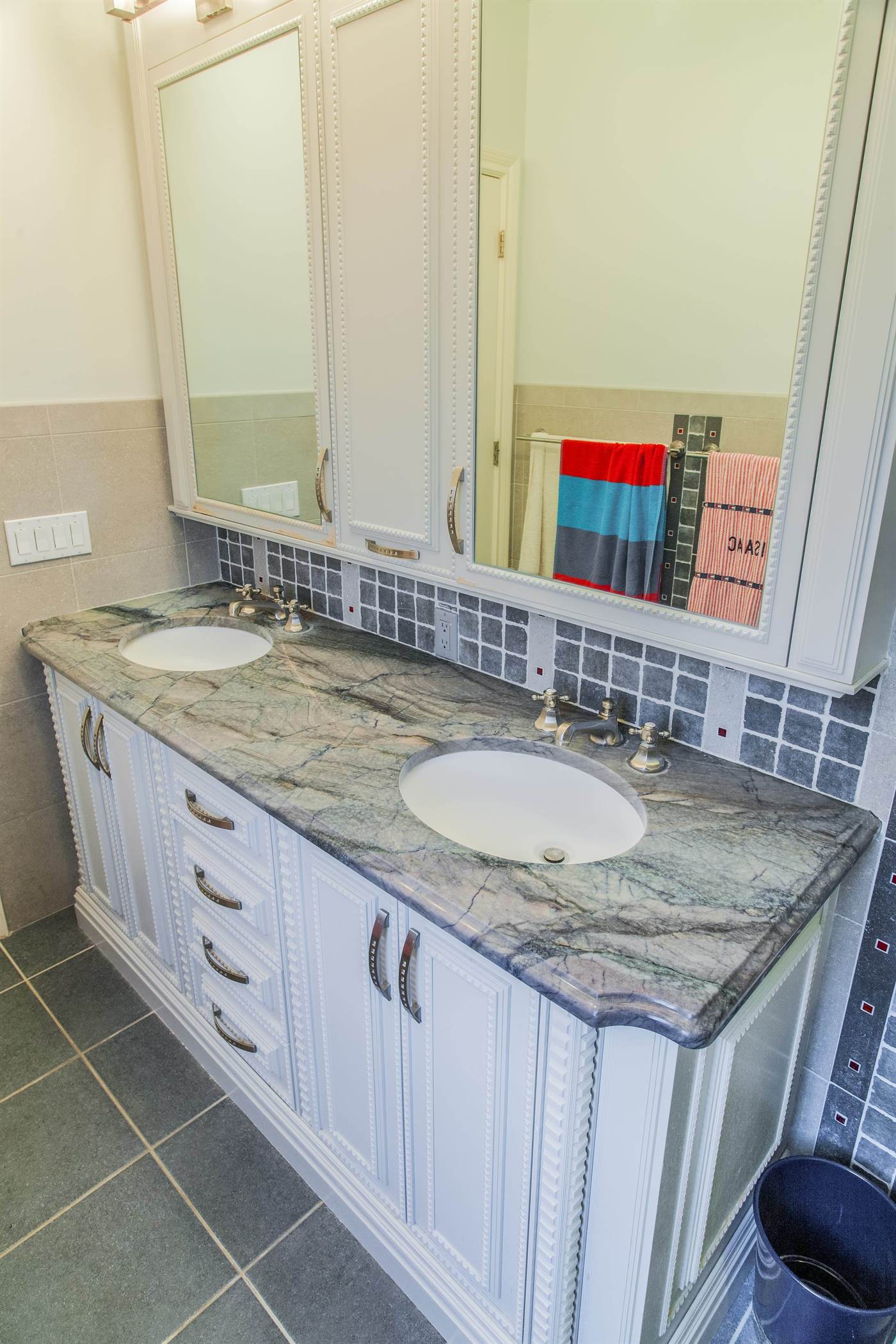 There are many more styles of mirrors, and you can explore the range to see if they complement your style. Find the style you like, and let that mirror accentuate your granite vanity tops and the other natural stones that you have installed in your room. Most of all, enjoy your beautiful bathroom!