The 10x10 Kitchen Layout. What is it?
by Ann Kent
Posted on December 15, 2017 05:00:00 PM
Tweet
---
Kitchens come in all shapes and sizes and while we might all long for an expansive kitchen with a large marble center island, the reality is that most of us do not have it. Smaller kitchens require extensive planning to make sure that space is efficient and used to its true potential. A 10X10 kitchen layout is a common design that is used in apartments, condos, and houses. The cabinetry industry uses this standard layout to help keep costs lower for the installation and design of new cabinets. By using a standard layout design, you can create a kitchen that can meet the demands of a wide range of homeowners. Additional customization such as moldings or cabinet pulls can vary within the design and homeowner's can make the template 10X10 design their own.
If you are designing a 10 X 10 kitchen, you are dealing with a smaller space, but that does not mean that you are limited in your natural stone options. The natural stone industry sees a high demand for all types of stones from marble to granite, quartzite and even exotic stones for use on kitchen countertops. Marble is known for its rich and luxurious veining, but quartzite and granite continue to be popular choices because of their strength and resiliency. Marble requires sealing up to 4 times a year and is not well suited for a high traffic kitchen, but granite and quartzite only require sealing 1-2 times a year and come in a wide range of colors from light colors like Classic White Quartzite and Ivory Fantasy granite to rich, dark colors like Silver pearl granite. Quartz is an engineered stone that has caused a ripple in the natural stone industry because it aims to replicate the look of marble without any maintenance like our Vena Carrara quartz. Some varieties of quartz stones can achieve the dramatic veiny look of marble despite the fact that it is an engineered stone made up of resin and quartz crystals. All natural stones and quartz can be cleaned daily with a simple mix of soap and water.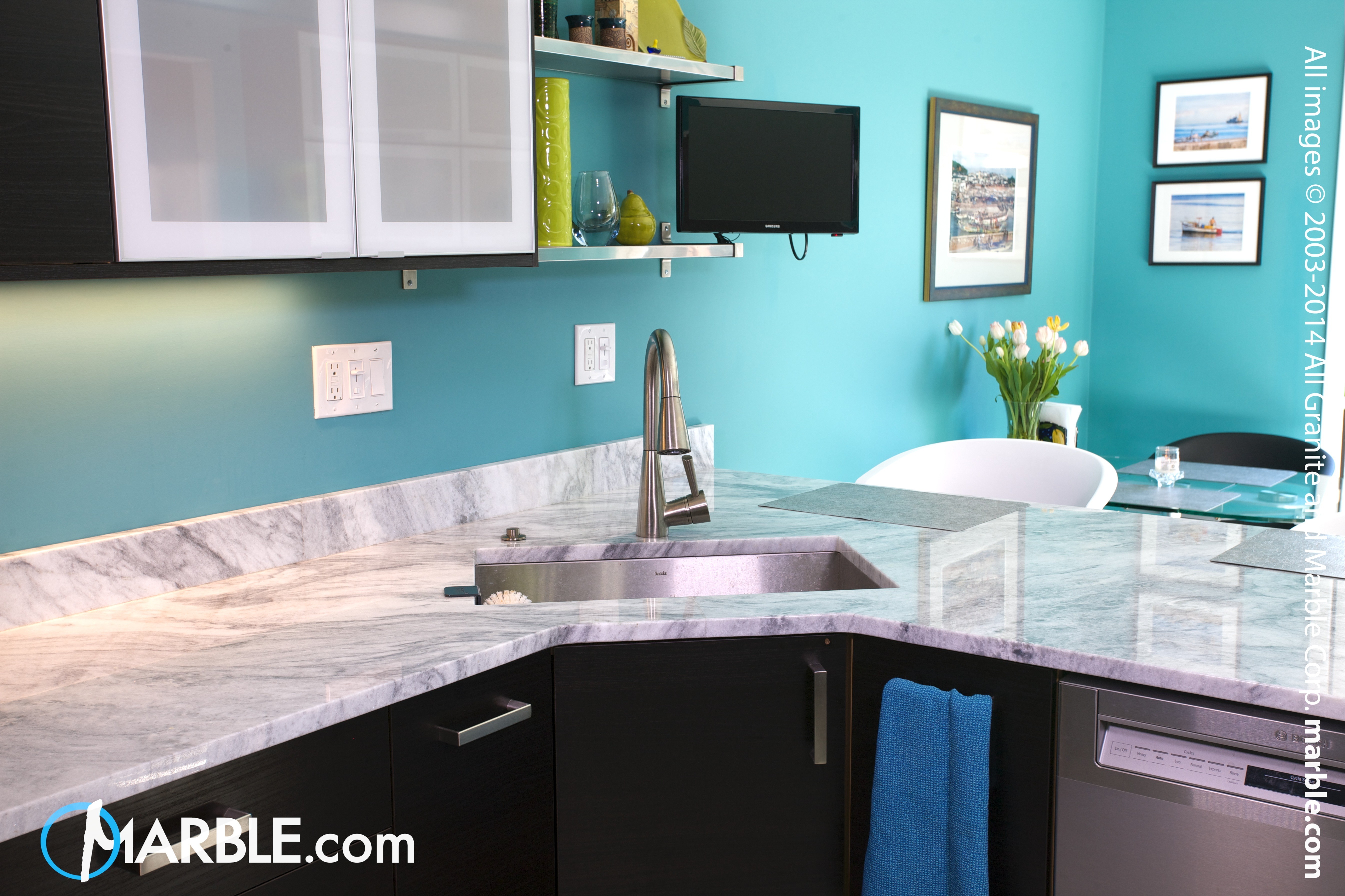 Light stone colors like Classic White Quartzite can make a smaller kitchen seem more open
Since a standard 10 X 10 layout will be dictated a little bit by the cabinetry, you should layout the cabinets first before selecting your stones. You should take a lot of time considering whether you want light granite or dark granite as it creates a dramatically different feel within a space. A smaller kitchen will look larger and more open with light colored countertops but sometimes the dark countertops can be paired with light cabinetry to create a successful look with a beautiful contrast. As always, spend time at the slab yard looking at the slabs in their entirety as each type of natural stone will look dramatically different from each other.
Just because a 10 X 10 kitchen isn't large doesn't mean that you can't incorporate interesting elements of design that will wow your guests. Smaller spaces can allow for a more dramatic backsplash or accent wall of color that will add personality to your space. Once you lay out the design of your space with some nice cabinetry and beautiful stone countertops, the possibilities for interesting pops of color are limitless.