Strike Gold with These 5 Gold Stone Colors
Tweet
---
Sometimes the allure of gold is too much to resist. It is a beautiful shade of color, and the eyes light up once they are set upon it. Like gold jewelry and accessories enhance the look of any outfit, the golden colors in these granite countertops will enhance the look of your kitchen, bathroom, or any place you install natural stone in your home.
Madura Gold Granite
Madura Gold granite, also known as Golden Oak India Granite is an inexpensive and very impressive stone that is quarried in India. This stone boasts a spectacular blend of peach and golden tones, and rich colors such as red, burgundy, orange, brown, pink, copper, some hints of blue, green, and black veins. All of these variations and contrast makes it very likely that no two slabs of Madura Gold Granite will look alike.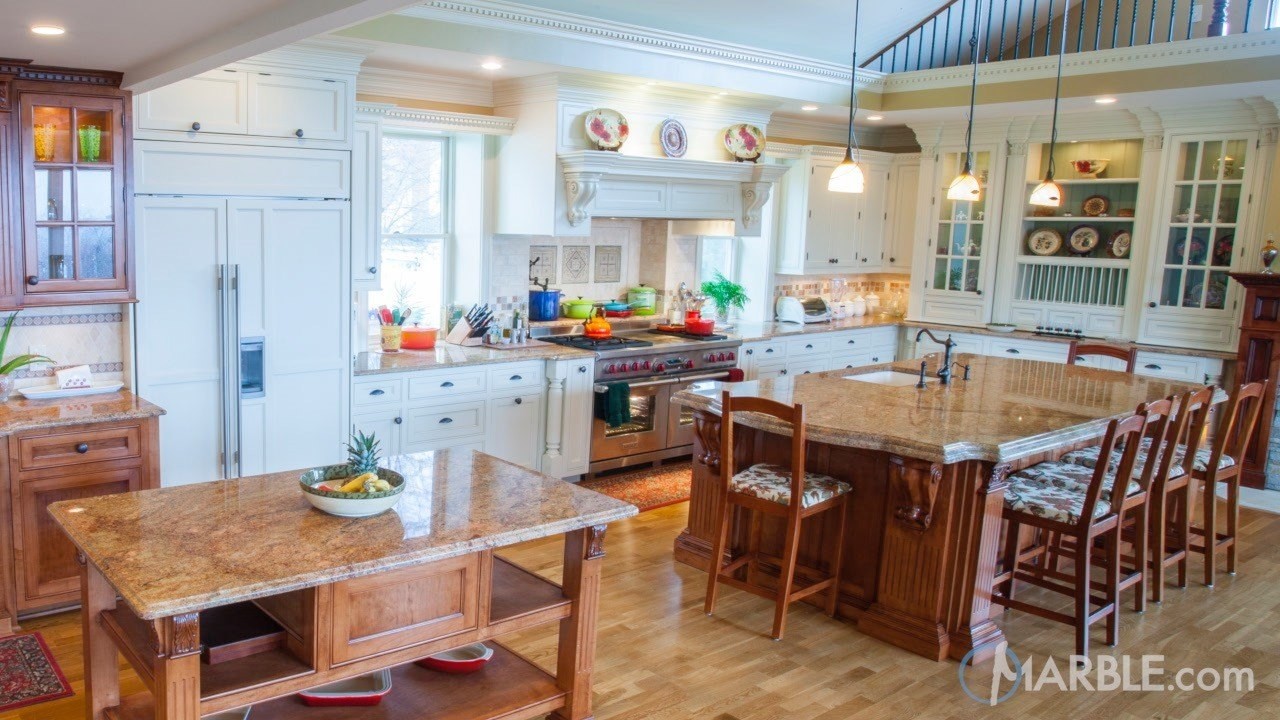 Magma Gold granite installed in a kitchen is shown in the photo above. This is also a very resilient stone, with the proper care and upkeep making it one the most coveted granite countertops for kitchens, bathroom vanities and other high traffic areas in your home.
Gold Antique Granite
Gold Antique granite is an awesome and very attractive stone that is quarried in India as well. This stone is widely known for its white background with golden brown and yellow speckling making it a great option for kitchens and bathrooms alike.
Gold Antique Granite makes for a great compliment to your traditional white kitchen or if you want to create a rustic feel to space.
Tiger Eye Gold Gemstone
Tiger Eye Gold gemstone is definitely one of a kind and one of the most beautiful stones that the natural stone industry has to offer. This stone is primarily found in Southern Africa and Eastern Asia. It features a bold golden hue with red, brown and yellow speckles throughout. Each slab of Tiger Eye Gold gemstone is unique and contains its own variation of reds, browns, and yellows. As a gemstone kitchen countertop or vanity top in your bathroom, this stone gives off the feel of royalty.
Tiger Eye Gold gemstone is a high-end, luxurious stone that is recognized for its unique charm, outstanding longevity, and royal glow. If you are considering a gemstone countertop, you may not want to look any further than this beauty.
Magma Gold Granite
Magma Gold granite, shown below, is a natural stone filled with warm brown and taupe tones with hints of gold. This very popular granite color is quarried in Brazil. Like most granite slabs, each slab has inconsistent patterns and it is suggested that you look at the full slab in person.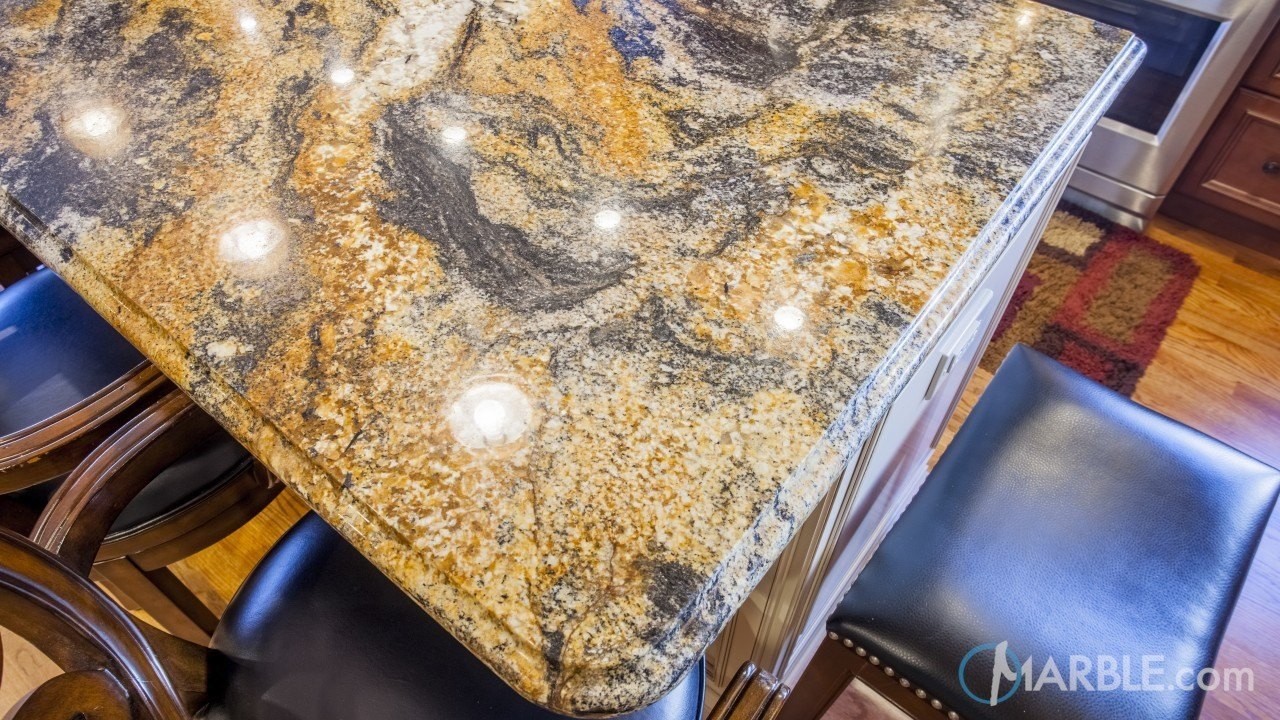 Magma Gold granite is recommended to pair with oak cabinets or cherry cabinets.
Jerusalem Gold Marble
Jerusalem Gold marble is a very soft looking natural stone. This popular stone originating in Angola is great for your kitchen countertops, bathtub surrounds, butler's pantry, bathroom vanity tops and even fireplace surrounds.
If you are considering an elegant looking marble butler pantry or are up in the air with which stone to use for your fireplace surround, Jerusalem Gold Marble will make that choice very easy for you.